The 7 Best Buy One Get One Free Phone Offers
It's another time of the year where there are many deals ranging from unlocked phone deals, clothing deals and household deals that save you some bucks off from your normal spending. Phone deals are among the major deals which most people tend to focus most of their attention on.  The phone deals go to an extent of such that you can be able to get a free phone when you buy one without any contracts or obligations.
Most people refer to this amazing deal as the BOGO deal and are offered by the Standard service providers, MVNOs and several online and retail shops. You may be wondering as to why be it free and will the company make any losses. In most cases, the company aims at clearing stocks so that they can bring in new phone to the company while others do it with an aim to attract more customers to their network. This service has been there for ages on a wide variety of products especially household goods.
The Buy one gets one free phone deal is a good option if you want to gift someone with a new phone or you just want a secondary device at your home. In most community forums, people testify that the devices are always brand new and they have never had technical glitches with them. Continue reading to learn more on 7 best places that offer buy one get one free phone today!
Are the free phones really free?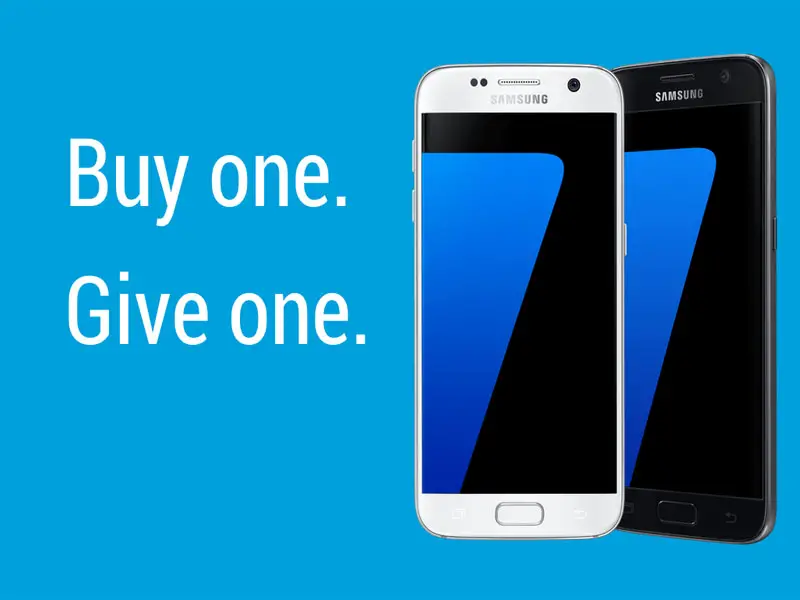 In most cases the BOGO deals are truly legit if you understand the terms and conditions. If you buy your phone from an online store and get a free one, there may be less restrictions with regards to the service provider you are going to use under the device.
If you buy a phone from a service provider like Verizon, your free phone may be locked to their network. However, this is a time restriction for up to 6 months after which you can switch to another service provider. There is other service provider who would give you free vouchers or credit instead of getting a free phone. After getting the voucher, you can use it to get a free phone or other phone accessories which can work on the voucher.
The buy one get one free phone is a legit deal and you never have to worry about extra deductions from your credit card. All you have to consider is the best places whereby you can get a free phone after buying a phone.
Factors to consider before going for the buy one get one free phone program
There are things you need to put into consideration before opting for the bring your own phone. Below are some of the conditions to consider.
The phone provider
This is the provider that issues you out with the free phone after buying a phone. You need to evaluate the best service provider before getting a free device. You can do this by going through the company's policies on Buy one get one phone
Read on reviews
Reviews will give you an honest opinion regarding the type of place to get your free pone after buying a phone. The reviews can be found on the company's community forums.
Type of phone offered
In most cases; you can get a free phone of the similar brand which you purchased from. In other cases, the phone may be another model but still brand new.
Contracts
Most people do not like contracts since they limit you from getting services from other service providers. You should always consider a service provider which will not give contracts to your free or bought phone
Are the free phones of high quality?
In many cases, the phones offered for free are quite similar to the phone which you bought. Like for T-Mobile, if you buy the Samsung prepaid phone S7 edge, you will get another S7 edge for free.
Other companies will give you a free phone which may be of low value compared to the one you purchased. This is not a common case and it applies to some individual retail stores that may be near you. The good thing with these types of phones with low value is that you are not tied down to any contracts.
The 7 best places to buy one get one free phone offers
1. T-Mobile
T-Mobile tops our list and it has been featured on many reviews for their buy one get one free phone program. On some phone deals, T-Mobile is willing to offer a free phone which is similar to the one you have purchased.
The only catch is to buy the phone from their retail stores. Also, you don't have to be an existing customer at T-Mobile or rather has a T-Mobile phone plan. T-Mobile will also not check your credit scores. All you have to do is pay for the device and they will ship the free phone to you within no time.
The major con is that the device will only work on T-Mobil's network. However, this is limited for the first six months after getting the phone and after that you are free to choose any service provider of your choice.
Check output their website to learn more on what is required. This offer is also not valid throughout the year so make sure to call customer care and learn on the designated time to go for this offer.
2. AT&T
AT&T is among the reliable network service providers with a wide range of services ranging from cable internet TV services, telecommunications and the entertainment industry.
The Buy one gets one free phone services is a very common services from AT&T. The good thing about them is that the free phone will not be bound to use only at&t networks but it will be an unlocked phone.
Once you buy your device, the second phone will be shipped to you within a week or the time may vary depending on the number of products undergoing shipment. The BOGO deal applies only when you buy the device from their retail stores which are strategically located within all States across the country.
There are some eligibility requirements for getting the free phone or AT&T free government phone. However, the policies may change from time to time hence always refer to their policies or contact customer care to learn more.
3. Verizon wireless
Verizon wireless has been in the limelight for quite some time for being the #1 best stable network providers across the country. The company boasts with millions of customers who seem to be growing every day. The Verizon compatible phones are also of a wide variety and you will never miss a phone of your choice.
For one to get a free phone after buying a device, the phone should be bought only from a Verizon official store. They have amazing deals like when you switch you get a free iPhone 7, or when you bring your own phone to Verizon, you get $250 of credit and also keep your phone number.
Currently the most amazing deal on getting a free phone is when you buy the S10 and they will give you an S10 e for free. Sadly, this device is only locked to their network but you can unlock it after some time of usage under their network. The only con with their free phone is that they come locked and the unlocking process may be quite hectic.
4. Best buy
Best buy is a leading online store that sells a wide range of products aside from electronics. You can get an amazing free phone after buying a brand-new phone from their online store. Best Buy offers amazing deals on unlocked phones.
The prices range from mid to high end devices and it's all up to your preference. Once you buy a phone at a time when the BOGO deal is active, then you are likely to get the free device at your doorstep.
In most cases, the free device is quite similar to the phone you purchased but that varies from time to time. The offer is currently available on selected devices. Aside from getting a free phone, you can also get discounts on other products mostly phone accessories.
5. Apple stores
Apple is ranked as the leading company when it comes to providing phones, desktops and laptops across the Globe. They also have amazing deals on where you can get a free phone only if you buy an iPhone from their official stores.
Their stores are located countrywide and you can never miss one within your area. This offer for the BOGO deal varies from time to time but it is valid in most times of the year. At this festive season, there are several deals that are likely to win you a free device. You can visit their store for other details regarding the offer.
Apple has also partnered with major providers to help you get a free phone very easily. For example, at Verizon, you can get a free iPhone 7 if eligible. So, refer to your local service provider for more details on the iPhone deals.
6. Sprint mobile
Sprint mobile is among the four best service providers across the country and they are known for a wide range of perks. Sprint offers amazing deals to both new and existing customers and you can even get a free phone without buying one. There are phones that come for free when you switch and also bring your own phone number.
The only con is that the devices are not high-end but rather mid or low range devices. If you are planning on getting a new phone, and get a free one, consider buying the phone from Sprint's retail store.
Once you buy the phone and the offer is still valid, the free phone will be shipped to your doorstep or you can get it on the same day you bought the phone.
7. Cricket wireless
Cricket wireless is among the best service providers with their stunning deals and the most noticeable Cricket wireless phone plans. The Cricket wireless buy one get on free phone is eligible to both new and existing customers.
All you have to do is buy a pres-elected device with this offer and the phone will be shipped to your door step or you can get it on the same day. There are no contracts with the free phone and the major downside if that the device is locked to Cricket wireless for a designated time.
Bottom Line
Buying and getting a free phone is one of the amazing deals you can ever get from a service provider. It has also proven to increase the number of customers to the company so it's a win situation to both customer and the company.  If you find that the device is defective, you can always send it back after viewing the return policy carefully. So, now that you have the seven best companies to choose from, you can easily buy and get a free phone!