Top 10 WiFi Hotspot Devices which Provide Unlimited Data
Internet connectivity takes different forms. Each of these forms has different connectivity speeds and formats. There are public WiFi, hotspots, and broadband connectivity. Mobile hotspots are secure, fast, and reliable. They are very convenient as you can carry the hotspot gadget to any place you wish. A mobile hotspot only provides an internet connection, unlike multipurpose smartphones. These WiFi hotspot devices with Unlimited data convert LTE connection into a WiFi signal that can be utilized by computers, smartphones, and tablets.
Mobile hotspots are so-called because they fit perfectly into your pocket and can keep you connected as you move around. They usually are equipped with rechargeable batteries so that they can function when not connected to a power source. It is important to note that modern smartphones have hotspot features. However, they are not as strong as hotspot devices.
The smartphone hotspot has a short-range and cannot suite large and reliable data usage. This article is going to give detailed information on the different types of hotspot devices and their suitability to users. These devices require service providers, also known as carriers, to operate.  Later on, in the article, I will discuss about the carriers. Currently, all the Hotspot devices offer Unlimited Mobile Hotspot plans in their premium plans, which is better compared to the past.
The Best 5 Carriers to be Used on Hotspot Devices?
1. T-Mobile
T-Mobile is considered the cheapest among the rest. It has favorable data plans. They can offer connectivity of up to 15 devices at a go. Also, their devices have a thin display to show WiFi strength and battery condition. T-Mobile have 2GB at $10 per month. You can get 22GB at $85 per month.
2. AT&T
AT&T has its customers at heart. They offer different plans to give customers the ability to choose the best plan for them. They offer connectivity for up to 15 users with high speed. They offer 3GB at $45 a month. AT&T also have an offer for 10GB at $50.
3. Verizon
Verizon can provide a high-speed network across the US. They have Ellipsis Jetpack MHS900L and Jetpack MiFi 8800L that are advanced LTE. According to Forbes, Verizon offers the best tethering service. 15GB of data costs $45 a month.
4. FreedomPop
They can connect you with speeds of up to 100Mbps on 4G. FreedomPop offers low-data- plans. They give you 2GB of free data for the first month of subscription.  After that, they give you 500MB free each month. Their lowest plan is$3.99 per month that gives you 500MB. The highest is 10GB at $74.99 per month.
5. Virgin Mobile
They offer a variety of data plans. One can choose a plan depending on needs. Each bundle expires in 30 days. The lowest plan is 50MB, costing R10 while the highest one is 15GB costing R200. Other plans are also available for purchase.
How do you choose a Hotspot device?
A lot of people are always hasty when it comes even to choose a phone. However, when purchasing a mobile hotspot device, there are some factors to consider.
Body design: Is the device small enough to fit in your pocket? Make sure to have a full picture of the device and assess it ideally. Most devices are bulky; hence, you will not find efficiency when carrying them around.
Speed: Speed can be easily known by reading the specs of the device. If the device has a considerable processor, like 2.6 GHz, definitely it will do the job.
Battery life: Many devices have long-lasting batteries which can last for about 10 hours and some even 19 hours. All that lays the difference is the price for which you are paying for. If you buy a cheap device, then the battery capacity will be very less. If you buy a device at a higher price, then the battery will last longer.
Customer care: Each mobile hotspot has a manufacture and customer care service. You can do a background check to know whether these companies will respond if you have an issue or they will take a long time to help you
Durability: Durability is considered with the chipset of the device and however well you maintain it. Maintenance can be done through proper cleaning, placing it in a dust-free environment, and not overcharging the device. If you over charge the device, the battery life will degenerate.
Read our related article on How to Get Better WiFi From Neighbors (legally)!
What should you do in case you lose your device?
Misfortunes may happen, and your device can fall off from your pocket, or even stolen. The best way to deal with this is by contacting customer care for the carrier you are using. If the Sim card has not been removed from the device, they will be able to track it, and with the help of the police, your device will be recovered. However, in cases where the Sim card is removed, the best way is to call customer care of the device. They may have a way of tracking your device easily.
The 10 Best WiFi Hotspot Devices Unlimited Data
1. Huawei E5573Cs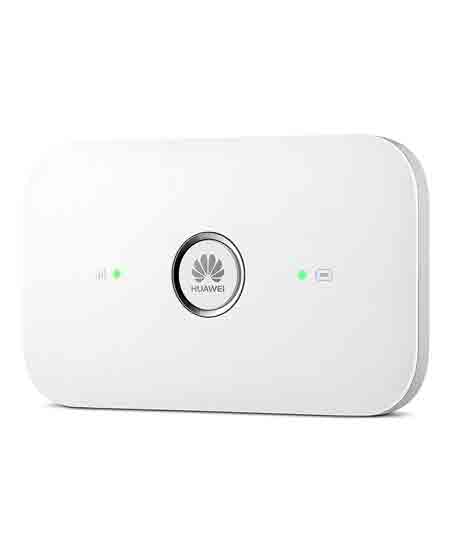 Huawei E5573Cs is a high-speed mobile hotspot device. It is effective for home and small office internet connectivity. Huawei E5573Cs gives you an option to connect with computer USB Interface or even connect with WiFi. Huawei E5573Cs is fast and reliable. It offers data service of up to 150Mbs/s and its WiFi is 2.4GHz. It has AT&T mobile hotspot unlimited data plan.
Furthermore, it can get connected to T mobile WiFi hotspot plans. You should bear in mind that the device is portable. This means that you can move anywhere with it.
PROS
Expandable storage
AT&T mobile hotspot unlimited data plan
T-mobile WiFi hotspot plans
4G speeds
It can be connected to computer USB Interface
The high WiFi processor speed of 2.4 GHz
CONS
It lacks a screen display
Very poor battery
2. Skyroam Solis: Mobile WiFi Hotspot Unlimited Data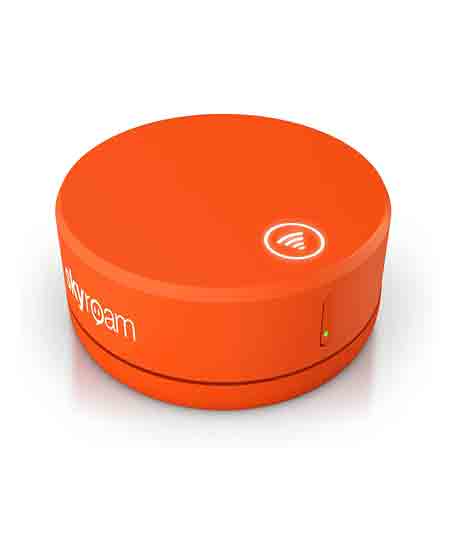 Skyroam Solis is a great multipurpose travel WiFi hotspot device. It is a mobile WiFi Hotspot and a power bank as well. The battery is long-lasting and keeps you connected throughout the day. The device is favorable for pay-as-you-go service. It has good coverage across the world and offers 4G internet connections. The Skyroam device is SIM-free. It also offers unlimited data to the  users and can connect five WiFi-enabled devices at a time. To add, Skyroam is secure and fast. This speed performs different tasks, such as video streaming.
PROS
Fast and secure data
4G connection
It can connect to 10 WiFi-enabled devices at a time
WiFi supported worldwide
Power bank option
The excellent battery of 6000mAh to last all day
CONS
For it to connect to your area, a partner service provider must be available at your locality
Only five device connections at a time
3. Novatel Wireless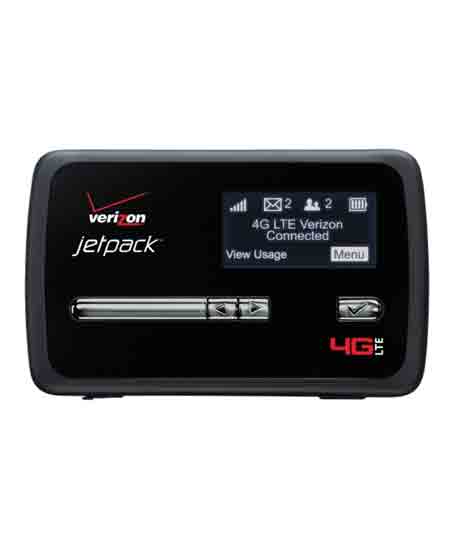 Novatel Wireless is one of the modern mobile Hotspot connection devices available it the market. It offers 4G LTE connections. Novatel wireless has Verizon mobile hotspot plans. The Verizon Jetpack 4G LTE mobile Hotspot-MiFi 4620L is supported globally and lets you connected continuously. It works by creating a personal WiFi cloud that is capable of sharing 4G speed internet and 3G mobile broadband internet connectivity. With this, you can choose whichever you like.
The device is capable of connecting 10 WiFi-enabled devices at ago. Novatel Wireless has the latest internet security features. This device comes with an attractive OLED display to help you manage connected devices and view battery status.
PROS
Global access
Fast, secure, and reliable
Compatible with major operating systems
Light and easy to carry around
OLED display
CONS
Supports Verizon wireless only
The short battery life of up to five hours of continuous use
4. GlocalMe U2S 4G LTE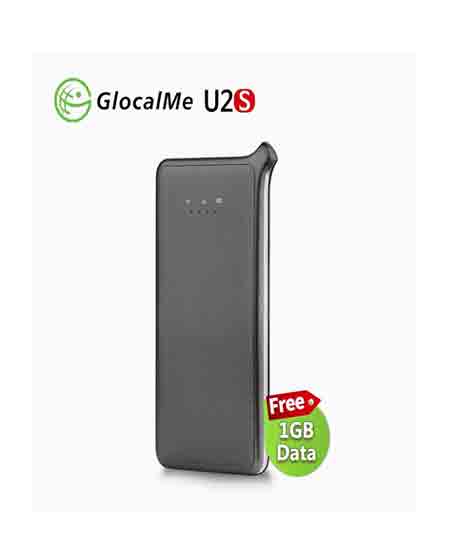 GlocalMe is a high-speed network mobile hotspot service provider gadget. It offers a 4G LTE connection speed of 50Mbps across 100 countries in the world. The device is accompanied by a user-friendly GlocalMe app that enables you to top up balance, purchase data plans and easily manage your data usage. It supports pay-as-you-go service, and thus you pay for only what you use.  No extra charges as exploitation.
The maximum charges in any country per day are 10 euro. GlocalMe is capable of connecting five WiFi-enabled devices at a go. This means you can browse the internet with your friends.
PROS
Has a SIM card slot for flexibility
GlocalMe app to manage your account
It offers connections anywhere in the world
Comes with free 1GB initial data
High-security standards for secure connections
Gives customers a 12-month warranty
CONS
Very weak battery
It does not cover all countries
5. Netgear Nighthawk MR1100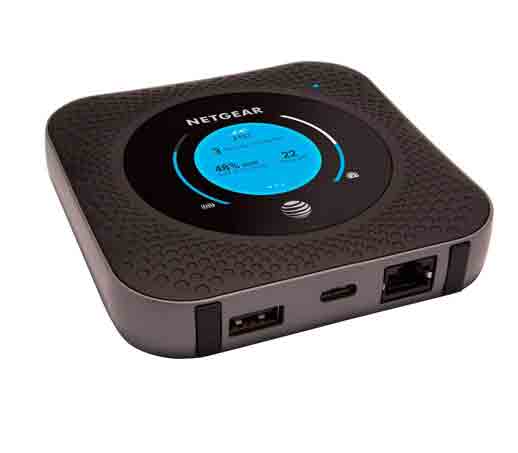 Netgear Nighthawk MR1100 4G LTE is a fast mobile hotspot router that is capable of connecting up to 20 WiFi-enabled devices. It has AT&T mobile hotspot unlimited data plan and supports faster streaming of HD pictures from DIRECTV2. It is easy to use the device that offers parental and data control options. You can control what your children see comfortably.
The battery is long-lasting and will keep you connected throughout the day. With Netgear, it is easy to control which devices to connect and which not to as it has a password. With the password, you are also able to filter the necessary content. It operates on chipset Qualcomm snapdragon x16 LTE with 512MB RAM.
PROS
Long-lasting battery
Parental control
Expandable memory of up to 256GB
Ability to connect 20 devices at a go
Excellent security features
12-month warranty
CONS
Complicated parental control set up
6. Huawei E5577Cs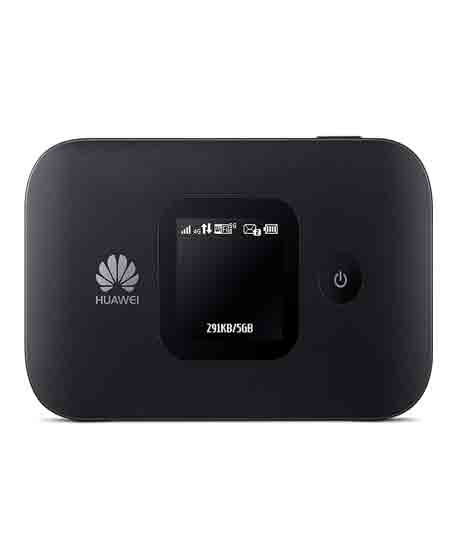 Huawei E5577Cs-321 is a 4G LTE enabled mobile WiFi Hotspot device. It can be used as a wireless modem when WiFi is on. The device can switch automatically to public WiFi hotspots. Huawei E5577Cs can connect up to 10 WiFi-enabled devices at the same time.
This device has a LCD that has a menu to give several options. It supports a variety of languages which includes English, German, Italian, and Spanish. The device offers quick connectivity. You can scan a 2D barcode on the device with your phone using their app and connect instantly. You can also configure by following their instructions.
PROS
Easy connectivity to users
Automatic switch to available free WiFi hot spots
Can support 10 WiFi supported devices at ago
Interactive LCD
Easy to carry around
CONS
Short lasting battery-cannot go for a day while on continuous use
Very low Random Access Memory
7. Netgear Mingle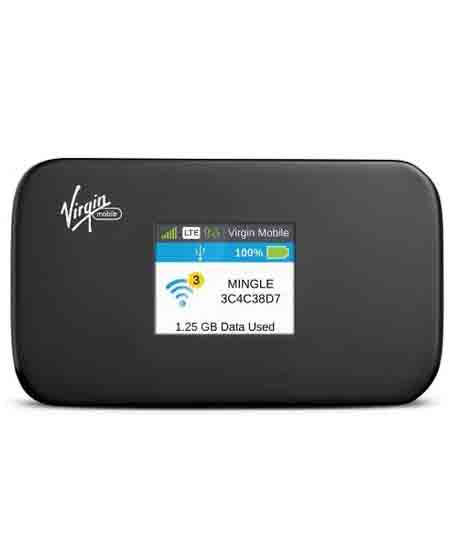 Netgear Mingle is here with you. Offering mobile WiFi Hotspot connectivity on various operating systems, Netgear Mingle is one of the recently released excellent hotspot devices. It can connect multiple WiFi-enabled devices anywhere, even outside the United States of America. It has a removable battery that has a capacity of 1800mAh that can serve you for several hours before going off.
Netgear Mingle supports virgin mobile hotspot plans. Netgear Mingle can connect up to 10 WiFi-enabled devices simultaneously. It is suitable for family use. This device has both 4G and 3G connectivity.  This leaves you to choose the best connection.
PROS
Able to connect up to 10 WiFi supported devices
A large battery that can last for up to 12 hours upon full charge
Light and easy to carry
Interactive LCD
Easy and convenient customer service with a toll-free number
CONS
It has a short WiFi range
8. ZTE MF64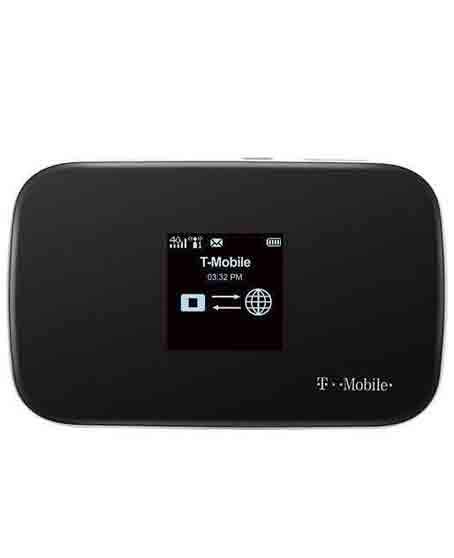 ZTE MF64 can be termed as a pocket WiFi device. It supports both 3G and 4 G connectivity. The device is unlocked and can work anywhere in the world as long as the service provider is available at your location. It has T-Mobile WiFi hotspot plans. The connection speed is 21 Mbps. ZTE MF64 enables you to connect 8 WiFi-enabled devices at a go at high speed. Moreover, the manufacturer added LCD that helps you to monitor battery status and WiFi strength.
PROS
ZTE MF64 can work anywhere with T-Mobile coverage
Able to connect several WiFi supported devices up to 8 in number
Very light and easy to carry around
ZTE MF64 offers both 3G and 4G so you can manage your data usage
A Screen display
CONS
Only supported by T-Mobile
Currently not accessible throughout the world but only the USA, Caribbean, and Latin America
9. FreedomPop Supernova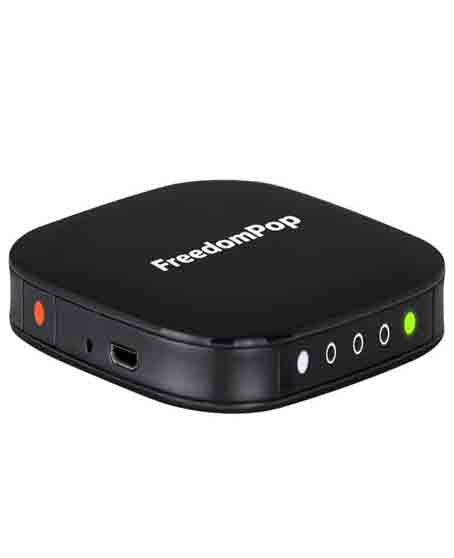 This gadget offers 100% free high-speed wireless internet anywhere in the world with FreedomPop hotspot data plans. You can connect a variety of devices ranging from mobile devices to desktop computers. The most amazing thing about FreedomPop Supernova is its high speed. It is capable of connecting you with speeds of up to 100Mbps on 4G.
Such speed can enable you to stream online videos, online TV programs, or even play online games. You can connect up to ten WiFi supported devices simultaneously. It is accompanied by a rechargeable lithium battery to serve you even when the power goes out. This makes it convenient and less disappointing.
PROS
Low-data- usage plans, thus very cheap
Small and light are thus very easy to carry
An excellent battery that can last for long
It is very portable
CONS
Limited FreedomPop data plans
Lacks concrete security features
10. Verizon Jetpack 4G LTE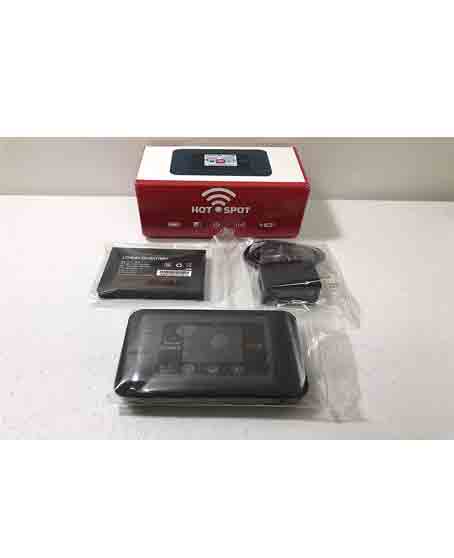 Amazon Renewed Verizon Jetpack 4G LTE is Amazon renewed to look new. This product is eligible for a refund or replacement within 90 days. Verizon Jetpack 4G LTE offers a fast internet connection. It is supported by Verizon's mobile hotspot plans. The battery lasts long to keep you working. It can run for 24 hours of non-stop use. This gadget can connect up to 15 WiFi-enabled devices. Verizon can connect a variety of devices ranging from mobile phones, laptops, tablets, and desktops. It is suitable for an office.
PROS
Very fast connection
It has good security. You can create a guest password and change it whenever you wish
The battery is good. It can last for 24 hours of continuous use
It has an interactive LCD
CONS
It is likely to malfunction since it's not new
Very short warranty period-only 90 days
Read More: Is Boost Mobile Hotspot Good for Gaming? Find out everything you need to know in this guide and review!
Conclusion
Many people around the world are not that familiar with such hotspot devices because they use their phones as a mobile hotspot. However, from the article, we have discussed some of the best hotspot devices and how they create a suitable environment for getting into the internet. You also get a chance to choose a carrier who offers the best plans based on the Hotspot devices. Lastly, do not go for a cheap device which will end up to spoil after two weeks. Read the reviews on Amazon and assess check out the pros and cons as mentioned above.