What is The Best Consumer Cellular Plan for Seniors?
For seven times in a row, J.D. Power has ranked consumer cellular as the best non-contract cell phone service provider in the US.  Since its inception back in 1995, consumer cellular has continued to thrive when it comes to no-contract cell phone plans and also the consumer cellular plans for seniors. Currently, the company serves more than 4 million subscribers and it continues to thrive every year. Consumer cellular is known to offer affordable cell phone deals designated for seniors. Due to its consistent thriving, the company has been able to acquire Grandpad, a company that designs tablets for old people.
Many seniors can now have a flexible plan option when they join consumer cellular. Consumer cellular offers a wide range of plans which vary at different prices. They also have exclusive plans for smartphones and flip phones. By having exclusive plans, seniors who don't need data can always go for the best cell phone plans for seniors without data on their platform. By employing more than 2000 people, consumer wireless shows its determination to offer high-quality services with dedicated customer support.
Are you looking to get a cell phone plan for seniors? Look no further for consumer cellular is one of the best. This article will review the top senior cell phone plans offered by Consumer cellular. We will also look at some of the best cell phones you can use on their network. Let's get started!
What are the best consumer cellular plans for seniors?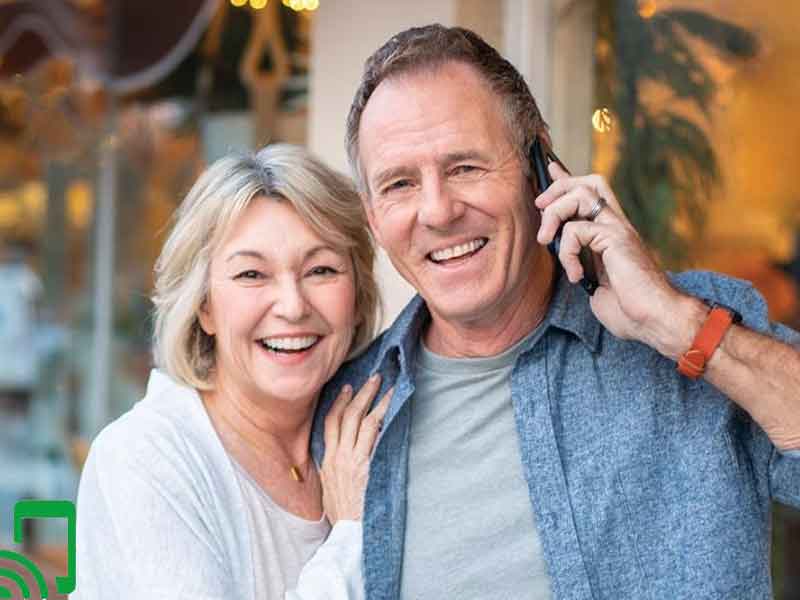 There are several plans to choose from when it comes to cell phone plans for seniors. The plans are categorized to talk and text plans and talk's plans only.
i) Talk and text only plans
Talk and text plans are some of the best options if you are using a phone without internet access.
$15 plan- This plan offers 250 minutes of talk time.
$20 plan- This plan offers unlimited minutes. Buying 3 lines will give you a discount of $4 on each line.
ii) Talk and data plans
If you are a senior looking to surf the internet, download small files, and social media usage, you can consider these plans.
$18 plan- This plan offers unlimited talk, text, and 500 MB data. Buying three lines will cost $55 which is a discounted price. The data is shared across all three lines
$20 plan- If you surf the internet very often and use social media a lot, then this is the right plan for you. It offers unlimited talk, text, and 3 GB of data.
$23.33 plan- This plan is a good option if you want to stream content in SD quality. It offers 10 GB of shared data, unlimited talk, and text. Buying 3 lines will cost $70/month
$26.67 plan- This plan offers 15 GB of shared data and unlimited talk and text. It is also the best option. Buying three lines will cost $80/month.
$30 plan- Are you a heavy internet user? Look no further as this is the right plan for you. The plan offers unlimited talk, text, and data per month. Buying this plan will cost $90/month.
Which areas does Consumer cellular cover?
Consumer cellular is one of the largest MVNOs in the US. The company offers nationwide coverage since they use AT&T mobile wireless services. AT&T offers nationwide coverage and also a wide range of cellular services which makes them one of the largest standard service providers in the US.
If you travel a lot within the country, there are some places with poor cellular reception. To avoid dropped calls or slow internet, a portable cell phone signal booster is a good option it will work with consumer cellular networks.
Can you get a free plan and phone on Consumer cellular?
Consumer Cellular does not offer free cell phone plans. However, you can get discounts on the cell phone plan and other exciting deals on their platform. Ensure you follow their social channels to learn more about their deals.
Consumer cellular is not authorized to offer free government phones, however, they have discounts and also do giveaways on free phones at designated times of the year. Currently, if you qualify and are a new customer, you can grab a Motorola WX345 for free.
This is a free phone with perks like hearing aid compatible, stunning display, digital camera, MP3 player, and it has a hands-free speakerphone. To get the deal, visit a retail store near you for more information.
How to apply for a consumer cellular plan for seniors | complete guide
Now that we have insights on consumer cellular phones and plans, let's look at how you can apply for a phone plan.
Step 1: sign up for a consumer cellular account
This is the first process everyone should start with. If you are not hunting for another service provider and have found consumer cellular to be the best option, then you should sign up for an account. The process is super easy and all you need is an email and setting up the password.  Simply go to consumer cellular and follow the onscreen instructions.
Step 2: Buy or bring your phone
Now that you have an account, you can choose between bringing your own phone or buying a new one. To bring your own device, the phone should be compatible with their network. If the phone uses CDMA network technology, it may not be compatible with their network. Also, the phone should be unlocked. If you have a locked device, feel free to contact your old service provider to learn how you can unlock it.
To check compatibility, go to their website and choose the sim card option of your choice. After that, you will be redirected to a place where you should check for compatibility. For that, all you will need is an IMEI number.  If you choose to buy a phone, there is no activation process needed.
Step 3: Activation
Once you have the phone and the sim card, next up would be to activate it. The activation process takes a short time and can be done through your account or by calling customer care. Calling customer care is the most recommended option since they respond faster and are able to activate the phone in minutes. After activation, all that is left is for you to enjoy the device.
Advantage and Disadvantage of consumer cellular plans for seniors
Advantage
There is no activation fees for BYOP
Affordable cell phone plans
Reliable network coverage
Friendly customer care support
No hidden fees and extra taxes
Disadvantage
Unlimited data has data caps.
Bottom line
Consumer cellular is one of the largest cell phone plan providers for seniors. They offer the best deals and discounts to AARP members and other selected organizations. Since they use AT&T networks, you are assured of stable network coverage and also exciting deals on AT&T devices. To get started with consumer wireless, visit their website.