The T-Mobile Tablet Data Plan With 5 Compatible Tablet
T-Mobile is a leading service provider with close to 99.9% network coverage in the US. They offer a wide range of plans and the most recent t-mobile tablet data plan has garnered lots of attention. Tablets have become an essential tool for most homes when it comes to watching movies and multimedia services in general. They are also commonly used as an educational tool for students.
In the past, most tablets would only work under WI-FI networks and only a few from killer brands would allow cellular connectivity but it was not very impressive. Data only plans for tablets came about and almost every tablet manufacturer has incorporated cellular services to the tablet. So, if you buy a tablet, you can use it to send messages, make calls, and perform any cellular activities.
Are you looking to buy a tablet? Do you have a tablet and need a tablet data plan? Worry not, for this is the right article for you. We will take an in-depth dive into some of the T-Mobile tablet plans available and tips on choosing the best plan. Read more below!
Best T-Mobile tablet data plans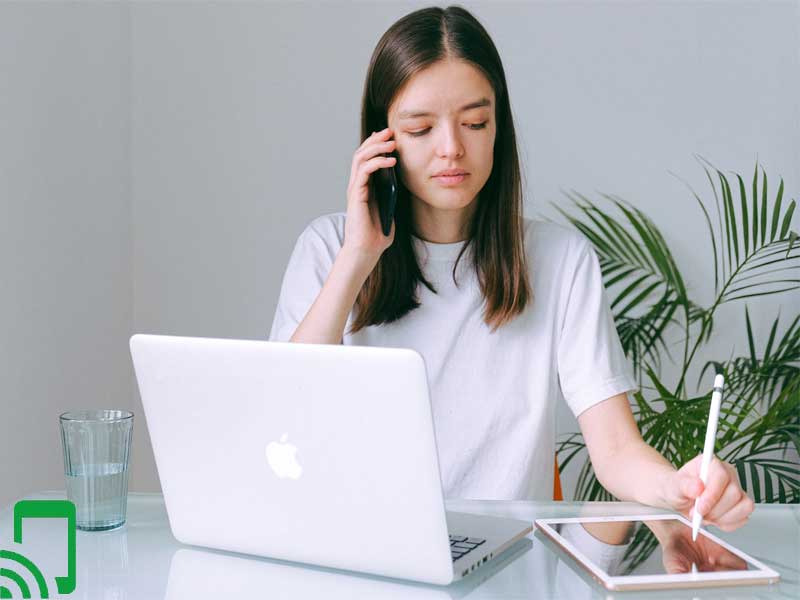 Currently, T-Mobile offers 2 tablet plans and they entail the following:
1) Magenta® tablet plan
The Magenta tablet plan offers amazing perks which you can hardly get on other networks. It comes with the following benefits:
Unlimited texting
International unlimited texting
Unlimited 4G LTE data
Unlimited streaming at SD DVD-Qualt
Texting and data capped at 128 Kbps abroad to over 200 countries
Unlimited mobile hotspot data at 3G speeds
Unlimited texting in Mexico and data
5GB internet in Mexico and Canada
2) Magenta® plus tablet plan
Magenta plus plan brings all the features on the Magenta plan and other benefits like;
20-30 GB of 4G LTE mobile hotspot
Unlimited 3G mobile hotspot after depletion of the 20 or 30 GB
Unlimited data at 2x speeds in over 200 countries
To get this plan dial 1-8000-TMObile for assistance or you can visit a store near you. If you are an existing customer dial 611 to get in touch with customer service.
3) Magenta® Essentials
The Magenta essentials give you all the minimal services you need on your tablet at an affordable price. The plan offers:
Unlimited 4G data
480P DVD-quality on streaming
Unlimited talk and 2G data in Mexico and Canada
Stream music without using up data
Unlimited texting in over 200 countries
3G mobile hotspot services.
To get this plan dial 1-800-TMOBILE .
4) Magenta® ONE™
If you use a T-Mobile phone and plan, you can get the ONE plus in addition to your phone services. The One plan entailsâ€
Unlimited 4G LTE network connectivity
3G mobile hotspot data
Unlimited texts
Unlimited music streaming
Unlimited talk and text in Mexico & Canada
5GB data in Mexico & Canada at 4G LTE speeds.
You can also amp up the plan by including extra perks like 20 GB 4G LTE mobile hotspot, Unlimited HD streaming and unlimited data at 2X speeds in over 200 countries. Top get the plans, sign up via online or contact them through 1-800-TMOBILE
Can I get a free tablet data plan on T-Mobile?
No! T-Mobile does not offer free tablet data plans despite the T-Mobile free phone upgrade. However, if you qualify, you can pay for the plans at discounted prices or without fees and taxes included to the plan. Contact 611 if you are an existing customer or dial 1-800-TMOBILE to learn how you can get the discount.
The Best 5 T-Mobile Compatible Tablet
1) Apple iPad 8th generation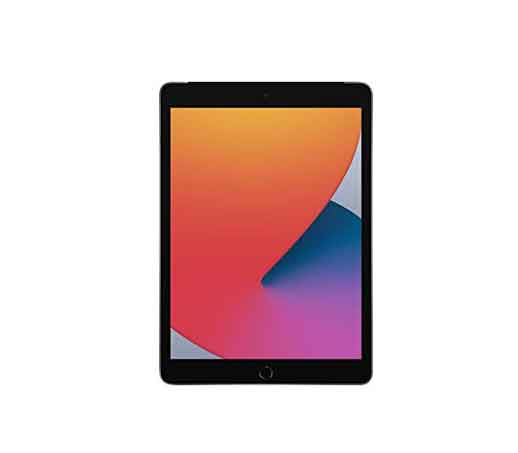 The Apple iPad was released on October 18 and has many cool features. It has a Retina IPS LCD touchscreen with 500 unit's brightness. The screen resolution is 1620 x 2160 pixels and features scratch-resistant glass. The phone runs iPad OS 14 and uses the Apple A12 Bionic chipset.
It has a Hexa-core CPU and uses the Apple GPUE 4-core graphics as the GPU. The internal memory ranges between 32 GB 3 GB RAM and 128 GB 3 GB RAM. The main camera is a single 8 MP with HDR and panorama features. It can record videos up to 1080p@30fps.
The device uses a single 1.2 MP with HDR capabilities. The device uses stereo speakers and has a 3.5 mm jack. For enhanced security, the device comes with a front-mounted fingerprint scanner. The battery is Li-Po non-removable that can last up to 10 hours on-screen time on multimedia usage. It comes in silver. Gold and space gray colors.
PROS
Long battery life
Supports fast charging
High screen resolution
Powerful GPU
2) Samsung Galaxy Tab S6 Lite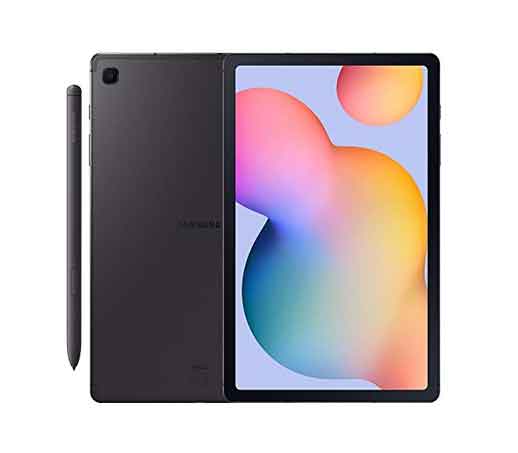 Samsung Galaxy Tab was unveiled back in May 16 and is still a killer phone as of now. The device comes with a glass front, aluminum back and features an aluminum frame giving it elegance from a distance. The screen is 10.4 inches and is a TFT type of 1200 x 2000 pixels. It runs on Android 10 and uses One UI 2.
The chipset used is Exynoss 9611 and has an Octa-core CPU. The internal memory ranges between 64 GB 4 GB RAM and 128 GB 4 GB RAM. The main camera is a single 8 MP with HDR and panorama capabilities.
It also features a 5 MP selfie camera. Tab S6 Lite offers ample stereo speakers and uses 3.5mm jack. The tablet offers 7040 mAh non-removable batter with fast charging of 15 W.
PROS
Long battery life
Supports fast charging
Stunning rear camera
Amazing body build
3) Apple iPad Pro 4th Generation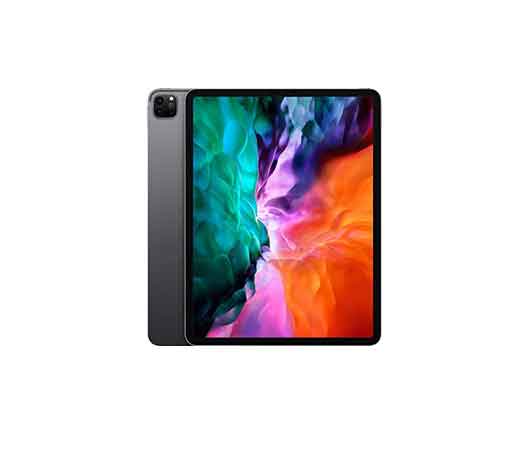 The Apple iPad Pro 4th Gen is one of the latest killer toys by Apple. It comes with an aluminum back and frame and the front is glass. The front panel is an IPS LCS touch screen with 120 Hz refresh rate and 600 nits brightness. It has a 2048 x 2732 screen resolution.
The screen is also scratch resistant and features wide color gamut. The phone runs iPad OS 13.4 upgradable to iPad OS 14. It uses the Apple A12Z Bionic chipset. The phone's internal memory ranges between 128 GB 6 GB RAM, 256 GB 6 GB RAM, 512 GB 6 GB RAM and 1 TB 6 GB RAM.
The main camera is a triple one and features Quad-LED dual-tone flash. It has a 7 MP single selfie camera. The phone has 4 ample stereo speakers. iPad pro features 9720 mAh battery which supports reverse charging and fast charging at 18 W.
PROS
Face ID is fast
High screen resolution
Stunning body design
Long battery life
CONS
Lacks fingerprint scanccer
4) Samsung Galaxy Tab A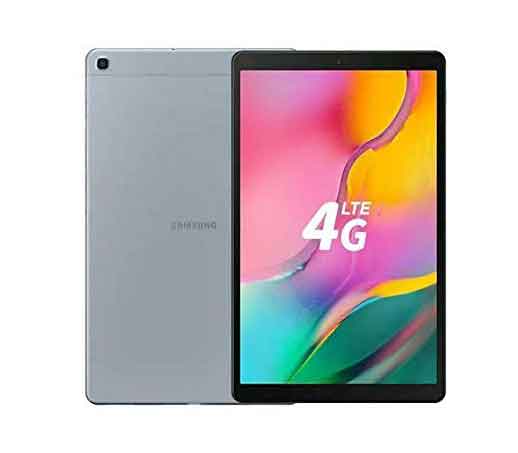 The Galaxy Tab A was launched in April 2019 and offers many stunning features. The device features a 10.1' TFT screen with 1200 x 1920 pixels. It runs on Android 9.0 upgradable to Android 10, One UI 2.0. It uses the Exynos 7904 chipset and Mali-G71 MP2 as the GPU.
The internal memory ranges from 32 GB 2 GB RAM, 32 GB 3 GB RAM, 64 GB 3 GB RAM, and 128 GB 3 GB RAM. It has a single 8 MP main camera and features 5 MP selfie camera. The phone uses ample stereo speakers and has a 3.5 mm headphone jack. Tab A comes with a 6150 mAh non-removable battery but does not support fast charging.
PROS
Long battery life
Stunning display
Ample memory storage options
Main camera supports panorama
5) Lenovo Tab M10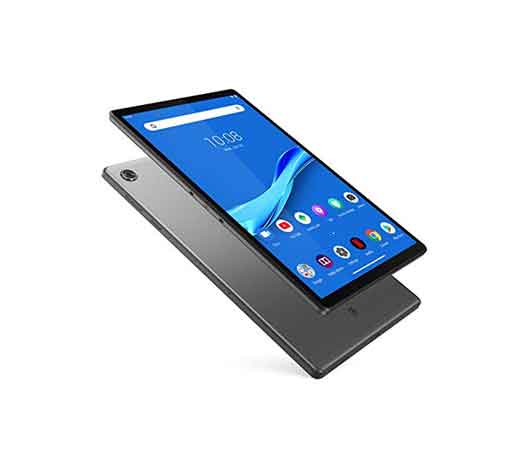 Lenovo Tab M10 may as well be ranked in the T-Mobile phone deals for existing customers due to its cool features and affordability. The device was launched on March 2020. It features an IPS LCD display of 10.3†and a 1200 x 1920 pixel for resolution. The device runs on Android 9.0 and uses MediaTek MT6762 Helio P22T chipset.
The tablet has an Octa-core cpue and features a Power VR GE8320 GPU. It supports MicroSDXC and internal memory ranges between 32 GB 2 GB RAM, 64 GB 4 GB RAM, 128 GB 4 GB RAM. The main camera is a single 8 MP while selfie camera is a single 5 MP.
The device features loud stereo speakers and supports 3.5 mm jack connectivity. It comes with a 7000mAh battery that can last 10 hours on-screen time. The tablet supports charging at 10W.
PROS
Long battery life
The speakers are loud with minimal distortion
Uses USB Type-C 2.0
Android upgrade to the next version is available
Bottom line
Having a tablet and data plan from T-Mobile can bring a lot of efficiency to your home. T-Mobile offers nationwide coverage and they have great customer service to help you get started with the plan. The tablets mentioned above are compatible with T-Mobile just like the T-Mobile compatible phones. To get started with the T-Mobile data plans dial, 611 for an existing customer or dial 1-800-TMOBILE.