The 7 Best Emergency Cell Phones for Kids
As a parent, you can agree with me that taking good care of our kids is one of the greatest responsibility and at times it can be challenging considering now with the advancement of technology. As your children get older, they crave freedom and have some demands of which is a good exposure to the child but also it doesn't mean that we parent shouldn't check on our children's whereabouts. If you are worried about your children whereabouts as they go out with their friends that no need to worry as you in the right place. In today's article, I'll take you through the ideal emergency cell phones for kids.
You might be probably wondering what I am blubbering about and that I may be insane recommending a phone. Yes, it might be ridiculous as it may sound but get your kids' phones for 10-year old can be a good solution to knowing where your children are. Yes, there are various reasons why you should avoid buying your child a smartphone but you need to consider the fact that the child is growing and you need to keep a tab on them of their whereabouts and be efficient in case of any emergency. The sole purpose of the cell phone for kids is for communication between the child and parent through some can have other features it allows you as a parent to contact your child anytime anywhere. Kids may want to communicate with their friends but also can be mischievous and can access websites and try to blend in society by actively be in social media.
Research done by experts reveals that most of the teens feel addicted to their smartphones and many parents agree that their children are hooked. Now that we that the phone isn't healthy for the kids but still required in case of an emergency, the real question is what are the ideal starter cell phones for your child that won't send your kid into self-addiction or screen -time addiction. In this article, I'll guide you through the best prepaid phones for kids and you can manage the settings of the phone so that you can monitor your child. Not only have I stated the pros and cons of each phone but also shown the key feature that can help the child in case of an emergency to be able to contact you just in time. Read ahead.
How do you manage your child's phone management?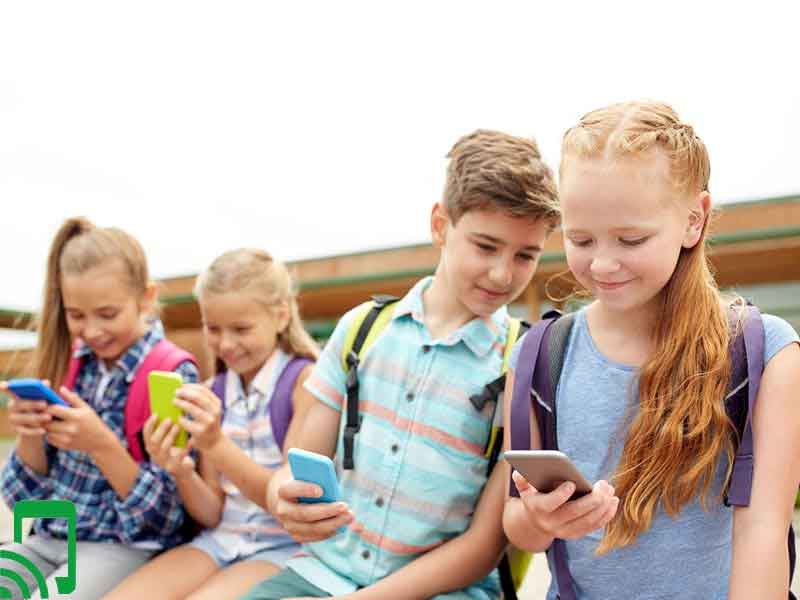 Now that you have accepted to get your child a phone what measures can you take to manage the kid's phone consumption and also how to monitor their activities on their phones. Below are a few tips you can consider while managing the phone.
First up is that you need to keep their phones at all times on Wi-Fi mode. It manages the data consumption unlike when they use your data bundle which later on you can incur extra charges due to the heavy consumption of data by your child.
You can apply for cell phone plans for kids from your mobile carrier of which will restrict some things and also save you a few bucks.
Install parental control apps available in Appstore and Playstore so that you can monitor what they are doing and you can even go full cyberspying if your child is too mischievous.
On their phones set up an "Ask to buy" alert that will help notify you when one to make any purchases on their phones especially if their gaming to avoid hue debts on your credit card and can cost you dearly.
You need to make it clear to them the consequences that they may face if they do not compile with the rules.
Set a schedule on the screen time as it will help manage on the time they spend on their phones and they won't be addictive to their phones
Top 7 emergency cell phones for kids 2020
1. KidsConnect KC2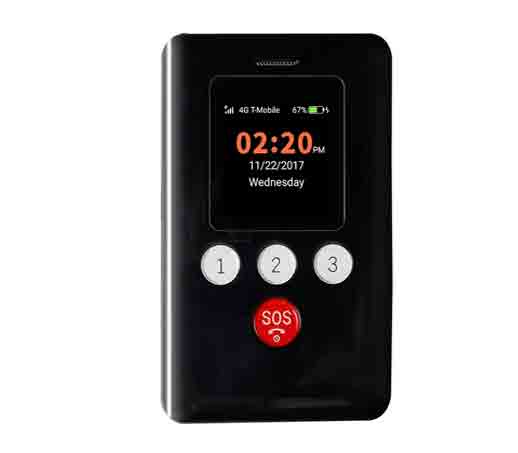 Currently, it has a rating of 4.1 out of five stars with 159 customer ratings hence it is a high-performance gadget. Being among the world's first 4G kid's GPS tracker and a cell phone it has various features that you will love. It has efficient parental controls as your child calls and text only to and from numbers programmed by you.
It is among the best cell phone without internet capability that keeping your kids safe from online dangers. It has an accessible SOS button, geo-fencing, and real-time tracking with voice monitoring.
PROS
Superior parental controls
No internet
An accessible SOS button
Real-time tracking
Voice monitoring
CONS
The small screen thus can be hard texting
2. Ralehong Smartwatch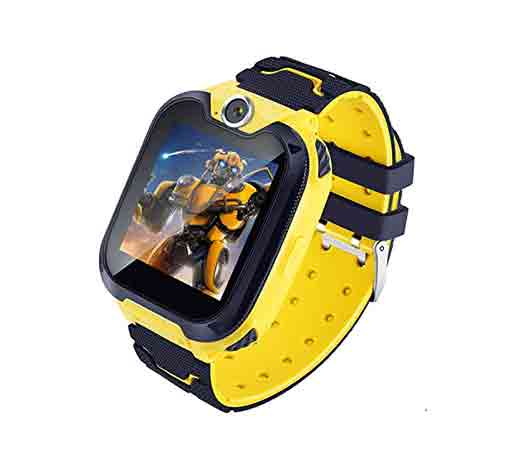 First up is the Ralehong Smartwatch. Currently, it has a rating of 4.0 out of five stars with 107 customer ratings hence it is a high-quality gadget and the customers love it. The smartwatch comes with ten main features: Games, Music Player, Camera, Phone, SOS, calculator, Voice recorder, Photo album, and an Alarm clock.
In the games section, your child gets to solve seven challenging puzzles that can aid in brain creativity and you as a parent can limit it. Your child can enjoy their favorite tunes and can capture special moments of their adventure. Lastly, the SOS option once pressed will call mom and dad's phone numbers until answered and you can communicate smoothly.
PROS
Fit for 3-12 years kids
Easy to operate
An efficient SOS
Ming-challenging puzzle games
You can store music and photos
CONS
You can't connect to your phone via Bluetooth
3. VTech KidiZoom Smartwatch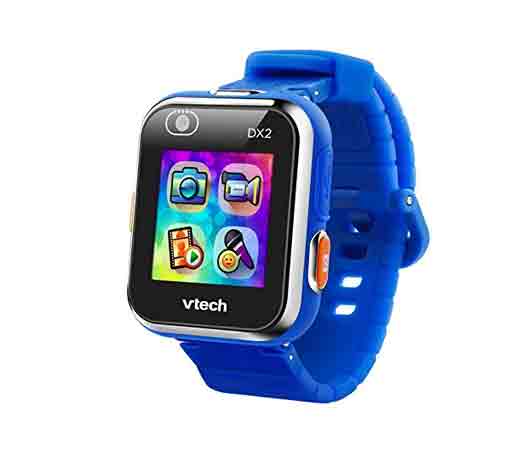 The smartwatch comes with two cameras that allow the child to capture video and selfies that can be customized and made into new watch faces. The watch helps learn how to tell time and has 55 digital and analog faces that they can customize.
It has an entertaining game that creates an augmented reality gaming experience that makes the child feel like they are capturing a monster in real life. It comes with a Micro-USB cable that you can transfer your photos and videos and you can recharge the watch. It is suitable for children between 4-12 years.
PROS
An entertaining game
You can recharge it
You can capture videos and photos
A child can learn how to tell time
A motion sensor
4. Fitbit Versa 3 smartwatch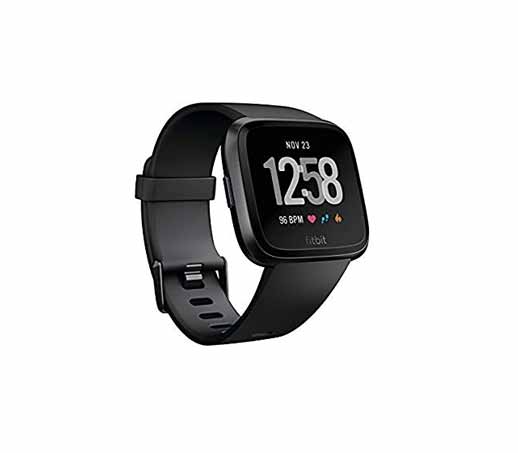 The kids' watch supports various features such as Two-way call, LBS positioning. SOS emergency call, camera, flashlight, remote voice monitor and many others. All these features you can control all of them on your phone with the Mobile app it comes with.
The LBS position technology provides you a durable safe guarantee for the safety of your child. Your child can long-press the SOS for help in case of an emergency and the device can store up to ten numbers on App that you can sync easily to the watch. Lastly, as a parent, you can remotely control the camera through the app.
PROS
Efficient emergency features
Remotely control the camera
A proficient LBS position technology
Good parental controls
An efficient mobile app
CONS
It doesn't support CDMA sim cards
5. VTech kids buzz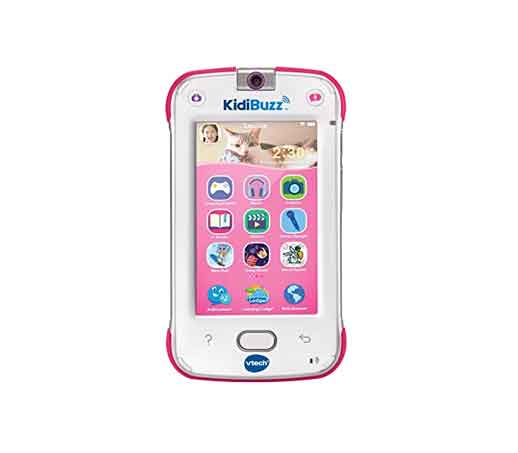 The device allows your child to send texts, voice messages, photos, drawings, and animated stickers over Wi-Fi to their parents or the approved contacts by the parent for safe online interactions. The gadget is preloaded with more than 40 learning games that cover various subjects such as math, speling to keep the learning going and it is more fun.
It has 180 degrees rotating the camera so that children can explore their talents in photography and keep their memories during their adventures. Lastly, it has a kid-safe web browser that blocks inappropriate contents and the child stays safe.
PROS
Compact design
It has interesting learning games
A kid-safe web browser
It can capture videos and photos
An efficient KidiConnect and talk button
CONS
Hard to configure the mobile app on your phone
6. VTech KidiZoom Smartwatch DX2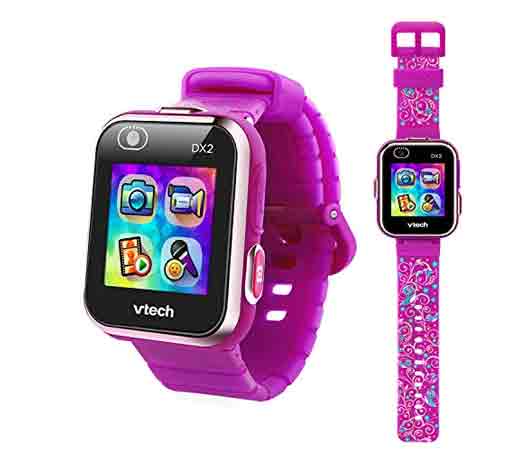 Currently, it has a rating of 4.3 out of five stars with 670 customer ratings hence it is a high-quality gadget. It comes with two cameras that allow you to take videos, pics, and selfies that can be customized and made new watch faces.
The gadget helps the child learn how to tell the time as it comes with 55 digital and analog watch faces that you can customize to splash-proof. A catchy monster game that creates an augmented reality gaming experience. You can change the wristbands as it comes with two changeable wristbands of different colors.
PROS
Helps kids to learn how to tell time
A catchy game
Good cameras
It is rechargeable
An efficient motion sensor
CONS
It has no voice monitoring
7. Sports model F15 Mini Flip phone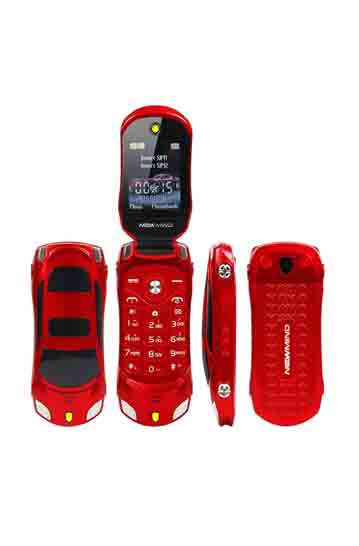 To finish off is the F15 Mini Flip phone. The device supports various mobile networks which is ideal as you can get the prepaid plans for kids that can help you save a few bucks. The phone is dual sim so you can choose the best mobile carriers in your area.
It has a battery capacity of 800mAh and a single camera that they can capture the good moments as they adventure. It supports various languages such as English, French, Russian, Arabic, Portuguese, Spanish, Greek and others.
PROS
It supports different languages
A battery capacity of 800mAh
It supports various mobile networks
Dual sim enabled
A good camera
CONS
It doesn't support CDMA mobile carriers
Bottom Line
From the article, you have seen the various cell phones without internet capability which is an ideal choice that you can get fro your kids if you don't want to incur extra data charges. Though your child has access to the phones, once you subscribe to the cell phone plans for kids no need to worry as you can check out the plan and contact the mobile carrier to limit so the features offered of which can help save you from a hefty monthly bill.
An ideal option that you can opt for is the Verizon kids phones as it has excellent features that can help you man the phone and has flexible options that the child can opt for in case of an emergency.  I highly recommend you get the devices from Amazon as you get them at significant discounts and delivered at your doorstep on time at a low shipping fee. Feel free to leave your comments below as we will highly appreciate it.