Everything You Need to Know About Bringing Your Own Device to Verizon
Having the option to use your own phone when switching carriers is one of the cool things to happen to people. Most people are attached to their old phones and they are very conversant with them. When carriers make people to buy new phones just because it is a policy, it is always very disappointing. Therefore, Verizon bring your own device services are here to bridge this gap in the telecommunications market.
They BYOP is not only offered by Verizon wireless but also other service providers in the market. The services have been there for almost a decade and it is helping people a lot. Bring your own phone plans apply to both new and existing customers at Verizon. If you have a Verizon compatible phone; it qualifies to be under BYOD. Verizon wireless offers an extensive option of plans for new members who plan to apply BYOD. The plans cover for seniors, kids, and middle-aged people. You also do not have to worry about any commitments, contracts, extra fees or charges at Verizon.
From several Verizon wireless review; which people have rated more than 4 stars, you are confident of a reliable service. They offer nationwide coverage even in rural areas, so it is indeed a good option to go for. They have a 24/7 hotline number which does not consume your minutes when you call them. You can call customer care that will help you with any issues you have regarding the phone or talk, text and data problems. If you find BYOD not the option for you the Verizon wireless free government phone is a good option if you are eligible.
How does Bring your own device work at Verizon?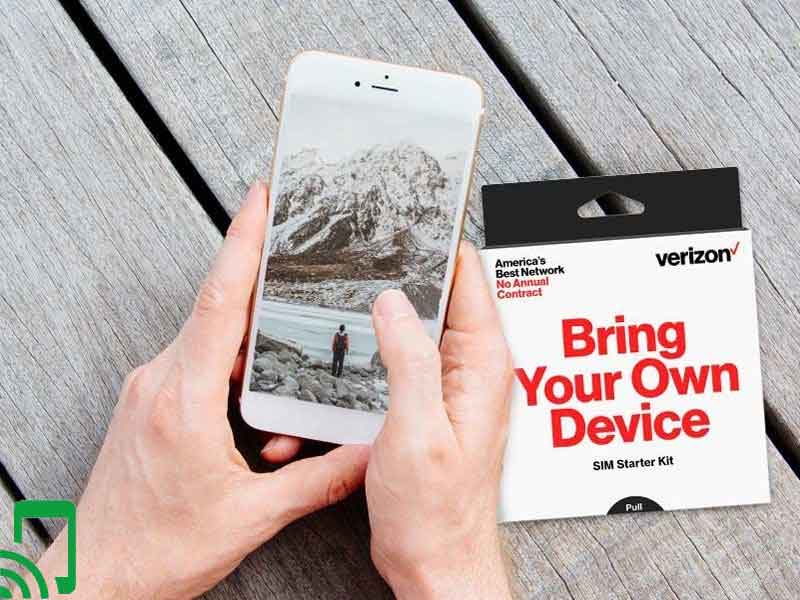 The Bring your own phone services did not start at Verizon. The idea began in corporations whereby employees were allowed to bring their own phones in their work stations for the basis of connecting to corporate networks.
The idea also came to be in the telecommunications industry with companies like AT&T and T-Mobile and Verizon wireless came about with this service in order to help people save costs on buying new phones.
So, if you have a phone that you don't seem to use a lot you should definitely consider BYOP. The phone does not have to be 4G LTE compatible. The only major condition is that the phone needs to be unlocked. You can check whether the phone is unlocked in several ways like;
Using several Sim cards
If only one line is readable, then the phone is locked but if several sim cards display network bars, then the phone can work with any carrier.
Visit a Verizon wireless retail store
The retail store has great expertise that will help you to know whether your phone is unlocked. These are the simplest ways to know whether the phone is unlocked or not. Once you know your phone is unlocked, you can then apply for the BYOP and below is a simple guide;
Step 1: Buy a new sim card form Verizon wireless stores
Once you have proof that the phone you plan to use is compatible and unlocked, you can get a sim card from Verizon's online store at a very affordable price.
Step 2: Choose a cell phone plan
Verizon wireless offers to major categories of plans; prepaid and post-paid. You will be required to choose and activate a plan so that the phone may be fully activated.
Step 3: Activate phone and plan
Once all the processes mentioned above are done, you can then activate your phone from their website.
What phones are compatible with Verizon wireless?
The Verizon smartphones for seniors are some of the best phones to go for if you are a senior. Verizon offers a wide range of compatible phones which you can choose from in their online or retail store and at very affordable prices too. If your phone connects to LTE networks, it will work with Verizon wireless.
However, if your phone works with GSM network (mostly 2G and 3G networks), then it will not work with this carrier. However, if the phone allows CDMA network technology, then it will work perfectly.
Most brands however support CDMA; in fact, the top tech companies' phones will work perfectly for you and they include the following;
Samsung
Motorola
Kyocera
BLU VIVO XI
Razor Phone 2
OnePlus 
The phones can be purchased from their website or affiliates like Amazon and eBay. However, if you plan to buy from third parties; you need to be careful not to get a locked phone.
What plans are available for BYOD at Verizon wireless?
There are several plans which you can choose from as I mentioned earlier. The plans are divided into postpaid and prepaid. Our main focus is the prepaid plans which has been the mantra by many Americans using mobile services.;
1) $30 prepaid plan
First on our list is this affordable plan that gives you the following;
1GB of data
Unlimited domestic talk and text
Mobile hotspot is included
Data can be carried over to next month
2) Basic phone plan
If you have a basic phone with basic features (non-smartphones) you can go for this plan at only $30 per month and get to enjoy the following;
Unlimited national talk and text
500MB of data with no throttling
3) $35 prepaid plan
It only goes for $35 per month and you get the following;
Unlimited talk and text
6GB of high-speed data
Data caps are offered if exceeded
No overages
4) $50 prepaid plan
If you use auto pay you get a $5 discount. The plan offers;
Unlimited talk and text
16GB of high-speed data
Mobile hotspot is available
Carryover data
5) Unlimited 55+ plan
This plan applies to seniors who are new to Verizon wireless. If you are an existing customer, then the verizon internet for low income families may be something of interest for you. The unlimited 55+ plan offers the following at $60 per month;
Unlimited talk and text
Unlimited data
Mobile hotspot at 600 kbps
DVD-quality video streaming
6) Unlimited military plan
Verizon offers amazing deals for military members and this is the starter option. For only $60 per month you get the following;
Unlimited talk and text
Unlimited data
SD quality streaming
Mexico and Canada are also included to the plan
7) Start Unlimited plan
If you are not a veteran or senior, this is the starter pack for unlimited plan, and you get the following at only $70 per month;
Unlimited talk and text
Unlimited data
SD video streaming
Mobile hotspot is included
8) Do More Unlimited plan
For only $80 per month, you get the following;
Unlimited talk and text
Unlimited data
You get AutoPay discount if you are a military member.
9) Play more unlimited plan
For $80 per month, you get the following;
Unlimited 5GB mobile hotspot
HD video streaming
15GB of mobile hotspot
Unlimited talk, text and data
Apple music is offered
10) Get More unlimited plan
Get more is a plan that offers you more services at an exemplary affordable price of $90 per month.
30 GB mobile hotspot
HD video streaming
75GB of premium data
500GB of Verizon cloud storage
Apple music
Roaming in selected countries
These are some of the best plans which you can go. As you have seen, there are AutoPay discounts which will save you some bucks. Also, if you are in the military or a senior, you are covered with the discounts. With tech development, you can buy the plan of your choice in their website at an affordable price.
Cons of BYOD at Verizon wireless
For every good thing, there must be the other bad side of it. As for Verizon bring your own device, there are few cons which people may find it disappointing. Below are some of the major cons;
Limits on phone compatibility
Most phones are made to use GSM networks which are more used globally compared to Verizon's CDMA. So, most people turn up for BYOP to find out that their phones will not work on their network.
Affordability of plan
The cheapest plan starts at $30 per month. They should allow people to customize their plans in term of what they need most just like Ting. This will even help gunner more customers in top their network.
Conclusion
Verizon wireless offers a very simple activation process which you do not have to visit a retail store to do so. They have all the necessary tools in their website to help you in the activation process. They offer an extensive phone compatibility for BYOP and leading brands like the Samsung phones can be brought in.
Verizon has a reliable customer care service that will help you in case you have inquires or complaints. So, start by visiting Verizon wireless to get the best services in the mobile sector! You can also easily apply for a plan and buy a sim card. You can apply for a free phone very easily at their website too.