How to Switch From Metro by T-Mobile To Boost Mobile (Free)
For any business, a lot has to be done in order to lure customers into buying their products. This is also similar in the telecommunication industry, whereby service providers like Boost mobile are offering amazing deals once you port your number to their network. The switch from Metro by T-Mobile to Boost mobile and get a free phone is one of the things Boost mobile is doing, and many people have given a positive response to it. This has also seen immense growth in the company.
Boost mobile is a service provider owned by Sprint, one of the top four major carriers in the US. This means that you will get the best network coverage, and since Boost mobile is an MVNO, the prices for plans are very affordable. The good thing with switching to Boost is that there are no complicated processes and get a free phone when you switch. If you have a credit score or you are in debt with your previous carrier, you should not worry since that is not their prior concern.
The company also offers the best boost mobile plans with free phones, and the phones range from flagship to mid-range. Switching carriers does not mean that the service provider is bad. Many people have several reasons like poor network coverage in the area you live or any other thing that may not be of good taste to you, but it will work for another person. If you wish to switch from Metro to boost, continue reading to learn on the ins and outs of the process.
What are the conditions for switching?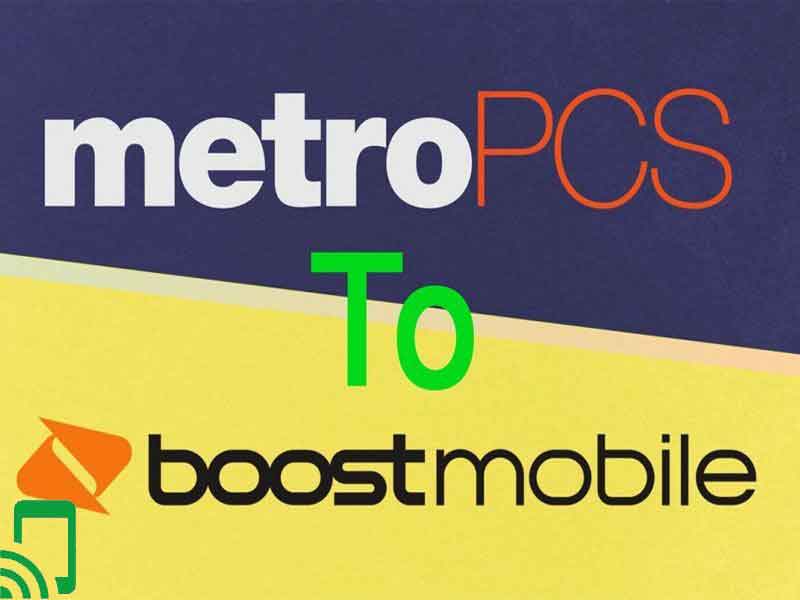 If you have ever asked yourself how I can switch from SafeLink to MetroPCS, you may have a clue of the switching process and what is required.  Most people who switch carriers also port their phone numbers because having a new number may seem costly, plus it will be like signing in to a new carrier completely. The following are the necessities for you to switch to Sprint and still port your number;
Your phones IMEI to check on compatibility
Your name, address and customer account number from Metro by T-Mobile
Your account pin from Metro
An unlocked phone which is compatible with Sprint's network
If you have all these in place, then the switching process will be easier. The most important to consider is that you should have a Boost mobile compatible phone. You can always check for compatibility using their IMEI checker found in their site.
Which phones are compatible with Boost mobile?
As mentioned earlier, Boost Mobile uses Sprint's network to deliver connectivity. As for Sprint, it uses CDMA network technology, a technology that is rather outdated compared to the current GSM technology. Most phones are compatible with GSM, while others will both work with GSM and CDMA. Here is a list of types of brands available for compatibility with Boost mobile;
Samsung
Google pixel models
iPhone 6 and above
LG smartphones
Motorola
Essential PH-1 phones
Razor phone
You may have heard of the sprint phone deals for existing customers, and the phones available on that deal will also work for you in Boost mobile. However, if you consider opting for BYOP, ensure to check e network technology that your device uses.
Read More: Does Mint Mobile Have Hotspot? Here's what to know about mobile hotspots.
How to switch from Metro by T-Mobile to Boost mobile
After knowing the rules required and the phones compatible, the next step is to know how you can switch to Boost. Below is a set by step guide to simplify the process once you start;
Step 1: Port your number to boost mobile
If you do not wish to get a new number, then the easiest option is to port your number. Porting may take 2-3 hours, after which you can sign up for a plan with Boost mobile. Not much is required from you, and they will also not dive deep into your personal details. Here is what you need to do in order to port your number;
Call Boost mobile to inform them that you wish to port your number. They will request you to provide information like your name, address, and account number.
Do not deactivate your plan at Metro since the number will be deactivated
Boost mobile will call Metro to inform them that you wish to port your number and the porting process will begin
Once the process is complete, you will be able to use your number in a Boost mobile sim card
Step 2: Buy a Boost mobile plan
After porting your number, you will need a boost mobile sim card and also a plan. The sim card can be purchased at any Boost mobile retail store or in their online store. As for the cell phone plans, there are good plans which will match with Boost Mobile deals for existing customers. Below is a list of all their prepaid plans.
$25 per month for four lines
This is one of the best offers you can ever get for a cell phone plan. Once you buy four lines, there is a unique offer whereby you get unlimited talk, text, and data units across all the four lines. The deal is open for new or existing customers.
$35 per month plan
For $35 per month per line, you get a wide range of features that you will truly love. Five lines cost $150; 4 lines costs $120; 3 lines costs $90 and 2 lines costs $60 per month. What you get from the plan is;
Unlimited talk and text
3GB of 4G LTE data
Unlimited music streaming
Free tidal for 6 months
$50 per month plan
For this plan, you get better features compared to the $35 per month plan. You can also buy a maximum of five sim cards at $170; 4 lines at $140; 3 lines at $110; 2 lines at $ 80.What you get from the plan includes the following;
Unlimited talk, text, and data
SD video streaming
12 GB of mobile hotspot
Tidal for 6 months
Gaming up to 2 Mbps
Unlimited plus plan
If you love HD quality videos while streaming, then this is a plan for you. Two lines go for $100; 3 lines cost $140; 4 lines costs $180; 5 lines costs $220.The plan costs $60 per month and comes with the following;
Unlimited talk, text, and data
HD video streaming
30GB of mobile hotspot
Tidal up to 6 months
Gaming speeds are up to 8 Mbps
Ultimate unlimited
The epitome of Boost mobile plans is this one. For $80 per month, you get a wide range of features rare to find in any carrier. You can have 5 lines for $320; 4 lines at $260; 3 lines at $200 and 2 lines for $140. The features include the following;
Unlimited talk, text, and data
Precedence customer care
HD video streaming
International Connect PLUS
50GB of hotspot data
Tidal premium
From this, you realize that all the plans have multi-line discounts. You will also never be charged with extra fees, taxes, and hidden costs. These are the key steps to switch to boost mobile.
The good thing is that you do not need to visit a retail store to complete the process mentioned above. Every transaction can be made in their online platform, and it will save you a lot of time. Visit their site to purchase a plan now!
How do I get a free phone once I switch to Boost mobile?
The freephone is not offered to everyone who switches to their network. The promotion for a free phone applies only to those who have switched to Boost mobile, and they have also ported their Phone number. Earlier in the article,
I mentioned the steps in which you can port your phone number easily. The freephone offers are also a limited promotion, just like what the parent company Sprint does. So if you are in dire need of a smartphone, then you can check out their website to learn when the promotions are taking place.
The phones offered are of high quality, so you will never have to doubt them at all. The phone is, however, limited to Boost mobile networks, so using it to other carriers will not work for you.
Read More: What Phone Carriers Are Compatible With MetroPCS? We share 3 carriers that are compatible with MetroPCS and their best features!
Bottom Line
Switching from Metro by T-Mobile to boost mobile is a straightforward process. The good thing is that Metro PCS will not hold you back even if you are in debt with them. In cases where you are in debt, all the debt will be billed to your at the end of the monthly plan in your previous company.
You should also note that there will be early termination fees if you were in a contract with them. So if you are in a contract, the best option is for the contract to end, then you can switch. Boost will also not inquire much from you, as I mentioned earlier in the article. Lastly, ensure that you go to the official Boost Mobile page once you decide to apply for phone plan so as to avoid phishing.