The 5 Best Free Government Landline Phone Services
You are probably wondering what's the difference between a landline phone and a cellphone. Though they both are meant for communication purposes, they are different. Popularly known as home phone, it is a phone service that transmits audio signals through a wire or fiber cable. Unlike mobile phones, home phone is wired. To let people stay connected, the free government landline phone service program provides the home phone services at no extra fee provided you meet the requirements.
Currently, phone services have become a necessity in the economy not only for communication purposes but also for managing business and keeping in touch with your workmates.  Due to these changes, in collaboration with mobile phone service providers, the government provides free landline phone services to seniors, low-earning households through a program called Lifeline.  Through this program, you can apply for the free government phones. If you are an eligible senior then you can enjoy the cheap landline phone services without straining your monthly costs.
You can lease a cell phone with no credit check so you don't have to worry about paying the whole amount instead you can opt for monthly installments. In today's article, I'll guide you through how you can get free government landline services on the requirements you need to be eligible for the Lifeline program. Also, I'll take you to the best landline phone service providers so that you can choose the ideal that offers you the best services in your area. Read ahead.
How to get free landline phone services?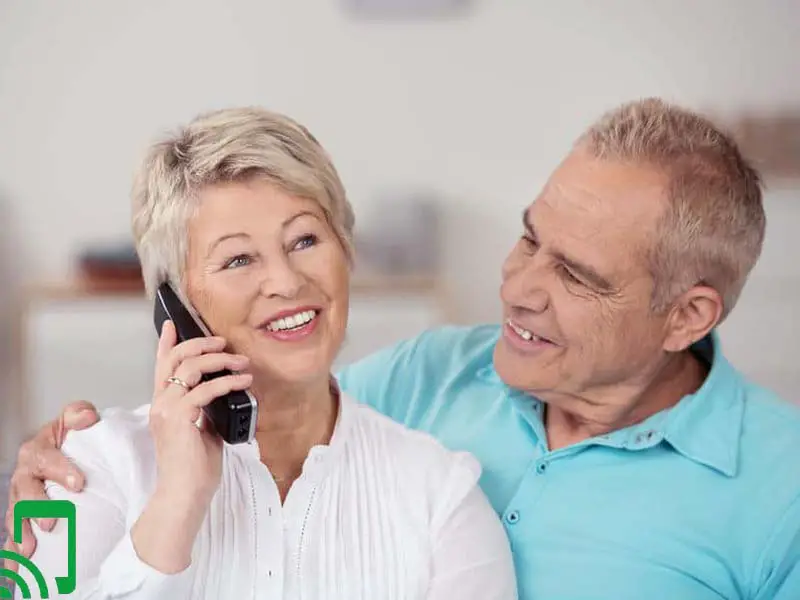 The first step you need to take is you look for a wireless provider in your state that offers the Lifeline Assistance program. Through this, it will help you determine your eligibility for cheap landline phone services. Since various mobile carriers have certain requirements you need to be keen before you apply so that you get stranded during application.
You can get a leased phone with no credit check from some of the mobile carriers so you won't b required to pay any connection fee. However, one thing you need to remember is that you need to comply with the yearly certification for ongoing services.
How is one eligible for free landline service?
You can be eligible for the program if your income is below 135% with the federal poverty guidelines in your state. Also, families whose kids get free lunch via the federal government or those kids who get reduced might qualify.
If you don't meet these requirements no need to worry as you can qualify provided you participate in one of the government programs. To qualify for the landline services you must participate in one of the following programs;
Food stamps
Medicaid
Women and Infant Children(WIC)
Low-income home energy assistance program (LIHEAP)
Supplemental Security Income (SSI)
Federal Public Housing Assistance (Section 8)
Top 5 best free government landline phone services
1) Safelink Wireless
To start the list is the Safelink Wireless. Safelink Wireless is among the oldest and largest free government phone carriers in the US ass it has served over 4 million customers across all states. Also, the customers include the District of Columbia and Puerto Rico.
Though it is owned by TracFone, Safelink Wireless is part of the lifeline support service hence you get to enjoy the services without any inconveniences. Once you subscribe to the mobile carrier you get up to 350 free and long distance minuted and unlimited text messages every month to eligible applicants.
For the new customers, you get 500 minutes for the first 30 days that which is a great offer to start.  For one to be eligible for the Safelink Wireless free phone services, one should participate in any Assistance program initiated by the government.
Also one is eligible if your household income is below the poverty guidelines. Applicants should present their credentials to back up the details of their application concerning their income and federal assistance. For more information, you can check out their website here.
2) Assurance Wireless
Assurance Wireless is another mobile carrier in the US that offers the free government touch screen phonesunder the Lifeline Assistance program. Though it is under Virgin Mobile, you get to enjoy the landline phone services offered.
The unique thing about the mobile carrier is that it provides one with a free cell phone with up to 500 monthly minutes and unlimited texting. Signing up for Assurance Wireless is quite an easy job. If you participate in one of these programs; Medicaid or SNAP and you can provide proof then your application will be approved quickly.
If you don't participate in any of these programs then you can show your household income is below the federal poverty guidelines in the state you live in. Since it operates under Virgin Mobile, you will get to enjoy the clear audio quality and you won't miss any calls or texts. You can check out their website for more information or any inquiries you have.
3) Budget Wireless
Another ideal option you can opt for is Budget Wireless. Just like the name of the mobile carrier, it offers various flexible plans that can suit your budget. It provides flexible plans that you can choose from and that will suit your needs and will not strain your monthly costs.
The ideal plan you can opt for is the basic free method that comprises of 250 minutes o talk time and 250 texts per month. If the plan runs out then no need to worry as you can add more minutes and texts for $5. At Budget Wireless you get to choose amongst a variety of prepaid plans that are accessible and all increase with $5.
Although it doesn't offer many minutes and texts it is convenient for other individuals. The unique thing about the plans offered is that it doesn't come with contracts or fees and there is nationwide coverage however the program isn't available in some states.
Also, the mobile carrier's plans come with voicemail, call waiting, and caller ID which is convenient if you're a senior. For more information or inquiries check out their website or visit their nearest store.
4) Reachout Wireless
Reachout Wireless is the third mobile carrier among the top service providers for the Lifeline Assistance program in the US. The mobile carrier offers free government phones for the low-income family to financially disadvantaged families and also the seniors.
Provided you are compliant with the lifeline assistance program initiated by the government you get to enjoy the services without any disturbances. Reachout Wireless offers 250 minutes of talk time in various states but also in some states you get better packages.
For instance, for the California residents, you get unlimited talk time of which is rare in other California cell phone service providers. As a California resident, you might consider subscribing to this provided you are eligible. Also, for Oklahoma residents, you get 350 minutes of talk time.
Additionally, every message sent or received shall be counted as one minute of the allowance. As a customer of Reachout Wireless, you get to enjoy the following features: call forwarding, caller ID, call waiting, international long though you will incur an extra charge, select text messaging, voicemail, and 3-way calling. You can visit their nearest store in your area but also you can check out their website for more information or any inquiries.
5) MagicJack
To finish off the list is magicJack. magicJack is a landline phone service provider that is compared to the olden VoIP providers though it has a few changes. It lets the user link their VoIP adapter directly to the PC. Due to the USB adapter, it lets you connect your phone cord directly to your PC instead of the VoIP adapter.
The only thing you need to ensure is operating is the PC so it must be operational at all times to keep the phone live. Also, you won't need any extra chunky device for proficient operations. The cost of the magicJack adapter is $20 and the annual cost of the service offered is $20 excellent deals if you are on a tight budget.
If you have a relative in another country like for instance Canada you can contact them but with a moderate fee per minute. Though you can't port your current home number, you can access as the service provider has come with a gadget that you can plug directly into the socket. Provided you have an internet connection you can relay the dial tone to all standard telephones.
Read our related article on the Best Cheap Landlines for Seniors. Discover the top landlines for seniors and if you're elegible for financial help.
Bottom line
Though many people have shifted to the latest smartphones in the market, you can still keep the landline phones as it has a lot of benefits. The landline phone sounds better than the cellular and this can be an advantage if you have hearing problems or the household has is noisy.
Also, it improves security as the landline is connected to your IP address and the number of houses thus if you dial the 911 in case of an emergency then they will know where help is needed. We need to accept the fact that making phone calls and texts are expenses as part of our life. Through the Lifeline program, one can access the free government landline services to stay connected with your friends and families.