The Jitterbug Flip Phone Reviews
Flip phones have over the years become indigenous especially with the inception of smartphones. Despite the presence of smartphones in place, people especially seniors still have the need for a flip phone. The flip phones come in handy to seniors with poor eye sight or those with profound hearing loss. The flip phone has been featured in several TV shows as one of the leading brands of flip phones despite their increasing extinction over the past few years.
Jitterbug flip phone comes with a wide range of perks from the camera, keypad, battery and emergency services. It also uses the most dependable network in the country which is Verizon wireless. Despite being a phone without internet capability, the Jitterbug flip allows connectivity in various wireless networks like GPS and Bluetooth.
Many Jitterbug phone reviews apprehend this device for its simplicity and yet serving a wide range of purposes to many people. This article tends to give you key specs on the Jitterbug flip phone. You will also learn more on where to buy the Jitterbug flip phones and any other information regarding this phone.
What plans are available on the Jitterbug flip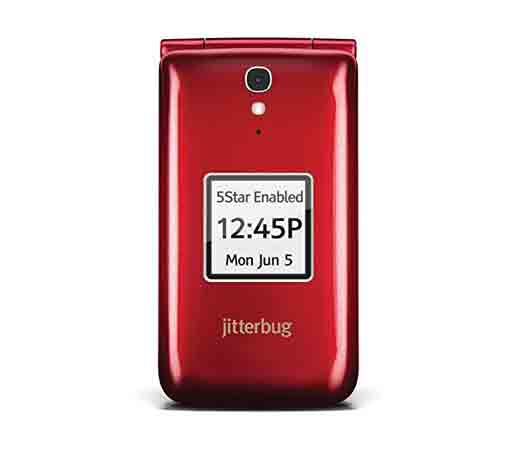 There are several types of plans you can get once you have the jitterbug flip phone. First Jitterbug flip uses Verizon network which is nationwide and also uses the 4G bands hence you will never have any dropped calls or fail to send and receive text messages. There are three types of plans you can get with the Jitterbug phone;
PROS
It is quite easy to use
The audio quality is very stunning
It uses the 4G band network which is quite fast
The display and buttons are huge
CONS
The battery has a less talk time
The brightness of the device is low compared to other flip phones
1st plan
This plan offers you 600 minutes and emergency services. It only goes for $30 per month
2nd plan
For $45 per month, you get the premium features in the emergency services and also your phone is insured
3rd plan
This plan offers you unlimited talk and text for only $1-0 per month. Luckily this is a no contract plan and you can opt out any time.
Jitterbug flip phone specs
1. Body design and dimension
Jitterbug flip is a very light device and has a stunning body design.  The device comes in a stunning red color and the dimension is 4.3X2.2X0.7 inches. This phone only weighs 3.7 ounces which is quite big but with consideration to the bigger display and keypad. The keypad has backlit capabilities. The keypad is also large and has additional buttons for easy navigation.
2. Display
Jitterbug flip has a 1.44-inch screen with a resolution of 128X128 pixels. This is the front screen or rather the notification screen according to most people. This screen allows you to view notifications like incoming texts and calls plus get info on the date and time. Once you flip the device open the device, you will get the main screen which is 3.2 inches in size and has a resolution of 480X320 pixels.
3. Performance and memory
This device runs on a Qualcomm snapdragon 210 processor which is quite powerful for a flip phone. This gives the device adequate power with regards to the type of functions it will work on. The Operating system is quite stunning with regards to its performance.
You can easily navigate through in the menu and the icons are well displayed. The User interface is also quite friendly. Jitterbug flip comes with 4GB of ROM and 3GB is usable. You can however get am SD card that can boost the memory up to
4. Camera
To our surprise, the camera quality is quite unexpected for a flip phone. Jitterbug flip has a 2MP camera that takes high-end photos and videos. It can take stunning photos in low light conditions and also has a 5x zooming feature.
5. Battery
Jitterbug flip has a stunning battery life. The battery can last for up to 10 hours under optimization and has a stand by time of around 600 hours.
6. Security and Emergency
Jitterbug flip is the only flip phone that comes with emergency services. The device has a 5-star button which if you dial you will be connected to a special emergency team who will be able to help you depending on the situation. With the GPS, this emergency team can also track your location and offer real time services in case of an emergency.
Is the jitterbug flip worth your price
If you are looking for a device without internet connectivity, then this phone is the best option for you. There are many flip phones out there but this one is the only one that uses 4G bands. By using 4G, even when Verizon shuts down its CDMA services, you will still be connected to their network.
The device also has a friendly user interface, ample sound system and high battery capacity. The device is also very affordable and goes for around $74 in most retail stores.
Where to buy Jitterbug flip phones
The Jitterbug flip phones can be bought in most retail stores near you. However, GreatCall the manufacturer of Jitterbug also sells the device in their online and offline store near your location. Other places where you can get the phone are from;
There are also selected retail stores owned by Verizon where you can get the Jitterbug phone. Also, if you are an AARP member, you can get a discount off the price of the device. The discount varies from time to time and in most cases, it ranges at 20%.
Final Verdict
Jitterbug flip phone has been reviewed by thousands of people and they seem to be impressed by how the device works. It is quite a good device for seniors and even kids. The phone comes with great features and it relies on Verizon's network. The device is however locked to Verizon's network which is quite efficient. So, buy your Jitterbug phone today at any retail store near you.