The Samsung Convoy 3 Verizon Full Reviews
Samsung and Verizon have been in the limelight for several collaborations to provide cheap and high-quality mobile phones.  Samsung Electronics is known to be a big shareholder in the electronics in the Electronics industry by manufacturing things like phones, TVs, home appliances and many more things. As for Verizon it is one of the biggest service providers with a load of the best cheap phones and plans and other amazing deals.
Samsung recently launched the Note 10, a flagship device coveted by many. If you can't afford the Samsung Note 10, Samsung got you covered with some of their low budget smartphones which they issue out in association with several standard and MVNO service providers. The Samsung Convoy 3 Verizon is among such mid-range devices which have a lot of perks that you will really love. If you can't afford the Note 10 then this phone may be a good budget phone for you.
Verizon may also offer financing to eligible members but the only downfall is that you will be tied to a contract with them and they may lock the phone to be only used in their network. However, if you completely buy the phone, you have the no contract plans on the table and you can opt out of Verizon at any time. Having the convoy 3 especially if you plan on doing a phone upgrade is a very good option for you. Once you read this article, you will get more info on the specs and best places to buy the Samsung Convoy 3 Verizon. So, read ahead to learn more.
Is Samsung Convoy 3 worth your money?
Samsung Convoy 3 is worth your money if you plan to get a phone which you don't need internet on it. The device has good features that qualify it to be the best phone for seniors. You can also consider buying this phone as a side-phone and it will help you in case of an emergency or when your standard phone runs out of power.
The plans for this phone are also quite affordable too. You only pay for the text and plan options and in most cases, there are no contracts. The plans start for as low as $10 in Verizon and also some several service providers.
Despite lacking a five-star button like the Jitterbug phone it features SOS button that you can use to contact the programmed numbers in case of an emergency.
Samsung Convoy 3 Specs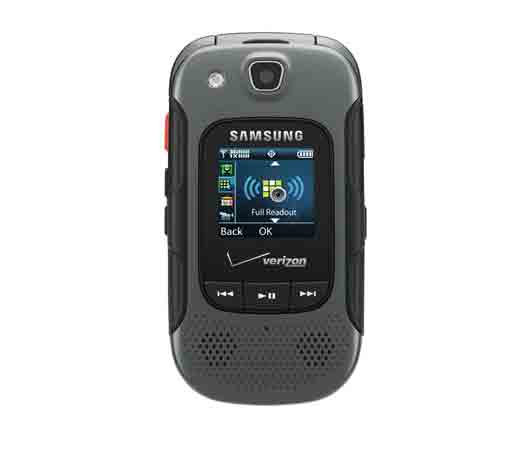 This phone has great features which you will love. The device is ranked among the best phones without internet access due to its simplicity and yet a powerful device which you can use. The phone comes with a wide range perks with regards to performance, battery capacity, speed and robustness.
Once you unbox the device, you will be impressed by the stunning design of the phone. The phone has a body dimension of 4.07X2.04X0.82 inches. The device is also very light with weight of 125g. It also has a large numeric keypad and also features music control keys. The body is also shock, humidity and dust resistant.
It has a 2.4-inch display with a resolution of 240X320 pixels. The display also features a pixel density of 167ppi which is quite reliable especially when viewing contents on the screen. The display also features TFT technology common in most phones without internet connectivity. The additional display at the front of the phone is 1.3 inches with a resolution of 128X128 pixels.
This small display plays an important role for you getting and responding to important information like phone calls and other phone notifications like alarms and text messages. For multimedia, you get 3.5mm jack for placi9ng gin your headphones. The phone features a single 3.2 MP camera with video recording features.
The phone features 250MB RAM with 512 GB ROM. You can also expand on the memory with a micro SD for up to 32 GB. The device has a long-lasting battery which is seems to be even better compared to some mid-range smartphones. The battery capaci6ty is 1300 mAh and it has the Li-ion type which is globally recognized. This phone comes in only one color which is grey.
PROS
The keypad is easy to navigate
It has a user-friendly interface
The processing speed is fast
Bluetooth connectivity is fast
CONS
It has a thick body
The camera quality is low
Where to buy Samsung Convoy 3
Samsung Convoy 3 can be bought from several stores near you. Despite people saying they have become indigenous, Samsung Convoy 3 can be bought in numerous retail stores. The first and the best option to get them are from the Verizon retail store. Verizon may as well be the sole retailer since it provides network services to this phone, a service no other service provider does.
You can get it at Verizon retail store by trading in your device or by simply buying it. Trading in your device is basically giving up your current phone compatible with Verizon network so that you can get the Samsung Convoy 3. If you don't get the device from Verizon, you can also get it from other offline and online retail stores like; Amazon, Best buy, eBay, Walmart.
In most cases, the shipping is done within 24 hours or you can get the device within the next day.
Bottom Line
Samsung Convoy 3 is a very good device that does not only offer a lot of simplicity but comes handy for many people. It is also very affordable and it uses the most dependable and efficient network in the country, Verizon. However, there is one major downfall which is advancement in tech.
Verizon plans to switch off their CDMA network which may be a major downfall since Samsung Convoy 3 relies on it. Despite this, it is still a good option to consider if you plan to get a cell phone without internet connectivity.