The 7 Best Assistive Listening Devices for the Classroom
Some schools have unfavorable surroundings filled with noise of all nature. A good example is a school near a busy road. Vehicles are constantly hooting and destructing the learning process. Heavy vehicles produce a heavy sound that affects the learning process. In such a scenario, it is wise for the school to buy assistive listening devices for the classroom to curb the problem.
Assistive devices are special electronics that help people to listen to speakers in situations where unaided voice is inaudible. The most common listening devices are loudspeakers. Hearing aids can also act as listening devices. They assist those with hearing loss to get what people surrounding them are saying. In conferences, audiences utilize listening devices which has headsets to listen to speeches and translations.
At home, you can have a listening device for your TV set. You connect wirelessly via Bluetooth technology or through a special wire. Some old versions of hearing assists connected via an infrared medium. Most hearing assist as seen on TV are Bluetooth enabled and allow movements around the house, unlike the wired assists that require you to stay glued on one spot.
What are the Different Types of Listening Assistive Devices?
There are different types of Listening devices that help in listening to sounds. They include the following.
i. Sound Field Systems
The systems help teachers to grasp the attention of the learners in that, it amplifies noise to above the environmental noise that making the students concentrate on the teacher. It has speakers placed strategically around the classroom that produces a quality sound system. The teacher does not strain to talk louder since the machine does that? You have to adjust the sound to eliminate all incidences of echo.
ii. Infrared Systems
Unlike sound Field Systems that can produce surround sound, infrared systems require the listener to face the infrared transmitter directly for a better experience. The systems may not favor a classroom situation due to interfering with light. Commonly, you will find them in theaters and auditoriums. The good thing about them is that the content cannot leak outside the room.
iii. FM Systems
FM Systems require listeners to have headsets. Sound transmission happens by radio waves under a specific channel. They are very effective since there is individual concentration as you can only listen to the speaker. Apart from a classroom scenario, the transmission is used in conferences.
Translators can utilize the systems and if a speaker of  foreign-language communicates, you can tune to your language channel and get the translations in your familiar language.
Cordless phones for seniors big button use wires or cable trans mission unlike mobile phones that communicate with each other using radio waves that can move to long distances with the aid of boosters. Assistive listening devices for TV use radio waves instead of wires or cables.
iv. Loop systems
These are utilized by those using hearing aids. The hearing devices have telecoil placed on the hearing devices. They have a special microphone and a loop wire that captures sounds from the speaker and amplifies them to the three bones of the ear and finally to the brain for the beneficiaries to hear.
What are the Best Assistive Listening Devices for the Classroom?
Having done my research, I have come up with the following seven devices that are best suited for listening in a classroom scenario.
1. Williams Sound PKT D1 EH Pocketalker Ultra Duo Pack Amplifier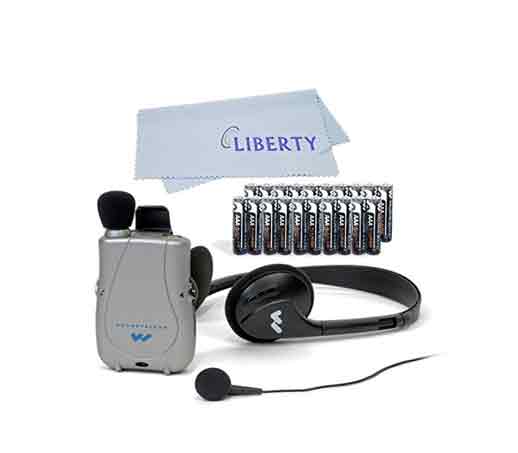 The package includes one pocket talker Ultra W/ microphone, a TV listening cord, a listening headset, and a mini earbud. The package also includes a user's manual to guide you on the setup process.
Enjoy a 5-year manufacturer guarantee. That period is enough to test the suitability of the device and ascertain whether is fit to give you good services. Moreover, you can return it for a refund if it fails to function.
The device gives you the best sound quality ever. It has 20-40 dB acoustic gain that means that you can have the best listening experience with clear sound free of distortions. Moreover, enjoy up to 100-hours of continuous connection.
PROS
Long battery life
5-year warranty
It has Headset has microphone
Up to 40 dB acoustic gain
Comes with a manual
2. ARTISTE Wireless Hearing Aid Headset System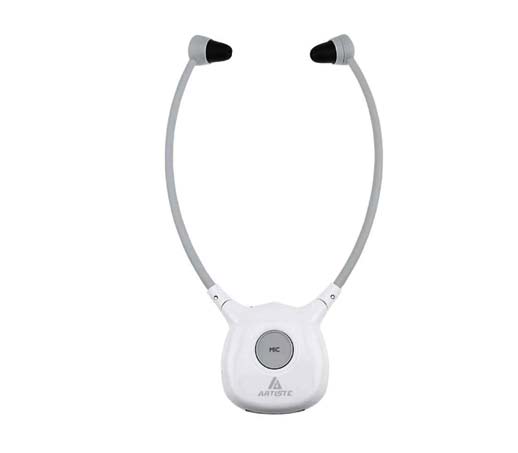 This device includes a 2.4GHz digital hopping system that ensures faster connectivity without latency issues. Again, it comes with a docking charge mechanism that ensures stability during charging. Moreover, it has a speed charging mechanism.
Interestingly, the device turns off automatically if there is no signal reception. The technique helps to save battery that could be misused if left on when not under use. In addition, it has auto music muting during verbal communications.
Finally, the device allows sound adjustment to attain a good sound balance. A balanced sound is the one that has equal bass and tone both in the left and the right ear. During balancing, you adjust the treble and tone clarity.
PROS
It has fast connectivity
It has a docking charge mechanism
Has speed charge
Auto turn off
Has auto music muting
CONS
Can be complicated for seniors
3. Avantree HT4186 Wireless Headphones Earbuds for TV Watching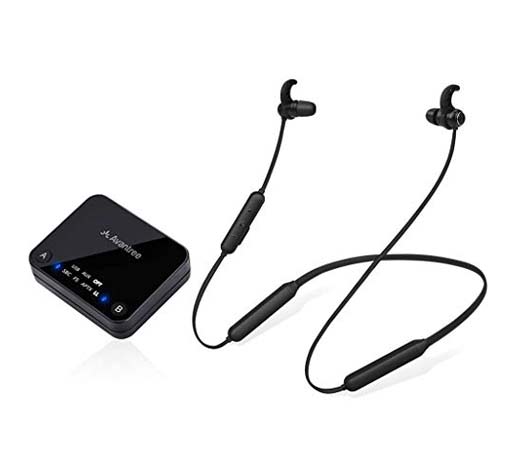 The battery is durable. It can take you the whole day. The estimated life of the fully charged battery is up to 20 hours of continuous use. However, battery efficiency reduces as time goes on.
The connection range is approximately 30M around the transmission device. You can term it the radius with reference to the transmitter location.
Again, the device has reduced Bluetooth connectivity delay. The most interesting thing about this device is that it is compatible with 99% of TVs in the market. It gives you confidence when purchasing it knowing that it will serve you right. Again, it supports the automatic pairing of the available device.
PROS
It supports plug and plays
It has 30 meters transmission distance
It is compatible with 99% of TVs
It has a durable battery
Easy to use
4. SIMOLIO Digital Wireless Headsets for TV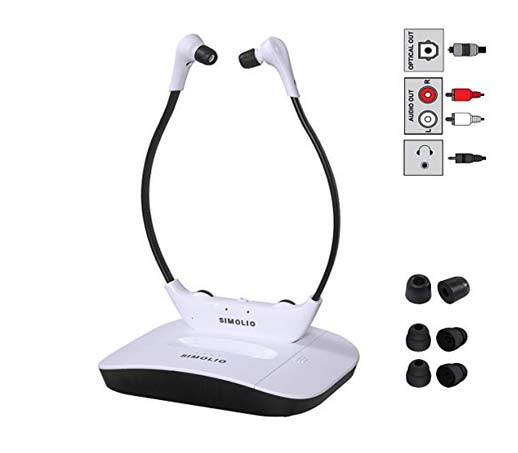 SIMOLIO Digital Wireless comes with a spare battery. In  case  the other battery loses its vigor, then you can  change to the other one. It gives you a humble time when operating the device as well as saving you money to purchase another battery.
Interestingly, the transmitter goes into standby automatically if there is no audio signal within 5 minutes when on. It helps to save the battery charge. Moreover, it helps you to reduce electricity bills on used power.
It is comfortable to wear on your ears since the materials are soft. Again, it is durable as it has tough materials. Moreover, it is flexible and can connect to different varieties of Bluetooth devices. Again, it is easy to balance sound.
PROS
Has a spare battery
Has standby mode
Comfortable to wear
Flexible connectivity
Easy sound balancing
5. Artiste ADH300 2.4GHz Digital Over-Ear Stereo Headphone for TV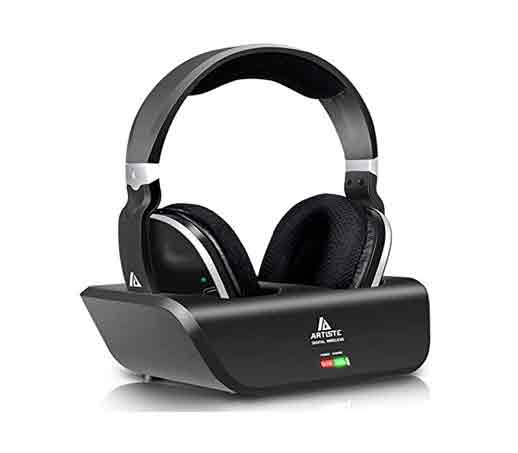 The device has an easy setup. Just powering the device and your TV and there you go, the connection begins and you are there enjoying the clear sound with good bass. The device's sound output has approximately 0.5 % distortion.
The battery is long-lasting. The estimated battery life is 20 hrs on a continuous usage. It means that it can go further if you use it a few times of the day.
Again, if you want a long-lasting comfort, then look for these headsets. They are comfortable due to the soft padded head pads that rest softly on your ears and you will never feel any pain when wearing them
PROS
It has a long-lasting battery
It is comfortable to wear
Easy setup
Has 0.5 % sound distortion
Plug and play
6. SuperEar plus Sonic Ear Personal Sound Amplifier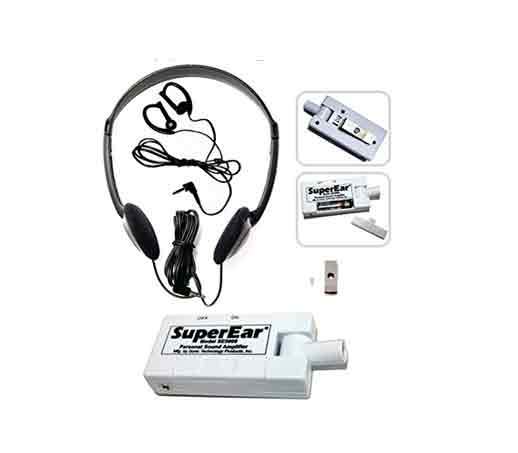 Super Ear Plus is a complete amplification system with 50 dB sound gain. It includes an amplifier, Stereo Headphones, lightweight stereo earbuds and pouch with belt clip. Again, it comes with a user manual to help you with the setup procedure.
Moreover, it has a 30-minute auto shut when not in use. The feature helps you to save battery when not in use. It is the best feature that you can have in such a device as you will not need to charge the battery now and then
The headphones are compatible with SuperEar Hygienic Disposable Earpad Covers for Multiple Users. It ensures hygiene.  Lastly, the device operates on two AAA batteries.
PROS
It has an auto shut function
It comes with two AAA batteries
User manual
The device is light
It is easy to use
7. Williams Sound Pocketalker Ultra 2.0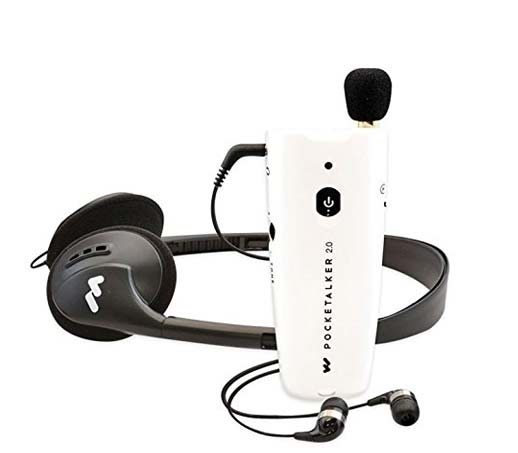 The device has extended high and low-frequency range. You can choose the best range for the optimum listening experience. High frequencies ensure sharp and clear sounds with less bass. Such a setting ensures superior sound quality.
Moreover, it has an internal microphone that enables you to participate fully in a conversation. You do not need an external microphone on your table. Moreover, it has a built-in T-coil loop compatible with those with hearing loss.
The device has a manual to help you with the set up process. You should not do something when not sure. If you are using the device for the first time, ensure that you use the manual and read the content properly.
PROS
Extended high to low frequencies
Easy setup
Has inbuilt microphone
It is T-coil loop compatible
It is comfortable to wear
Bottom Line
Assistive listening devices are very essential in assisting pupils in a classroom to understand clearly what the teacher is teaching. Schools near airports and busy roads can assist their students by acquiring these devices. FM Systems appear the best because when the student is listening via the headphone he or she can only concentrate on the teacher only.
Above all, FM Systems have a greater capacity to reduce background noise and should be the first option when looking for assistive listening devices.