The 5 Best Free Landline Phone for seniors
Before the invention of wireless cell phones, landline phones were the most popular. Some people refer the phones as home phones because they normally stay at home. You cannot carry a landline phone since it cannot fit in your pocket. The phones are suitable for seniors. Most free landline phone for seniors come from the government or, concerned NGOs.
Landline Phones require a wire or fiber cable connection. The fact that they require wires or cable connection makes them different from the wireless phones in the way they receive signals. However, they all aid in communication for people far away from each other. The free landline indicates that you get it for free from the government or charity organization.
The main importance of landline phones is to help the seniors during emergency times. We all know that many seniors are weak to move around and normally stay at home either sleeping or just walking around. Phones help them during emergencies. Apart from these landline phones, most free cell phones for senior citizens are wireless and easy to carry around.
How Can I Get a Free Landline Phone?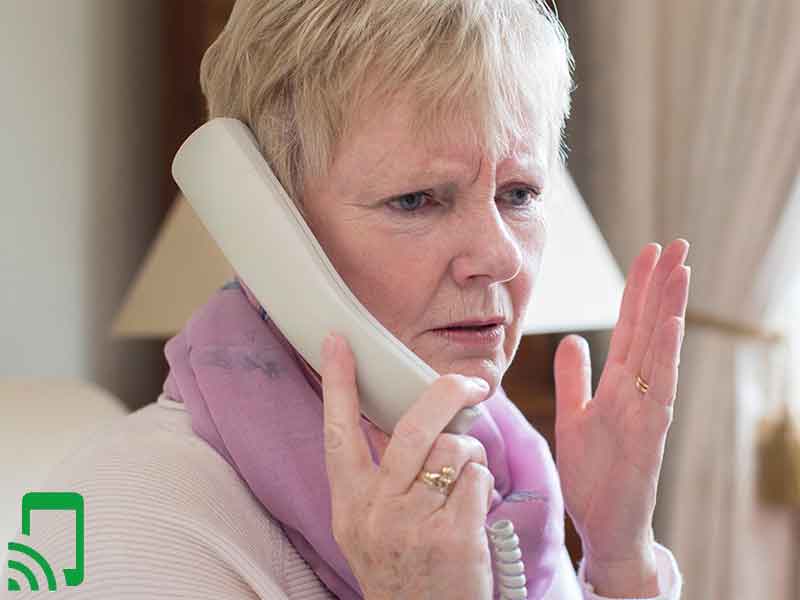 Just like in the case of free cell phone for seniors and disabled, you have to apply for the free phone from the government in order to get it. There are some requirements you must meet despite being a senior.
For instance, if you belong to any of the free government aid programs, then you are likely to get the phone. The programs include Medicaid, Food Stamps, Supplemental Security Income (SSI), Women and Infant Children (WIC), Low-Income home energy assistance program (LIHEAP) and the Federal Public Housing Assistance.
If for any case you do not belong to those programs, then you must prove that you live below the poverty line of 135%- 150 % total income. Above all, you must prove that you are a citizen of the United States of America.
How do I apply for a Free Landline?
To apply for a free landline, first, check whether there is a service provider for the Lifeline program in your region. Upon getting one, you can find out their contacts and ask them about the application process.
Most of the accept applications by mail where you send all your details through their postal address. When filling details in the provided forms, ensure that everything is correct. Seniors with eye problems can seek assistance from their family members. Again, attach all documents that prove your eligibility.
Read More: AARP Home Phones for Seniors. Here are our recommended AARP landline phones for seniors!
What are the 5 Free Landline Phones for seniors?
1. Panasonic DECT 6.0 Expandable Cordless Phone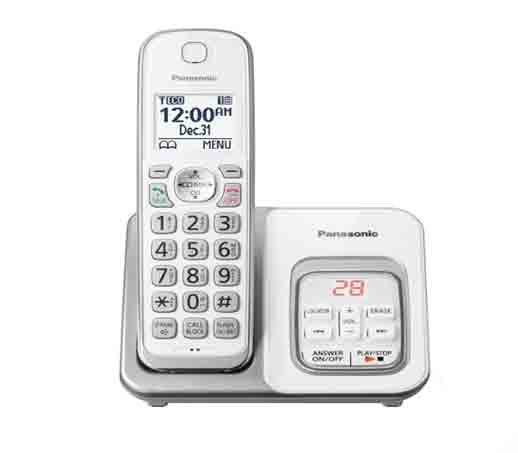 The phone comes with an answering machine that helps you to listen to your caller instead of holding up the whole device. Moreover, block all unwanted calls using the Smart Call Block. You select the number you want to block and there you go. The owner will never find you again.
Again, the phone comes with two white cordless handsets. You can use whichever you want upon receiving a call. Moreover, use the Quick-Read Message Counter to know the number of messages you have received.
The phone has large buttons that are easy to see. They are very efficient for any senior with poor eyesight as they can clearly see the numbers. Again, the phone has call ringer customizer and intelligent eco mode.
PROS
1) Caller ringtone customizer
2) Intelligent Eco Mode
3) Has big buttons
4) Call blocker
5) Two handsets
CONS
1) A bit costly
2. Panasonic KX-TGF350N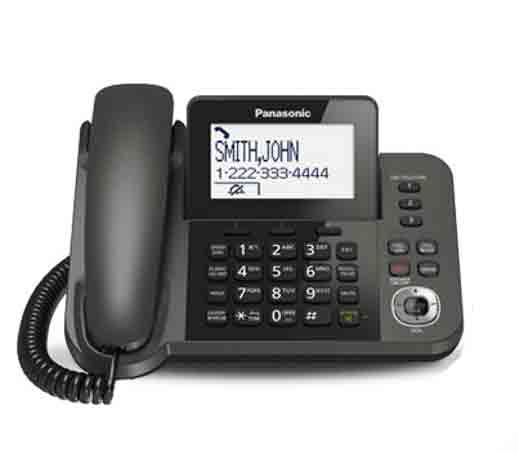 If you want a landline with noise reduction capability, then you got this one. The phone has the ability to eliminate background noise to a great extent. Irrespective of where you're calling from, your recipient can get you right.
Interestingly, the device has a baby monitor Incorporated in its system. You can save your phone number on the phone and it calls you when the baby starts crying no matter where you are. It is such an awesome technology.
Again, make the device help you find lost keys. With a small tractable gadget attached to your bunch of keys, you can easily locate the location of your lost keys. Moreover, never worry when the power goes out as the device as a power backup. Never worry because of blackouts.
PROS
1) Lost keys tracker
2) Power backup
3) Noise reduction
4) Baby monitor
5) Easy to operate
CONS
1) Not attractive
3. PANASONIC Cordless Telephone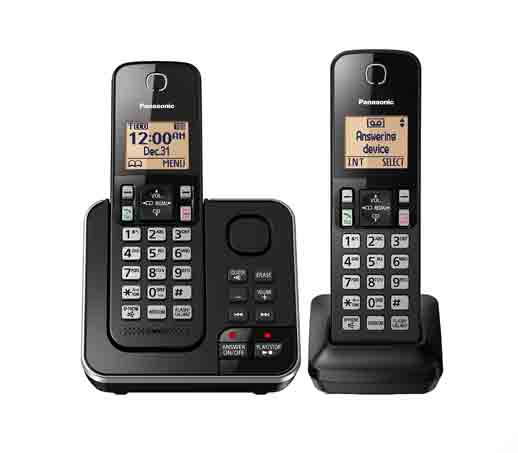 The device comes with two handsets that are cordless. It enables two listeners to a single incoming call. If alone using the telephone, just pick any of them and listen to the caller. Again, the device has batteries included.
Again, the phone can block up to 30 numbers. Some people are disturbing and the only option left is just preventing them from accessing you by blocking them. The handset has low power consumption.
 Again, it has an intelligent eco mode that helps to eliminate unwanted background noise thus ensuring smooth communication. The phone battery allows talk time of up to 10 hours with a standby time of 6 days. It proves an excellent phone to use in areas with power rationing.
PROS
1) Have two handsets
2) It has a call blocker
3) Have durable batteries
4) Has low power consumption
5) Reduces background noise
CONS
1) Design not attractive
4. Clarity D704 40db Amplified/Low Vision Cordless Phone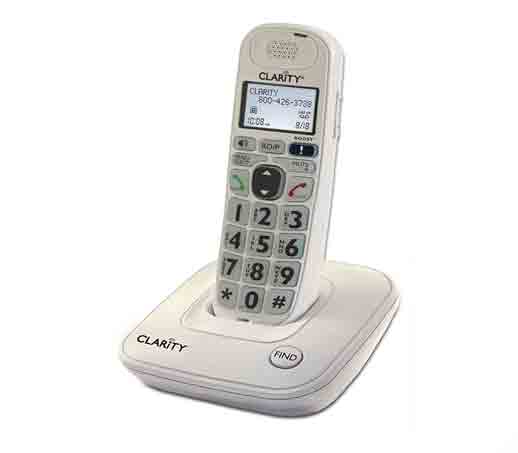 The phone has patented Clarity Power technology that clearly amplifies incoming sounds up to 40dB. It enables you to hear the caller's voice precisely without straining. No matter where you are, you can have a smooth conversation.
Again, it has DECT 6. 0 interference-free technologies that eliminate all background noise from your location. All passing wind and vehicles are all prevented from interrupting you. Again, it has an adjustable tone control.
The phone has a loud and clear speaker that you can turn on if several people need to hear from a particular person. Again, the phone has an easy-to-read Caller ID display due to large letters it displays on the screen.
PROS
1) It has a loudspeaker
2) It has a large letter display
3) DECT 6. 0 interference-free technologies
4) Eliminates background noise
5) Adjustable volume control
CONS
1) It has no baby monitor feature
5. PANASONIC Amplified Cordless Phone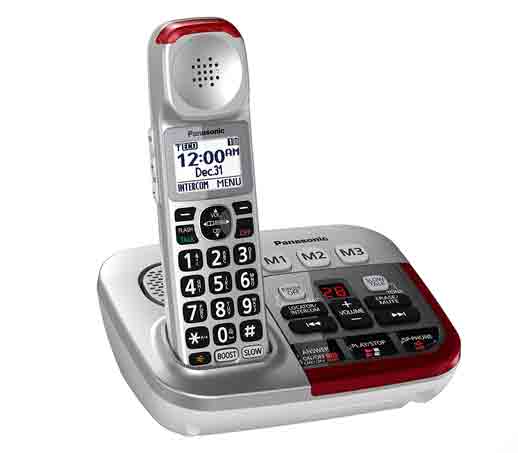 The phone is unique in that, it flashes when someone calls. In case the rig volume is too low, you are able to see the screen light thus making you rush for answering the call. It also comes with Panasonic Talking Caller ID to let you know whoever is calling even several meters away.
Again, there is no need to worry in case the battery goes off. The device has a backup battery that can take you 3 to 4 hrs. of continuous talk. It eliminates the over-dependency of electrical power.
The package contains Panasonic XK-TGM450S, Amplified Cordless Telephone, 1 handset, Telephone Line connector, cord compact AC adapter, 2 rechargeable Ni-MH batteries for the base unit, and belt clip.
PROS
1) Easy to use
2) Has caller ID announcer
3) Back up battery
4) Flashes when one is calling
5) Easy to use
CONS
1) Has only one handset
Read our related article on the Best Cheap Landlines for Seniors. Help the senior in your life be more independent with these cheap landline options.
Bottom Line
Landline phones are very important for seniors as they help them during emergency times. Furthermore, having a free phone is the best thing for any senior since no costs accompany the phone. The best landline phones for seniors should have big buttons and be able to announce the caller in the most appropriate language. A landline phone with added functions such as the baby monitor is the best to acquire.