How Much Does It Cost to Replace An iPhone Battery
The latest lithium-ion batteries' latest inventions are superb and help increase your phone usage in your day to day activities. The modern lithium-ion rarely explodes, but instead, it charges up quickly, and it's energy-dense. Although you enjoy the various features it has to offer, you need to keep in mind it isn't ideal for long-term usage. Apple offers high-end smartphones with exclusive features that you will love, but still, it doesn't have lasting batteries. If your iPhone's battery life is underperforming, you wonder how much it costs to replace an iPhone battery and is it worth it. 
Your iPhone's battery age is not only dependent on time but also your day-to-day usage of your phone and the effect it has on your battery lifespan. As time goes by, you will note that your smartphone's overall performance is becoming sluggish, and it's due to your battery life. You can check out the settings in the battery health section and check the app's power usage, and you can easily determine if you need a new battery or not. If you don't want to buy a replacement, then you can decide to get a cheap iPhone without a contract, as I'll guide you through later in the article. 
To manage the iPhone's battery life, Apple deliberately slows down your iPhone once the battery life reaches a certain age. It helps as some of the older versions of the iPhone will unexpectedly shut down, and to curb these events, Apple's throttling allows the smartphone to run efficiently. To avoid Apple's throttling your iPhone's performance, and then you are in the right place. In this article, you'll see how much it costs you to replace an iPhone battery, and you can do it yourself. Let's check it out. 
How does the iPhone's battery work?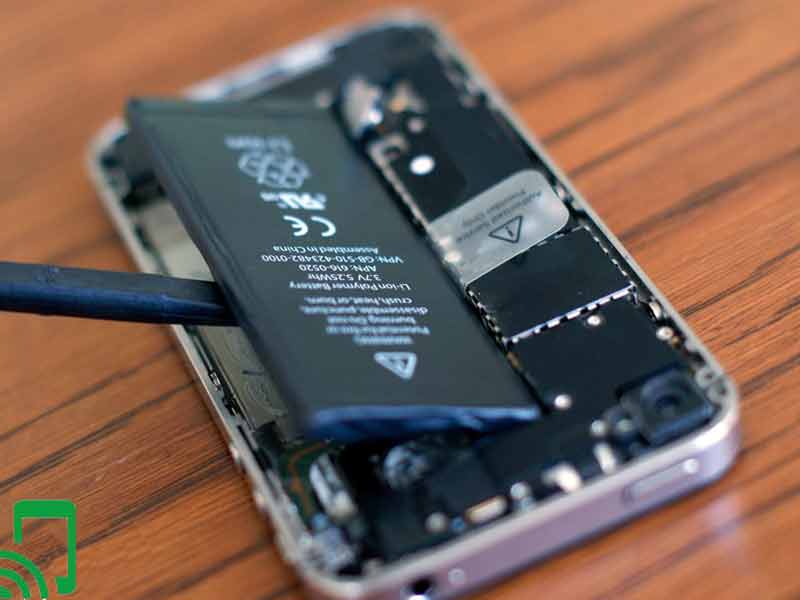 Before you decide to replace your iPhone's battery, you need to know how your iPhone's battery works over time. Lithium-ion(Li-ion) batteries are the most used types and are considered consumables since the battery degrades over time. Although you pay a huge amount of money for the iPhone, the battery life isn't about the quality issue and how you use your smartphone every day. 
The battery age is measured in terms of battery cycles. In this case, one cycle is equivalent to draining the battery to zero percent and completely recharging the battery to 100% one time. Since you can't drain your battery to zero and recharge to 100% in a single day, it takes up to two days to complete a battery cycle.
An iPhone is estimated to come packed with 500 battery cycles before it starts to degrade. In simple terms, if you own the phone for over two years, you will have enough charged battery cycles degraded to around 80% of its full capacity.
If you note that the amount of charge held diminishes, you will see that the battery drains faster, and you have to recharge it most of the time. You can decide to go for Verizon iPhone deals or replace the battery. 
How much does it cost for a replacement iPhone battery?
Although there are various third party shops that offer iPhone's battery replacement, the ideal place to get the services is at the Apple Store. If you own an iPhone SE, 6 and 6 Plus, 6S and 6S Plus, 7 and 7 Plus, and 8 and 8 Plus, to get the battery replacement, you will pay $49. Remember also the out-of-warranty price is the same as mentioned above. 
If you have the latest iPhone smartphones such as iPhone X, XS, 11, 11 Pro, among others, then it will cost you $69 for an out-of-warranty model that isn't covered by AppleCare+. For those whose phones are still under warranty or covered by AppleCare+, you get to enjoy a free battery.
If you plan to get a new iPhone, you can get the best tips on how to buy an iPhone without a contract to enjoy such benefits. Ensure that you head to an Apple Store to avoid voiding your warranty or damaging your iPhone by replacing the battery with a cheap alternative keep in mind, "Cheap is expensive." 
Can I replace my iPhone battery myself?
Yes, you can replace your iPhone's battery at the comfort of your home. You can follow fixie's guidelines that are easy to follow, helping you to save up on a few bucks. I highly recommend that if you aren't that conversant with tech stuff, it's better you head to the Apple Store rather than do it yourself.
You can easily follow the instructions to remove the battery; placing back the parts is simple if you have to follow the guide in reverse. It would be best if you were extra careful once you reach the screen protector as you can highly crack it since Apple uses hard glue to fix the parts into place.
The internal part of the iPhone comes only with seven screws to remove, so you need to be extra careful as the parts are quite sensitive. 
Is getting a smart battery case an ideal option?
Instead of replacing your iPhone's battery, and your only issue is battery capacity, you can consider getting a smart battery case. It can serve you well with the intelligent battery case and can help you well instead of getting a new iPhone or replacing the battery.
Although the smart battery case is expensive if you compare it to replacing the battery, it can be an ideal long-term investment even if you decide to get a new iPhone. It is worth getting one as it adds up to your iPhone's battery capacity giving you an efficient mobile performance better than a new internal battery. 
How to take care of an iPhone battery?
You should avoid leaving your phone in the car as the car interior gets hotter on a sunny day, and it can affect your battery. Although the market is overwhelmed with fast chargers, your iPhone uses a slow charger. You can charge your iPhone with the 29W MacBook charger, but it is best to use the 5W charge that comes with the smartphone. 
If you got a rugged case or battery case, make sure to remove them once you begin charging the iPhone. It is best practice since the cases are bulky and traps in heat, which isn't ideal for the battery. 
Which iPhone has the best battery life?
If you want to upgrade your iPhone and are not persuaded to replace the battery, then there is no need to worry as here you get the best iPhones with ideal battery life. Here are the ideal iPhones that you can opt for.
1) iPhone XS Max 
It is an ideal option if you are an average mobile user. According to Apple, you get up to 25hours of Talktime, 13hours of internet usage, 15 hours of video playback, and audio playback of up to 65 hours. On average full-day phone usage, you will remain with 40 to 30% battery power. 
In terms of day to day usage, the iPhone 8 Plus is the ideal option. At the end of a typical day, you end up with 50% to 40% battery left. As you can see, you won't have to worry about charging the whole day. 
3) iPhone 11 Pro Max 
The iPhone 11 Pro boasts of its battery life that you will find from any iPhone. You get to enjoy up to 12 hours of streamed video playback, 80 hours of audio playback, and up to 20 hours of video playback. If you are a light mobile phone user, you can go for two days without charging it. 
4) iPhone XR 
You get to enjoy up to 25 hours of talk time, 15 hours of internet usage, 16 hours of video playback, and 65 hours of audio playback. You can easily go through a whole day, and you can push up to the second day. 
The iPhone 11 Pro isn't that robust like the iPhone 11 Pro Max, but still, you get to use the phone without much fuss. You can go up to a day and a half on a single charge, but you can push up to two days if you aren't using it much. 
Wrap up
As you have seen above, a non-defective battery on any of the latest iPhones has more life in it. If your iPhone runs on iOS 11 and above, you can check out in the setting your battery status. You can check the battery's health, and you can be informed and get solutions on what's causing the problems to your battery. In the article, I've shown how much it costs to replace an iPhone battery and some factors you need to consider.
If you are a tech enthusiast, you can try the third party kit to save up a few bucks, and if you are on a tight budget, then you can opt for a third-party repair shop. Remember heading for the Apple Store is the ideal option to save your warranty. Feel free to share your thoughts in the comment section and stay safe.