The Canon Color Imageclass MF733Cdw Printer Review
A printer is an external output device that accepts graphic and text output from a computer then transfers the information from the computer to paper. There are different printers, but the most common in today's market are inkjet printers and laser printers. Other types include a dot matrix printer, AIO (All In One) printer, a 3D printer, thermal printer, LED printer, Multifunction Printer (MFP), and a plotter. In today's review, we look at the Canon ImageClass Color Laser Printer.
Whether to choose an inkjet printer or a laser printer entirely depends on what you print, how much your printing budget is, and how often you print. The Canon ImageClass MF733Cdw stands out as the best color laser printer for photos. The printer can work well both in the house and in the office and is very economical if you ask me. This article will help you find out if it is worth it for you to get a laser printer and give you a detailed review of the Canon Image Class MF733Cdw printer, from its display, features, to its performance.
Is it worth getting a Laser Printer?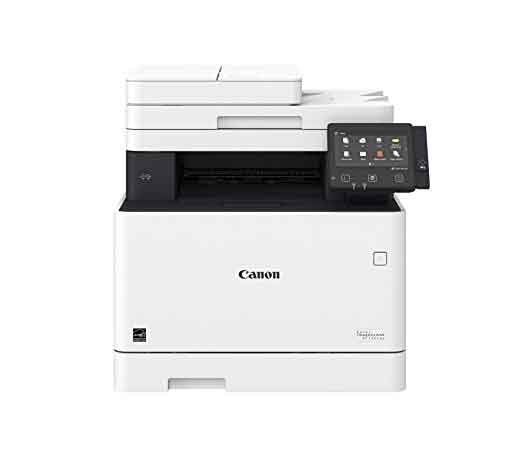 A laser printer uses a toner that is ideal for high volume printing. It is, therefore, mostly utilized in an office setting. It is also suitable and is a more economical choice for home use. They use toner cartridges which print thousands of pages; you, therefore, do not need to worry about replacements anytime soon.
Although laser printers are more expensive than inkjet printers, they are still a more economical option with their faster printing speeds and lower printing costs per page. A laser printer would hence be the best color printer for home.
Laser printers are more durable and are able to print quantities in bulk. A photo inkjet printer would be best for gallery-quality photos. Still, if you need medium quality colored images, the color laser would work ok as the laser tone does not dry up if left unused, and you can print more pages from laser toner cartridges than inkjet cartridges.
Laser printer cartridges that are also called toner cartridges can print more pages. This significantly gives you a lesser printing cost per page with a laser printer.
PROS
It is swift
Compatible with large projects
Construction is solid
Easy to install
Easy to use
CONS
Expensive cartridges
It is challenging to install software on Mac
Canon Color ImageClass MF733Cdw Features
1) Canon Color ImageClass MF733Cdw Display
The Canon image class has quite a bulky shape and is therefore relatively large in size. The touchscreen LCD display has a 5 inches diagonal screen that protrudes, thus takes up much room.
The device has three parts: The top part is occupied by a scanner and a tray for placing paper sheets. The middle part is a tray where ready projects come out from, and the bottom part is the printer's central part. A tray is also underneath where blank sheets can be stored.
The front side that faces the user is where all the operation buttons can be found. Here, you will see the power on button. The USB slot is also seen here, where different devices can be connected to the printer. The display screen for operating the printer is also found here.
2) Scanning resolution of Canon Color ImageClass MF733Cdw
The optical resolution is 600 x 900dpi, while that of the software is 9600 x 9600dpi, which would ensure clear and crisp scan quality.
3) Copy and Fax on Canon Color ImageClass MF733Cdw
With two types of copying documents: black and white and color. The fastest for copying is a black text that takes approximately 9.5 seconds, while the copying of color image will take a much longer time, about 11.1 seconds.
4) Canon Color ImageClass MF733Cdw Product includes
This product's packaging includes One cartridge, a cord, a starter guide, a DVD with the needed software, a telephone cable, and a warranty card. The Cartridges and feeder can be purchased separately.
5) Canon Color ImageClass MF733Cdw Printing Speed
With up to 28 ppm on a single side and 23 ppm on two sides, the speed is relatively good compared to other printers in the market.
6) Connectivity of Canon Color ImageClass MF733Cdw
The MF733Cdw has wireless connectivity, and WiFi Direct connection enables easy connection to mobile devices without a router. Pairing your mobile devices got easier; all you need to do is scan the QR Code function on your printer using the Canon Print Business app to connect wirelessly.
7) Performance of Canon Color ImageClass MF733Cdw
This device can produce up to 28 pages per minute with the help of a particular printing mechanism known as a laser that helps achieve this speed. The printer's memory has a massive volume of memory that can keep up to 512 pages per task. The blank paper tray can hold up to 850 sheets of paper, while the other tray has a holding capacity of 150 sheets.
The ability to print duplex projects is a great function that places this Canon printer at the top of the game. The scanning feature also works very well for this particular device. The printer is supplied with the software DVD that, upon installation, the user gets the necessary app and drivers to allow them to use the printer, fax, copier cum scanner without any issues.
The device uses Canon Genuine Toner, Cartridge 046, and Cartridge 046 Hi-Capacity cyma. It also has very low energy consumption, as it uses less than 1W in energy saver mode. It serves as the best black and white multifunctional color laser printer.
Wrap up
When you are looking into purchasing a printer or any other device, the vital features that you need to be keen to look out for include its durability and reliability.  As the buyer, you, therefore, need to be very careful. You need to ensure that the printer you get is able to satisfy all your printing, copying, and scanning requirements without any hassles.
Look out for the device warranty as well. This Canon printer, in particular, comes with a 3-year warranty. Remember that every gadget has its pros and cons, be on the lookout for these.