What Are the Best Invisible Hearing Aids That I Can Buy
Hearing is one of the essential communication skills to achieve perfect communication among people. There are people who are completely deaf and they use skills like signs for communication. However, there are people who are hearing impaired but not completely deaf. Such people often opt for hearing aids for hearing impaired persons.
The hearing aids have played a major role to millions of people with hearing problems by boosting their hearing conditions. However, there are several types of hearing aids in the market which vary from quality and most of all the design. Having hearing aids which equals to invisibility is what most people wish to have. The invisible hearing aids can fit easily in to your ear and you will never feel uncomfortable wearing them. 
Having such a hearing aid will help you to adapt easily if you use hearing aids for the first time and "veteran" hearing aid users will get better hearing capabilities. The best invisible hearing aids come in several types depending on your hearing aid. This article tends to talk about the best invisible hearing aids which you can buy and also some tips on to choose the best one. Read ahead to learn more!!
How to know the best invisible hearing aid
Before you choose an invisible hearing aid, there are somethings you need to consider before buying the best hearing aids in the market. Here are some factors to consider;
The cost of the hearing aid
Your level of hearing impaireness
The designs of hearing aid- It should be the right size to fit in your ear
To choose the hearing aid, you should consult your doctor to learn on your level of hearing loss. All hearing aids are designed top suite different types of hearing loss conditions. So, knowing your hearing loss problem and having exact figures, then you will never regret buying your hearing aid.
What Are the 7 Best Invisible Hearing Aids
1. Eagro Neo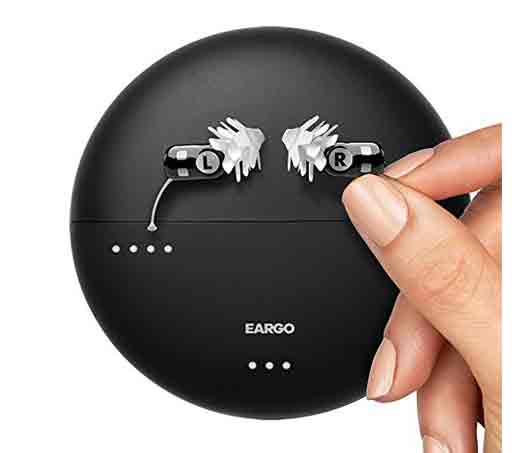 Eagro tops our list with its immense pack of features which you will really love. The device is very efficient especially for hearing impaired seniors. The first impression you get after unboxing it is the stunning design. The aid is small and compatible enough to any ear. Eagro is programmable such that you can adjust it with regards to your level of hearing loss.
The adjustment is achieved with their app that is compatible with both Android and iPhone. The device also works with Bluetooth connectivity hence bringing in a lot of flexibility with regards to listening to your smart TV, watching movies over the computer and many more.
The hearing aid comes with several tube options which you can choose so that it fits in to your ear perfectly.  It comes with a 1-year warranty and a 45-day return period.
PROS
It is easy to configure
The device is programmable
It is dust and waterproof
The app is user friendly
CONS
The app does not work on some phones
2. Otofonix Elite Hearing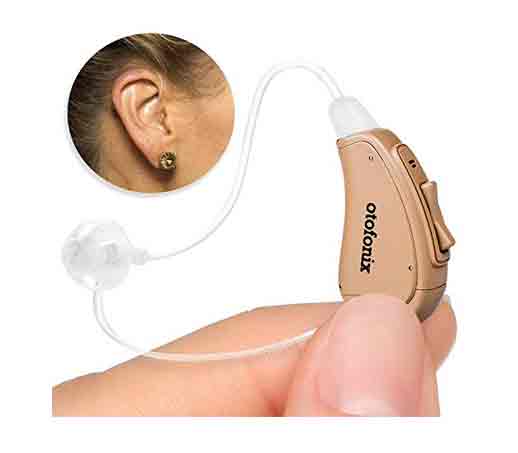 Otofonix Elite comes with great perks which you will really love. When unboxed, the device has a sleek design and also comes with a variety of tubes to suite your ear type. This device possesses similar properties with the earbuds that are waterproof.
It also comes with three types of ear dome styles that help it to fit in your ear easily and help deliver the noise cancelation effect. Otofonix elite have a long-lasting battery that can last for a while without recharging. For easy configuration, the hearing aid has a mobile app that you can use to configure the aid to suite your level of hearing loss.
The device is also verified by the FDA bringing assurance with regards to the quality of this device. Otofonix also has a customer care hotline that allows you to contact them in case the device has some issues or you are finding trouble configuring it.
PROS
The configuration process is very simple
The battery lasts longer
It comes with a user-friendly app
Has noise cancellation properties
It is waterproof
CONS
Charging the batteries may take some time
3. Neosonic Hearing Amplifier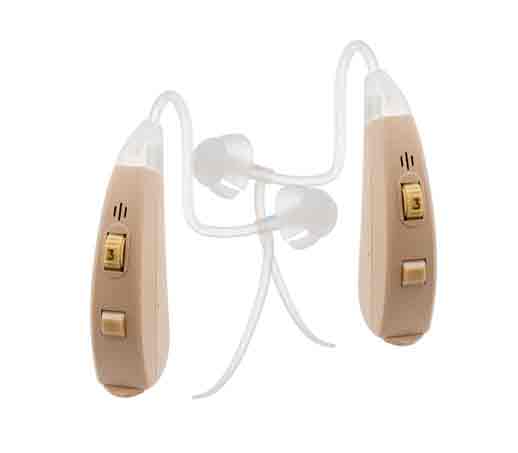 Neosonic is a true definition of hearing aid that are virtually invisible. The hearing aid is also very light as a plume and extremely small. The first impression you get is the sleek design and the material used is of high quality. The hearing aid offers reliable outputs to your ear with a 1% distortion level.
The device features 8 layers that suppress noise and helps in the amplification of speech to the ear. It has a mobile app that allows you to configure the device so that it suits your level of hearing loss. Those with high frequency hearing loss will benefit greatly from this device.
The device has a RIC that boosts the frequency of this aid so that you get better speech in your ear. The battery lasts for a very long time and you also get fast charging capabilities too. The company assures you of warranty for 1 year and a 45-day money back guarantee.<
PROS
The app is very simple to use
It comes with a variety of tubes
The frequency is easily adjustable
The distortion level is very low
CONS
Maintenance of the device takes a long time
4. FIIL Hearing amplifier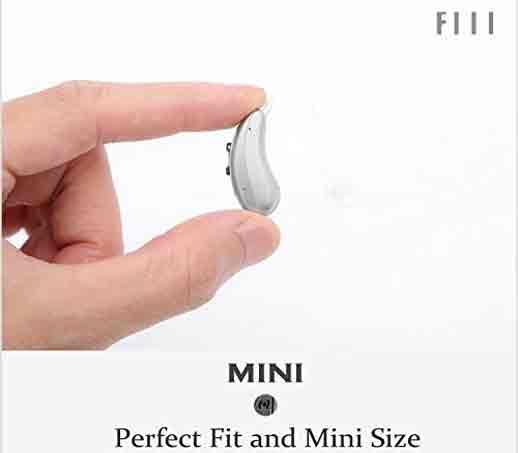 FIIL is a very affordable and convenient hearing aid that resembles some of the best hearing aids under $100. It has a simple and intelligent design to fit in any one ear's perfectly. The device comes with a wide range of perks to suite people with profound hearing loss or any other type of hearing problems.
The device is certified by FDA hence you never have to worry about quality. It has 16 types of volume adjustments to suite your hearing problems. The adjustment process is very simple and you can do it straight from the configuration buttons on your device.
The device also has 4 amplication programs which you can change depending on the environment conditions you are in. FIIL has a low percentage of distortion hence you will never have to worry about being in a noisy place.
PROS
Easy to configure
The distortion levels are low
It has an easy to adjusts process on the device itself
They offer reliable customer care
CONS
5. Zyon EarSpoke hearing Amplifier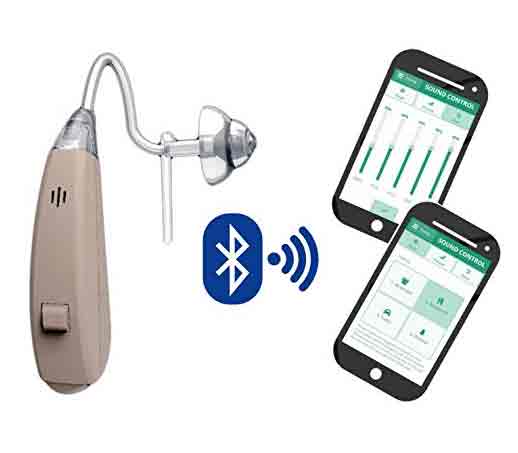 Fifth on our list is the stunning EarSpoke hearing amplifier. The hearing aid comes in different models to suite your hearing problems. When you unbox it, you will be stunned by the simple and elegant design. EarSpoke is designed to be virtually invisible in your ear bringing in a lot of comfort when you wear it.
The device is also perfectly programmed to suite you depending on the environment you are in and you can adjust the device to get perfect hearing in that environment. The distortion level is quite low and in noisy places, you will still get perfect speech in your ear.
EarSpoke comes with a variety of tubes for you to choose depending on the design of your ear. It comes with a warranty of 1 year and a 45-day free trial. You can get it from your nearest audiometry center or from an online store like Amazon. Before you buy this device, make sure to get an audio-metric report to learn more on the level of hearing loss.
PROS
Noise distortion level is low
Configuration process is simple
They have a dedicated customer care
You get 45 days trial
CONS
Mobile app is not reliable
6. Otofinix Encore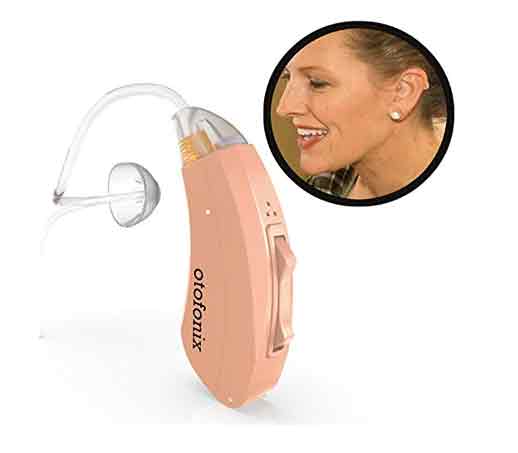 Another on our list is the Eagro Neo hearing aid. The device comes with several perks to suite your hearing problems. When you unbox it, you get the devices in a case which has a cool design. The case makes the hearing aids rechargeable something most hearing aids do not have.
This hearing aid is licensed by the FDA and has been tested by a team of professionals so you are assured of quality. It only weighs 0.441 ounces and has a thickness of 4.25 inches. With the Otofonix App, you can easily configure your hearing aid to suite your level of hearing condition easily.
The hearing aid is virtually invisible and to a point you will feel like you are not wearing any hearing aid. The device can also be used to receive calls very easily with the Bluetooth connectivity in place. Otofonix offers a 1-year warranty which is quite convenient.
PROS
The App is very simple to use
The hearing aids are rechargeable
It works in different decibels
It is virtually unnoticeable
CONS
Charging may take a long time
7. FCS Audeo M30-R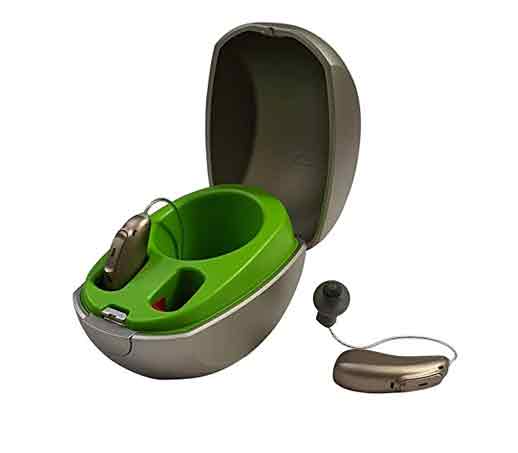 Despite having strict policies regarding their device, this hearing aid has many features you could hardly find in some aids. First, to configure the device, you must configure it based on your audiometry report. The report has details on your level of hearing loss which makes your work easier in setting up the device.
The device is verified by the FDA hence you are assured of quality. FCS has noise cancellation capabilities which allow you to capture speech in a noisy background. The device functions as a hearing aid and also a wireless stereo headphone.  You can connect it to several home devices and listen to information very easily.
With the Airstream technology, you get longer streaming hours. The device has its own Android or iPhone App that will help you in the configuration process. The hearing ad has a long-lasting battery that can last for up to 6 years. Sadly, once you buy this device you cannot return it.
PROS
The aid has a user-friendly app
They offer fast charging
It has a battery that can last for up to 6 years
It can also be used as a headset
CONS
Bottom Line
Hearing aids play an essential role and having a perfect hearing aid will enhance your communication effectively. The hearing aids mentioned above have been reviewed by many people and they all testify that the invisible hearing aids have brought positive changes to their hearing conditions.
You should however choose a perfect hearing aid that suits your hearing condition. Also, all the devices have a warranty hence if there are any technical glitches within the time of purchase, you can always send it back to the manufacturer. The hearing aids are also price friendly and it all depends on your budget. So, get yourself a hearing aid today for efficient communication!