The 5 Best Cordless Phones for Hearing Impaired
For those whose loved ones are hearing impaired, long-distance communication becomes a real hassle. You have to bear with constantly repeating yourself while having conversations to un-picked phone calls. You may start worrying about their safety because of these persistent inconveniences. The good part is that you can get telephones that are tailor-made for the hearing impaired in the market.
These telephones will solve the issue of unclear communication experiences, and your loved ones will not feel isolated in social situations. Once you read this article, you will understand some of the best cordless phones for hearing impaired and also whether they are offered as free government phones. Read ahead for full details.
How do these cordless phones for hearing impaired work?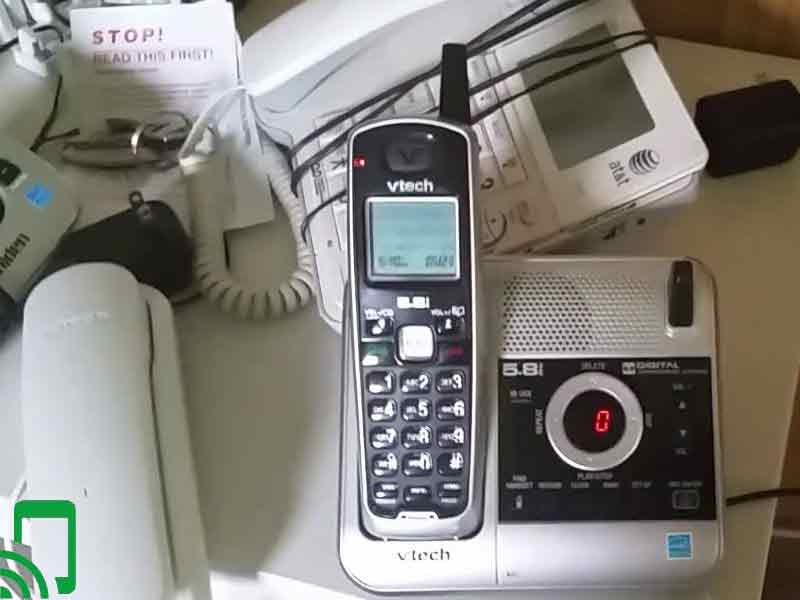 For starters, cordless telephones have no cords between the receiver and the telephone base. They cannot limit you in terms of movement, as you can talk anywhere in the house, which is convenient for the hearing impaired seniors in wheelchairs.
If mobility is your top priority, go for the cordless telephones. They can easily man oeuvre within the house while talking to their loved ones. Most cordless phones have amplified volumes, with sounds as high as 80 decibels for the hearing impaired to hear well via hearing aids. In addition to that, words that have similar sounds are distinguished by heightening frequencies or them to hear clearly.
Another feature to look out for in a cordless telephone for the hearing impaired is the noise reduction technology. This technology filters out background noises of higher frequencies, lessening the burden of communicating with your loved ones.
What to look out for in a hearing-impaired telephone
Before making the purchase, you need to know what level of hearing impairment your loved one is in. Do they have a severe, mild or moderate hearing impairment? Do you always speak louder and louder for them to hear? For those who have a moderate or mild hearing impairment.
You should go for the cordless telephones with noise reduction technology and amplified volume speakers. If the hearing impairment is severe, then you should opt for captioned telephones. You should also visit your nearest ear specialist and seek professional advice on how to better use these phones with your hearing aids.
5 Best Cordless Phones for Hearing Impaired
Here are our 5 best picks for cordless phones for hearing impaired persons review. They all come with different features that make communication with a hearing-impaired person more user-friendly and less of a hassle.
1. AT&T TL96273 DECT 6.0 Expandable Cordless Phone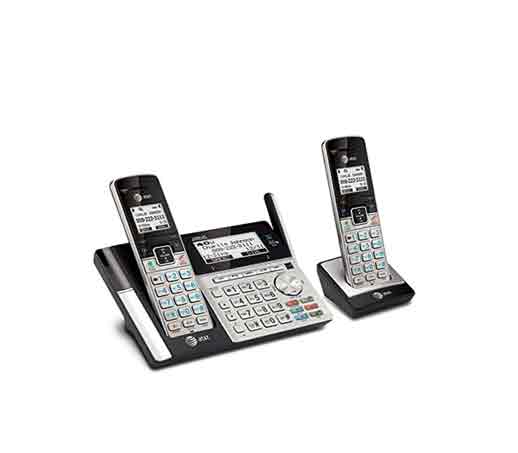 The AT&T TL96273 cordless phone is very popular in the market due to its full-duplex speakerphone ability and the superior call quality. The sound amplification system is good, and the hearing impaired can hear you well as communicate with them.
If you like communicating while performing other tasks in the house, this cordless phone has a range of 40 feet away from the base without any drop in sound quality. Those loved ones with severe hearing impairment will be happy to know that it comes with an LCD, which features black text on a white background.
This LCD background ensures that your loved ones can read texts well, in addition to dialing the numbers more manageable. They will be happy to know that the buttons are large and lit at night, making it easier for the hearing impaired seniors to dial calls at night. It is among the best cordless phones for seniors big button.
PROS
Highly visible displays
The phone book capacity is 50 contacts
Ability to access voice messages
You can use one jack for five compatible handsets
Full duplex speakerphone ability makes them hear you well
CONS
Battery life is short
No Bluetooth compatibility
2. VTech DS6671-3 Corded Phone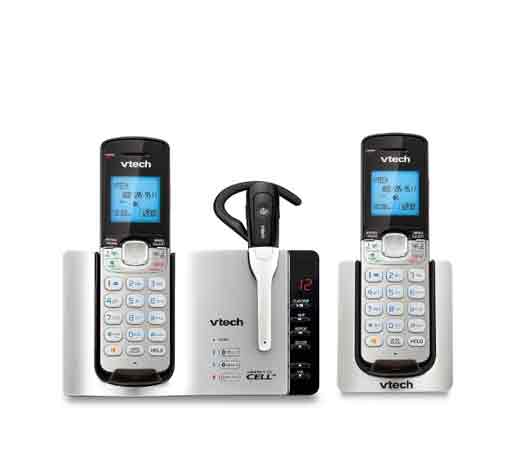 If functionality is your priority, go for the VTech DS6671-3 phone. It comes with a full-duplex speaker system, which allows your loved one to communicate well. This technology allows both of you to communicate simultaneously without any interruptions.
It also features an interference-free unit, which makes the vTech hearing aid compatible. It features a quiet mode, where call notifications will be via a flash button to avoid inconveniencing other users in the same room.
You can also program up to 9 numbers on speed dial memory, for ease of dialling. To program a number, you need to press and hold the number for about 6 seconds before releasing your finger.
Besides, it comes equipped with an intercom system or in-house communication with your loved one. The buttons are big, and they light up when you pick the receiver, which makes the phone convenient to use during night hours.
PROS
It is an interference-free unit
Good call clarity
It has a wide range coverage
The device is low cost and fully customizable
User-friendly button interface
CONS
No visual notification for incoming calls
Smaller display unit
3. Panasonic KX-TG7875S Link2Cell Cordless Phone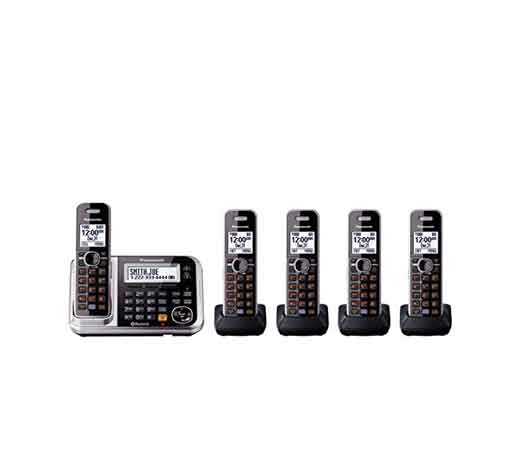 The main reason why we settled for this phone in this review is its ability to suppress any background noises which affect communication. It comes with a noise reduction technology that increases the sound quality, making the device compatible with any hearing aid device. Furthermore, you can configure and connect up to 5 portable handsets with the base.
This feature increases mobility inside the house as callers can communicate simultaneously using different handsets. In terms of the transmission, the Panasonic phone packs a punch. It features DECT 6.0 Technology, which increases frequency error correction resulting in excellent range and transmission quality.
Another wonderful feature is the text-to-speech function. During an incoming call, the handset will mention the caller ID and the number. It is made possible with the loudspeakers on the phone; your loved ones won't miss out on any call notification.
PROS
Enhanced noise reduction capabilities
Ability to mention the caller ID and the telephone number on the speaker
Excellent transmission quality using DECT 6.0 technology
Long battery life
Low cost
CONS
There is no mute button
Set-up section of the instruction manual is unclear making it hard to follow
4. Yealink W52H Cordless Phone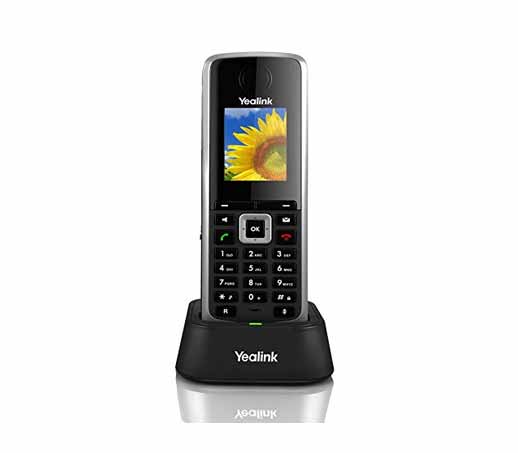 Yealink is supported by most VoIP providers and can be used for 3-way conferencing calls. It comes with DECT technology, which increases the phone's transmission capabilities with the range of the handset from the base station.
If you require more than one handset, then you can expand the number as it supports up to 5 cordless handsets, and all will ring at the same time an incoming call comes through. The large TFT display can be used to read messages, for those with severe hearing impairment.
The belt clip gives a good grip for hearing impaired seniors if you are worried that they might drop it. One setback is the battery life; we noted that battery life is heavily dependent on the range. The further you are from the base station, the more the battery drains. You have to purchase a battery back-up in this case in addition to the two rechargeable batteries in the package.
PROS
High-quality audio speakers
It comes with DECT technology for good transmission
Intercom transfer feature
Belt clip for a good grip
Expandable to 5 cordless handsets
CONS
Battery drains quickly with an increasing range
5. Clear Sounds CSC500 Landline Phone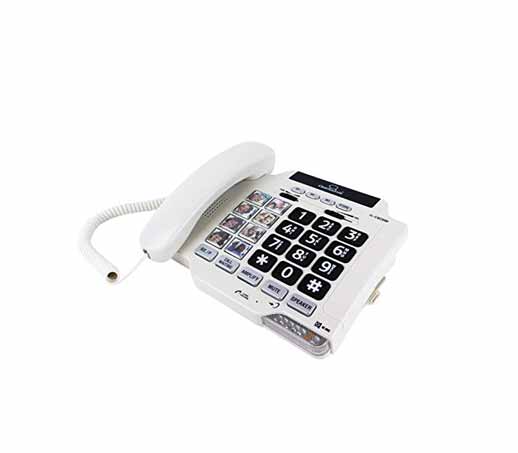 The CSC500 is one of the best clarity phones for hearing impaired, as it comes with superior sound amplification function which boosts the sound levels to 40 decibels so that the hearing impaired can hear well. It can also be used with hearing aids and cochlear implants, as it is hearing aid compatible.
If the handset volume is too low for persons with severe and moderate hearing impairment, you can use the speakerphone by pressing the speaker key during a call. For those who dislike extreme sound levels during an incoming call, they can opt for the visual flasher, which automatically flashes a light when there is an incoming call.
You can also save phone numbers on the speed dial memory, for easier dialling in case of an emergency. The buttons are large enough; you can't miss the buttons when dialling. These features make the CSC500 landline phone user-friendly to the hearing impaired seniors.
PROS
Provides sound amplification up to 85 decibels
Ability to save contacts on speed dial memory
The device is hearing aid compatible
It has a visual flasher for incoming calls
Large buttons on the user interface
CONS
The receiver doesn't hook well and easily falls off; it needs a deeper cradle
Bottom Line
These five cordless phones for hearing impaired do an excellent job in solving communication setbacks for the hearing impaired persons. You can communicate easily without any drawbacks. Most of them have incorporated recent noise reduction technology, which is instrumental in improving the audio quality during a call.
However, it is not part of the free government phone program. Government phones offered do not cater for hearing impaired persons. However, Amazon offers great discounts which will amaze you. Feel free to check the products mentioned and get the best phone foe hearing impaired.