How Do I Activate My Assurance Wireless Cell Phone
Assurance Wireless is one of the key players in the US, offering telecommunication products and services through the Lifeline program. This company provides a free government phone to low-income families. If you among the beneficiary, you may want to know how to activate the Assurance wireless phone to enjoy free calls, messages, and data services with significant discounts. Assurance wireless services are available to close to 40 states under specific eligibility requirements.
However, Assurance Wireless was initially an affiliate of Virgin Mobile USA, a subsidiary company of Sprint. In 2022, this company paused its services in the United States until later in the same year, when Sprint merged with T-Mobile. Therefore, Assurance Wireless delivers its wireless services to its customers using one of the most robust networks in the US, which is the T-Mobile network.
Lifeline Program is a government benefit program financed by the federal Universal Service Fund. If you belong to a low-income background and qualify for this program, you get Assurance Wireless Free Phone with unlimited texting, free monthly data, and free monthly talk minutes. Interestingly, Assurance Wireless customers do not get a bill, sign a contract, or pay activation fees or recurring fees.
How Do I Apply For The Lifeline Program?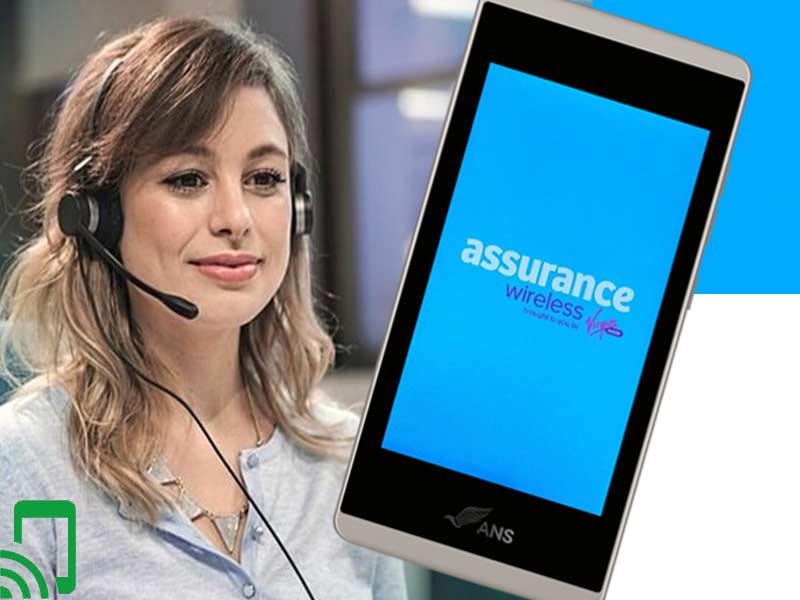 You can submit your application directly from the Assurance Wireless website.
You can call customer support at 1-888-898-4888.
Apply under a representative in your neighborhood, which will guide you with the necessary documentation, and with activating your new phone immediately, you get it.
Apply directly from the National Verifier website, but this option is limited to some states.
What Documents Do I Have To Submit?
Qualification for the free government cell phones depends on your income levels which must be below or at 135% federal standards, or participation in a government program. If you qualify based on another government-supported program, you will require one of the following documents, but it varies depending on the program you are participating in.
A Statement of Benefits
A Notice Letter of Participation
A Benefit ID card (usually Medicaid)
An Eligibility Letter from an authorized agency
In case you qualify based on your low income, you'll require one or more of the below documents:
Social Security statement of benefits
Current income statement from an employer
Veterans Administration statement of benefits
Retirement or pension statement of benefits
Unemployment Compensation statement of benefits
Previous year's state, federal or Tribal tax return
Federal or Tribal letter of participation in General Assistance
Divorce decree, child support award, or related document
Or also the following documents for the last three months.
Current paycheck stub
Social Security benefits statement
Veterans Administration benefits statement
Retirement / Pension benefits statement
Unemployment or Workers' Compensation benefits statement
Why Assurance Wireless?
Assurance Wireless offers free Assurance Wireless Compatible Phones,  although shipping charges may be applicable. Besides, you receive free unlimited texting, free monthly talk minutes, free 350 minutes in most states, and only California residents can receive free unlimited talk. The data package is up to 2GB free monthly high-speed data, but the offer may differ from state to state.
Assurance Wireless Free Plan Features
Free Voicemail
Free call waiting service
Free Caller ID service
Free access to 911
Free calling to 211
Free calls to customer care
You can maintain your current phone number
Moreover, you can add more minutes if the free 350 minutes are not enough for a low monthly rate. Also, you can load more minutes using Virgin Mobile Top-Up cards. You can receive an additional 250 voice minutes for an extra $5 per month. Or, you can pay $10 per extra voice minute.
Assurance Wireless additional Plans for Smartphones Users.
You can get unlimited texts, unlimited talk,  and 5GB of data (500MB plan data plus your monthly free data) for $15 per month.
You can receive unlimited texts, unlimited talk, and (1GB plan data plus your monthly free data) for $20 per month.
You can get unlimited texts, unlimited talk, and (4GB plan data plus your monthly free data) for $30 per month.
You can have unlimited texts, unlimited talk, and (10GB plan data + your monthly free data) for $45 per month.
Additional data packages
100MB data for $1 per month
500MB data for $3 per month
1GB data plan for $5 per month
2GB data plan for $10 per month
4GB data plan for  $20 per month
5GB data plan for $30 per month
Assurance Wireless Activation Process
The Assurance Wireless new phone and Assurance Wireless Replacement Phone activation process is generally the same. To activate your Assurance Wireless phone, you can follow the steps below.
Step 1-Press and hold the Power button to turn off your phone. Allow hands-free activation to connect your phone to the Assurance Wireless network and enable the device to check for updates. Your Assurance Wireless device can finish the Hands-Free Activation process with no user intervention.
Step 2- switch the device back on, and afterward, it may ask you to customize your phone. You may have to skip the setup screen and first complete step 3.
Step 3-Dial 611 and follow the guided instructions.
Step 4- During this process, you will be asked to submit your Assurance Wireless account PIN, which is found at the top of the Assurance Wireless approval letter. Once you find it, submit it.
This process will activate your new and replacement phone, and your phone number and account balance will get transferred to the phone. You can allow your phone to finish all the updates. If you experience any trouble activating the phone, you can contact Assurance Wireless customer service on 1-888-321-5880 from another phone.
Read More: Assurance Wireless iPhone. In this guide, we review the iPhones offered through Assurance Wireless, their key features, and more!
How Do I Get Assurance Wireless Pin Code?
The activation procedure of Assurance Wireless service gets done using a PIN code that gets provided to you when you acquire your Assurance Approval Letter. In case you lack access to this PIN code, you must proceed as follows to help your Assurance Wireless free phone with the activation:
Navigate to assurancewireless.com and log in to your account.
Click on Forgot Password?
Enter your Secret Answer
On the other hand, if you cannot access your account online, you can call Customer Support at 1-888-321-5880 and wait for an assistant to help you. Once you authenticate your identity and give your Secret Answer, the customer service sends your PIN via text message to your cell phone for activation.
Read More: FREE Cell Phones for Seniors and Disabled. Find out if you qualify for a free cell phone from the government.
Bottom line
Assurance Wireless provides customers with free cell phones, free texts, and talks, plus free data package. Hence, to enjoy these services offered by the topmost free government phone provider, you must know how to activate your device once you receive it. Fortunately, this article guides you on how to go about the process and what you need to qualify for this US government-sponsored program.