Ecobee 4 Smart Thermostat With Built-In Alexa Reviews
Ecobee is a Canadian home automation company that produces high-quality thermostats for commercial use. The thermostats have a  built-in touchscreen using a registered login or an app available for iOS, Android and the Apple Watch. The app produced have an excellent rating in both the iOS and Android; thus, you will navigate easily around the app.
Ecobee is the first company to introduce remote sensors in their thermostats. This feature has presence detection, which allows the thermostat to change the temperate according to room usage. Ecobee latest product in the market is the Ecobee 4 smart Thermostat. The thermostat has mind-blowing features that blend in with your lifestyle with much ease. It comes with an inbuilt Alexa; thus, you can issue commands at the comfort of your sofa. Though it doesn't come with a Google Assistant, Alexa can meet your needs similarly.
Ecobee 4 smart thermostat is among the best smart thermostat for multiple zones. The unique thing about the Ecobee 4 smart thermostat is that is various cool features such as the advanced presence detection which automatically changes to the appropriate conditions required. In this article, I have stated the specifications of the thermostat. Also, I have given reasons why Ecobee is the best option to get. Have I told about the cool features of the sensor that it comes with? Read ahead.
What are the cool features with the Ecobee 4 Smart thermostat?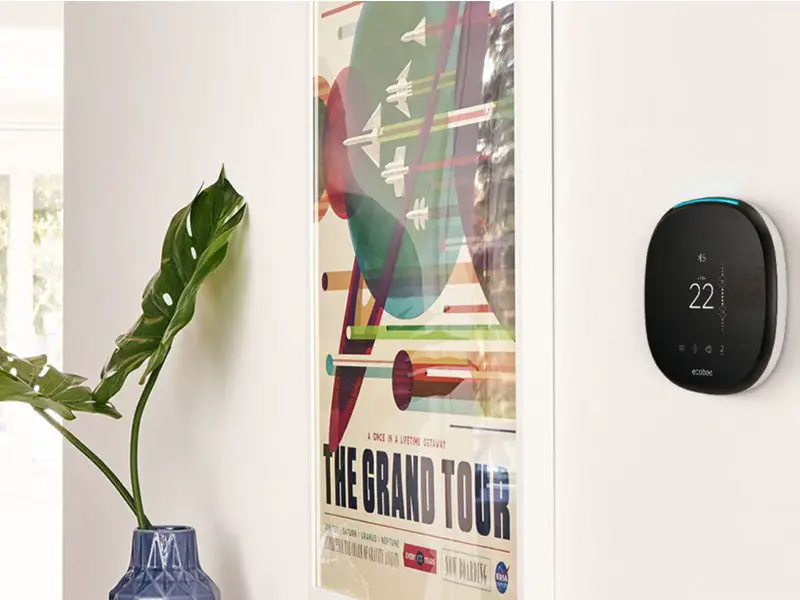 The thermostat has a sleek and stylish design that will blend in with the home decor and give it a classy look. The device has an efficient touchscreen sensitivity that you can navigate around smoothly. Once you purchased the device, you save up to 23% annually on heating or cooling costs.
It is an excellent option if you are on a tight budget. Also, Ecobee pays for itself in under two years, unlike the hold of 72 degrees. The smart thermostat has a built-in Alexa with is proficient. You can control the thermostat by merely issuing commands to Alexa.
You can ask Alexa to play music, hear the news, set a timer and adjust the temperature. The cool thing I about it you can issue a command while you in another while playing music and still Alexa will capture what you have said.
Recommended Article:
The Best 5 Honeywell Multi-Zone Thermostat Reviews
The 10 Best Wireless Video Doorbells With Monitor
The 7 Best WiFi Garage Door Opener Reviews
How do you Install Ecobee 4 Smart Thermostat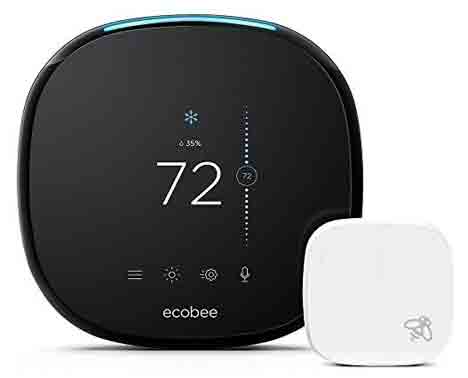 The thermostat comes an easy to follow installation guide and an in-app step by step guide. You can easily install the thermostat in less than 30 minutes. The package comes with everything you need to have a successful installation.
Worried your household doesn't have a common wire(C-wire)? No need to fuss as the package comes with a  power extender kit. Powered by a quad-core processor, it has a dual-band WI-FI thus faster and stable connectivity.
One can control the Ecobee thermostat from any point of the house. You can easily control it with your iOS or Android device by directly downloading the Ecobee mobile app from the App Store or Google Playstore. The Ecobee 4 smart thermostat has enhanced sensors that work automatically. Once you place the sensors in the suitable rooms, you have the temperate balanced throughout your abode.
The sensors are advanced such that it measures the occupancy and temperature; then it automatically signals the Ecobee thermostat that switches to the suitable mode for comfort when home. Unlike other sensors, the sensors come with an improved battery life which can last for up to five years. Also, the sensors have a more extended range of up to 60 feet from the thermostat.
PROS
High-quality audio speakers
The thermostat has enhanced sensors
Easy to install
The sensors have longer battery life
Numerous voice control and communication features
CONS
It does not have Google Assistant built-in
What is unique about Ecobee 4 smart thermostat?
The primary purpose of a thermostat is to control the temperature in our abodes. The evolution of technology is tremendous. The smart thermostats are capable of doing various tasks while you are comfy on your sofa. Not only does it detect temperature, but it can detect the humidity.
Humidity can affect the room temperature even if the technical temperature isn't changed. Also, it can detect if one is in the room this is through body heat. Through this you, the sensors send signals to the thermostat; thus, it changes to a suitable mode for total comfort. The thermostat can also detect motion when you pass by it; hence, it will adjust accordingly.
The thermostat comes with a built-in Alexa. When you awake Alexa, a blue bar light up awaiting your command, with Alexa, you can play music, adjust the temperature, hear the news and set a timer if you are baking a cake, for instance. You can issue any command even if you are in another room. You can issue a command to Alexa will its playing music, and it will capture it and execute it correctly.
Does Ecobee 4 Smart thermostat come with a warranty?
Yes, the device comes with a warranty; thus, no need to fuss if it gets damaged. Once you purchase the device, you get a three-year warranty if you installed it yourself and an additional two years if you opted for professional installation. The accompanying sensor has a three-year warranty.
Is Ecobee 4 Smart thermostat worth buying it?
The thermostat is worth buying as it has excellent features and it's pocket-friendly. When you purchase the thermostat, you can save 23% annually on the heating and cooling cost. Not only does the thermostat detect temperature changes, but it can also detect motion if you pass by it and also it can detect anybody in the room. Through this enhanced detection factors, it automatically adjusts to a suitable condition; thus, you will be comfortable anytime. You will also get maintenance reminders and alerts if your system has any technicalities.
Bottom line
The weather as per now is anonymously changing due to climate change. It results in scorching conditions or cold condition, which in turn may affect your health. Currently, many households in the various state are spending a lot of money on heating and cooling to make the environment conducive.  An efficient thermostat is a crucial requirement due to the varying weather conditions.
Ecobee 4 Smart thermostat has improved nicely over its predecessor and offers useful enhancements without charging extra fees. Unlike other thermostats, it has a longer battery life that lasts up to five years. Though it does not have Google Assistant built-in, the thermostat has excellent features that you will love.