How To Get Qlink Wireless Free Government Phone
If you lack a smartphone or don't have the money to buy one, the federal government may help you to get a free phone and plan for life. Many lifeline providers have been selected to provide this kind of service in selected States across the US. If you are eligible or meet the requirements, a phone and free plan will be issued to you. The Qlink free government phone is one of the best options if you are looking for a free phone.
Qlink is a vibrant lifeline service provider that works in several states across the US. They offer very amazing deals on the plans with data up to 1GB and favorable talk and text units. The phones offered are of high quality, and by luck, you may bump into a flagship device like the Samsung S8. Qlink also has an efficient way of checking for eligibility. You do not have to go to their retail store since almost everything can be done on their website. They also have a dedicated customer care team that will help you in case you find any problems while applying.
Qlink has been the epitome of best free government cell phone providers for over a decade. This means joining them will never be a disappointment. This article aims to guide you on the application process and tell you more about the phones and plans available and after which you can choose the one that works for you perfectly.
Who qualifies for a Qlink free government phone?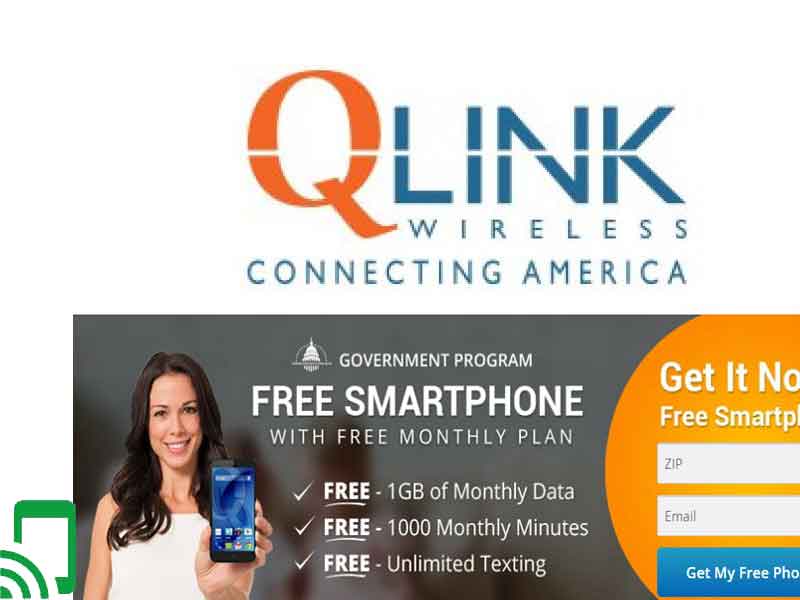 If you have encountered a free government phone provider, then you may have a clue on how you can join Qlink. The process is very simple if you meet eligibility requirements, such as assistance from several government agencies. Some of the eligibility requirements to get a Qlink wireless free phone to entail;
Medicaid
Temporary assistance for needy families
National school lunch
Low-income home energy assistance program etc.
Also, if your income is below 135% of the federal poverty level, you may qualify for a free government phone. Once you think you meet these requirements, you can go to their website and apply. You will also be required to provide documented proof like W-2 forms, and a letter from your Government assistance program.
The good thing is that documents may be submitted through fax or mail hence you don't have to visit their offices and make a paper application. The application process is free, so no one should tell you to pay any costs like activation and many more.
In which States do Qlink wireless offer their services?
Qlink works in selected States across the US. They are not like the major standard service providers that offer nationwide coverage but rather in several States. So, before you apply, ensure that Qlink offers its services to your State.
The good thing is that their website has a prompt which tells the user to enter their Zip code and you will get a notification of whether the carrier works in your state or not. Currently. Qlink serves the following States;
Arizona, Arkansas, Lowa, Wisconsin, Texas, Utah, Carolina, Puerto Rico, Rhode Island, Vermont, Washington, Nevada, Ohio, Michigan, Minnesota, Missouri, Colorado, Georgia, Hawaii, Idaho, Indiana, Michigan, Maryland, Colorado, Louisiana, Maine and Kansas.
What plans are available for Qlink Government phones?
For any free lifeline cell phone provider, the plans offered varies by each State. There are States that will get more benefits because of revenue generated while others are likely to get lesser privileges in terms of talk, text and data units.
However, at Qlink, they strive to offer equality among every State. If you qualify, your free phone plans will come with the following;
1000 minutes
Unlimited texting
1GB of data
Also, if you want to get add-ons, you can buy them at a very affordable price. For minutes, the cost;
$1 for unlimited 1-'day minutes
$5 for 500 minutes for 30 days
$15 for unlimited minutes for 30 days
There are also data add-ons which you can buy at a very affordable price too;
$1 for 100 MB per month
$5 for 500 MB per month
$10 for 1 GB per month
$20 for 2 GB per month
$25 for 3GB per month
$30 for 4GB per month
$35 for 5GB per month
$40 for unlimited data
What free phones are available at Qlink?
Qlink offers several phones ranging from midrange too flagship devices. They also have a formidable way of issuing the phones using a first-come, first-serve basis. They also offer a Qlink wireless phone upgrade whereby you can upgrade your existing phone by getting another cooler device. Some of the phones available include the following;
HTC desire 626
Alcatel One-touch
Kyocera Hydro Edge Smartphone
LG X charge
Blackberry Curve 8330
These are just some of the Qlink compatible phones that are offered for free. You can also bring your own phone as long as it is compatible with their network.
If you have lost your phone, then Qlink also got you covered. You can easily do a phone replacement but ensure to notify them before 24 hours are over after your phone was lost. Failure to which you may not get a qlink wireless phone upgrade. They may charge you a small replacement fee, and after all the process is complete, you can collect your phone at a nearby retail store.
Conclusion
Qlink has been a major role player in the issuance of free government phones. They have simple criteria for issuance of the free government phone, and also their plans are very impressive. The good thing is that all the States get equal distribution of the talk, text and data units.
If you wish to do a phone upgrade, they offer a wide range of amazing phones which you can choose from. They also allow  qlink bring your own phone services as long as your phone is compatible with their network. So, start by signing up at their website for exciting deals on free government phones.