The 7 Best Cable TV for Low Income Seniors
Millions of Americans rely on TV for information despite the rise in social networks. Many of these people are seniors who find it hard to navigate through social media channels to outsource information or simply for entertainment. However, some seniors under low-income may lack access to Cable TV as they prioritize meeting the basic needs. Such situations have led to the slow movement of closing the digital divide. However, cable TV for low-income seniors is here for such people. Ask me how?
Most Cable TV plans are valued at around $80.00 and above. This may be a costly option for a family looking to get a cheaper cable TV for low-income persons. Many organizations, individuals, and companies have worked together to subsidize the pricing of such plans to ensure every low-income person can access cable TV. Their efforts have bore fruit since low-income seniors can now access Cable TV services at lower costs, with perks like free installation and set-up and a no-contract option. By doing this, the number of low-income seniors using Cable TV plans has surged.
Are you a senior and are looking to get the cheap cable TV service? There are many Cable TV service providers in the US offering cheap Cable TV for low income. This article will review the seven best providers and some tips regarding finding the best one. We will give additional info on how you can get cable TV FREE!!
How to choose the best cheap cable TV provider?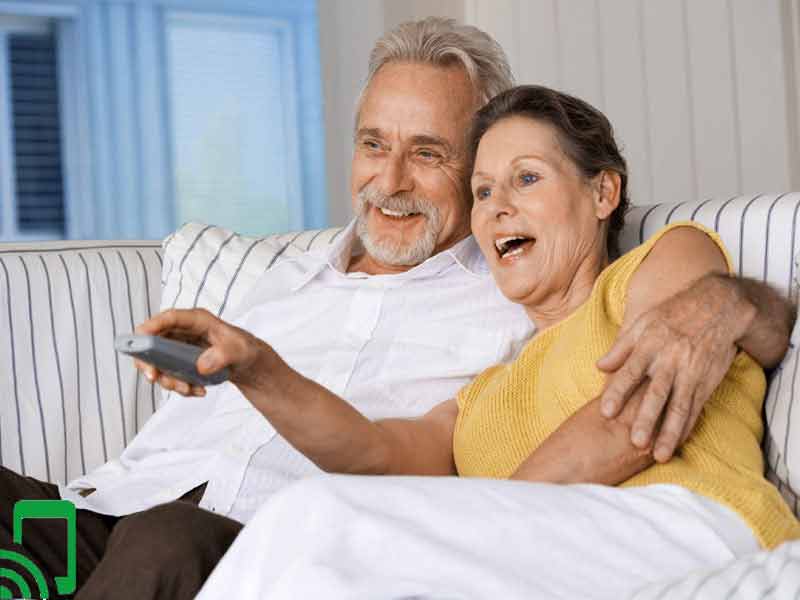 Choosing the best cable TV service involved a very simple process. To find the best provider;
i) Read customer reviews
Make sure to read customer reviews about the service provider to get first-and- impression about their services. Reviews from third-party sites are recommended.
ii) No-contract plans
Being in a contract can be financially draining, especially if you cancel the plan before maturity. So, it is recommended to have a no-contract plan which allows you to switch service providers with ease.
iii) Reliable customer care
The customer care team should respond to queries as fast as possible.
iv) Affordability
The cheapest internet packages come at very affordable prices, starting at around $50. If the cheapest plan from a service provider is above that may not be the right option.
Make sure to understand the pricing of the TV package. It should not have any hidden costs or extra fees that you are unaware of. You can learn more about this by reading through online community forums.
Read More: Cable With No Down Payment and Bad Credit. If your senior has bad credit, these providers still offer plans. Here's what to know to get started!
Can you get a cable TV for free?
No! However, you can benefit from free-to-air local channels that can be found via HDTV antenna or through mobile Apps. However, you may still incur costs when it comes to setting up the free DVR boxes.
If you can't get free cable TV, free internet services for low-income persons are readily available. Companies like Freedompop offer free or cheap internet for seniors living below the poverty levels.
The 7 best cable TV for low-income seniors
1) Xfinity Cable TV plans
Xfinity's Comcast cable TV for low-income families is a great option despite not being the best in the market. They offer cheap cable TV services under their X1 DVR. Though it may not be robust compared to other options, it can service low-income seniors quite well.
You can record up to 6 shows, enjoy HD recordings, and it also features Netflix integration. The plan does not have any contracts to cancel or switch to another service provider at any time.
The cheap Xfinity cable TV plans come in three bundles:
Digital Starter- 140 channels at $49.99/mo
Digital preferred- 220 channels at $59.99/mo
Digital Premier – 260 channels at 104.99/mo
The pricing is subjected to change with time, so feel free to check their website for more information!
2) Dish TV plans
The dish is an amazing cheap cable TV service provider in the US. They are known for their great customer care services and high-quality installation packages that can last for years without maintenance.
They offer TV plans under two tiers:
ii) Flex TV brand
This plan starts with the promotion of free HBO for the first three months. The pricing is as follows:
Dish LATINOClassico – 185+ channels at $37.98
DishLATINO Plus – 190+ channels at $44.99
DishLATINO Dos – 225+ channels at $62.99
DishLatino Max – 270+ channels at $74.99
iii) America's top
America's top is offered under the following plans:
Top 120 – 190+ channels at $59
Top 120 Plus – 190+ at $69.99/mo
Top 200 – 240+ channels at $79.99
Top 250 – 280+ channels at $89.99
Pricing is subjected to change.
3) Cox Cable TV plans for low income
Cox offers some of the best rates when it comes to Cable TV plans. They offer nationwide coverage and free installation during designated times and promotion in your region. Their technical support is super nice, and they have great customer service too.
If you opt for their services, you will be getting renowned channels like Fox, CBS, ABC, NBC, and PBS. Currently, there are two options when choosing the plans:
TV starter – offers 70+ channels for only $25
Contour TV- comes with 140+ channels at $64.99
It also uses a powerful record 6-HD DVR though it is costly. However, you also get a mobile app that you can stream content from.
4) Spectrum Cable TV
Spectrum is one of the few top-ranked cable TV providers in the US and is known for the spectrum of low internet packages. It is the best option if you are looking at not getting into any contracts. This means you can switch service providers at any time.
They also come with a stunning DVR that lends up to 70+ HD storage and can record two concurrent shows. However, the DVR may be weaker when compared to Cox, but you can always upgrade to another DVR at an extra cost.
The Spectrum TV plans entail:
TV Select – 125+ channels at $44.99/mo
TV Silver – 175+ channels at $69.99/mo
TV Gold – 200+ channels at $89.99/mo
The pricing is subjected to change, but all the fees, taxes, and surcharges are included in the listed price.
5) AT&T Cheap cable TV plans
AT&T has been a leading service provider across the US for its reliable network and also the cheap internet for low-income people. The AT&T low-income Cable TV is offered under their subsidiary, U-Verse TV.
U-Verse TV also offers internet packages along with Cable TV plans, but it is optional. All the Cable TV plans come with an HD DVR, and you can record up to 160+ hours of HD content.
The pricing is as follows;
U-Family- 180+ channels at $49.99
U-200 – 370+ channels at $69.99
U-300 – 485+ channels at $74.99
U-450 – 550+ Channels at $124.99
Aside from these, you can opt for the DirectTV by AT&T at only $35/mo. If you opt for these plans, you can get a 10% off
6) Mediacom Cable TV
If you are still asking who has the cheapest internet and TV packages, then Mediacom may be the one. They offer great TV services, and you can leverage on their stunning internet plans which are affordable too.
By using Mediacom cable TV, you get perks like HD channels with an HD box, 20k plus free movies, TiVo integration, which offers 1000+ DVR recording hours and the TV everywhere app that lets you watch TV anywhere.
The plans offered include:
Local 60 Double Play – 50+ channels at $48.99
Silver 60 Double PLay – 170+ channels at $69.98
Silver 60 Triple PLay – 170+ channels at $69.98
Xtream Silver 100 Triple PLay-C – 10+ channels at $89.98
Xtream Gold 100 – 220+ channels at $109.98
The pricing is subjected to change but includes activation and rental charges.
7) Optimum Cable TV plans
Optimum offers a no-contract Cable TV services for low-income seniors. Their services are quite affordable, and with no contract, you can switch service providers at any time.  The rates are quite affordable when compared to other cheap cable TV providers.
They also offer some of the best sports channels. The only con is that premium services are not available in all the States. However, since we are looking for cheap packages, then it will not be a big issue for many.
The plans come in 3 bundles:
Optimum Core TV – 220+ channels at $59.99/mo
Optimum Select TV – 340+ Channels at $74.99/mo
Optimum Premier TV – 420+ Channels at $104.99/mo
Read our related article on Cheap Internet and Cable No Deposit options! We share what you need to know about the top providers with speedy services.
Bottom line
Seniors can now get low-cost Cable TV services from anywhere in the US. The service providers below offer the Best Rates, and their plans have no contract; hence you can cancel anytime. Feel free to choose the one that suits you after doing enough research. You can also get internet packages pro boon from selected service providers.