The 7 Best Whole Home Wi-Fi Systems
Wireless internet connectivity has drastically added on the list of the significant known basic needs. Whether for professional or personal consumption, investing in the best whole-home Wi-Fi systems is essential to keep tabs on the current technologies and news around the globe. Having this system in place is the best remedy for covering larger homes with Wi-Fi and fixing weak or dead Wi-Fi signal in the storey buildings and even farthest corners in the backyard.
One of the reasons behind Wi-Fi dead spots or weakened signal could be physical obstructions. Simply, the floor, ceilings, doors, and walls of your home can block your router, mostly if they're constructions of metal, brick, or concrete. Besides, the distance could be far apart in a large home, than your traditional router can reach. In this case, you need a system that provides coverage better than any Wi-Fi extender or standalone router.
However, with the current trends of the connected lives, entertainment, and homes, wireless internet is an integral component to modern living. Installing a robust and reliable Wi-Fi connection in your premises is equally essential as having Wi-Fi hotspot devices unlimited data for streaming online, watching TV and other daily computer uses. In a nutshell, to make your entire house complete, this kind of networking system is a must-have.
What is a Whole Home Wi-Fi System?
Whole-Home Wi-Fi System refers to a wireless networking technology that guarantees your entire home full coverage with a robust, fast and reliable Wi-Fi signal. The said system comprises of the main router that directly connects to your modem, and a series of satellite modules, or nodes, strategically located around your house for seamless Wi-Fi coverage. Additionally, the system is identifiable by a single wireless network and shares the same identity and password.
What Is The Working Mechanism Of The Whole Home Wi-Fi Systems?
The router and the satellite units intercept the wireless signals and convert it to a mesh blanket. As a result, each module transfers the internet signal from one device to the other via mesh technology, or a dedicated radio band, plus in some cases, both media.
This technology maintains continuous coverage, whether you move from one room to another or between floors. However, there's no set limit as to how many you can install, but, you can set up two mesh receivers in critical locations, or install large dwelling units or commercial offices with eight to ten.
What Are The 7 Best Whole Home Wi-Fi Systems?
 1. Linksys Velop AC2200 Mesh Router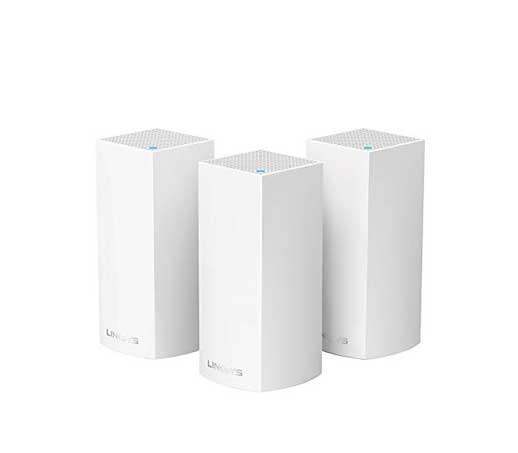 Linksys Velop is the Tri-Band Wi-Fi system with connectivity speeds (867+867+400 Mbps per node) that works in perfect harmony to create a high range mesh network. Besides, it's ideal for large, 5+ bedroom multi-story homes up to 6,000 square feet. This system provides fast, reliable Wi-Fi coverage for 4K streaming, gaming, and other intensive internet uses. The connectivity technology used is Ethernet, and the memory storage capacity is 512 MB.
Additionally, Velop is a flexible Whole Home Mesh Wi-Fi system that delivers ultra-fast, full-strength, flawless Wi-Fi wherever you need it. However, it fits in any environment, regardless of your home shape, size, or wherever your internet comes in. And it works with any service provider modem or modem-router. Moreover, with Alexa, you can easily manage Wi-Fi access for devices and individuals in your home.
PROS
Simple to set up
Easily manageable via Linksys App
Has Tri-band connectivity speeds
Offers fast and reliable Wi-Fi coverage
Sleek, modular design
CONS
2. NETGEAR Orbi Whole Home Tri-Band Mesh Wi-Fi 6 System (RBK852)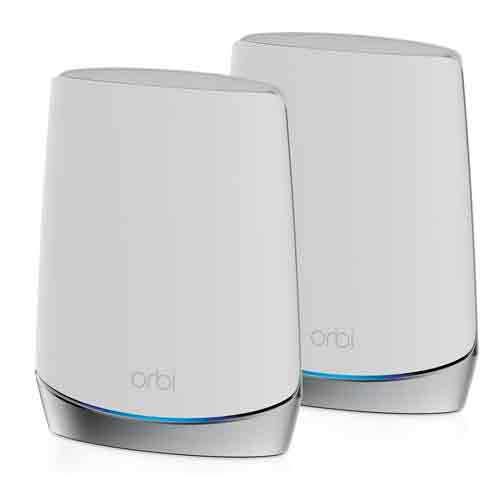 Orbi Wi-Fi 6 is a tri-band Wi-Fi System designed with the latest and fastest Wi-Fi 6 technology to provide the ultimate smart home experience with Wi-Fi coverage and connection capacity beyond imaginations. However, it works with all internet provider and its compatible with any internet service provider up to 2.5gbps including cable satellite fiber DSL and other ISP.
With coverage of up to 5 000 square feet and 60+ devices Mesh technology, this best router for multiple devices enables you to stay connected as you roam around your home.
Moreover, the speeds up to 6Gbps ideal for Gigabit, and 12 simultaneous WiFi6 streams enable you to stream 4K or 8K UHD movies, to multiple devices and enjoy lag-free online gaming while still using all of your connected devices at the same time. Besides, the multi-Gigabit Internet speed service supporting up to 2 5Gbps download speeds.
PROS
Connects to multiple devices simultaneously
Offers seamless roaming anywhere
Has an advanced cyber threat protection
Delivers great performance
Compatible with all internet providers
CONS
3. Samsung ET-WV525KWEGUS Mesh Router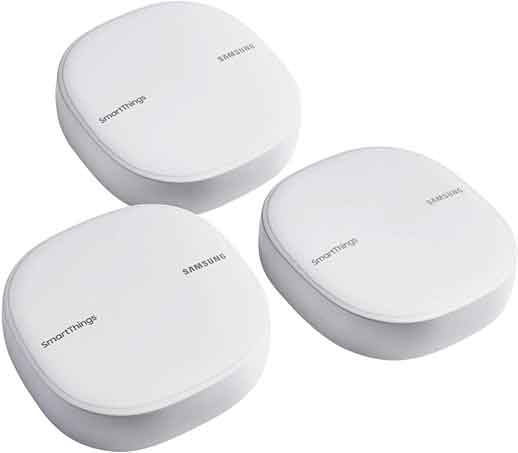 This system performs as a mesh router and SmartThings Hub that connects and control 100+ compatible devices, including cameras, lights, speakers, doorbells, and other accessories. Interestingly, you can see what's connected, prioritize devices, create network access for guests, set up parental controls, set schedules, and more, all from your smartphone.
This pack of 3 mesh routers covers spacious homes up to 4,500 sq. Feet, and for expandable coverage, you can simply add up to 32 hubs. Additionally, you can personalize who gets on your Wi-Fi network, for how long, and what they can do, through the parental controls feature.
Plus, you can measure your network's speed, create schedules for which devices can access the internet and when, and much more. The SmartThings Wi-Fi uses Plume technology to optimize the performance of your Wi-Fi network, through learning how you use Wi-Fi in your home and allocates more capacity to the devices that need it most.
PROS
Delivers reliable, powerful speed and signals
Expandable coverage
Easy to set up and custom controls
Easy to set up and custom controls
Supports wireless connectivity of devices
Affordable
CONS
Not compatible with Samsung Connect Home models
4. NETGEAR Orbi Voice Whole Home Mesh Wi-Fi System( RBK50V)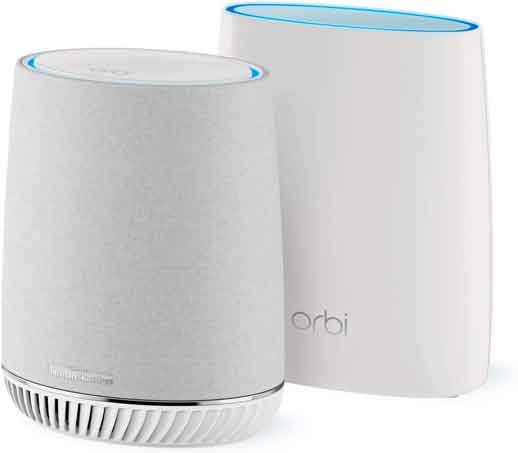 Experience no more dead spot with Orbi voice whole-home mesh Wi-Fi that provides coverage of up to 4,500 square feet and 25+ devices. Besides, the coverage can also get extended to up to 2,000 square feet with additional satellites. It has 1 Gigabit Ethernet port and AC3000 Wi-Fi that powers up to 3Gbps of streaming HD video, gaming, internet surfing and downloads.
Moreover, replace your existing Wi-Fi router and extender, with a need for a separate modem or gateway, compatible with any Internet provider including best cable modem for Comcast, satellite, fiber, DSL, and more. Interestingly, the all in one smart speaker satellite with audio by Harman Kardon delivers vibrant 35W sound and instant access to the music you love from Amazon Music, Pandora, Spotify, iHeartRadio, TuneIn and more.
PROS
Offers high speed and stable internet
Works with all internet service providers
Comes with inbuilt Amazon Alexa
Provides an advanced cyber threat protection
Wide coverage
CONS
Poor speaker sound quality
5. Google Nest Wi-Fi Router (2nd Generation) 4×4 AC2200 Mesh Wi-Fi Router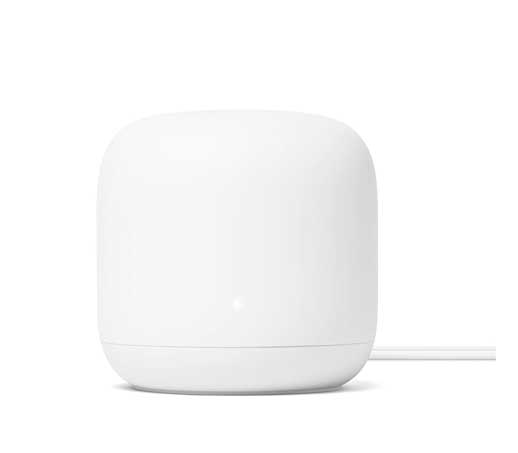 The above Nest Wi-Fi router is scalable and flexible covering up to 2200 square feet, and you can always add routers if you need more. Suppose you require extra coverage, it's allowed to add nest Wi-Fi points for an additional 1600 square feet of Wi-Fi and a smart speaker with the google assistant. Moreover, One Wi-Fi router plugs into your internet provider modem or gateway to create your Wi-Fi network.
Most importantly, this router intelligently works behind the scenes to make sure your Wi-Fi remains fast; so you can walk from room to room on a video call with an uninterrupted signal, and the automatic updates help your network stay safe and sound. Besides, it's easy to manage your system, share Wi-Fi with friends, and check your Wi-Fi speeds from anywhere, right on your smartphone.
PROS
Offers speedy and robust connection
Cheap
Simple to install
Compatible with google WIFI
Small, stylish design
CONS
Not suitable for large spaces
6. Amazon eero mesh Wi-Fi system ( 3-pack)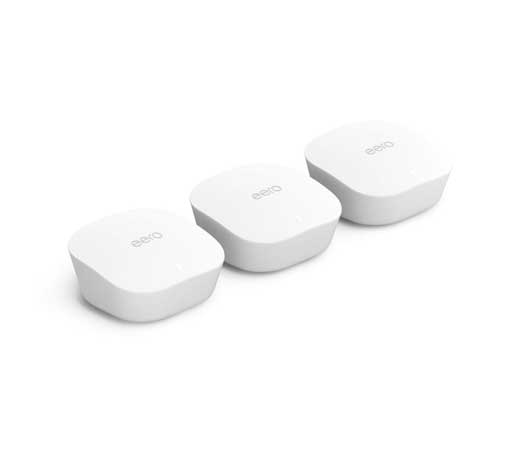 An eero 3-pack is a whole-home Wi-Fi system that replaces your router and covers up to 5,000 square feet. Besides, Eero connects to your modem to bring your existing internet connection to every corner of your home. It automatically updates keep your network safe and secure plus, Eero intelligently routes traffic to avoid congestion, buffering, and drop-offs. This device is best for internet speeds up to 350 Mbps and supports dual-band 2.4GHz and 5 GHz WI-Fi connectivity.
Most importantly, eero seamlessly connects your entire home with reliable Wi-Fi. Finally, you can stream, surf, and game from anywhere. The eero app guides you in the installation for less than 10 minutes and allows you to manage your network from anywhere. From the eero app also, you can see what's happening on your system, check device usage, share your network with friends, or even pause the internet.
PROS
Compatible with internet service providers
Works with Alexa
Simple to set up
Delivers seamless Wi-Fi connectivity
Pocket friendly
CONS
7. Linksys MX10600 Velop Wi-Fi 6 Mesh Router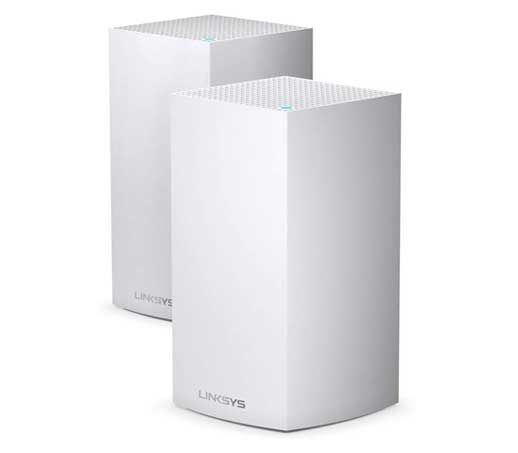 Linksys MX10600 delivers true gigabit Wi-Fi 6 speeds-up to 5.3 Gbps and 12-stream connectivity to every corner of your home, including outdoor areas, up to 6,000 sq. Ft. Besides, the MX10 can handle 100+ devices, so laptops, televisions, smart-home systems, and more can all operate simultaneously with ease. Wi-Fi 6 also sends and receives multiple streams of data simultaneously and reduces latency, providing up to 4X more capacity compared to Wi-Fi 5 technology.
Moreover, equipped with four Gigabit-Ethernet ports, the MX10 supports wired connections up to 10x faster than the standard Ethernet. With ultra-fast USB 3.0 port, you can easily connect shared storage devices. On top of that, it provides ultra-fast, reliable Wi-Fi coverage for 4K streaming, gaming, and other internet uses. With 4x the capacity of Wi-Fi 5, Wi-Fi 6 provides enough bandwidth for as many as 50 devices.
PROS
Supports multiple devices at once
Offers versatile connectivity options
Connects to your existing modem
Long-lasting construction
Three years warranty
CONS
Bottom line
Are you looking to upgrade on your traditional boosters for signal enhancement and performance improvement? As much as the Wi-Fi boosters extend the signal, they are unspread effectively as expected, and wireless signals usually strain to pass through the physical obstacles.
For this reason, we brought for you a well-compounded list of the best whole-home Wi-Fi system to help you expand your internet coverage and improve on the sluggish internet performance. Don't be left out, upgrade your wireless reception and stay connected.