A baby monitor is radio equipment used to listen to the sounds of a young baby. Some people call the device a baby alarm. Baby monitors are of different designs and specifications. In fact, the best baby monitor under $100 has a two-way communication system where the caretaker for the infant can communicate back to the baby when it needs their attention.
Modernized baby monitor Machines have a camera, which can film what the baby is doing. Such devices take the name of baby cams. They are instrumental as the caretaker can see whether there is anything harmful near the baby. You can also see whether the baby needs some attention, or it is just okay for them to continue to enjoy the atmosphere.
It is important to note that these devices are only suitable for babies who have not learned to talk and to walk. You have to monitor them keenly when they grow bigger to around 7-8 years; they do not need the baby alarm. The school going kids require phones. There are numerous cheap phones for kids in the Market helpful to children.
How does a Baby Monitor Operate?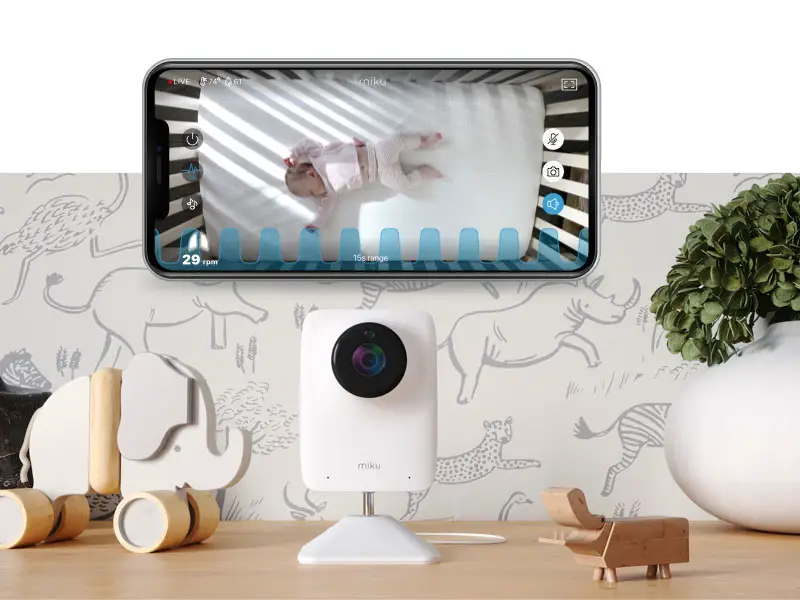 The device has a transmitter unit with a microphone, which you have to place near the child to capture any sound from it. The microphone picks any noise from the baby. It passes it to the transmitter that, in turn, transmits the sound in form of radio waves to the receiver carried by the caretaker who can act appropriately.
Some baby alarms allow two-way communication whereby you can soothe the baby by singing lullabies or making funny noises to entertain it. Current baby monitors have a camera that sends you pictures showing you the state of the child. You can see whether it is sleeping correctly or needs attention.
Baby monitor manufacturers have gone ahead and added a music player in the device. You can play soft music to make the baby relaxed or make them sleep. For sure, these machines make work easier.
What are the Different Types of Baby Monitors?
There are different kinds of baby monitors, which include the following.
1. Movement monitors
These detect baby movements and ring when the baby movements stop. You place the machine sensors under the baby mattress.
2. Video baby Monitors
You can also call them baby cams. The machines send video images to the receiver, whereby the caretaker can plug the device on an LCD screen to view the baby movements.
3. Smartphone baby monitors
You can place a smartphone near the baby and monitor it using another smartphone via a Bluetooth or WiFi connection.
Baby Monitors may be wired or wireless. Wireless baby alarms use radio waves for communication while wired ones require you to use wires to connect the transmitter to the receiver.
What Are The 7 Best Babies Monitors Under $100?
They include the following.
1. iBaby Monitor M6S
The device is WiFi-enabled. It enables you to connect the device to a smartphone and receive or play music for the baby. Moreover, you can receive video pictures from the device since it has a 1080p video camera.
Moreover, the device has WiFi speakers, which you can use to play lullaby music to soothe the baby into sleep. You just play music from your phone and have a baby sleep or keep quiet.
Interestingly, the device's camera has a night vision feature that helps you to receive live video even when the baby is sleeping in the dark. Besides, the camera can view 370 degrees. Again, the device allows a 110-degree tilting. Moreover, it has temperature, humidity, and air sensors.
PROS
It has WiFi-enabled speakers
WiFi-enabled camera
It has speakers to play music
360 degrees view
Has elegant design
2. Baby Monitor with Remote Pan
The device has an LCD monitor of 3.2 inches. It shows what the camera is capturing. Again, the devices monitor allows display for up to four cameras. Still, the device has a remote tilt feature. You can just adjust the camera position while a few meters away using your remote control.
Besides, the device has night vision capability. See how your baby is sleeping even in the dark. It helps to save electrical energy.
The device has a sound level indicator. It helps detect the extent to which the baby is crying to take the necessary action. Moreover, it has a two-way communication system. Again, the device can detect room temperature.
PROS
Two-way communication
It can detect room temperature
It has a sound level indicator
It has a remote control tilt
Has an LCD screen
3. Baby sense Video Baby Monitor
Baby sense monitor has a long-range communication system whereby you can receive audio and video pictures about the situation within your baby's bed. It is very efficient for baby caretakers as they can watch over the babies while far away from the baby's vicinity.
Moreover, the device can detect room temperature within the baby's surrounding. It helps you to take drastic measures in case there are harmful temperature levels since you can get alerts when in the next room.
Interestingly, the camera has a night vision. Again, it has two-way communication. You can sing to the baby when it is crying and make it relaxed. It creates a sense of companionship for the child. The battery has a high capacity.
PROS
It has long-range communication
Has temperature detection
Has Night vision
High capacity battery
Two-way communication
4. Infant Optics Add-On Camera Unit
Infant Optics Add-On Camera Unit for Infant Optics Dxr-8
Additional Camera Unit pairs with Infant Optics DXR-8 Pan/Tilt/Zoom with Interchangeable Optical...
Viewing direction remotely controlled by DXR-8 Monitor Unit both horizontally and vertically
Compatible with Infant Optics Optical Zoom Lens (sold separately) and Optical Wide Angle Lens (sold...
The camera lens is interchangeable. You can always fix the lens, which you think will work right for you at certain times of the day. Moreover, you can control the device using a remote. It becomes easy to operate the baby monitor as you can do it while several meters away.
You can pair four cameras at once. Have the screen split into four halves to view the entire child's room from all directions. It increases security for your child as it sleeps. It automatically scans the available devices.
The only disadvantage of this is that it does not have optical zoom or wide-angle view. Despite this, it works perfectly well. Most customers have given positive feedback on it.
PROS
Interchangeable lens
Can pair 4 devices
Has a remote control
Easy to use
Auto scan mode
5. Video Baby Monitor
Offer
Video Baby Monitor comes with two cameras. They give a broad view of the baby's environment that enabling you to have a happy moment. Both cameras can connect to the screen at once while at the same time giving you live connections simultaneously.
The battery life is long as it can go for seven hours of continuous operation. Moreover, it has night vision capability to show you the baby's environment even at night. You can connect four cameras with the screen and have a broader view.
The device can detect temperature conditions in the room. You can get alert sin case of danger around the child. Most importantly, you, as a parent, can have a relaxed moment knowing that your child is safe. Finally, it has a two-way communication.
PROS
Two cameras
Durable battery
Night vision
Temperature detection
Two-way communication
6. Samxic Video Baby Monitor
The device has a 720p camera that gives clear images for viewing. It can connect up to 4 devices with ultimate security thus ensuring that no leakage to the internet as there is any app usage. The LCD screen is significant as it measures five inches. It thus gives a wide view.
Interestingly, the device has a two-way talk. You can soothe your child when it cries by singing over the device, making the child think that you are there. Furthermore, it gives you cries and temperature alerts. You can use the equipment to detect harmful temperatures.
Besides, the device has a remote control system. You can tilt the device and adjust the camera using remote control.
PROS
Large screen
Automatically detects cry and temperature
Remote control
It has high privacy since no app used
Has two-way talk
7. AXVUE Video Baby Monitor
Offer
The device has two cameras. They give a comprehensive view of the environment to the baby because they simultaneously connect to the monitor. Furthermore, the monitor supports four connections whereby you can have a split screen and view different angles of the room.
It allows two-way communication whereby you can sooth the crying baby any time it starts crying. You do not need to go near the bed to sing for the child. It gives caretakers the ease to perform household duties peacefully.
The battery can take a long time. It can continuously stay under use for more than 7 hours before being exhausted. The device has a night vision to help you see your child at night. Moreover, it connects wirelessly.
PROS
It has two cameras
Has night vision
Two-way communication
Durable battery
Supports four devices
Bottom Line
Baby monitor machines have helped caretakers for long since their invention. They can control children when busy with other activities such as cloth washing, cooking, and so on. The devices help in the healthy growth of children, more so those with music player since they play soothing music that keeps the babies relaxed. Baby monitors with video feature helps to view the exact happenings around the child's environment.