Top 8 Wireless Rechargeable Cameras
We've all had that eerie feeling that someone is or was on our property, but with no way to prove our suspicions written it off as paranoia. We've also wanted to know what's happening on our property when we are away from our home or office. With wireless rechargeable cameras, you no longer need to pay for services from a security company to get surveillance at your home and office. You can get one of these DIY standalone cameras, install it and playback or Live-stream the video at your convenience.
Wireless cameras work by transmitting a video/audio signal to a receiver through a radio band and need a Wi-Fi network to transmit. Truly wireless cameras do not need to be connected to a power outlet since they come with rechargeable batteries. The batteries can either be charged using a phone adapter or a solar panel. Most cameras like the best wireless outdoor security camera, only record when the motion detector detects motion events to enable them to keep charge which can last for weeks on a single charge.
These security systems are becoming more and more popular as they are a cost-effective way of having a comprehensive security system in your home and office. You no longer have to pay hefty installation fees or pay fees to have extensive cables run through your property with regards to the best outdoor wireless security camera system with dvr. The use of the wireless security camera is also varietal as it can be used to monitor homes and offices, barns, and outbuildings and by law enforcement agencies to prevent crimes.
The comprehensive guide to buying a wireless rechargeable camera
Here is a list of factors to consider before investing in a wireless rechargeable security camera.
1. Indoors or outdoors use
Most security cameras are made to be used in both areas. To make sure it can handle being outdoors, make sure it can handle being in the harsh conditions outside, make sure its IP (Ingress Protection) rating is at least IP65 which means it will handle all weather conditions including dust, snow, and rain; though it can't be submerged in water.
2. Resolution
The purpose of a security camera is to see what's going on around you. A 720p camera will give you sharp images but you can do one better by going for 1080p. 4K cameras are also available if you have a very strong network and tons of storage space.
3. Storage
Most cameras use cloud storage which comes with an extra monthly payment. If you want to avoid the extra cost, get a camera that offers microSD storage of at least 64GB.
4. Field of view
This describes how much the camera can see. A security camera with a field of vision of at least 120 degrees will capture most of what you will need to see. Motion and sound detection is a great added feature for a security camera.
The 8 best wireless rechargeable cameras
1) Zumimall Wireless Outdoor Wi-Fi Security Camera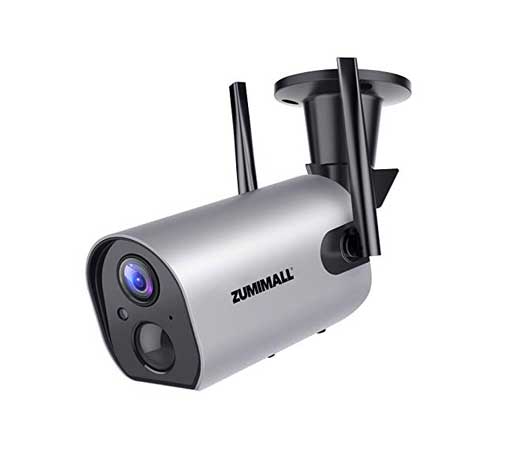 The Zumimall wireless camera is equipped with a 36mm lens with a 120-degree wide viewing angle that provides high-resolution 1080p images feedback. The PIR smart motion detection on this camera will send the accuracy notifications to our phone by Cloudedge APP when the camera detects people, day or night since it also has excellent night vision up to 55ft.
This camera is IP65-certified and will work perfectly in all types of weather, through any season. The 2-way audio will allow you to communicate with anyone no matter where you are and the 10400mAh battery capacity will last for 3-6 months on a single charge.
PROS
Two-way communication
Easy installation
High quality mobile app
Great battery capacity (10400mAh)
Multiple remote access
CONS
No pan/tilt
Does not come with an SD card
2) Zumimall A3P Wireless Rechargeable Smart Wi-Fi Camera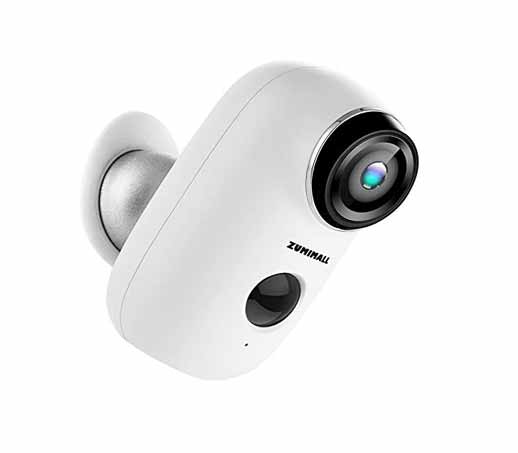 This Zumimall wireless rechargeable camera comes with a 6000mAh battery that lasts from 2-5 months when fully charged so that you don't have to worry about continuous charging. Its two-way audio system allows you to talkback and listens in and works directly through your iPhone and Android Mic.
The advanced night vision and advanced PIR motion detection can detect and record motion events (in the dark up to 32ft) and records it in the microSD card in 1080p.
PROS
IP65 weatherproof certified
1080 HD resolution
Easy installation
Two-way audio
Great battery capacity
CONS
SD card not included
Only compatible with a 2.4G Wi-Fi router
3) Reolink Argus ECO Wireless Outdoor Security Camera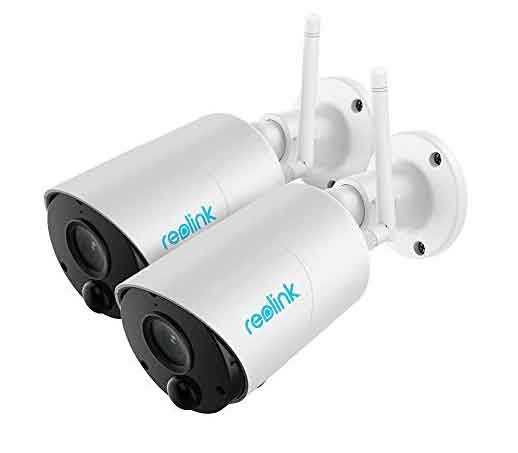 The Reolink Argus Eco is a wireless outdoor security camera with a 5200mAh high capacity rechargeable battery that will last for around 180 days. The installation process is relatively easy with instructions from the Reolink app. It has clear two-way audio that enables communication on both ends.
You can Livestream anywhere to see what's going on in full HD with night vision up to 33ft. the smart PIR motion detects will send you instant email alerts and app push notifications when motion is detected so you're always in the loop about what's going on.
PROS
Can be charged using a phone adapter or solar panel
Easy to install
Works well with Alexa and Google assistant
High-resolution images
Two-way audio
CONS
No audio detection
No smart home integration
4) AKASO Wireless Outdoor Security Camera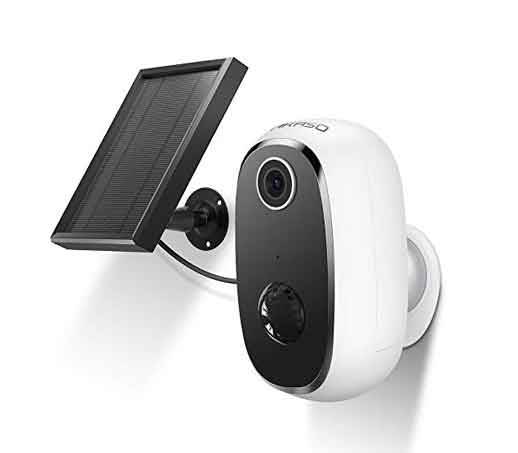 This wireless security device is a great device that has multiple charging options; using a 5V 2A phone adapter and by keeping it charged using solar. With the HD 1080p and super night vision will allow you to capture videos and images in high-resolution. PIR motion sensor will record motion events and send you instant alerts.
Two-way audio will let you listen and talk back using the built-in microphone and speakers. To protect your privacy, the recordings can only be read by someone with the account login details. This device in general resembles battery powered wireless outdoor security camera.
PROS
Works with Alexa and Google voice and Fire TV
Two-way audio
IP65 weatherproof
Allow up to 10 online live view users simultaneously
Wide-angle of view
CONS
Only works with 2.4Ghz Wi-Fi
Third-party apps are not supported
5) REOLINK Argus 2 Battery Powered Security Camera System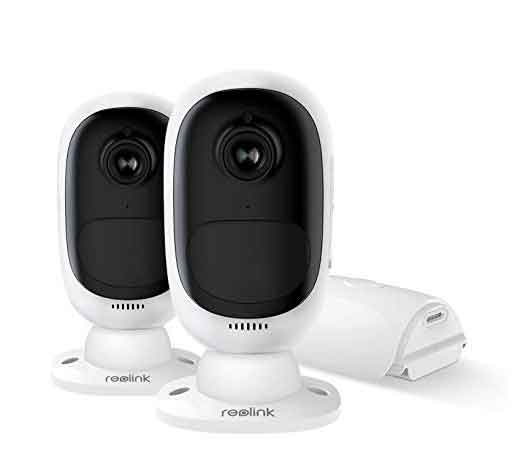 The Reolink Argus 2 is a security camera system with its most appealing feature being the multiple charging options; either a 5V2A power adapter or using a Reolink solar panel. The Smart PIR sensor detects motion events and triggers alerts like push, email, or siren, and records in full HD (1080P) and up to 33ft night vision. It also has 2-way speech so you can hear what's going on and on the other end and talk back with just a touch.
PROS
The battery can be charged using solar power or USB
Works with Alexa and Google assistant
No subscription fees for storage
Wide-angle, high-quality footage
Night vision works well
CONS
May not be ideal for people in areas with a lot of rain
Doesn't support 24/7 continuous recording
6) NexTrend Wireless Battery-Powered Security Camera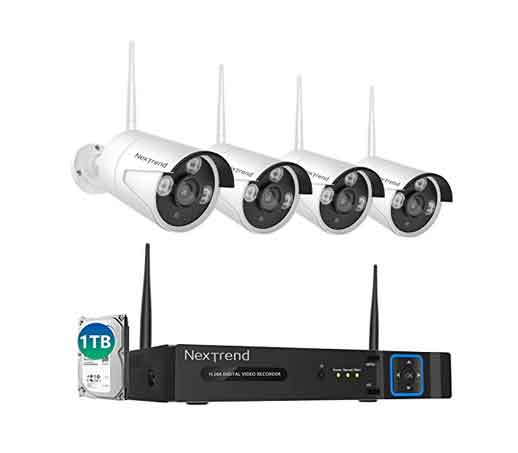 The NexTrend wireless security camera has a large battery capacity of 10400mAh which is rechargeable. They run for 180 days in normal frequency and 365 days in standby mode. The 1080p high-definition will help you capture the vivid and smooth live stream in all types of weather and seasons.
The device has a 30-day free exchange and 1-year warranty and lifetime technical support and any queries you email them will be addressed within 24 hours.
PROS
1080p full HD vision
Two-way audio
Advanced PIR system
Great customer support
Large battery capacity
CONS
Small view angle
The app has been problematic for some customers
7) Safevant wireless IP camera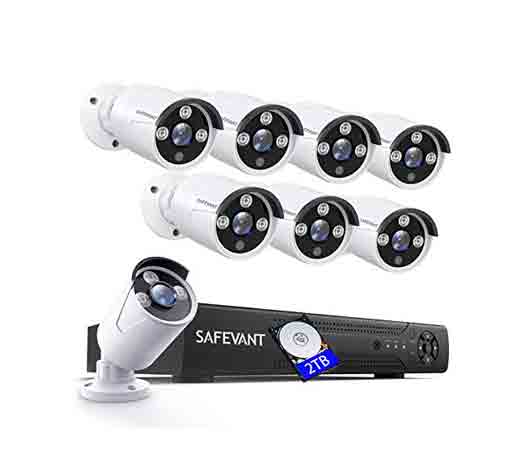 The Safevant wireless IP camera is different from the traditional IP camera. Its battery goes to sleep if the device user doesn't check the live feed to save power. The device will wake up automatically when a smart PIR motion detector detects motion events or when you view live streaming.
The 100% wire-free design and magnetic mounts will allow you to discreetly place cameras where you want to monitor your home.
PROS
960p clear images
Real-time remote voice intercom
Easy installation
Recording and videos playback
PIR function
CONS
Need to have a home monitor to use
The app doesn't work so well
8) Reolink Argus PT wireless rechargeable camera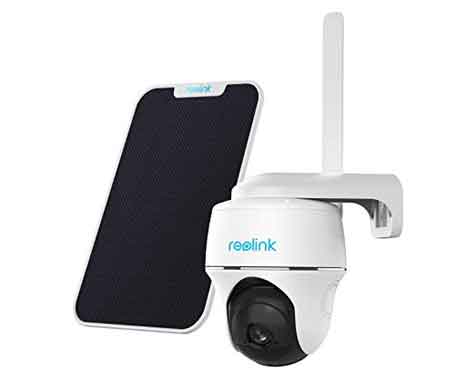 The Reolink Argus PT is a solar-powered security camera that captures images in full resolution. The tilt & pan feature on this camera allows it to turn its head 355 degrees horizontally and 140 degrees vertically to capture all-around movement.
The two-way audio allows you to have smooth conversations through the Reolink software and the device allows up to 10 simultaneous live viewers online. The smart color night vision up to 33ft in low light will allow you to monitor your home at any time with no blind spots.
PROS
IP65 weatherproof
Can charge with solar power
Two-way audio
Allows up to 10 simultaneous online users
Smart color night vision
CONS
Doesn't work with 5Ghz Wi-Fi
Doesn't support 24/7 continuous recording
Final Thoughts
Surveillance has never been as easy as it is today. With no installation fees and no expensive cabling, you can install these security systems yourself and monitor any uninvited movement on your property. With these cameras, all threats to you and your loved ones are dead and the best outdoor wireless security camera holds the smoking gun.