Best Self Monitored Home Security System with Cameras – Top 8 Picks
Homeowners looking for ways to reduce bills may find that doing away with monitoring services may significantly bring sense during hard economic times. The best self-monitored home security system with cameras saves you the cost of paying for professional monitoring monthly. However, these systems are ideal for people who relocate often such as military families, renters, or students.
Interestingly, self-monitored security systems are easy to install and don't need a monitoring center that requires knowing your new address details. The systems are usually tiny, making them a suitable option for apartments, townhouses, and condos. It is easy to control and monitor whatever is happening indoors and outdoors in your hands as far as security issues are concerned.
Usually, the trick is in finding the best no monthly fee home security system with the right add-ons that fits your budget. The best options feature basic devices like sensors, a base station, and optional cameras. What you need to do is setting it up and watches over your home from the mobile app. Besides, from the installation of the kit to responding to alarms, it all depends on you.
What Are Factors To Consider Before Buying Your Home Security System With Cameras?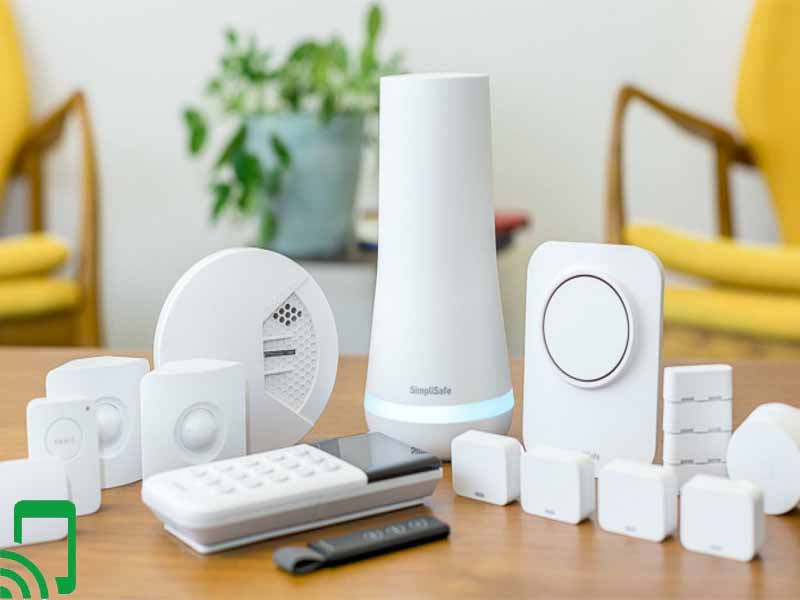 i) Wired or Wireless
Both options have their advantages. Wireless installation is faster and easier, tidier, and takes little space. However, the wired counterparts are equally reliable, but they require tools and drilling holes on the wall for mounting.
ii) Type of Setup
Setup can be done in two ways, DIY home security system or professional. Professional installation saves time and ensures there are no errors. On the other hand, do it yourself installation is cheap but may seem complicated.
iii) Alerts via Phone
Instant alerts are useful and most companies have enabled their own apps so people can get alerts when motion sensors get triggered.
iv) Entryway Sensors
Most, entryway sensors work with a little magnet that triggers alerts when a window or door gets opened.
v) Motion Detectors
Motion detectors usually work with infrared lights to detect and track any type of movement. A notification gets send when something triggers them, or at times makes the siren sound. Besides, buy those that do not sense pets, or else you will receive lots of false alerts.
What Are The 8 Top Best Picks For Self Monitored Home Security System With Cameras?
1) SimpliSafe 12 Piece Wireless Home Security System w/HD Camera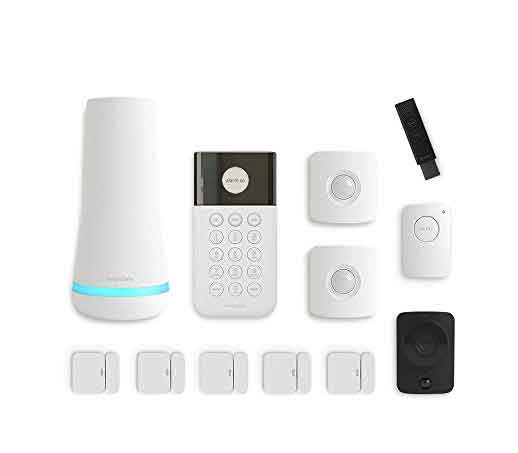 This surveillance system comes with a base station with a built-in 95dB siren, 5 entry sensors, 2 motion sensors, Keyfob, panic button, SimpliCam, Yard Sign, Window security stickers, and a free month of monitoring. Interestingly, it features signal burst technology that is powerful enough to cover homes of every size, with up to 1000 ft. range with no extender required.
The battery-powered outdoor security cameras help keep your home secure and protected from the unexpected. Moreover, there is an optional 24/7 professional monitoring and cloud recording with police, fire, and medical dispatch with no contracts.
The motion sensors detect motion within 30 feet, have a 90-degree field of vision, and get along great with pets less than 50lbs. Besides, the SimpliCam security camera lets you see what's happening at home anytime from your phone, tablet, or computer and comes with a built-in stainless steel shutter for complete control over privacy.
PROS
Works with Amazon Alexa and Google Assistant
No contracts
Excellent long range
Loud sirens
3 years warranty
CONS
Poor sensors
2) Blue by ADT Starter Plus Home Security System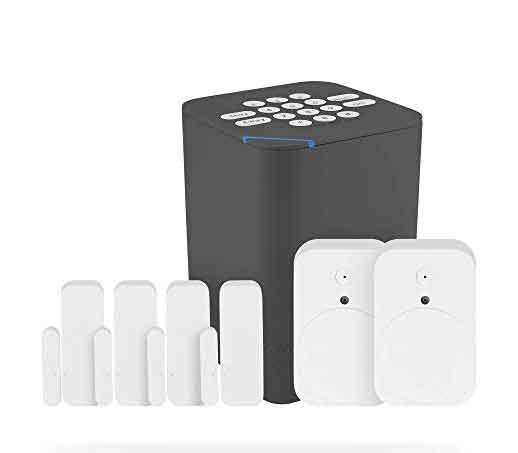 Help protect what matters most to you with the ADT smart do it yourself installation kit. The system is one of the cheap wireless security cameras, and comes with a base, entry keypad, 4 door or window sensors, pet-friendly motion sensor, fire safety sensor, 1 keychain remote, yard sign, and 4 window stickers.
Besides, the system has a 24-hour backup battery in case of outages. However, you can control your compatible smart home devices and LifeShield security system through one app, and use your system with Amazon Alexa and more.
Fortunately, you can choose the frequency of alerts you get for any activity in your home like motion, fire alarms, and opened doors and windows. The optional 24/7 professional monitoring backed by ADT is also available.
PROS
Very affordable
Wifi-enabled
No contract
Alexa compatible
Easy to install
CONS
Siren not loud
3) SimpliSafe 8 Piece Wireless Home Security Command Bravo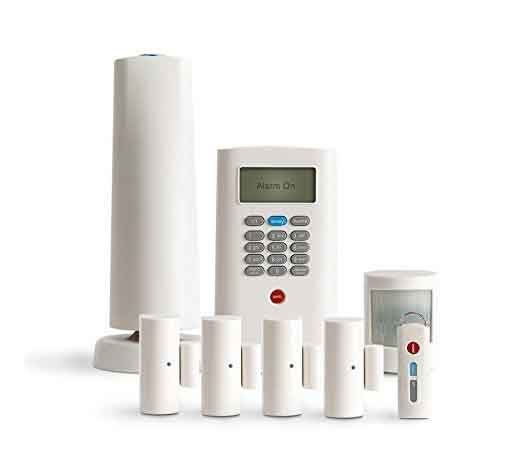 SimpliSafe Command Bravo is one of the affordable self-monitored battery powered outdoor security camera wifi that features both entry sensor and motion sensor. The former protects your windows and doors, while the latter covers a whole room with protection and get designed to detect intruders, and not pets.
Additionally, there is optional professional monitoring that starts at $14.99 per month with no contracts. The presence of a big, bright display and backlit keys enable easy usage at night, with no plug needed plus you can place it anywhere you want.
However, the base station has a built-in cellular connection, 24-hour battery backup, plus a 95dB siren. During a blackout, a back-up battery kicks in and protects you for a full 24 hours.
PROS
DIY installation
No equipment fees
24/7 professional monitoring
Works with Amazon Alexa
Power outage protection
CONS
No backlight for the keyboard
4) Ring Alarm 8 Piece Kit (2nd Generation) Home Security System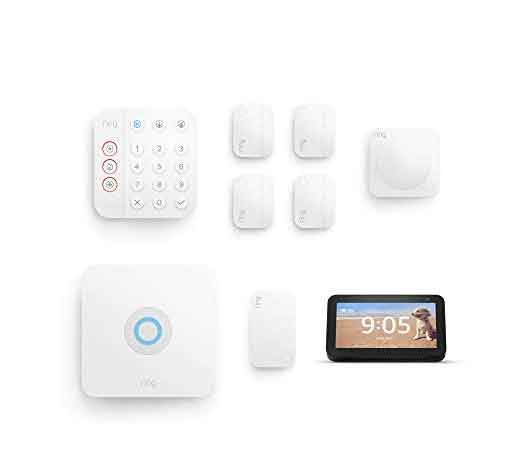 The above kit represents wireless rechargeable cameras and comes with a base station to keep your system online, a keypad for in-home control, and a range extender to ensure your Alarm devices have a signal. Besides, when paired with contact sensors to cover four doors or windows, and a motion detector to cover a room, it's a suitable choice for 1-2 bedroom homes.
You can receive mobile notifications when your system is triggered, change your Alarm modes, and monitor all your Ring devices all through the Ring app. Moreover, included in the package is a more intuitive keypad with emergency buttons and smaller contact sensors to seamlessly blend into your home making the system more accessible?
You can get Get 24/7 professional monitoring to assist you to get emergency services and to enable cellular backup for your Ring Alarm, and 60 days unlimited video recording and photo capture for your Ring cameras and doorbells for $10/month with Ring Protect Plus.
PROS
Affordable
Easy setup
Works with Alexa
Rechargeable 24-hour battery backup
Diverse connectivity options
CONS
Not ideal for outdoor use
5) Reolink 4MP 8CH PoE Video Surveillance System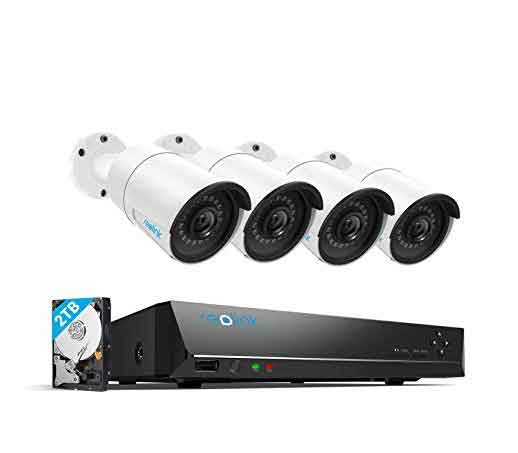 Feel protected 24/7 with 8 cameras running simultaneously. With a pre-installed 2TB HDD, expandable to 4TB, consumers can record videos continuously without worrying about missing any detail using the outdoor security cameras.
Besides, the PoE camera security system detects moving objects and triggers alerts when danger occurs. Users will be sent an email and push notification immediately to their smart device, allowing for quick action when trouble arises.
However, homeowners can customize motion detection zones, enabling you to position your camera where it would be most effective, thus reducing false alarms. Interestingly, you can get magnificent images and videos day or night with 1440p resolution. Plus, an advanced automatic IR-cut filter helps to capture surroundings at night for up to 100ft.
PROS
Support video playback
Customizable motion detection area
Smart motion alerts
Clear Night vision
Reliable remote access
CONS
Not wireless
6) iota All-in-One Home Security Kit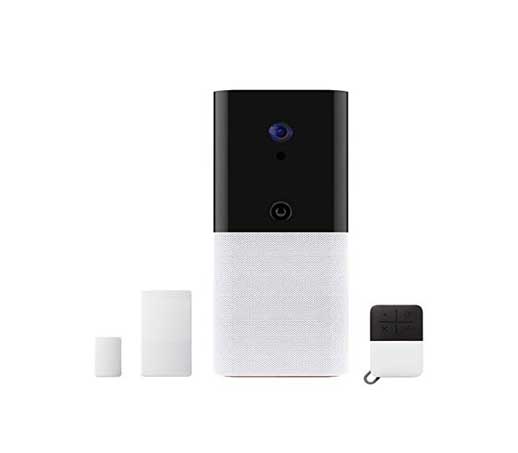 The iota is an all-in-one device that features a 1080p camera, motion sensor, two-way voice, and 93db siren. This camera captures a clip when an alarm is triggered which allows you to visually verify the cause and act quickly. You can also check-in anytime, anywhere right from the abode app.
Additionally, featuring Wi-Fi connectivity, iota can be placed anywhere in your home.  Besides, you can connect up to 160 compatible security and smart home devices to your iota to protect your home from any threat. The system includes a built-in motion sensor with adjustable sensitivity levels that allows you to fine-tune it to perfectly fit into your home and lifestyle.
PROS
Full HD streaming camera
Works with Alexa and google assistant
No contract nor monthly fees
Highly compatible with home devices
Two-way audio communication
CONS
Lacks a night vision feature
7) VAVA Wireless Cam Outdoor Home Security Camera System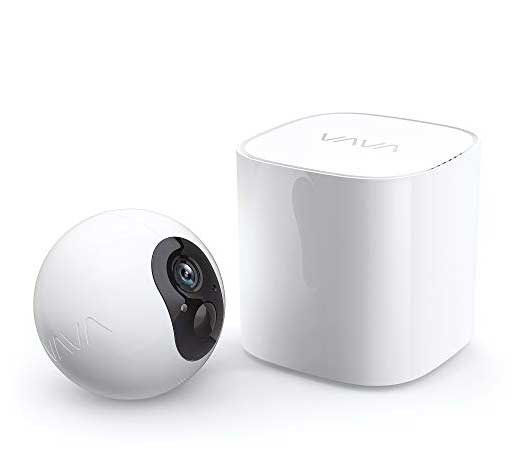 Monitor the activity of your home 24/7 in crystal-clear 1080P Full HD resolution during the day and reliable infrared technology at night, with VAVA outdoor wireless security camera system with DVR , and a wide 110° field of view.
Interestingly, this system gets certified IP66 waterproof for outdoor installation and surveillance even when rainy. The high-performance rechargeable battery lasts for up to 100 days of use with 5000mAh capacity.
Moreover, the signal-boosting base station enables the camera to uphold a stable connection of up to 300 meters in an open area, for high-quality video surveillance even over long distances.
The cameras have motion detection and an instant App alert that captures footage when the PIR motion sensor gets triggered and sends an immediate push notification to your mobile VAVA Home app.
PROS
Supports up to 128GB
Weatherproof
Has rechargeable batteries
Long-Range IR Night Vision
Two-way communication
CONS
Not wifi enabled
8) All-new Ring Alarm 5-piece kit -2nd Generation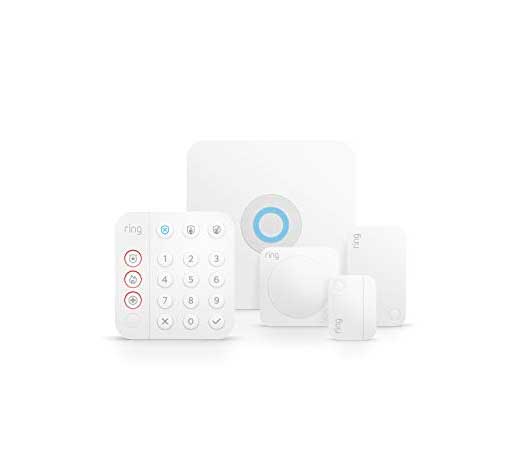 This kit is a great fit for condos and apartments and includes one base station, one keypad, one contact sensor, one motion detector, and one range extender. It also has a more intuitive keypad with emergency buttons and smaller contact sensors to seamlessly blend into your home. You can set up your Ring Alarm by plugging in your base station, connecting to wifi via the Ring app, and placing your sensors in their ideal locations.
Moreover, you can control your security in three methods. First, place your Ring Alarm in Home mode to disarm your interior sensors, while keeping your exterior sensors armed. Besides, set to Away mode to arm all the sensors in your home while you're out. Finally, disarm your system to disarm all sensors and freely walk in and out of your home.
PROS
DIY installation
Works with Alexa and other enabled devices
Cheap
Intuitive keypads
Optional 24/7 professional monitoring
CONS
Bottom line
The list above represents the best self-monitored surveillance devices for protecting your home, and property. You can choose any according to your requirements and enjoy peace of mind while watching over what matters most to you.
The systems have different specifications and features, so, it's crucial to understand what you need before purchase. The provided link directs you to the item whereby you will learn more about details that will enable you to shop right. Enjoy your shopping experience.