Arlo Pro 3 Wireless Security Camera Reviews
Arlo security cameras have video HD formats whereby you can view and record high-quality videos from anywhere using your smartphone. Furthermore, the security cameras send you motion alerts and clips. You can schedule smart home rules, and share cameras with family members and friends. Today we shall focus on Arlo Pro 3, a wireless security camera with wonderful specifications for your home security.
Arlo Pro 3 various amazing features such as night vision, a two-way communication system, integration with smart apps such as Alexa for hands-free operations, and a siren system to warn in case of any suspicious individual. Above all, the camera has a wide view so that you can get videos of a wider area. This product is preowned but working very well.
Description of Arlo Pro 3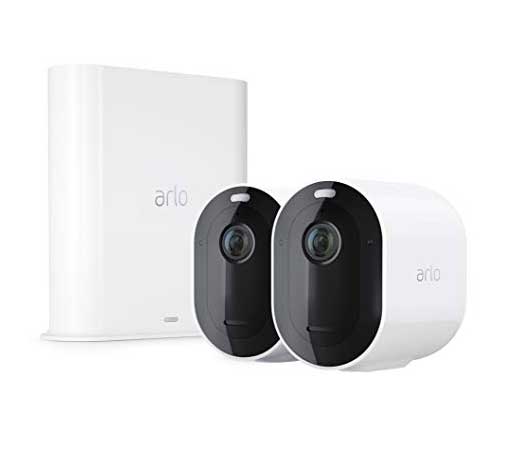 The system comes with 3 months of Arlo home security systems service and a rolling 30-day cloud recording. Is that not amazing? Various features make this device wonderful. Let us see them one by one.
PROS
Easy to install
Works with Alexa
Has floodlights
Color night vision
Weather-resistant
CONS
It is renewed and may not function properly
1) Design
The security system is composed of three cameras that ensure that you monitor a large area. Also, each of the cameras has an almost ovoid shape which makes them appear so elegant. They are completely wireless and thus among the DIY home security systems with no monthly fee as you can easily mount them yourself and no monthly subscriptions. The whole package the cameras measure 14.57 x 10.39 x 9.57 inches and weigh 4.34 pounds. This includes the cameras and the SmartHub base station.
2) Night vision
Night vision is a feature that helps the cameras capture videos at night even when there is immense darkness. It makes it easy for you to continue monitoring your home at night as this is the time thieves tend to break into homes to steal.
Interestingly, the night vision supports color images and thus you can easily see the real appearance of any intruder. The traditional black and white video cameras may not reveal some features as it is supposed to be for clear evidence in case of a crime. Furthermore, it has a large 160° field of view.
3) Two-way communication
It is amazing to note that the camera system supports two-way communication whereby you can talk to visitors before opening the doors for them. You can easily identify what your visitors want if they are unfamiliar people and thus avoid opening the door for them if they pose a security threat to you.
Two-way communication helps you also to converse with people in your home if you are far away. This makes the system one of the best self-monitored home security system with cameras.
4) Motion sensor
This device will always detect the motions of people passing by and immediately wake to record any happenings. It ensures that the camera does not just record anything which may just fill the memory of the device. Moreover, it can detect humans and avoids recording motions from moving trees or passing animals.
5) Works with Alexa
Alexa is one of the smartest technologies used in various electronics for hands-free operations. The camera system works with Alexa and you can use voice commands to operate it. The device will work with the Alexa screen device for effective surveillance.
Working with Alexa is so interesting as you just say words like ' Alexa show the back door camera' and there you go, the screen displays the back camera live coverage! I consider it as one of the best no monthly fee home security systems to have on your premises. The system can also work with the Apple Home kit.
6) Storage
You need storage space for any security system. The SmartHub base station for the Arlo Pro 3 supports a flash disk of up to 2TB so that you can save as many videos as possible for reference in case of any happening.
7) Battery-powered
This is the kind of camera you would like to have since it can still work as long as the camera has a charge. Even when there are blackouts, you will continue monitoring your environs and this is very important. Although the renewed version may have a short-lasting battery, there is still a new version of this model. It comes with three lithium polymer batteries. Battery-powered outdoor security cameras are convenient when it comes to security surveillance in a high-risk building.
8) Security light feature
Apart from being security cameras, the devices have floodlights built in them so that they can illuminate the surroundings. Floodlights alone scare away bad people from your compound and this is a very smart feature. It also saves you money to buy separate lights for your compound. Above all, security cameras with their lights can capture clearer images at night.
9) Wi-Fi connectivity
You can connect the system to Wi-Fi and access live coverage from anywhere with your smartphone. Also, you can receive alerts on your smartphone if someone is walking around the camera surroundings. For effective communication, you need strong Wi-Fi. The surveillance system is one of the wireless rechargeable cameras that you would not want to miss in your home.
10) Amazon Renewed Guarantee
The system is eligible for replacement or even refund within 90 days of receipt in case you are not satisfied with it. Amazon will never let you suffer in silence by using a product that does not meet your expectations. You can also get help from dedicated customer care as maybe the problem forcing you to return the product can be rectified easily. You can call customer care at 1-800-362-5703.
11) Weather-resistant
You can mount the cameras either on the inside or on the outside of a building since the cameras are resistant to weather elements such as rain, temperature, and humidity. It means that the cameras are durable and this makes it an amazing battery-powered outdoor security camera with Wi-Fi for your home.
Bottom line
Arlo Pro 3 wireless security camera is a wonderful system you can purchase to monitor your home. Though the one I have linked above is used, you may still get the new version of the same. The system is easy to install, monitor remotely, and works so well with smart apps. Due to its weather-resistant nature, the system will last for a long period.