The eufyCam 2 Pro Wireless Home Security Camera System
Your home deserves security reinforcement so that you can easily know what is going on even when far away from home. Most are the times when we come back home from our daily hustles only to find our houses were broken into and property stolen. Having a nice security camera with remote access can help us with this. eufyCam 2 Pro is one of the best security cameras on the market.
eufyCam 2 Pro is among the many different models of home security systems that are easy to install and use. Looking at the device, you may not need a technician and if you need help, maybe someone around you to do a few easy tasks. Although it is expensive, the device is so effective for home security.
The eufyCam 2 Pro description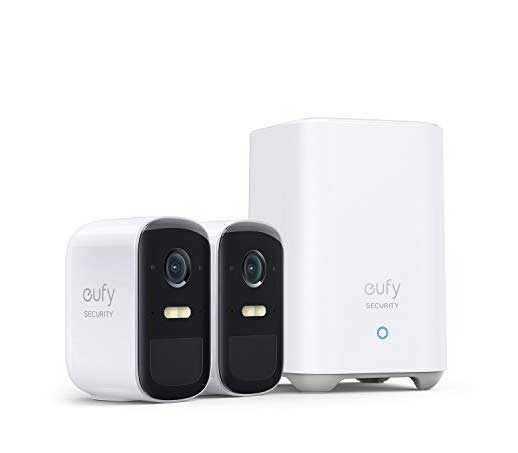 The following details will help you understand the security system well. Let me discuss the features of the security system for you to understand it deeply.
PROS
Night vision
Has a rechargeable battery
Completely wireless
Can work with smart apps
Two-way communication
CONS
1) Design of eufyCam 2 Pro
The system has an elegant design. It consists of a HomeBase 2, two security cameras, and a doorbell with a camera. It is IP65 weatherproof to ensure that it is not destroyed by weather elements such as rain, humidity, heat, and mist among others. It means that it can even work outside to capture the surrounding videos. It can tolerate temperatures from -4°F to 122° F (-20°C to 50°C).
Also, it is a DIY home security system with no monthly fee since you can install it by yourself and you will never pay any subscription fee when using it.  Each camera weighs 1.4 pounds and measures 3.20 x 1.89 x 2.24 inches.
2) Activity Zones of eufyCam 2 Pro
There are areas you are not interested in monitoring such as the neighbor's compound, passing cars, and others.  You can customize this system to only monitor a particular area and not other areas that are not useful. For example, you could customize the camera to only capture events in the main entrance only.
3) Two-way communication of eufyCam 2 Pro
The two-way communication feature is very interesting. Apart from seeing whoever is standing outside, you can communicate with them to know what they want in case you are unfamiliar with them. This makes the system one of the best self monitored home security systems with cameras.
4) Human Detection of eufyCam 2 Pro
The eufyCam 2 Pro camera system can detect movements around it and start recording immediately. This security system will only detect humans passing by instead of wasting memory and energy detecting animals such as dogs and tree movements. Cameras that recognize humans can detect gait, human face, and movement patterns. You will also get alerts on your smartphone about any happenings.
5) Data encryption of eufyCam 2 Pro
Data captured by the system is only available to you. The system has military-grade encryption to ensure that data does not fall into the wrong hands. This is AES-128 data encryption that ensures that the system is difficult to access by unauthorized individuals.
Some crooks may hack the system if it is not well protected and you will not be able to access its recordings which pose a great threat to your home security. This makes it one of the best no monthly fee home security systems to install in your home.
6) Smart integration of eufyCam 2 Pro
Improve how you control the surveillance system by connecting the system to the Google Assistant, Apple HomeKit, or Amazon Alexa for voice control of your system. Hands-free operation of devices is very convenient.
7) Durable battery of eufyCam 2 Pro
The battery for the security system lasts for a long time. It can run up to 180 days on continuous usage. The battery is rechargeable and thus does not spend a lot of electricity. Your bill will remain low. You can also opt for a direct connection to power instead of using the battery although it can be inconvenient during blackouts. The battery-powered outdoor security cameras are the best since they operate even when there are blackouts.
8) Storage of eufyCam 2 Pro
The system can save videos for future reference since it has a 16GB EMMC. Even when you are away, the device will still be saving the videos so that you can view them when you come. Remember also that as I mentioned earlier, the system can send you alerts whenever you are. It can store videos for up to 3 months after which it deletes them automatically to pave way for the new videos.
9) Night vision of eufyCam 2 Pro
The system has high-quality cameras which will give you quality photos both at night and during the daytime. Your security is thus guaranteed when asleep. The camera records videos with 2K resolution that are of high quality. The wireless rechargeable cameras are very effective since they will provide effective surveillance at night even when there is no power.
10) Warranty of eufyCam 2 Pro
You can get at least 12 months of warranty when you purchase the device. This means that you can get free repairs or replacements in case of any failure. Additionally, you get lifetime customer support on the product.
Note that the warranty does not cover;
Products without sufficient proof of purchase
Lost or stolen products
Damage from outside sources
Damage from misuse of products
Free products
Items that have expired their warranty period
Non-quality-related issues (after 30 days of purchase)
Repairs through 3rd parties, and
Purchases from illegitimate sources
11) 30-Day Money-Back Guarantee
If you do not like the product, you can return it for a full refund. The company accepts returns for any reason so long as the product is intact. When the inspection at the company's warehouse proves that the package is okay, the refund process begins. Most battery powered outdoor security cameras with Wi-Fi are not likely to face returns since they are manufactured with a lot of perfection.
Bottom line
Eufycam 2 Pro wireless home security camera system is very useful to small homes to maximize security. The fact that it can send alerts remotely helps you to monitor your home even when you are away. Furthermore, it is pleasing to note that the system has a rechargeable battery so that it can work when there are blackouts and that it supports two-way communication.