Security cameras systems are becoming increasingly common due to the advancement of technological innovations. Hence, home security cameras are a critical aspect of protecting your home. With the right technology, it's possible to identify intruders or any robbers invading your property. However, the best home security system with cameras combines the convenient features of any smart home device with the latest camera technology to keep an eye at your home in real-time.
Moreover, some security system cameras will send alerts to your phone when they detect motion, record in HD quality during the day or at night, and come designed to withstand any weather type. A home security systems essential component entail sensor to detect an unwanted entry, a loud siren, and a mechanism to communicate with remote monitoring personnel.
Cameras are usually not included in basic security packages. But security experts say that cameras play a vital role in home security. Most importantly, many homeowners want battery powered outdoor security cameras, particularly for outdoor surveillance that provides a backup source of power in times of power outages. Depending on your needs, you can choose a system that you monitor yourself, or pay a subscription fee to have your home monitored 24/7 by professionals.
What Are the Categories Of Home Security Systems With Cameras?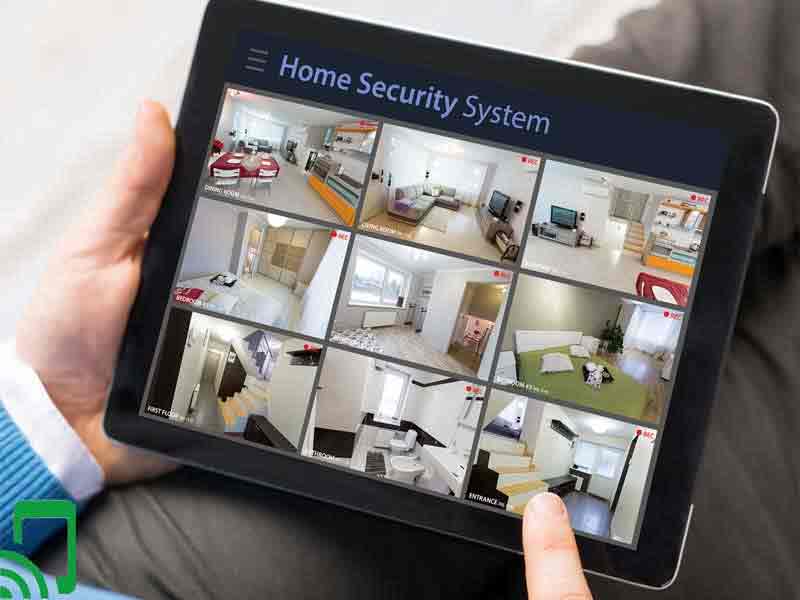 The type of security camera you select is dependable on the area you're looking to protect. If you want to keep an eye on your home's exterior, car, or even check in on a pet, outdoor security cameras are the best as most feature weatherproof qualities and record HD videos.
Some outdoor cameras you'll get today in the market also come with deterrence features that help ward off unwelcome guests, such as an automated light and siren. On top of that, if you want to monitor your home's interior parts, indoor security cameras will offer you the ideal features you need.
Most indoor cameras feature HD video, night vision, and two-way communication to know whoever is at your door. With two-way communication, you monitor suspicious activity and check-in on loved ones, like kids or an elderly parent.
What Is The 7 Best Home Security System with Cameras?
1) SimpliSafe 9 Piece Wireless Home Security System
The SimpliSafe Cam battery powered outdoor security camera with Wi-Fi lets you see what's happening at home anytime from your phone, tablet, or computer and comes with a built-in stainless-steel shutter for complete control over privacy.
This security system offers optional 24/7 professional monitoring and cloud recording with police, fire, and medical dispatch starting at 50c/day with no contracts. Interestingly, there is 24-hour battery and dual Wi-Fi and cellular connections to keep your home secure and protected.
Besides, motion sensors detect motion within 30 feet, have a 90-degree field of vision, and get along great with pets under 50lbs. It's perfect for full-range coverage when placed in a corner. Its base station includes built-in 95dB siren, four entry sensors, two motion sensors, SimpliCam, yard sign, window security stickers, and a free month of monitoring.  Plus, it works with Amazon Alexa & Google Assistant.
PROS
Produces crystal clear videos
Three years warranty
24 hours battery backup
Quick set up
24/7 alarm monitoring
CONS
Base station siren not loud
2) Arlo Pro 2 – Wireless Home Security Camera System with Siren
Stop crime before it happens with Arlo Pro 2 security camera with over 100-decibel siren that can get controlled remotely, or when motion or sound gets detected with the smart siren. Besides, watch and record crisp 1080p HD videos in more detail than ever before.
Wide-angle PIR motion sensors make sure no movement goes unnoticed. You can listen in and talk back to the visitors through the built-in speaker and microphone straight from your smartphone. Luckily, don't pay for cloud storage that you don't need.
You can keep the past seven days of motion and audio-triggered recordings for free, and secure your records with a USB drive local backup storage option. Also, keep your wireless rechargeable cameras charged using the rechargeable battery, plugging it into a power outlet when indoors, or connecting it to the Arlo Solar Panel.
PROS
IP65 weather certified
Free cloud recording
Works with Amazon Alexa
Local back up storage
Advanced motion sensors
3) Reolink 16CH 5MP Home Security Camera System
Offer
These 5MP IP cameras have a pixel resolution of 2560×1920, which is 2.4X the resolution of 1080p Full HD, enabling you to have the best chance to see every image detail as you wish. Additionally, feel protected 24/7, with eight cameras functioning simultaneously. With a pre-installed 3TB HDD, you can record videos continuously without worrying about missing a moment.
Besides, 3TB hard drives can also be replaced by up to 4TB of storage. Moreover, whenever a motion is detected, the surveillance camera will trigger alerts by immediately sending alert emails and pushing notifications. Cameras come with 59ft 8Pin network cables, which can stretch to 270ft via CAT5 and 330ft via CAT6 ethernet wiring.
Power, audio and video, run through a single PoE cable, making installation a lot simpler. You can enjoy an easy set-up without having to purchase additional wires.
PROS
Stunning HD display
Smart motion alerts
Reliable remote access
Simple to use and install
24/7 continuous recording and protection
4) SAFEVANT 8 Channel Super HD 5MP CCTV DVR Wired Systems
This video security camera system is a recordable cheap wireless security camera, and it supports 24/7 continuous recording. The DVR can get set to automatically overwrite the previous footage once the hard drive disk is full. You can backup and transfer the footage to USB flash drive or external hard drive.
Besides, built with an IP66 weatherproof rating, the security cameras can perform well even at an extreme temperature from -20°C to 55°C. However, equipped with enhanced 65ft night vision, you can see what is happening in the darkness, making your life safer.
You can get a clear video even at night delivered by super 5MP high-resolution cameras. The breakthrough H.264+ video compression technology reduces storage usage by up to 50% compared to traditional H.264 compression. The technology helps you stream live and recorded video on your smartphone faster and brighter than ever before.
PROS
Night vision motion detection
Flexible indoor/ outdoor use
Super high definition videos
Two years warranty
Smartphone support
5) WD ReadyView 4MP Surveillance System
Offer
When you need quality surveillance, the WD ReadyView Surveillance System is the mobile-first, all-in-one solution with a simple NVR device set-up. This complete system includes four HD, dust- and water-resistant surveillance cameras with night vision and motion detection, the award-winning WD Purple drive storage designed for 24/7 always-on surveillance recording, and no additional monthly fees.
This power over ethernet security camera does not require AC outlets and is ideal for home and small business use. Additionally, this expandable system bundle includes four surveillance cameras on-site storage drive and 100ft Ethernet cables with room for up to eight cameras as your needs grow.
With a downloaded mobile app, you can get hand-held control of your powerful surveillance system. You'll view live camera footage or even previously saved footage from anywhere in the world with an internet connection.
PROS
Dust and water-resistant
Expandable system
Supports external backup
Motion detection
IR night vision
6) ZOSI 16 Channel Security Camera System
ZOSI DVR camera offers four kinds of recording modes to meet your needs. First, you can record footage continuously, record during scheduled times, only record when detect motion and recycle recording. Besides, you can customize each camera with different recording modes, and download the recording files for the USB backup.
The exclusive H.264 16 Channel 1080p Lite DVR recorder comes paired with 16 weatherproof 720p bullet cameras with 80ft night vision and 75°view angle. Moreover, you can locally or remotely view and control your security system by connecting the system to a monitor, or via free ZOSI Client software on Windows or Mac, or via iOS & Android APP.
The advanced motion detection and alert push help you customize each camera's motion detection area to minimize false alerts. Instant notifications and email alerts will be pushed to your phone directly as long as the cameras detect moving objects.
PROS
Customizable motion detection area
Weatherproof
Usable indoors/ outdoors
20/7 customer support
Built-in 2TB hard drive
7) Crystal Vision CVT804A-20WB All-in-One (2020 Upgraded Ver.) [4CH]
Keep your property secured, with the outdoor wireless security camera system with DVR, and get security on-demand 24/7 with no monthly fee. This security camera is IP66 weatherproof rated, allowing flexible use day/night and indoor/outdoor environments.
Besides, it has a high resistance level against harsh weather conditions. Features include 1080P Full HD 4CH Wireless Security Camera System, 4 x 2MP Cameras, built-in 10.1-inch monitor plus 2TB Hard Drive.
Moreover, the three arrays IRs known as Super LEDs will record up to 80ft clear night vision. Each array IR equals to small regular 24LED night vision that offers crisp images in low lighting conditions.
The digital zoom lets you enlarge the picture and get a more detailed view for better image quality. The True Plug-in and Play with Auto Pair Technology makes the installation simple with a dedicated Wi-Fi module for a safer and more reliable connection.
PROS
Weatherproof
Has high-efficiency video coding technology
Offers 24/7 recording
Impressive night vision
Has a digital zoom
CONS
Roaming charges for mobile app use
Bottom line
When looking for home security cameras, whether for indoors or outdoors usage, choose those that provide the best video quality, such as high definition (HD) video resolution. Other features like night vision, two-way audio communication, cloud, and local storage, motion sensors, a siren, and much more matter most. Cameras that offer a combination of these features are of high quality, and the best, you can shop one from the above list.