The 8 Best Security Cameras Without Subscription
Gone are the days when surveillance equipment was only used in detective procedural shows and police officers on a stakeout. Today, more and more Americans are looking into protecting their homes, offices, and businesses with security cameras. You can now rest easy when you are far from your premises, knowing that you can see what happens in real-time or watch a recording of what triggered the motion sensors in your home. These best security cameras without a subscription are the perfect way to do just that.
When purchasing a security camera system, you can either get wireless rechargeable cameras or a system that is wired. Wireless cameras operate by transmitting a video/audio signal through a Wi-Fi network the devices are battery-powered and can be recharged once the charge runs out, which is highly convenient. Wired systems are connected using wires and need to be connected to a power outlet. Each of these systems work well depending on your personal preferences.
Security camera systems may invoke thoughts of large purchase fees and monthly payments. While this is so for specific systems, these fees can undoubtedly be avoided. The best no monthly fee home security systems allow you to pay only the purchase fee and enjoy the benefits without paying for a monthly subscription.
What to look for when buying a security camera system
1. Ingress Protection (IP) Rating
This is a must-have if you plan to invest in outdoor security cameras. After the prefix, IP, the first letter gives the protection from windblown objects out of 6 while the second number will give the protection against moisture out of 9. An IP rating of IP66 is recommended to be safe.
2. Motion and sound detection
Get a system that detects motion from any intruder on the property and sends notifications to a determined location. Real-time viewing immediately you receive these alerts is a necessary feature.
3. Resolution
A camera system with poor video will be next to useless. Get a system with a resolution of at least 720p so that you can clearly see what's going on. 4k cameras are also an excellent option though you will need to make sure your Wi-Fi meets the minimum requirements. 1080p resolution is an excellent in-between choice.
4. Extra features
Getting a multifunctional system may help you avoid the hassle and money of installing a lot of different products. Get a system that can be integrated with your smart home devices and function as a doorbell or as a smart light to scare away intruders.
The 8 best security cameras without subscription 2020
1. Arlo Pro 3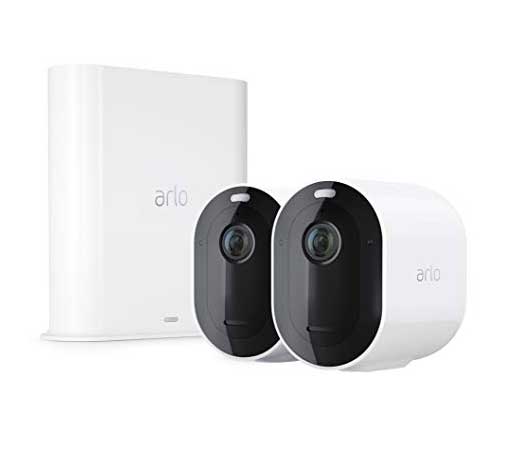 The Arlo Pro 3 is a battery-powered outdoor security camera that has a rechargeable battery that lasts for 3-6 months. It can be used as both an outdoor and indoor camera, and it is weather resistant. The Arlo Pro 3 has 2K, HDR video that makes for clear viewing and proves very useful in outdoor light.
It also has two-way audio, which will prove useful during an intrusion and regular day-to-day activities like speaking to a delivery guy. The 160-degree field of view, 12x zoom, and smart integration all work towards making this a useful tool.
PROS
Easy to install and set up
2K, HDR video
Smooth integration with smart systems
Good night vision
Two-way audio
CONS
Needs a paid subscription for cloud storage
Doesn't come in a one-pack kit hub
2. VAVA Cam Pro Security Camera Outdoor

The VAVA cam Pro security camera is wireless making installment inside your home or outdoors convenient. The rechargeable battery also has a long life of about 12 months between recharges. You can also opt for a solar panel to keep the battery charged continuously.
The VAVA cam pro offers a 140-degree field of view vision and records the video in 1080p resolution. You can also add your family members' emails to your VAVA hone app to allow them to watch real-time and recorded videos.
PROS
IP66 weatherproof rating
2-way audio communication
12-month rechargeable battery
Supports multiple users viewing the video
1080p video recording
CONS
No details provided on motion detection alerts
Alerts do not immediately take you to the recorded video clips
3. 5MP PTZ Wi-Fi Security Camera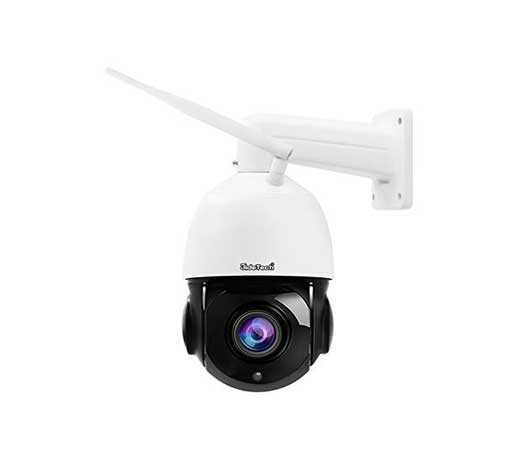 This JideTech camera is one of the smallest PTZ cameras on the market and records video in 1080p resolution. It can rotate 355 degrees horizontally, making sure you see all angles of your premises. This system also offers two-way audio that can allow you to alert anyone when you see danger and remote recording and built-in support for a 128GB SD card to provide more storage.
The motion detection system also alerts you immediately, and you can create motion detecting zones to prevent false motion alerts.
PROS
355-degree rotation
Two-way audio
Full-year warranty guarantee
IP66 weatherproof rating
Support for security monitoring software
CONS
Night vision isn't good
The 4x zoom doesn't work so well in low light
4. Kittyhok Pan Tilt Wireless Security Camera System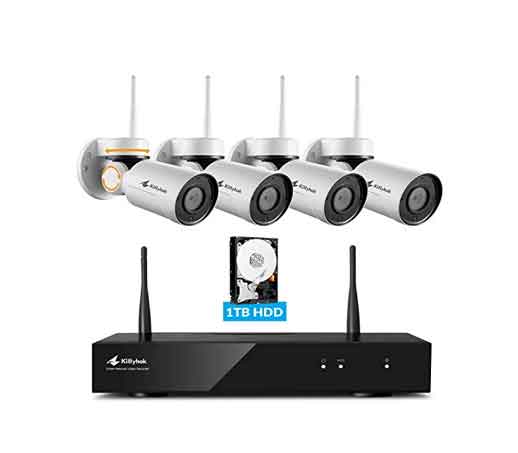 This camera system is a battery-powered outdoor security camera with Wi-Fi, and it comes with four cameras and a 1×8 channel NVR. All the cameras are already paired to the NVR, so you only need to plug it in, power on the video, and watch. The NVR also has built-in Wi-Fi for the cameras to stream videos to the base unit.
The night vision extends up to 100ft with professional IR LEDs, and the cameras are weatherproofing hence suitable for both indoors and outdoors use. Whenever motion is detected, you will receive a notification in the form of emails with pictures and videos. The cameras also record in Full HD 1080p to make sure you get an exact viewing experience.
PROS
Straightforward plug and play set up
Full HD 1080p recording
100ft night vision
Built-in Wi-Fi
1 TB pre-installed hard drive
CONS
Small view angle
The zoom images are not that clear
5. Arlo VMS5240 Ultra 2 Camera System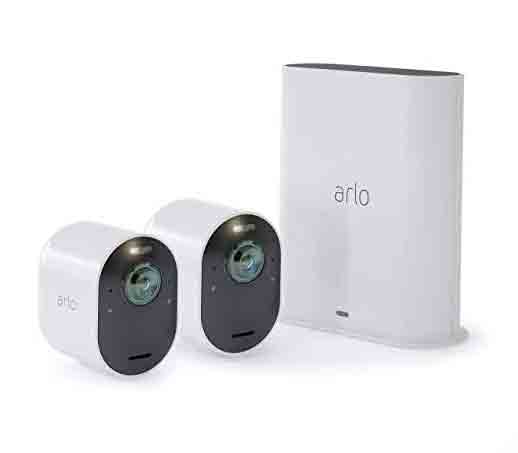 The Arlo Ultra is an upgrade from other Arlo Security System cameras with a host of new features. As long as your home Wi-FiWi-Fi meets the minimum requirements, you can stream videos in 4k, which allows you to distinguish even minor details.
The zoom feature also allows you to get a closer look at anything that is not clear. The ultra has a 180-degree field of view for wide-angle viewing with auto image correction to avoid giving off a fisheye erect.
PROS
180-degree field of view
Enhanced night vision
4K & HDR video storage
Easy to install
CONS
Extra charge for 4KHD recording
Pricey for a two-camera pack
6. Swann 16 Channel 12 Camera Security System

This security system from Swann comes with an NVR with 16 channels and a 1080p video resolution. The cameras are also weatherproof and ideal for outdoor use. You don't need to pay an extra charge for storage as it comes with a 1TB hard drive that will allow you to store months of footage, which can be uploaded to your Dropbox account.
The system is compatible with Alexa-enabled smart devices, Google Assistant, and Chromecast and is one of the best wireless security camera systems. The Swann security app allows you to monitor your property in real-time or watch recorded videos wherever you are.
PROS
Full HD 10180p video
Motion-activated warning lights
Color night vision
Support for smart home functions
Free storage
CONS
No option for professional monitoring services
Night vision only up to 32 ft
7. Ring Floodlight Camera Motion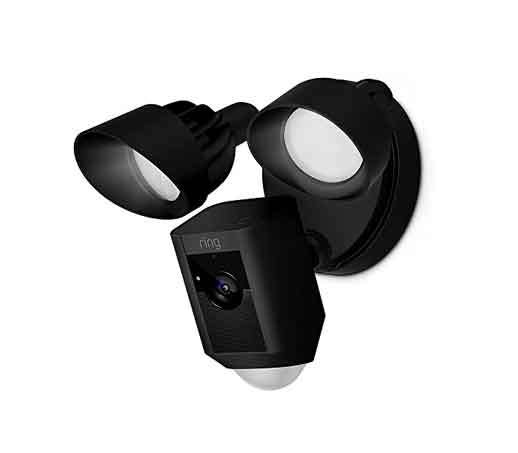 The ring floodlight set has a motion-activated camera and two LED floodlights that can be moved exclusively from each other. The camera has a 140-degree field of view and captures video in 1080p resolution.
You receive alerts on your phone whenever the sensors are activated, and you can activate the siren from wherever you are to scare away intruders. The two-way audio allows you to hear and speak with anyone on your property from your mobile device.
PROS
Two-way audio
1080p HD video
Remotely activated siren
Support for Alexa
140-degree field of view
CONS
No battery-powered option
Not so easy to install
8. ZOSI H.265+ 1080p 16 Channel Security Camera Systems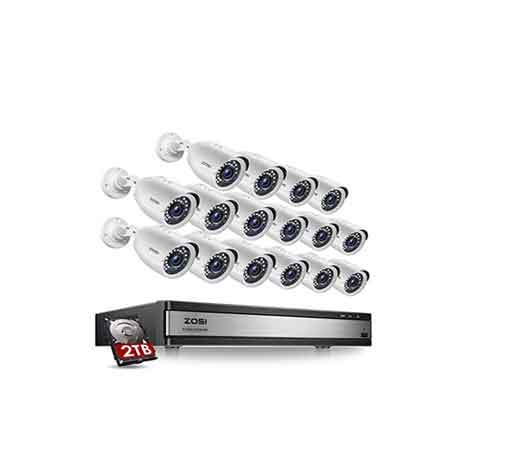 This is a 16-channel security camera system with a DVR recorder and a 2TB security-grade hard drive. To reduce the number of false alarms, you can customize the motion detection area for each camera. You can also block out select areas on the screen to grant privacy.
The system can be connected to a monitor using the HDMI or VGA cable, and you can see what's happening in real-time or watch a playback of the recorded videos. You can also choose the recording mode you want from continuous, scheduled, motion playback, and backup for each camera.
PROS
Easy to install
Multiple recording modes
IP66 weatherproof
80ft night vision
Customizable motion detection
CONS
The app is problematic
View angle is small
Final Thoughts
These cheap wireless security cameras will give you the full benefits of a home surveillance system without the bother of tedious monthly fees. They also give you something worth more than just about anything, peace of mind, and the freedom to enjoy yourself knowing that your loved ones and belongings are safe.