The Google Nest Cam Outdoor Security Camera Features
Safety in your home or workplace is very paramount. We all want to feel safe in the environments that we are in, as well as assure our loved ones of their safety as well. An outdoor camera, also known as a security camera is designed to monitor and detect movement outside your house or office. The cameras work by transmitting the camera's video through a radio transmitter.
The video is then sent to a receiver that is connected to a built-in storage device or through cloud storage. From your receiver, can be a monitor or phone, you can easily access all your video clips and images. Google nest is one of the biggest players in the market with google nest cam outdoor pack being top of our list today.
Wireless security camera technology is one interesting topic to take a keen look at. The Google Nest Outdoor is a great choice for an outdoor security camera. It has top-notch features and excellent integrations that allow you to keep an eye on your yard as well as talk to the visitors if you are away through the two-way audio. It also serves as the best no monthly fee home security camera.
Is it worth getting a Security Camera?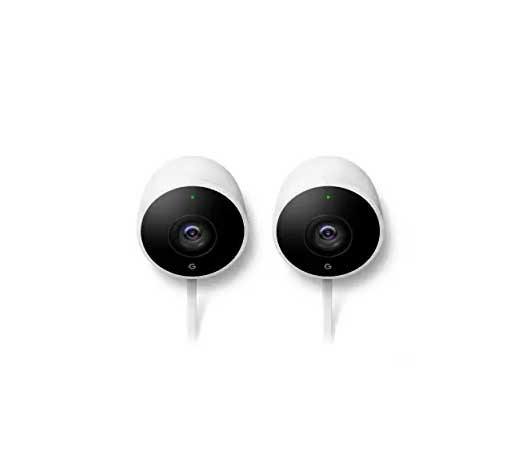 A home security camera watches over your home, therefore, acting as an extra pair of eyes to ensure maximum security in your home. A home security camera helps in detecting unusual activity as well as the recovery of any items lost to burglary by tracking down the intruders.
The cameras are not just useful for protecting our property; it is also important for keeping an eye on children and pets when you are away from home at no monthly fee.
The facial recognition feature sends you a push notification when someone is at your door. More advanced cameras have superior features such as a two-way talk capability, built-in sirens, and attached motion-sensing flood-lights. With so many cameras in the market, you need to look out for one that is a self-monitored home security system.
PROS
24/7 live video coverage
Weatherproof features
Night vision capabilities
No hub required
CONS
Requires an indoor power outlet
Tricky installation
Design of Nest Cam outdoor camera
The Nest Cam outdoor camera is rugged and waterproof to IP65 certification. It comes with a separate magnetic base instead of being fixed to a stand. The base can be screwed to the wall to provide a magnetic cradle that complements the rounded back of the camera.
It also has a power cable that is incongruously fixed to the base of the camera and right next to this inlet there are perforated holes of the speaker that are at the bottom therefore safe from water.
Lastly is the rugged USB cable that is 3m long and is joined through a waterproof junction to another cable that is 4.5m and is plugged into the main power adapter.
Wireless Nest Cam outdoor camera
This camera is technically wireless therefore you do not have to connect it to your router with an ethernet cable. All that you need is stable WiFi for your security camera for better video quality uploads.
Nest Cam outdoor camera App
The Google nest app makes it easy to adjust the settings on your camera, review past footage as well as view the live feed. You also receive email alerts and push notifications for everything that happens in your yard. The app also allows you to set specific zones where you would like to keep an eye on the activities around those specific areas.
Nest Cam outdoor Camera quality
The Nest Cam outdoor comes with 1080P + 4K motion sensor that gives you crisp and detailed images. The 8X digital zoom feature also allows you to zoom in to your images such as the license plate of a passing car.
This, therefore, requires a stable internet connection to ensure 24/7 HD recording since high-resolution video recording uses a lot of internet bandwidth.
Nest Cam Outdoor integrations
Nest Cam outdoor works with Amazon Alexa and Google assistant. It also works with all the other nest devices and if you already have the nest home security system or the nest hello video doorbell, then your camera will be even much better.
How to Installation Nest Cam outdoor camera
The Nest Cam outdoor installation is pretty simple. The box comes with a camera wall plate, an adapter wall plate, screws, wall anchors, and cable clips. Once you have chosen the perfect location to fix your outdoor camera, all you need to do is secure the mounting plate to the wall with the screws. Since the camera has a magnetic base, after mounting the plate securely, the camera's base snaps right on to it.
Once all this is done you connect the power cord to an indoor outlet (you may drill a hole through your wall to slide the wire through) and plug it in. you will need to install the app to help you with the final configuration of your camera's settings.
Performance of Nest Cam outdoor camera
The google nest pack is an outdoor home security camera with 24/7 live video. This high definition surveillance camera has a 130-degree angle view and 1080P HD, with a night vision capability that illuminates the whole coverage area even when it is dark outside.
The new nest aware feature lets you see more of what happened and in case you missed it, you can retrieve up to 60 days of event video history and new intelligent alerts.
The nest app brings comfort as you can remotely monitor all the activities from your phone. The app also allows you to call 911 from wherever you are in the case of an emergency.
Wrap up
An outdoor security camera is an essential tool to ensure security at your home. If you are looking to purchase one, look for a battery powered security camera or one with AC. AC power is preferable but not always available where you want to install a camera.
As a result, the ability to use both allows for maximum placement flexibility.  You also need to check out one that has an app for easier navigation and remote control. Beef up the security in your home with this Nest Cam outdoor.