The 6 Best Arlo Wireless Security Cameras Reviews
Arlo manufacturers are widely known as one of the best Arlo wireless security camera companies, and it persistently produces innovative, high quality, and entirely wireless cameras. Besides, its extensive lineup of Wi-Fi and battery-operated security cameras has a comprehensive list of features and can be fixed anywhere. The company's first camera model, the Arlo Security Camera, was launched in the year 2014.
However, the Arlo group of smart security cameras lets you monitor your valuables from every angle, whether indoors or outdoors, day and night. More so, the Arlo security system is designed to preserve the highest level of security and confidentiality. With an AES encryption, you can store your videos privately and secure in the cloud and protect your information.
Arlo also makes variations of the device, including wire-free cameras, lights and doorbell, AC-powered cameras, mobile cameras, and baby monitors. The newest release Arlo brands are battery powered outdoor security cameras with 4k High dynamic range (HDR) video, enhanced night vision, 180° field of view, noise cancellation technology, and integrated spotlight. Additionally, Arlo cameras have an auto-zoom and tracking feature which adjusts to movements.
Are Arlo Wireless Security Cameras A Good Buy?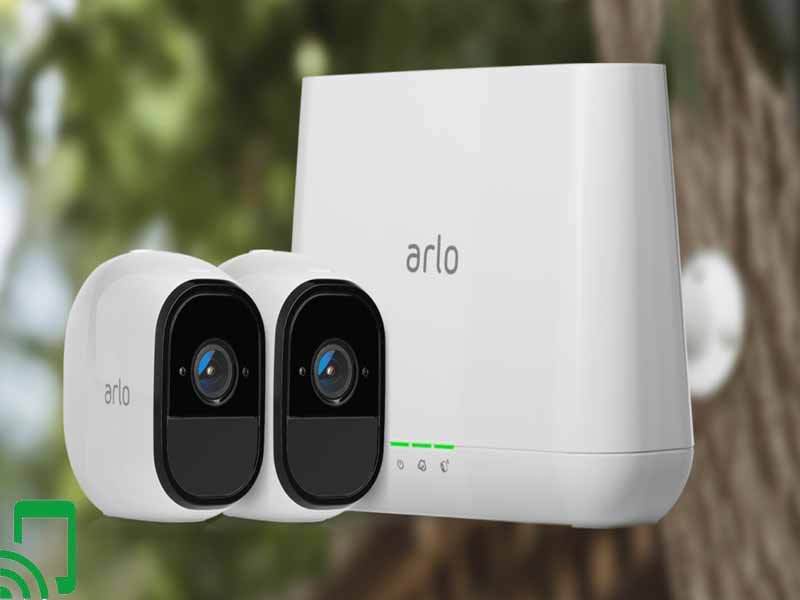 Arlo's wireless security cameras are a good buy. They have the features and capabilities that most people yearn for, including high-definition (HD) or ultra-high-definition (UHD) 4K video, two-way audio, night vision, digital zoom, a wide field of view, and a built-in siren.
Most importantly, Arlo cameras can store footage locally, so you don't have to rely on the cloud subscription to see your video. Luckily, Arlo's outdoor security cameras are entirely wire-free, meaning they can operate merely with battery power.
All of Arlo's outdoor cameras can as well be used indoors. Usually, they're smaller than Nest's outdoor cameras, so they blend in better with your decor if you use them inside. Arlo wireless security cameras are sturdy, easy-to-install, and weatherproof so that you can keep an eye on your home during rain or shine.
Unfortunately, Arlo's cameras are the most expensive in the market. Besides, you'll be forced to pay extra if you need 24/7 continuous video recording or a subscription plan that offers cloud storage and smart features. Some of these features necessitate the cameras to be connected to an AC power supply.
Uniquely, whether you're using a smartphone, tablet, or computer, the free Arlo app helps you stay in total control, and it's available for iOS, Android, Apple TV, and web browser.
What Are The 6 Best Arlo Wireless Security Cameras?
1) Arlo Pro 3 – Wire-Free Security 2 Camera System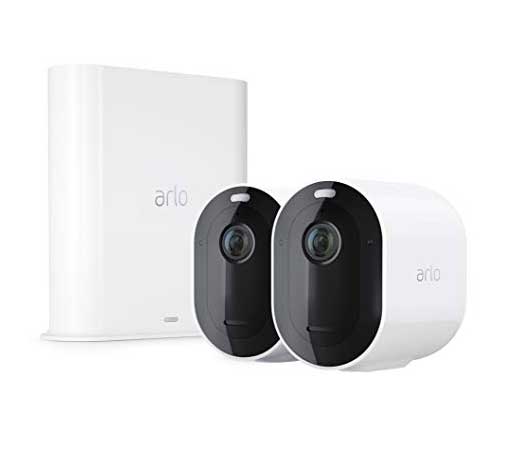 Keep an eye at your property using the Arlo Pro 3 wire-free and weather-resistant design, works with Alexa and Google Assistant voice control apps. The setup is fast and easy, as the magnetic mount makes it easy to install and adjust.
Besides, it has a broader field of view of 160 degrees; hence you can monitor a wide area with a single camera. You can view your stored cloud videos and audio recordings for up to 30 days. Moreover, you can tap and hold on a notification to see what's happening right from the lock screen on your smartphone, tablet, or Apple Watch.
The image sensor has 4 megapixels and a maximum video resolution of 2560×1440 pixels. Also, a 2K video with HDR helps you zoom in on objects and see more explicit details and colors in 2K HDR. The battery lasts for 3 to 6 months.
PROS
2-way audio
Ideal for indoors/outdoors use
Has a color night vision
Great video quality
Wide-angle of view
CONS
Battery life below average
2) Arlo Pro 2 – Wireless Home Security Camera System with Siren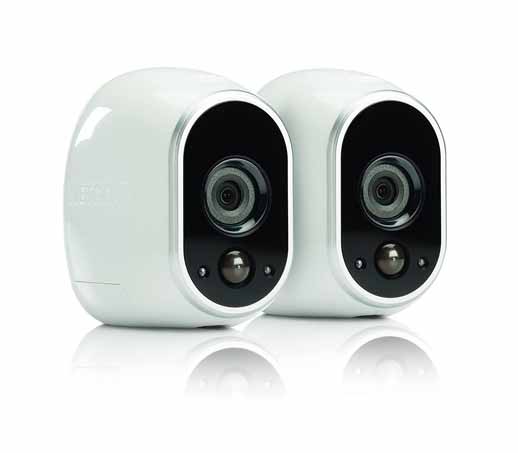 Watch and record crisp 1080HD resolution videos in more detail than ever before with this cheap wireless security camera. With wide-angle PIR motion sensors, no movement goes unnoticed. Besides, Arlo Pro 2 cameras are IP65 weatherproof certified so you can place them anywhere indoors and outdoors.
The smart siren helps stop crime before it happens with an over 100-decibel siren that can be remotely controlled, or when motion or sound is detected. Moreover, keep your camera charged by using the rechargeable battery, plugging it into a power outlet when indoors, or connecting it to the Arlo Solar Panel.
Interestingly, don't pay for cloud storage that you don't need. You can keep the past seven days of motion and audio-triggered recordings for free. Also, secure your records with a USB drive local backup storage option. The two-way audio helps you listen in and talk back through the built-in speaker and mic straight from your smartphone to whoever visits you.
PROS
Weather-resistant
Advanced motion detection
Affordable
Free cloud recording
Rechargeable batteries
3) Arlo Ultra – 4K UHD Wire-Free Security 2 Camera System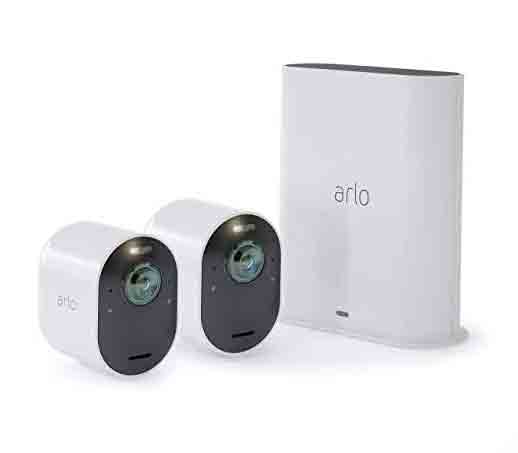 Arlo Ultra 4K wire-free security camera delivers ultimate peace of mind with advanced video and audio quality. With a superior night vision and an integrated spotlight, you'll see the color video even at night. However, the advanced noise Cancelling technology minimizes background noise for crystal clear two-way conversations.
See more with 180 degrees wider angle lens that has auto image correction reducing the fisheye effect. You can also zoom in to see sharp details with Arlo Ultra's 4K and HDR advanced image quality technology. This weather-resistant wireless security camera can light up the night and ward off unwelcome guests using Arlo Ultra's integrated spotlight.
You can also create specific areas to monitor or ignore. Hence, you only receive the notifications that matter besides, the camera auto-focus feature on moving objects with clarity and detail.
PROS
Enhanced night vision
Ambient noise canceling
Easy to install
Weather-resistant design
Long-lasting rechargeable batteries
4) Arlo Go- Mobile HD security camera with Data plans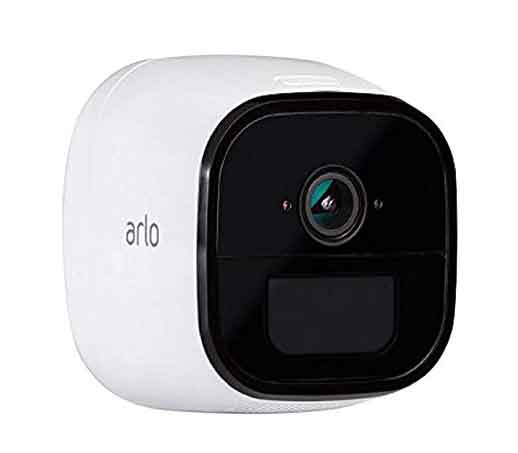 Arlo Go mobile wireless rechargeable camera is the perfect security monitoring solution when traveling or in areas with limited or no Wi-Fi access. This camera uses a high-speed 3G/4G LTE mobile network connectivity and works nationwide with Arlo 4G LTE plans.
Besides, it is weatherproof and suitable for indoor and outdoor use and has a 3660mAh rechargeable battery. The camera has 2-way audio, so you can listen in and talk back. Moreover, it illuminates up to 25 feet with enhanced night vision capability that lets you see even in the dark.
The Arlo smart adds powerful intelligence to your Arlo cameras. You can customize alerts to detect people, specific zones, and contact emergency responders right from your smartphone's lock screen. Also, the built-in SD card slot allows for local backup storage in the event of Internet interruption.
PROS
Weatherproof
Has a rechargeable battery
Stable network connectivity
Supports local storage
Great video resolution and clarity
CONS
Not compatible with AT&T and Verizon wireless
5) Arlo Q – Wired, 1080p HD Security Camera, 2 Pack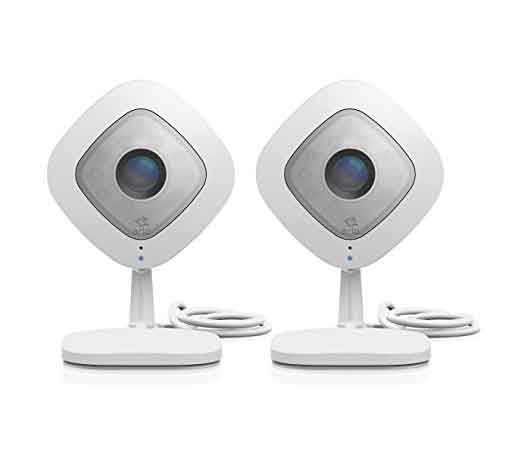 This wired security camera is best suitable indoors at homes or in small businesses. Arlo Q offers customizable activity zones, a crisp 1080p image resolution, and seven days of free video cloud storage, so many people won't be required to pay for a subscription.
However, like many other cameras, the Arlo Q doesn't have a 24/7 recording without a subscription. You can also connect wirelessly under WIFI. Moreover, the Arlo Q cameras are wired and require an AC power supply, unlike battery operated outdoor security camera WIFI.
The camera installation is hassle-free since the foot has powerful magnets integrated into it, which makes fixing on a metal surface very easy. Also, there are screw slots for positioning it to non-magnetic surfaces. The motion detection is adjustable to up to 50 feet, and the camera offers a full field of vision of 130 degrees.
PROS
High-resolution video
Generous storage and versatility
Two-way audio
Night vision feature
Free cloud recording
6) Arlo Video Doorbell HD Video Quality, 2-Way Audio, Package Detection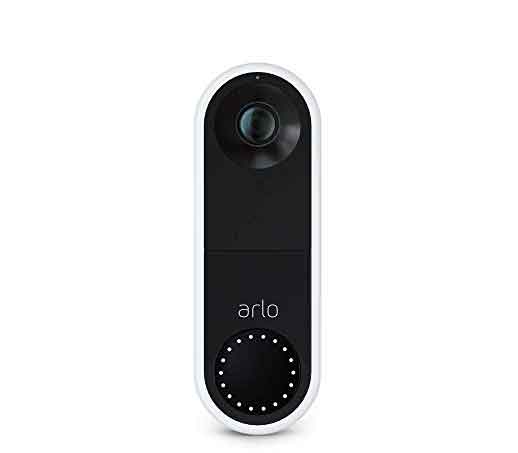 The Arlo Video Doorbell is designed to capture what traditional video doorbells can't. Besides, you can see a person from head to toe or a package on the ground with a 180° diagonal viewing angle. This video doorbell camera is suitable fitted to the front door.
Whenever a movement or audio get detected, you receive instant alerts for you to take immediate action. However, the camera built to withstand the heat, cold, rain, or sun exposures. Furthermore, you can hear and speak to visitors with 2-way audio or with pre-recorded messages and see who's at the front door with your Alexa device.
The detailed video in HD with HDR ensures that you see the details in low light with night vision. Also, secure your videos directly to your Arlo base-station or Smarthub and view them anytime and anywhere. There are essential installation requirements, wire doorbell, and chime with existing electrical wiring with a voltage between 16V AC and 24V AC and a 10Va transformer.
PROS
Motion detection and alerts
Secure local storage
Supports video calls
Weather-resistant
Pocket friendly
CONS
Requires a monthly subscription
Bottom line
Arlo wireless security cameras enable you to watch over your home environs, business, or property by offering all day and night surveillance. You can also carefully identify unwanted visitors since instant alerts are promptly channeled to your email or mobile when a movement gets triggered.
Interestingly, you can listen and talk to your visitors via your smartphone. Arlo outdoor wireless security camera system with DVR are weather-resistant; hence indoor or outdoor monitoring and footage recording is guaranteed in all weather patterns.