The 7 Best DIY Home Security Systems No Monthly Fee
Nowadays, security systems don't necessarily require a hefty installation fee, since you can comfortably install DIY home security systems with no monthly fee on your own. Thankfully, to do away with monthly fees, you can decide to buy the security system upfront, and then you self-monitor to avoid the professional monitoring charges. DIY systems don't need sophisticated procedures, you just need to follow the simple and straightforward instructions and you are good to go.
However, if you want to keep off from long-term contracts and monthly professional monitoring fees, go with a no-contract security system. You can choose an upfront equipment payment mode, and possess outright ownership of your system. Interestingly, owning your equipment provides you with the freedom to do what pleases you, and even the flexibility to take the system with you when you relocate. If you do not want a hardwire installation into your home, you can go with DIY home security systems.
Moreover, it can be a daunting task to identify and shop for the selection that serves right for your home. In this article, we have made the process simplified by discussing some of the best DIY home security systems, and the criteria for selecting a suitable choice for your home. Also, you can learn more about the best self-monitored home security system with cameras to have a broad perspective of the security systems.
What Factors Do You Consider When Buying DIY Home Security Systems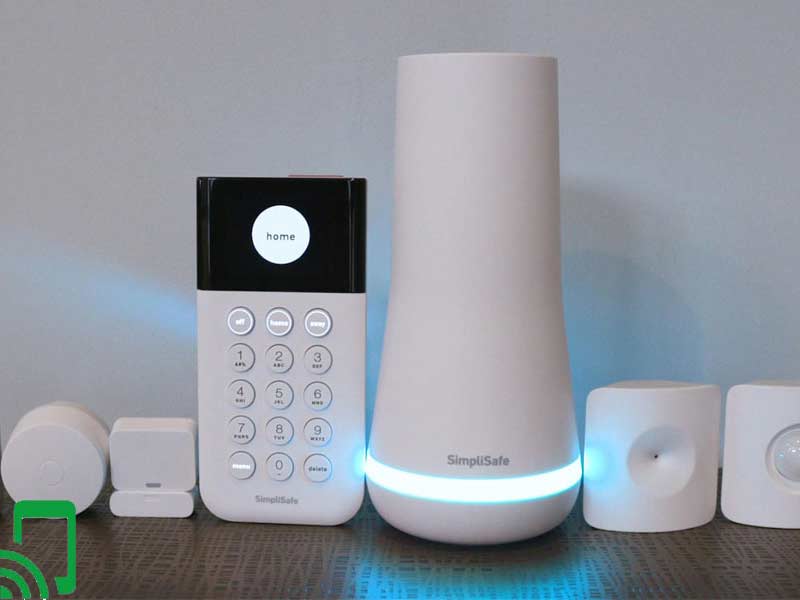 Before purchasing a DIY home security system, keep tabs on the following factors:
i) Equipment
Many DIY starter kits pack basic equipment such as motion sensors, door and window sensors, control panel, and signage. Besides, some additional equipment may comprise window break detectors, security cameras, smoke and water detectors, and optional smart home devices.
ii) Monitoring Type
When choosing a DIY system, you can determine whether you want to self-monitor, or hire professional monitoring. Most importantly, professional monitoring involves a monthly fee, while self-monitoring is cost-free.
iii) Price
The cost of the cheap wireless security cameras depends on the equipment and system you purchase. However, there is a significantly reduced monitoring fee with no contract, putting aside any cancellation fees. Additionally, for a DIY security system, there's is no installation fee payable.
iv) Smart Home Integration
If you already possess smart home accessories, a DIY system may be a perfect fit to match with your existing set-up. If not, it may be a golden opportunity to automate select tasks in your home.
v) Wireless
For the outdoor security camera, the wireless installation provides easy setup, with no drilling of walls or the hassle to hide wires. Also, wireless connection enables a secure cellular connection to get in touch with the monitoring station.
What Are The 7 Best Diy Home Security Systems No Monthly Fee?
1) SimpliSafe 12 Piece Wireless Home Security System w/HD Camera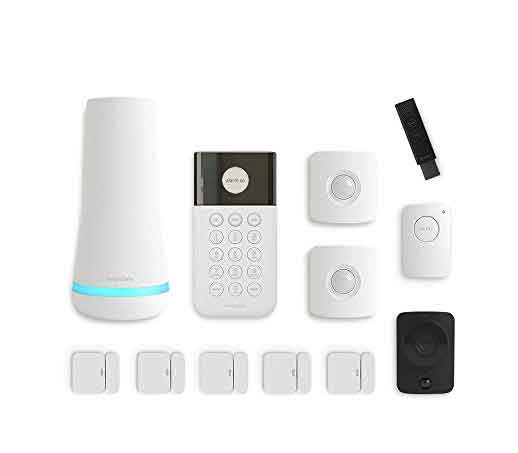 This system features signal burst technology that is powerful enough to cover homes of every size, with up to 1000 ft. Range. Besides, the motion sensors detect motion within 30 feet, have a 90-degree field of vision, and get along great with pets under 50lbs.
The system is perfect for full-range coverage when placed in a corner. The kit comprises of 5 Entry sensors, 2 Motion Sensors, a Base station with a built-in 95dB siren, Keyfob, Panic button, Window security stickers, SimpliCam, Yard Sign, and a Free month of monitoring.
Interestingly, the SimpliCam security camera enables you to see what's happening at home anytime from your phone, tablet, or computer and comes with a built-in stainless steel shutter for complete control over privacy. This system represents some of the battery-powered outdoor security cameras and has a 24-hour battery and dual WiFI plus cellular connections to keep your home secure and protected from the unexpected.
PROS
Compatible with Alexa and Google Assistant
Has 3 years warranty
Supports HD video and audio streaming
Hour battery, and cellular backup
No contracts
CONS
2) ADT DIY LifeShield 13-Piece Easy, DIY Smart Home Security System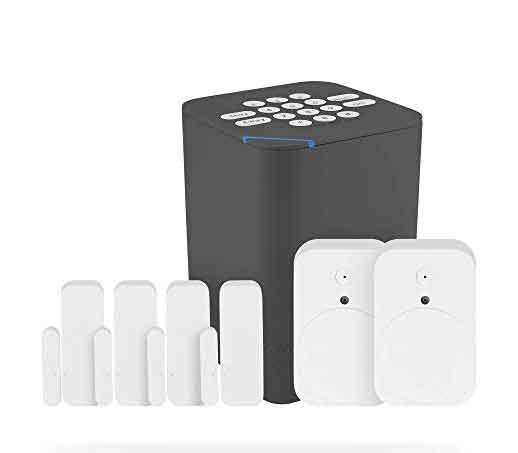 The above system comes with 1 base, 1 entry keypad, 1 indoor camera, 4 door/window sensors, 2 pet-friendly motion sensors, 1 keychain remote, 1-yard sign, 4 window stickers, and 1 fire safety sensor that works with your existing fire/CO alarms. Besides, the smart indoor camera has motion detection, live video, and video recording features. There exist 24-hour battery backup for the wireless rechargeable cameras in case of outages.
Interestingly, you can control your compatible smart home devices and LifeShield security system through one app. Blue by ADT mobile app enables you to arm or check your home security system and view live video of your home from virtually anywhere. You can also choose the frequency of alerts you receive when motion is detected, a door or window get opened, or if your fire alarm has gone off.
PROS
Optional 24/7 professional monitoring
Wifi-enabled
Contract free
Alexa compatible
24 hour battery backup
CONS
Lacks a lifetime warranty
3) Scout Alarm Smart DIY Wireless Home Security System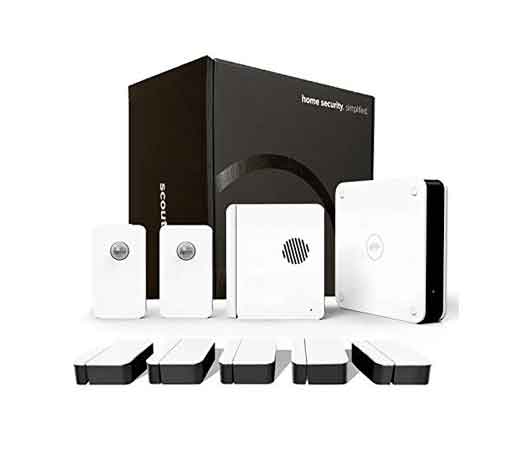 Scout Alarm Security provides smart-home security at your fingertips by sending alerts on your phone immediately when doors or windows open or motion get detected. It is highly compatible and connects with Alexa, Google Assistant, Nest Cameras, Nest Protect, Philips Hue, Yale Locks, IFTTT, and LIFX. This system features a 9 Piece Kit that includes 1 Hub, 1 Door Panel with key fobs, 5 Window Sensors, 2 Motion Sensors, 2 Window Stickers, and a Yard Sign.
Moreover, you can easily set up a Scout kit in minutes, with no tools or professional installation needed. You can expand the system by adding extra sensors and indoor cameras to your home security, plus manage your notification settings and system preferences in the Scout mobile app. Monitoring plans start at $9. 99 per month with optional 24/7 professional monitoring available for just $19. 99 per month.
PROS
No Contracts, or any hidden fees
Expandable system
4G LTE Cellular Backup
Customizable DIY Installation
Easily portable
CONS
Requires a monitoring plan
4) Ring Alarm 8-Piece Kit 2nd Generation Home Security System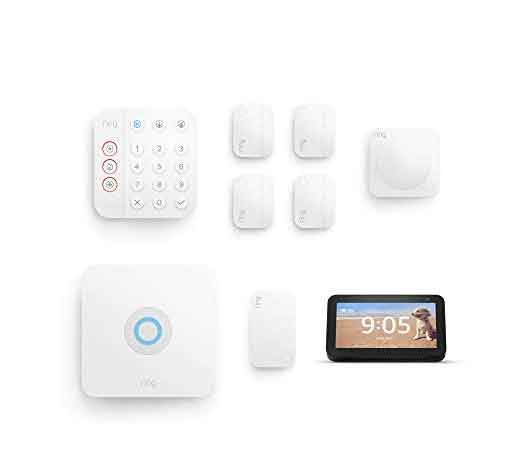 If you are looking for an excellent kit that will fit your 2 or so bedrooms, then Ring Alarm is a suitable option for you. This kit includes one base station, one keypad, four contact sensors, one motion detector, and one range extender.
Also, included is a more intuitive keypad with emergency buttons and smaller contact sensors to seamlessly blend into your home. You can choose the Ring Alarm kit that fits your needs and add additional components and accessories at any time.
However, you can receive mobile notifications when your system is triggered, change your Alarm modes, and monitor all your Ring devices all through the Ring app. Besides, arm and disarm your Ring Alarm security system with your voice and receive Smart Alerts with Alexa Guard when paired with select Alexa-enabled devices.
Ultimately, put whole-home security at your fingertips with Ring Alarm, a do-it-yourself alarm system with optional 24/7 professional monitoring for $10/month.
PROS
Works with Alexa
Wifi-enabled
Optional 24/7 professional monitoring
Hassle-free installation
Affordable
CONS
5) Honeywell Lynx Touch L7000 GSM Security Alarm Package with 3GL Cellular Communicator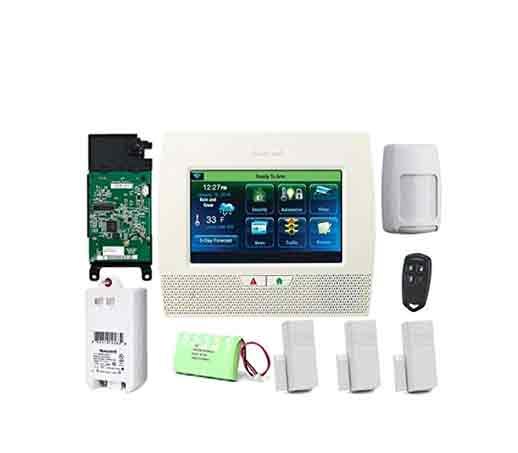 Honeywell's LYNX Touch 7000 all-in-one home and business control system is one of the best no monthly fee home security system and features a bright, 7″ full-color touchscreen with graphic icons and intuitive prompts for easy operation.
It features a live video on demand, Z-Wave automation capabilities, advanced alarm communications, garage door notification and control, tornado alerts for U.S. and Canadian residents, and remote software upgradeability.
Additionally, Honeywell's LYNX Connect app provides consumers with the ability to use an iOS or Android TM device to view video and operate the system on-premises without having to pay a monthly fee. The optional Z-Wave module function lets users integrate security, lighting, locks, thermostats, water valves, and more.
With Honeywell Total ConnectTM Remote Services, users can control security, thermostats, lighting, locks, receive alerts, and more with most smartphones, tablets, and computers while traveling anywhere in the world.
PROS
Large colorful touchscreen display
Free 1-month trial Total Connect service
Straightforward installation
Timely alerts
No monthly fees
CONS
6) Iota All-in-One Home Security Kit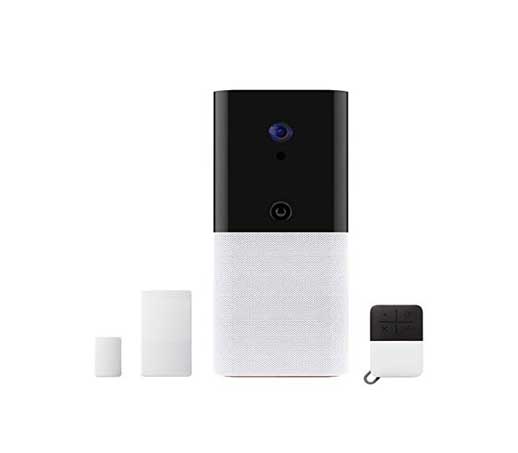 Iota also includes a built-in motion sensor with adjustable sensitivity levels, allowing you to fine-tune it to perfectly fit into your home and lifestyle. Place in an entryway and iota's wide-detection range will pick up anything moving past it.
Combined with the built-in 1080p streaming camera, and 93db siren, iota is the perfect all-in-one security device for your home. Undoubtedly, you can connect up to 160 compatible security & smart home devices to your iota to protect your home from any threat.
Manually, you can trigger your system from the app either silently or audibly to alert other users on your system to your emergency. Expandable with the abode's full suite of security devices and accessories, you build your system your way to fully protect your home.
PROS
Works with Google Assistant and Alexa
No contracts or monthly fees
Supports two-way voice communication
Wifi-enabled
Cheap
CONS
Involves a paid monitoring
7) eufy Security, eufyCam 2C 2-Cam Kit, Wireless Home Security System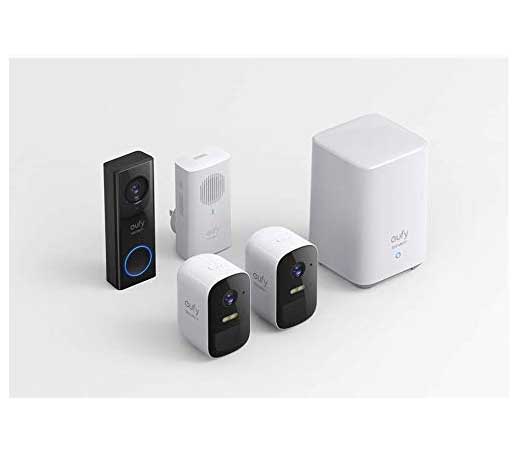 The above system has incredible features that make it unique. It has human detection technology that enables the camera to intelligently detect body shape and face pattern, ensuring you are only alerted when a person, and not a stray cat, approaches.
Besides, it represents one of the battery-powered outdoor security camera wifi, that lets you live-stream and record footage in crystal clear 1080p HD. However, the 135° diagonal field of view allows you to see what is happening in and around your home.
You can do away with frequent trips to charge the device, and enjoy 180-day battery life from a single charge. The night vision feature lets you view recordings or live footage in crisp clarity, even at night, for a clear view of who's there.
PROS
IP67 weatherproof-rating
No hidden costs
Full HD video recording
Amazing battery life
Reasonable pricing
CONS
Bottom line
There are so many reasons for sticking with DIY home security. It's an ideal solution for people who relocate unexpectedly like the military persons, and renters. Additionally, if you want to customize your desirable system, don't want to incur installation costs, or have monthly bills to settle. You can shop according to your needs, and enjoy the freedom of not being tied up by a contract.