What are The Best Wireless Internet Home Plans
Times are changing. Today, more people than ever are telecommuting; work has shifted from physical offices to be conducted online. With this shift, there comes an ever-increasing demand for high quality, reliable wireless home internet. Reliable internet will work towards increasing your productivity at home and the quality of the work you output. Apart from working from home, the internet also plays a large role in other sectors of our lives. Educational programs, charity work, and networking all rely on strong internet service.
Streaming your favorite shows and movies, online gaming, and many other fun activities also depend on you having a steady, dependable internet service. Cue wireless internet. Wireless internet is a telecommunications technology whose very name is synonymous with convenience. It provides high-speed internet access over a wide area. Wireless internet will allow you to connect to your desired 4G network or 5G network if available in the area, and your device is 5G capable. The prices for wireless internet are also affordable, and you can get some of the cheapest TV and internet packages.
To get a wireless connection, you will need some specific equipment in your home. Some of the equipment you may need to get wireless internet in your home is a wireless router that transmits the modem's information to your wireless device and a modem. Depending on the device you are using and whether it has a built-in modem. If not, you will also need to purchase an external modem. This article will give information on the best wireless internet plans as well as how to get free internet at home without paying.
What to consider when getting a wireless internet home plan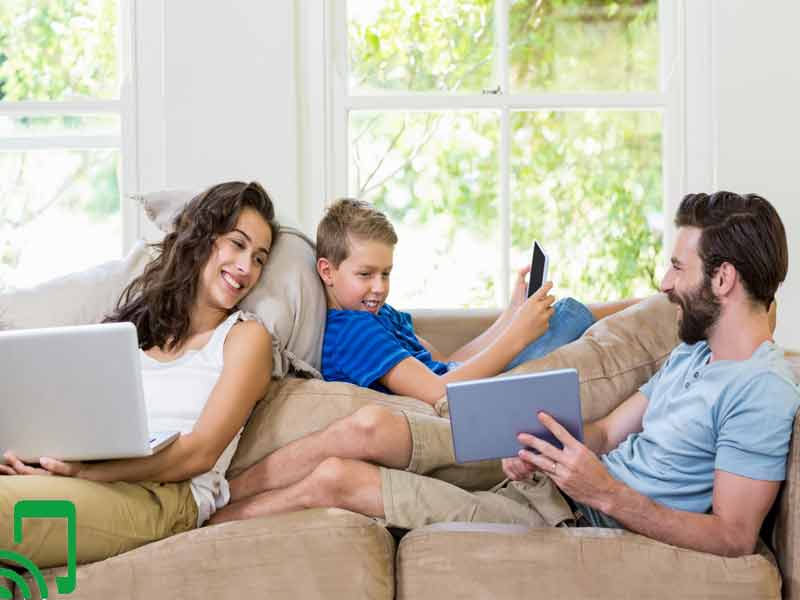 When choosing a wireless Internet home plan, you will have to consider a wide variety of things to ensure the plan you choose is tailored to your needs.
1. Coverage
It goes without saying that this is among the essential things you need to look out for. Before settling for a particular internet service provider, ensure that they have strong coverage in your area. To confirm a specific range, you can check out their coverage on your ZIP code online. With broad coverage wireless internet, you will no longer need to rely on your best satellite internet for gaming.
2. Need for Speed
Dealing with slow internet speeds that take ages to get through an upload or download is quite possibly one of the most frustrating things you can deal with. It is, therefore, essential to get a plan that caters to your needs. If you are a light to medium internet user, i.e., you do some web surfing, emailing, etc then you will not need very high-speed internet.
But if you have intensive needs such as people who do HD streaming, online gaming, and video conferencing, then you will need to look into a plan that satisfies these needs adequately.
3. Data needs
Your usage habits will also play a significant role in choosing a data plan. Most internet service providers will have data caps with their plans, over which you will need to pay a certain fee. If you are not comfortable with a data cap, you can also look around for plans that offer unlimited data.
If you have many members in your household, relying on the same plan, getting a family plan, or an unlimited plan may be the best choice so that everyone is covered.
4. Reliability
No internet service provider has a 100% track record when it comes to reliability, but some companies offer more reliable service. Research on different providers and read up on customer reviews. Talk to your friends, family, and existing customers about the quality of service they receive and then choose from there.
5. Pricing
While almost all quality service will cost you a pretty penny, you can still get excellent wireless service without compromising your budget. A great wireless service provider will offer a great plan at a reasonable and affordable process. Also, most providers, although they don't publicly advertise it, usually have plans that cost considerably less than the ones they wildly advertise.
All you need to do is call their offices, ask to speak to a representative, and ask them about plans that are within your budget. Look for plans that can be bundled together, such as the cheap cable and internet packages for a lower price.
6. Customer support
This is one factor that, while being critical, is often overlooked. You are wont to run into some problem with your service from time to time, and getting adequate support from your service provider will be critical. Check out the customer support score of different providers and the systems they have in place.
7. Contracts
Being tied down into a contract with an internet service provider is not an option that is appealing to many people. Look out for providers that offer their services without a contract, though these plans will typically cost more.
Why should you get wireless internet?
i. Portability
Unlike wired connections; wireless internet users don't have a limited connectivity range. Wireless internet gives the option of taking your connection with you wherever you go.
ii. Shareable
Wireless connections are easy to share with your friends and family. The signal can be transmitted across multiple of your own and other devices using a router or by turning on your mobile hotspot.
iii. Expandability
Wireless networks can easily be expanded across your home or office, unlike wired internet.
Can I get free wireless internet at home?
No matter how preposterous the idea sounds, it is possible. So here are some ways you can get free wireless internet at home.
1. Use your phone as a hotspot device
Turn on the hotspot feature on your phone and connect other devices such as your laptop. This is a great way to get internet without cable or a phone line.
2. Internet Service Providers
Talk to your current provider and ask them if they offer any free or highly discounted plans. There are also providers such as NetZero and Freedom pop, whose plans start at $0.00. The bundle packages are really small, but they are free and enough for some light emailing.
3. Lifeline
This Federal Government program is an excellent choice for a low-income individual or household. As long as you meet the eligibility requirements- your income is at or below the 135% bar of the Federal poverty guidelines, and you are a recipient in Federal Assistance Programs– you can apply to get a free government phone and discounted/ free mobile plans.
4. Good neighbors
This might seem like a daunting task but speaking to your neighbor who already has a Wi-Fi setup is one of the simplest ways to get free wireless internet. Work out a compensation plan with them, i.e., a cost-sharing plan, or running some errands for them.
5. Search platforms
Make use of search platforms such as All Free ISP and Wi-Fi map to locate free hotspots and internet service near you. You will initially need data bundles to use the sites, but this initial investment will have been well once you access free internet.
6. Municipal Wireless Network
These wireless mesh networks are accessible to members of some municipal regions for free. After confirming that you have this service where you live, you and then sign up. You may face time and/or location restrictions when you use this service.
The best wireless internet home plans
Below is the comprehensive guide on the best wireless internet home plans for you
1. Xfinity
Xfinity has been hailed as the leader of the pack when it comes to internet speeds, offering speeds of up to 2000Mbps. It is an MVNO (Mobile Virtual Network Operator) that operates using Verizon's network-arguably, the largest internet service provider nationally. You can choose between a Pay as you go plan where you pay only for the data you use, or you can opt for the unlimited plan, which costs more. Both of the Xfinity plans offer customers unlimited nationwide talk and text.
You can also add p to 5 lines with no line access or activation fees. The lowest plan is for $15 per month, where you receive 1GB. If you go above your allocated data, you will be charged $15 per additional GB. You can share your data across all the lines that you have added to your account. The Xfinity unlimited plan costs $45 per month though your data speeds will be capped after you use 20GB.
Another great feature with Xfinity is the unlimited mobile hotspot plans across the country that you can access freely as long as you are a customer. Additionally, you may use your phone as a mobile hotspot, though you will get slower speeds.
2. Verizon
I would be remiss if I didn't mention the largest carrier in the United States, with over 151 million subscribers. It has nationwide coverage in almost all areas and offers fast data speeds. Verizon is an excellent option for anyone who is willing to pay well for excellent service. If you have a 5G device, Verizon offers home internet plans and 5G coverage in 35 major cities.
Verizon offers its customers four basic postpaid plans. Start unlimited, which costs $70 for a line with the price decreasing for every subsequent line on the account for unlimited 4G LTE. The Play more unlimited plan starts at $80 for a single line with $45 for the fourth line for 25GB of premium LTE and unlimited standard 4G.
Then you have the Do more unlimited and Get more unlimited, which start at $80 and $90 per line respectively for 50GB and 75GB of premium 4G LTE and unlimited standard 4g. Talk and text for all these plans are unlimited. There is also a variety of prepaid plans that you can opt for.
3. AT&T internet
AT&T is one of the oldest and largest internet service providers in the country, with service extending in all 50 states. All postpaid AT&T internet plans come with unlimited talk and text, device security, risk alerts, and standard definition streaming. You can also get 5G access if your device is 5G ready.
There are three basic postpaid plans ranging from $65 to $75 to $85 for a single line. Each of these has unlimited basic 4GLTE, with the top 2 tiers having an additional 50GB and 100GB premium 4G LTE, respectively.
AT&T offers four different plans that cost less than the postpaid plans starting at $25 for 8GB of data. AT&T plans typically have a data cap at 1TB, but most customers never even get anywhere close to this limit.
4. Spectrum
Spectrum Internet is an optimal choice for anyone that is afraid of getting trapped in a contract with your internet service provider. They have no data caps, no speed throttling, and no contracts. Spectrum also buys out your contract from other service providers for up to $500.
When you get Spectrum service, you receive a free modem with a $5 monthly renting charge, free installation, and free DVR service. Most other providers will charge you fees for installation and renting a modem.  You can also choose to have the internet-only packages from Spectrum starting from $44 a month with download speeds of up to 100Mbps to $104 monthly with download speeds of up to 940Mbps.
You can connect more than ten devices in their top internet package. You can also bundle your in-home Wi-Fi with other Charter packages at $29.99 monthly for 12 months.
Final Thoughts
If you already have wireless service in your home and are thinking about adding some features, you are probably already aware of your contract and T&Cs. If you are a new subscriber, then make sure to read the contract-if there is one- and be familiar with all and any fees. With all the information you need at hand, you can now enjoy your wireless internet at home.