The 7 Best Battery Powered Outdoor Security Camera Wi-Fi
In this digital era, criminal activities have become rampant necessitating prompt measures to be taken in place to curb the vice. However, Wi-Fi security cameras let you monitor your home, business premises, and other areas of interest, even in your absence. On the other hand, outdoor security can deter criminals and provide a red flag by sending timely alerts via your smartphone before someone intrudes on your compound.
Any outdoor camera must be able to withstand diverse weather conditions and exposure to other physical elements. However, the best battery powered wireless outdoor security camera Wi-Fi provides flexible placement since no hassle of dealing with wires. The said cameras will not only send alerts but will also keep track of records of the events that happen outside your home. For seamless functioning, you need a stable WIFI connection with a better power supply.
However, if the security camera captures a video of something while you are absent, it can send you an alert via an email to your smartphone and further save the footage for viewing later. Some also synchronize with smart home systems to trigger alarms, thermostats, lights, and other devices for motion detection. Besides, most Wi-Fi security cameras require an AC connection, but we have compiled the best outdoor wireless security system to be able to place them anywhere.
What Are the Selection Criteria for The Battery-Powered Outdoor Security Camera Wi-Fi?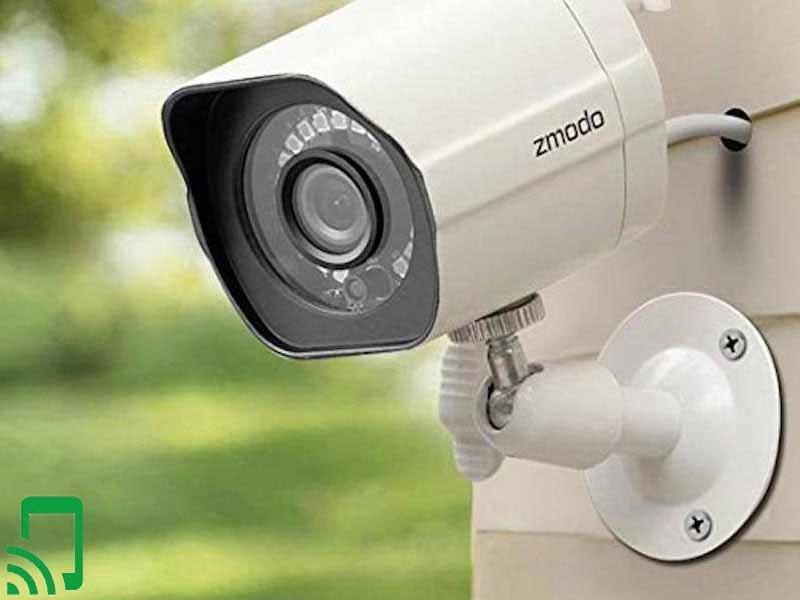 i) Weather ratings
Outdoor security cameras should be adaptable to dynamic weather patterns and other environmental factors. The rating is in the form of IP and contains two additional digits that tell you how well the camera can accommodate under various weather conditions. The best wireless outdoor security cameras have an IP66 weather rating.
The first digit next to the IP prefix shows how resistant the camera is to solid matter. It ranges from 0 implying no protection to 6- total protection against the solid inert materials. The second one tells you about moisture resistance and starts from 0, meaning no protection to 9- protection against close range, and all-angle high-pressure sprays.
ii) Video storage
Recording can get stored in several ways, including free cloud storage, that's limited to days after which the videos are deleted or overwritten. However, there is a paid cloud storage service that you can subscribe to a 30-day plan and have no fear of footage loss.
If you want a camera that can rewind footage, look for a camera that offers a continuous video recording plan If you mind about the privacy and won't want cloud storage, look for a camera with a microSD slot so you can store your footage locally.
Some cameras will also allow you to save your footage to a portable external storage device like a USB, but the tools are limited. Otherwise, for efficient recording, Look for an outdoor Wi-Fi camera compatible with either the 2.4GHz or 5GHz radio band to boost network congestion.
What Are The 7 Best Battery Powered Outdoor Security Cameras with Wi-Fi?
1. Amzsun Wireless Battery Powered Camera HD 1080P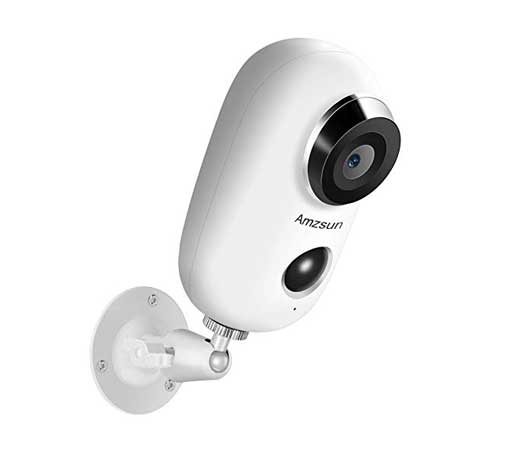 Amzsun WIFI battery-powered outdoor security camera takes less than 5 minutes to set up without having to use any complicated equipment. This outdoor security camera has built-in two-pack rechargeable batteries 6000mAh that last for 3-6 months standby in PIR motion mode.
Besides, the camera records, and alerts only when motion is detected, so no battery power ever goes wasted. The 1080P Full HD, plus 32ft night vision function offers you brighter and sharper images/videos both day and night. Additionally, this outdoor security camera provides instant motion detection alerts via your phone once the alarm is triggered.
The detection angle of the PIR sensor is 130 degrees, and the shooting angle of the camera is 130 degrees. The wireless security surveillance camera uses advanced night vision with 3pcs of 6mm infrared lights that automatically turn on in dim light.
PROS
IP65 waterproof
Easy to install and use
Supports cloud storage plus 128GB SD storage
Night vision feature
Cheap
CONS
No compatible with 5GHz Wi-Fi
2. Zumimall GX1S Outdoor Security Camera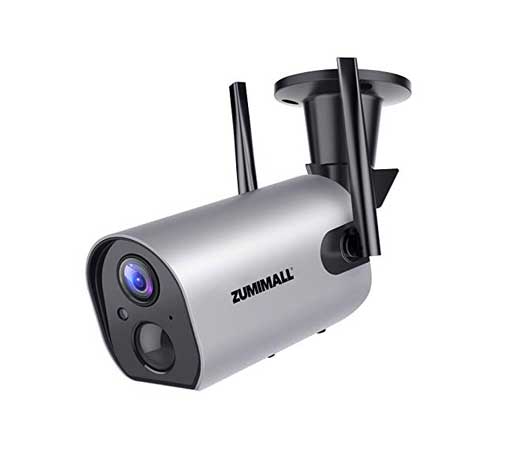 This outdoor wireless camera has a rechargeable 10400mAh built-in battery, which lasts up to 3-6 months, depending on motion-detecting time and is among the best according to battery powered wireless outdoor security camera reviews. However, its equipped with a 36mm lens residential security camera with a 120° viewing angle for comprehensive coverage, and provides high-resolution 1080P images feedback.
Besides, smart motion detection will send real-time notifications to your phone by Cloud edge APP when the outdoor camera detects people and records on the 128GB SD card.
Moreover, the integration of efficient infrared lighting, an anti-reflection panel, and an ICR infrared filter enables adequate night vision to 55ft. The IP65-certified Zumimall camera is a reliable and durable camera that can function in all-weather types throughout all seasons. The camera can operate under extreme weather conditions ranging from -4°F to 140°F, and humidity 95% or less.
PROS
Two-way audio
Multiple viewing options
Waterproof and dustproof
Full HD recording
Long battery hours
CONS
No 24/7 recording
3. XMARTO Wireless Security Camera System Outdoor/ Indoor for Home with NVR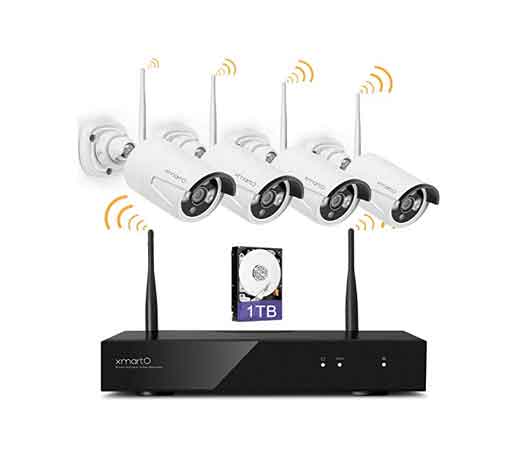 Whether you need a surveillance camera for outdoor and indoor needs, this camera size blends in well. Of course, it's the best outdoor wireless security camera system with DVR. This wireless Security camera System comes with a four-channel that is 1080P full HD NVR. Besides, you can stream Videos to NVR through Wi-Fi, so you don't have to run multiple cables to the NVR.
With an IP66 rating, the camera withstands harsh outdoor environments. Interestingly, you can see and replay from anywhere at any time, with no monthly Fee. The free xmartO Wall pixel mobile apps and cloud technology enable you to view the cameras on your phone/tablet. Besides professional IR LEDs Array and 80ft IR irradiation, the cameras see even in pitch darkness.
PROS
24/7 recording support
Affordable system
Enables remote playback
Easy to setup
Crystal clear HD images
CONS
Not battery operated
4. Hiseeu C10 and a Solar Panel System Outdoor Security Camera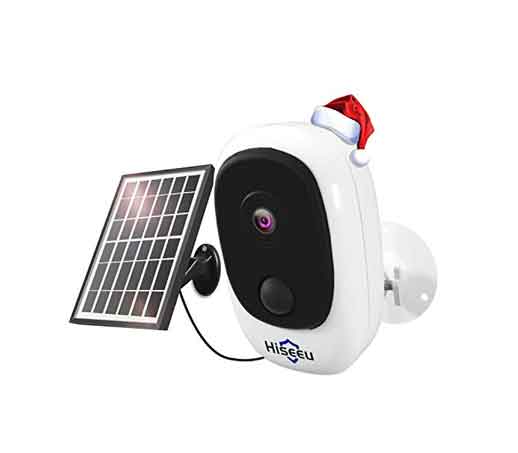 Hisseu C10 comes with a solar panel and a preinstalled 32GB memory card. Plus, 4-night vision lights and advanced PIR motion detection. So, using the built-in 130-degree wide-angle monitoring, this security camera is a good protector for your family and house property. The IP65 waterproof camera can withstand the worst weather.
The camera operates at temperatures ranging from – 7.8F to 140F. Most importantly, you can install solar panels on the roof to get the best angle of solar radiation Hiseeu C10 has built-in 6000mAh Panasonic rechargeable batteries. The batteries can last up to six years or more. Besides, the full battery can sustain power for 120 Days.
Records of motion detection get encrypted by the camera, hence no third-party access. The camera holds up to 128GB Micro SD Card, and the built-in 32GB SD card can store encrypted record files in six months. Plus, considering the longer connection distance, the camera can only connect to 2.4GHz Wi-Fi.
PROS
Long-lasting battery power
1-year warranty
Easy setup
Excellent motion detection
Provides great coverage
CONS
Not 5GHz Wi-Fi compatible
5. Zumimall A3P Wireless Rechargeable Battery Powered Wi-Fi Camera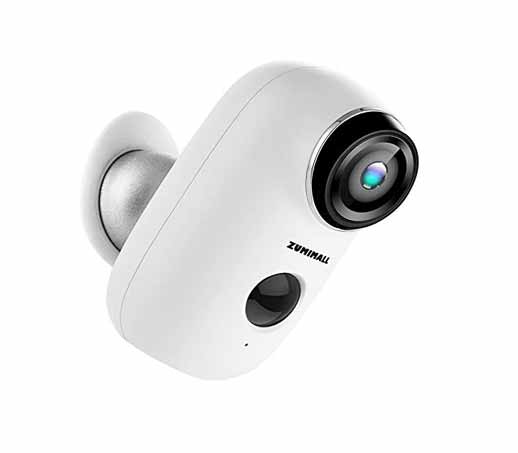 A3P rechargeable camera comes with a 6000mAh battery that lasts up to 2 – 5 months under full charge so that you don't have to worry about continuously charging. However, the built-in rechargeable battery allows you to place it indoors and outdoors without worrying about annoying wires.
The camera maintains a 130 Degree broad view angle and offers two-way audio talk to let you easily hold conversations. When a motion is detected, it can also forward an alarm and image to your smartphone.
Additionally, the wireless security camera has a 1080P HD camera that provides you with clear and crisp recordings that you can watch remotely in real-time through the mobile app Cloud-Edge. With the night vision and advanced PIR motion detection, this home security camera system is what you need to protect your home and family. This battery-operated security camera can see in the dark and detect motion up to 32ft.
PROS
Easy installation
1080P HD resolution recordings
Timely alerts notifications
IP65 waterproof
Great night vision function
CONS
Paid cloud storage
6. NexTrend Wireless Battery-Powered Security Camera Outdoor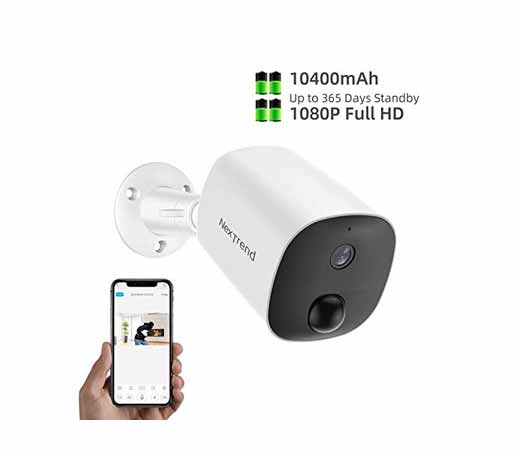 The camera has a resolution of 1080P, meaning that it will give you crispy images. The device is entirely wire-free as it uses a rechargeable battery. It makes it reliable even when there is a power blackout. Next Trend camera is suitable for home surveillance. Furthermore, the camera has a night vision and thus ideal for night surveillance.
Also, enjoy the Two-Way Audio technology so that you can talk with people outside your house. Also, the device has a motion alert. If any person passes nearby, it jerks into action to record all the happenings. It is also waterproof and suitable for both indoor and outdoor surveillance. Being weatherproof also increases its lifetime.
PROS
It has a motion sensor
It is weatherproof
It is battery operated
It has two-way talk
Has night vision
CONS
The package has only one piece
7. SMONET Wireless 8CH 1080P NVR Security System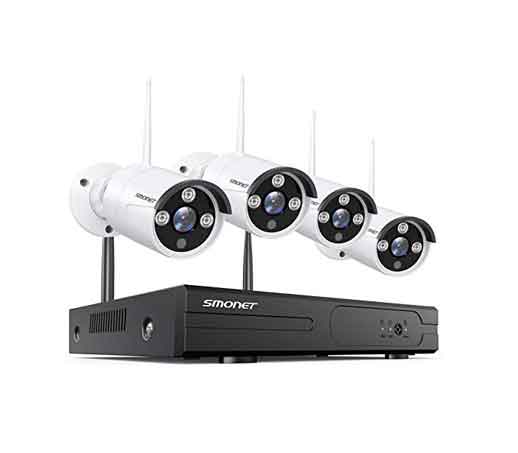 The package has eight 1080P channels plus four pieces of 2MP cams for villa, home, office, shop, warehouse, or elsewhere so you can strategically mount them on four different points to maximize your home security. It also has a night vision so that it can capture clear images at night, making it the best outdoor wireless security system. Besides, the cameras are Wi-Fi-enabled for remote communication.
Access the system using your smartphone anywhere so long as your smartphone, and the camera system connects to the internet.  Besides, you can use either an Android or iOS powered smartphone together with an app. Unfortunately, the system has no storage disk. You have to buy a separate hard drive to save videos for future reference.
PROS
Wi-Fi-enabled
Supports both Android and iOS
HD video recording
Motion sensor
Night vision
CONS
The system has no storage disk
Bottom line
Battery-powered outdoor security cameras that are Wi-Fi enables you to keep an eye on your property and premises from anywhere. We have conducted thorough research on the best one to suit your home, security needs, and budget.
Most outstanding outdoor cameras use Wi-Fi radio to connect to your home network enabling access from anywhere. The battery-powered Wi-Fi cameras are the easiest to install without connecting a power cable to an outlet. Typically, they use rechargeable batteries that are easily popped out and taken for a recharge.