The Blink XT2 Outdoor Indoor Smart Security Camera Review
Over the past decades, criminal activities were rampant as there was no sufficient workforce to protect every corner of the neighborhood. Keeping an eye on one's property was mainly conducted by contracted human personnel and other government security forces for the general public.  However, with the Blink XT2 outdoor indoor smart security camera, you don't have to worry much about your home, property, and your loved ones in your absence.
Therefore, a security camera system is an efficient way to protect you and your loved ones while away or at home, consequently giving some relaxation. Suppose you are concerned with safeguarding your interior and exterior environments of your place of interest. In that case, Blink xt2 will surprisingly deliver to your expectations, whether for the indoors and outdoors surveillance needs. Besides, this product price will not drive you nuts; it's quite affordable.
Nowadays, we live in increasingly uncertain times that make the safety of your home and family paramount. When security cameras got launched in the market, they required an electrical source to function. As the technology drastically advanced, there are battery powered outdoor security cameras that come with rechargeable batteries. In most cases, there are several pairs in the package to change when it runs out and take indoors to charge.
What Is Blink XT2 Smart Security Camera?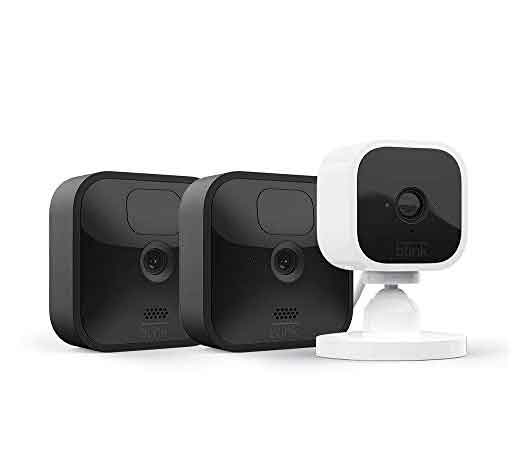 Blink XT2 is a battery operated wireless home security system that's ideal for monitoring your indoor and outdoor environments. The exciting thing is that it sends motion-activated alerts to your smartphone, and records HD video both day and night. You don't require paying a professional to do the installation. The installation is simple, as there are no wires and long-lasting batteries.
This smart camera comes with two AA lithium metal batteries that can last up to two years, depending on the typical use of motion-activated recording, two-way talk, and live viewing. Also, the battery shelf life will vary based on device settings and environmental factors.
How Does Blink Xt2 Smart Security Work?
Blink XT2 is one of the smart outdoor security cameras that use Wi-Fi technology to connect to your home network. A smart security camera is a self-reliant, standalone vision system with built image sensors inside an industrial housing.
The Wi-Fi allows you to access footage recordings from anywhere using a mobile app. However, you must ensure that your outdoor Wi-Fi camera can connect to either the 2.4GHz or 5GHz radio band to handle network congestion.
Additionally, Blink XT2 wireless security camera transmits video signal plus the audio signal via the wireless network or any internet sources to a receiver that connects to your recording and viewing device. Many people depend on computers or cloud storage accounts for saving the video footage for later viewing. Alternatively, you can remote view the footage via a mobile App using your smartphone.
How Do You Install Blink Xt2 Smart Security Cameras?
Wireless security cameras are more straightforward to install than their wired counterparts. You must run cables for the wired cameras and connect to your home's electrical system, forcing you to hire a technician for the installation. Since Blink XT2 rely on Wi-Fi or other networks with no wires, you just need to follow the instructions promptly, and you can install and connect the camera in less than thirty minutes.
Moreover, if you don't own a permanent residence, don't hesitate to buy this smart security camera. Luckily, you can do the installation stress-free, and if you want to vacate your premise, you need to unplug them, and you're good to go. Not only Blink XT2 cheap wireless security cameras but also they are easier to move and transport.
Why Blink Xt2 Smart Security Is a Good Buy?
The camera comes equipped with amazing features like motion detection. When the device senses motion, this battery powered outdoor security camera Wi-Fi-enabled devices, will send an instant alert to your mobile gadget with a short recorded clip.
Additionally, the Blink XT2 comes with free cloud storage, and other features, including two-way audio, infrared night vision, customization motion, clear 1080p resolution, and it is IP-65 weather-resistant, ideal for use indoors or outdoors.
If you don't want to depend on your home's electricity to power the security camera system or constant cases of a power outage, then wireless rechargeable cameras would suit you. Besides, Blink XT2 is wire-free and operates on 2 AA lithium batteries, which promise to last for about two years without the need for replacement.
PROS
Extended battery life
Live view recording
Day and night HD videos
Pocket friendly
Works with Alexa
CONS
What Are The Takeaways When It Comes To Smart Security Cameras?
i) Type of Weather the Security Cameras can handle
Any security camera must be able to withstand weather elements and should carry ingress protection (IP). IP ratings have two digits that indicate how well a camera can adhere to adverse weather conditions. After the IP prefix, the first digit denotes resistance to solid objects such as wind-blown dust and ranges from 0, meaning no protection, to 6 indicating total protection against inert particles. The second number denotes resistance towards moisture and ranges from 0 for no efficacy, to 9 meaning adequate protection against water pressure.
ii) The resolution you need
There's no point of having a security camera if you can't identify who or what the camera captured. A camera that records video at 720p provides a reasonably sharp picture, but the 1080p video offers more detail and is the most demanding resolution for the cameras.
However, cameras that capture 4K (Ultra HD) video are also available. Still, you'll need a stable network connection to stream it without experiencing lags and lots of storage for the recorded video, which may require costly cloud storage fees.
iii) How Do Security Cameras Store Video
Security camera store recorded video in several ways. Many cameras offer comes with cloud storage for a specific number of days before it is overwritten or deleted, while others are purely subscription-based. If you need a week's plus of video storage, you can enrol for a 30-day plan, and worry not about losing crucial footage.
Suppose you have privacy concerns, and you wish not to store your video in the cloud. We suggest an outdoor wireless security system with DVR to store it locally in an external device or networked mass storage. Furthermore, if you want a tool, you can go back and see everything, invest in a camera that provides a CVR continuous video recording (CVR) plan that stores 30 days of 24/7 recording in the cloud.
iv) Type of security camera (s) you need
If you want to monitor your exterior compound, you need to go for an outdoor wireless security camera suitably battery powered. Besides, if you are interested in watching your interior places at your home or business premises, invest in an indoor security camera.
Also, some security like the Blink XT2 cameras can be used both indoors and outdoors. Indoor cameras enable flexibility and are peaceable anywhere in a room. In comparison, outdoor cameras are designed to perform adverse weather conditions and record sharp images in low or zero light.
What Are the Specifications of the Blink Xt2 Outdoor Indoor Smart Security Camera?
1) Night Vision
There is a lot that happens inside and outside your home when the sunsets. However, having an infrared night vision equipped into your home security camera enables you to see crystal clear footage of your home or yard with little or no light. So, use the Blink XT2's infrared night vision to have a complete scene of what's happens at night.
2) Live HD Video Recording
You can check back in with live HD video and audio streaming right on your smartphone from anywhere with the Blink XT2 camera system. You can record and view in up to 1080p video resolution during the day and with infrared HD night vision during dark hours. However, the cameras enable you to view a live stream in full 1080p HD, and access saved clips of activity at your home.
3) Customizable Motion Detection Alerts
Blink XT2 cameras can detect motion in your home and send an alert with HD video and audio right to your smartphone. You can use activity zones to choose where motion is detected, so you receive the alarms in a particular area and not in the entire space. You can also appreciate the motion alert feature more when this camera detects motion from a far distance and sends an instant alert to your smartphone or tablet.
4) Weather Resistant
IP65 certified weather-resistant Blink XT2 ensures a clear, HD quality video no matter the prevailing weather conditions. This weather-resistant smart security cameras give you crisp video coverage in all the weather, whether you are monitoring your outdoor environment and indoor.
5) Two-Way Audio
Blinks XT2 two way audio enables you to talk to visitors through the Blink app on your smartphone or tablet. Moreover, when you want to speak to any visitor in your home or yard, it's as simple as logging into your camera's app. The two-way audio enables you to see, hear, and interact with people before entering your home.
6) Free Cloud Storage
With Blink XT2 camera system, you don't incur monthly subscriptions as the system comes with free cloud storage for all your footage. However, you can keep hundreds of clips stored up to a year before your video clips and images expire and disappear, with no monthly fees or service contract required. Otherwise, having cloud storage makes it easier for you to store numberless video clips.
Bottom line
If you have been hunting for a cheap surveillance camera for your outdoor/indoor needs with no monthly subscription, Blink XT2 camera system has your back. For any detail you need to find about this beautiful device, it has been categorically elaborated in this article.
The camera comes with all in one feature that every homeowner would want in a camera. In a nutshell, when you choose Blink XT2 smart security cameras, your security worries will improve for life.