Recently, the rise in criminal activities have prompt effective security measures to be put in place. Everyone is concerned with keeping property safe away from thieves and intruders. Therefore, having the best outdoor wireless security camera system with DVR is an easy way to achieve this. With the device, you will be able to monitor what happens when you are at home, business or office and when you are away.
However, the DVR is essentially an electronic device that saves digital security images into a hard drive or a networked mass storage device. The DVR works by recording an analog video and then converting it to a digital form for storage purposes. Outdoor security cameras paired with a video recorder is a brilliant idea but there a way to go about it without the daunting task of cable installation and the hassle of wires.
If you are considering the best wireless outdoor security camera system, then you would want the one that offers total protection to your business premises, office or home. Many of these systems come with multiple cameras that provide high-resolution images and videos during the day and at night. The cameras are easy to install hence no complicated technical know how that is required.
What Are the Considerations Before Buying an Outdoor Wireless Security Camera?
i) Specifications
Before you buy an outdoor camera, you have to look for important specifications like free cloud storage, motion alerts, night vision, audio quality, waterproof, magnetic bases and live streaming.
ii) Video resolution
for you to clearly understand what is happening in the recording, you have to choose a camera with a fine resolution. If you get a camera with high resolution, the better it is. You will need a 1080p or higher for crystal clear images and videos.
iii) Field of view
A broader field of view means that the camera can see a large area. A field of view between 120 to 130 degrees is considered a high-quality standard but you can still get some with a wider field of view in the market.
iv) Power source
Consider whether the device is solar-powered or it has multiple power systems. A camera with a rechargeable battery pack is always the best option. Look also on battery life as some batteries run for days or months with no need for power.
What Are the Sources of Power for Outdoor Wireless Security Camera System?
For a wireless outdoor security camera, it requires a lot of power reserve to function and run seamlessly. According to the battery powered wireless outdoor security camera reviews, the most rated source of power for a wireless outdoor camera is the battery-operated system, especially where power supply is a limited supply of power.
Therefore, if you are considering an outdoor security camera, battery-operated cameras are a suitable option as they can be moved as required. Ideally, there are two main sources of power that enables the functioning of the outdoor security camera.
We have the AC power that can be tapped from the outdoor lighting and the battery-operated wireless security cameras. The later will offer flexible placement as compared to the former. However, if you are installing a Wi-Fi camera you will need AC power even though their installation will be fixed.
What Are The 7 Best Outdoor Wireless Security Camera System With DVR?
We are going to review the best outdoor wireless security camera with DVR available in the market below and hopefully, you will find it helpful. They include:
1. ZOSI 1080P Security Camera System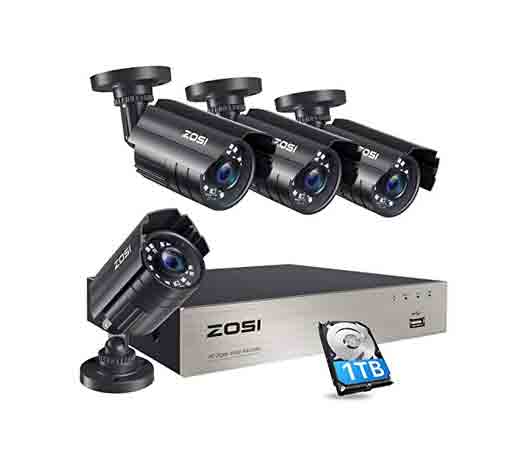 This is an incredible outdoor wireless camera that has an expandable camera system of up to 8 pieces. The camera resolution is 1080P that gives sharp and crispy images day and night. Besides, the memory capacity in the hard drive is 1TB that provides sufficient space for storage of videos and images.
The motion detection feature allows the DVR to start recording only when a motion is detected. Also, the camera is fitted with Aluminum housing that is weatherproof to harsh environmental conditions. It also allows for both local and remote viewing.
The local viewing you need to connect a monitor in the absence of the internet and you are good to go. For the remote viewing, you just have to download the ZOSI app on your smartphone and connect to the internet for viewing.
PROS
Resistant to harsh weather conditions
High video resolution
24/7 recording
Expandable camera system
Secure and intelligent recording
2. Hiseeu 3TB HDD pre-install security camera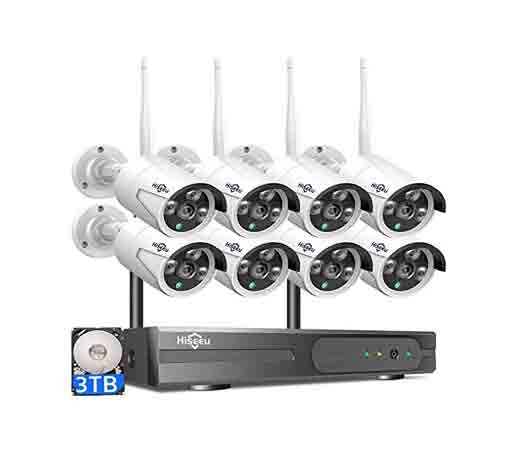 This 2.0MP camera has a full resolution of 1080P that provides surveillance day and night giving out sharper images and videos with a clear contrast. The motion sensor makes stunning and clear high definition videos. It is one of the easiest outdoor and indoor security cameras to install for it doesn't have any configurations or require any expertise input.
Besides, you can view remotely with a laptop, smartphone or a pad so long it's connected to a Wi-Fi or a 3G/4G network. It is housed in an Aluminum case that has an IP66 weather rating making it resistant to unfavorable weather conditions. The pre-installed 3TB hard disk allows for 24 hours 30 days recording of videos and cameras. However, the camera allows for a playback functionality.
PROS
Weatherproof
High-resolution details
Playback functionality
Remote viewing
Easy installation
3. Heim Vision HM 241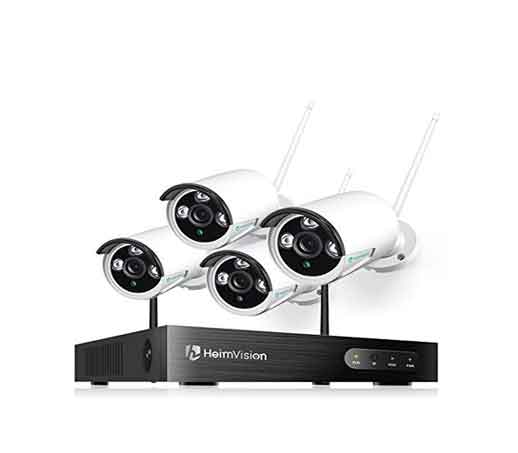 This wireless outdoor security camera provides for 24/7 surveillance for maximum protection against thieves and intruders. You can watch over your home with the crystal clear 960 HD video remotely. There are instant motion detection features that upon detection, mobile alerts are sent via emails for notification.
Also, it has a wide field of view of 1100 which can see up to 50ft night vision even under low light conditions. It can clearly monitor everything even at night. The IP66 rating makes it weatherproof against dust particles, water, and harsh temperatures. So, in times of snow and frost, the camera functionality is not impaired.
PROS
Infrared clear day and night videos
Easy to install
24/7 surveillance
Weather-resistant camera
Advanced motion detection
4. SMONET Wireless Security Camera System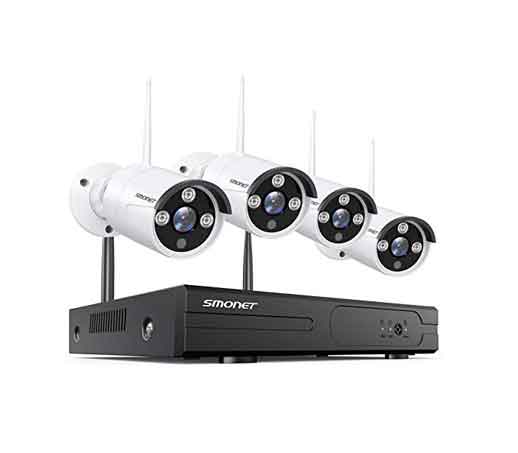 Capture live footage, recordings, and playback with the HD 960P video. Viewing can be done anytime, anywhere with 8 channels simultaneously either remote access or local viewing with no monthly fee. The installation process is simple and easy to set up without necessarily involving a technician. However, the camera specification is 1.3MP.
The camera system is suitable for indoor and outdoor and the wireless IP camera can cover up to 65ft in night vision. Also, the pre-installed 1TB allows for 24/7 secured recording and once the memory is full the wireless camera system will overwrite automatically. The IP66 rating makes the device to thrive under harsh weather conditions.
PROS
Weatherproof
Wide field of view
Expandable camera system
Super night vision
Relatively cheap
5. ISOTECT Wireless Security Camera System

This wireless camera is ideal for outdoor and indoor security requirements. It packs full HD 1080P video resolution for sharp and crispy images and videos capturing.it can view up to 65 ft under low light requirements during the night. It has a motion detection feature that sends alerts via email once a motion is detected.
Besides, it has an IP66 rating for waterproof and withstanding severe environmental conditions The installation process is simple and quick to set up. However, there is free technical support in case of any queries or assistance.
The storage space has a 2 TB hard drive that provides enough memory for storing images and videos. It also enables remote viewing whereby you can watch live videos anytime as long as you are connected to Wi-Fi or 4G network.
PROS
Easy remote view
Waterproof
24/7 life surveillance
High-resolution videos
Motion detection features
6. XVIM 8CH 1080P Security Camera System Outdoor

This wireless outdoor security camera is fitted with a 1TB hard drive that can be adjusted to auto, manual and motion detection recording. You can also stream live recordings remotely easily and quickly via connection of Wi-Fi. The motion detection feature sends alert whenever a movement is detected to your smartphone or the digital device that you are using.
Again, there is 24/7 true monitoring, the IR cut filter ensures true to type color under all lighting conditions. It has a metal casing rating IP66 that makes it adaptable to severe weather and environmental conditions. The 2.0MP camera has the capability of capturing 100ft in night vision. Video resolution is high and sharp with the 1080P.
PROS
Relatively cheap
Motion detection alerts
High-resolution video
Effective night vision
Easy remote access
CONS
The metal casing may corrode
7. ONWOTE Wireless Security Camera System Outdoor

This camera comes with auto pair technology whereby you don't need to connect vide cables for pairing, you need to plug in each camera to a nearby power source as they are not battery powered. Besides, the 1.3MP camera captures brilliant videos with IR night vision up to 80ft. this device is known to have an IP66 weather rating.
If you experience any technical difficulties you can contact the 24/7 professional technical support department for queries and help. Also, the device has a 1080P NVR with inbuilt in a router, the internet is only needed in remote viewing. Despite the absence of a hard drive, it can support up to 6TB hard drive externally and stream live videos with motion alert via your smartphone.
PROS
High definition
Real-time motion alert
Auto pair technology
24/7 recording
Weatherproof
Bottom Line
Outdoor wireless security camera plays a paramount role in the modern society full of criminal activities.it helps us monitor our business premises, offices and our home compound even in our absence. Before buying, make sure you read carefully the specification of the device. Otherwise, this review will help you to have an insight into what works best for your needs and help you make an informed decision as you do your selection.