The 7 Best Battery Powered Outdoor Security Cameras
Wireless security cameras are closed circuit-television (CCTV) cameras that transmit a video and audio signal to a wireless receiver through a radio band. Many wireless security cameras are battery-powered, making the truly wireless from top to bottom. Wireless security cameras are advantageous for those that need to go without wires for easy placement hence are flexible. There are several choices of best wireless outdoor security cameras in the market for you to pick from.
There are two types of wireless security cameras. Analog wireless and digital wireless camera. The Analog wireless is the transmission of audio and video signals using radio frequencies. They typically have a transmission range of around 3000 feet in open space: presence of walls, doors and furniture will however reduce this range. The digital wireless cameras on the other hand is the transmission of audio and video analog signals encoded as digital pockets over high-bandwidth radio frequencies. They have a higher transmission range of close to 450 feet. Both can however work well as the best outdoor wireless security camera system.
A properly installed security camera can communicate over a distance up to 10 miles. The wireless system works exceptionally well for monitoring separate building units or rural areas where there is a long distance between two sites. With new wireless technology at historically low prices, it will therefore take a small investment to enable any battery powered wireless security camera.
Areas you can install the outdoor security camera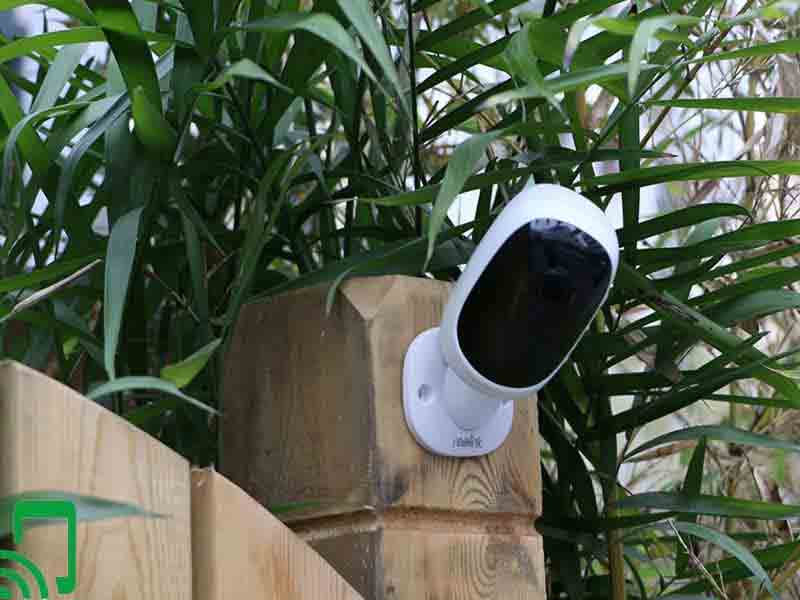 Today's market offers several great outdoor security cameras that a handy homeowner can install themselves. Below are a few strategies that you might require when you are installing outdoor cameras:
i) Back side doors in the exterior
Doors that are out of sight allow visitors to enter undetected, whether they are invited or not. For full knowledge of everyone who enters and exits, add cameras to the secondary doors especially if you have one that is used more often than the front door or if have one that is easily accessible to potential intruders.
ii) At the front door
Statistics say that 34% of burglars or intruders use the front door. It is therefore not safe enough to assume that they would sneak into the side or back entrances. A camera at the main entrance would therefore keep you in the know of everybody who comes in and out of your home.
Whether it is the nanny, delivery man, maintenance people or even family members. Video doorbells could be a great pick for the front doors since it is where package thieves are likely to strike.
iii) In the Garage or driveway
If you have a gate at the end of your driveway, you might want a camera there to spot anyone attempting to get in. Also, a camera pointed at your garage/driveway keeps a watchful eye on bikes, tools, grills, sport equipment, cars and everyone that handles them.
If your garage is detached, the camera helps you stay connected. I fit is attached, then it gives you an extra layer of security that monitors another possible entryway into your home.
Guidelines for outdoor security camera installation
i) Test your equipment before committing to the full install
You may operate the camera to see whether it functions as expected. You can use a temporary fix like a tape or single nail in the camera's intended area so you can monitor and evaluate the feed. Check whether you can see everything as you want and if the WI-FI signal is strong enough. Look out for any glares or obstacles that might block your field of view.
ii) Occasionally clean or maintain the camera
Since it is an outdoor camera, it is prone to dirt or pollen accumulation on the lens therefore, you need to install it in a way that makes it easy and possible to maintain. You should keep this in mind when choosing the spot to install the camera.
iii) Be extra careful and cautious
Do not use hardware or tools that may damage its components during installation. Do not take measures that could damage or strain the casing, electrical components or lens.
The 7 best battery outdoor security cameras
Below are a few choices that you can make when buying a battery powered wireless outdoor camera.
1) REOLINK Battery Powered Camera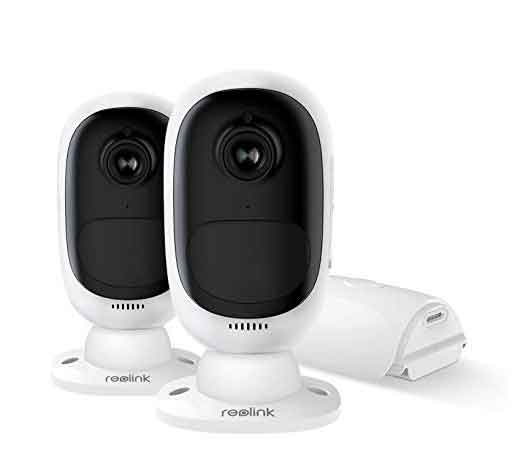 Reolink has starlight CMOS sensor that offers 1080p image and color night vision up to 33 feet. The smart PIR sensor detects motion events and triggers alerts like push, email, or siren. Enjoy wider field of vision to cover more and see more.
The IP65 certification makes reolink Argus 2 always ready for outdoor environments, come rain or shine. View your family and home from anywhere and anytime via the free reolink app or client when your phones are connected to the internet.
PROS
It has multiple charging methods
Comes with built-in microphone and speaker
It allows PC and mobile phone access
CONS
It only works with 2.4 GHz WIFI router
2) Uokier wireless outdoor camera 10400MAH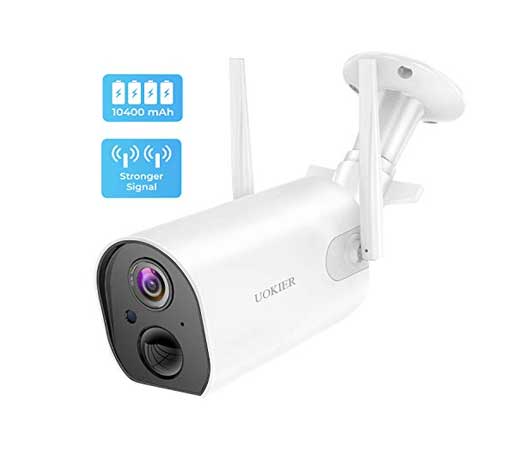 You can always watch the real-time video by your mobile app for the UOKIER wireless outdoor camera. The wireless security camera can also supports the TF card and cloud storage, so you can watch playbacks and download the records.
UOKIER indoor/outdoor surveillance camera is completely wireless and cordless. No wire or cord is needed to be installed with this security camera. This outdoor security camera can switch to night vision automatically if the environment is dark. Has a 10400MAH battery that lasts for 4-8 months fully charged.
PROS
It is waterproof
Has smart notion detection
It comes with built-in microphone and speaker
CONS
It is not 5G supported
3) Uokier 6400mAh wireless security camera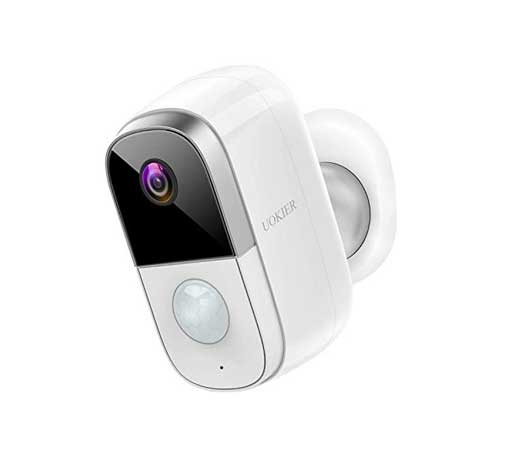 You can install this wireless security camera indoor or outdoor without worrying annoying wires with rechargeable battery. Hokier outdoor camera adopts a built-in smart PIR motion sensor. To reduce false alert, the upgraded program will only send you notifications if the movements belong to a human-shaped object.
The 2 built-in batteries that have a 6400mAh capacity allow the camera to work for up to 2-6 months after full charge. It will also send you a notification when the battery is below 20% so you can charge it on time.
PROS
1080P HD quality and night vision
Enjoy reliable battery performance
It is easy to install
Enjoy TF and cloud storage
CONS
4) Arlo wireless home security camera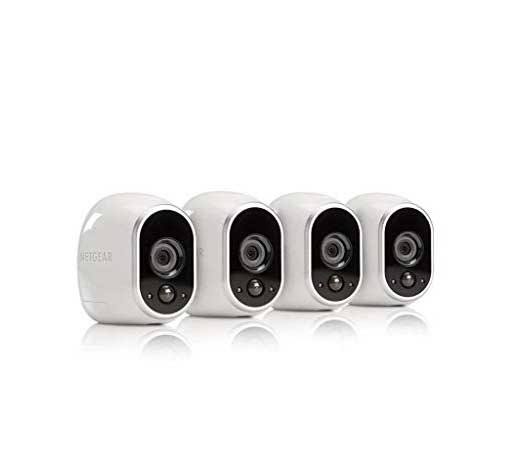 Arlo HD security cameras are 100% wire-free HD, indoor or outdoor cameras for home monitoring. Arlo cameras use motion detection technology that is inhibited by glass, especially windows. It is weather-resistant and has good night vision.
It can capture clips and send you alerts whether you are at home or away for round-the-clock peace of mind. Arlo smart apps adds powerful intelligence to your cameras as you can customize notifications to your preference.
PROS
Works with Alexa for voice control
100% wire-free design
Outdoor weather resistant
CONS
The motion detection is lethargic
5) Arlo Pro 2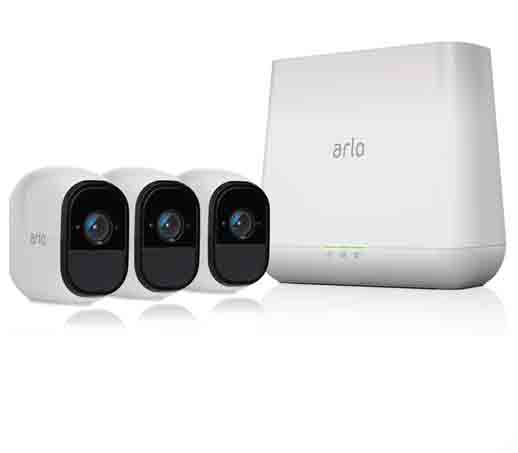 Enjoy hustle free installation with the 100% wire-free Arlo Pro 2. Works with Amazon Alexa, Echo show, fire tv, or Google Assistant to ensure you view your live video with just a simple voice command. Customize alerts to detect people, specific zones, and contact emergency respondersright from your smartphone's lock screen.
1080P HD gives you high quality video with sharper and brighter details. The camera range is up to 300 feet line of sight while the wireless coverage is suitable for a typical 2500 square feet residence.
PROS
3-second lookback feature
Has an optional 24/7 CVR
It is weather resistant
Has the smart siren
CONS
6) Arlo Pro 3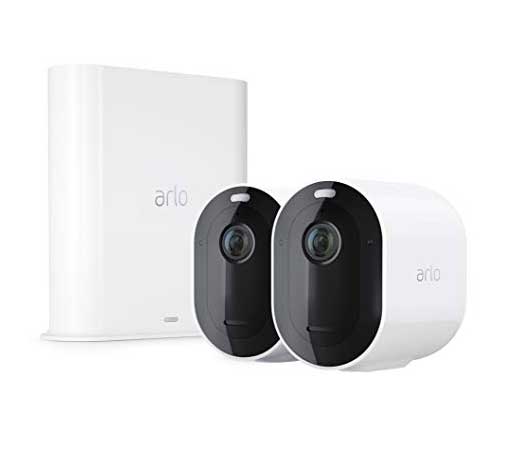 2K video with HDR allows you to zoom in on objects and see clearer details and colors. See what's lurking with color night vision or black and white. It is wire-free and weather resistant design. The integrated spotlight that lights up the night and ward off unwelcomed guests. Magnetic mount makes it fast and easy to install and adjust.
PROS
Color night vision
160% field of view
Easy to install
CONS
7) Victure 1080P Wireless Camera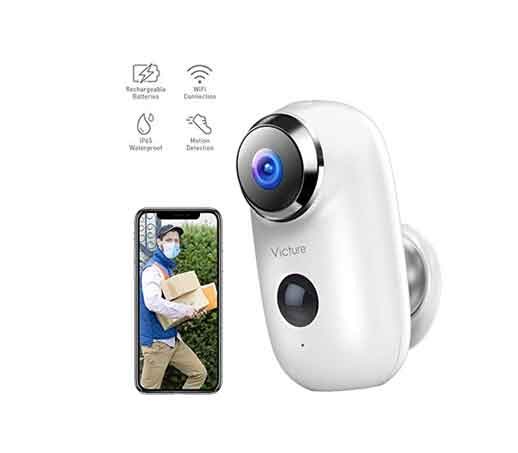 With a built-in internal 6000mAh lithium rechargeable batteries, enjoy extended battery life from Victure. The Victure outdoor security camera is easy to connect with 2.4G WIFI. 1080P HD with night vision ensures completely no distortion.
Victure home security camera displays a clear 130° wide angle view. Built-in motion sensitive dual sensor detects only objects with heat signatures. The wireless security camera will push alert notifications to your phone when movement is detected.
PROS
Has an easy setup and installation
Has a built-in 2-way audio device that has the microphone and speaker
Has a PIR motion sensor
CONS
The app is not very effective
Bottom Line
Whether you plan to utilize a wireless system solely indoor or for monitoring an outdoor location, a wireless IP camera security system are the most sensible option for installation in areas that will not accommodate hard wire cables. As security camera technologies continue to evolve, there are new solutions for those who were not able to utilize hardwired systems.