What Age Should A Child Get A Cell Phone
Knowing at what age to give your child a phone can be very difficult. Many factors aside from just the age need to be put into consideration before getting the child a phone. According to research done by a non-profit organization in the US, 80% of children between 12 and 13 have access to a phone. These stats do not imply that the child should get the phone at that age but it's at that point in which the parent should consider whether the child deserves the phone or not.
There are many types of phones in the market which you can get for a child. The phones are mostly divided in to 2 categories; phones with internet access and those without. For you to know the perfect phone for your child, you need to weigh in key factors like maturity, location and many more. Most parents ted to opt for cell phones without camera or internet until they see that their kid is mature enough to have a smartphone
This article will guide you on what age is appropriate for the child to get a phone. You will also learn on how your child can stay away from the dark side of the internet in case you buy a phone for him or her.
What to consider before getting a phone for kids?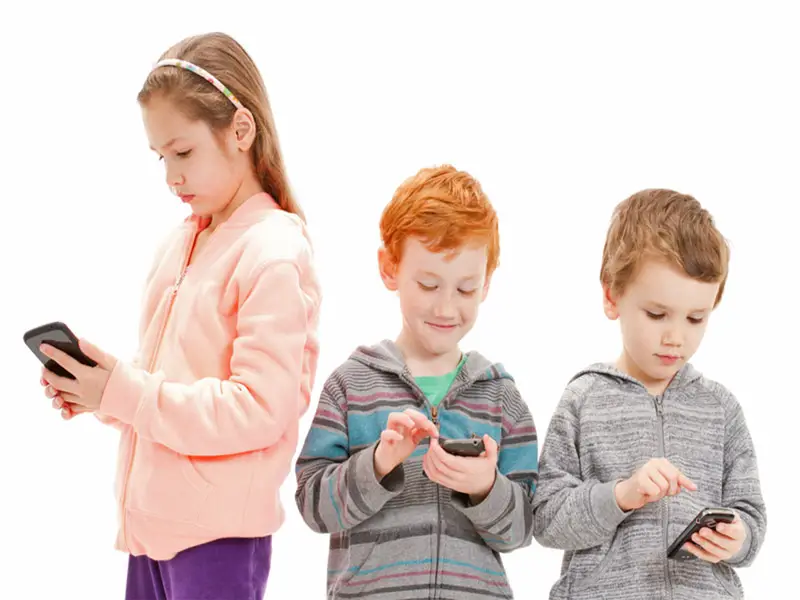 Below are some factors to consider before getting a phone for kids;
1) Maturity
You can easily know whether the child is mature or not by discerning how he or she conducts activities in school or at home. Also, if the child does not put a phone as his or her major priority, you can consider getting them one.
2) Social skills
How will his or her life change after getting the phone? Will he or she become anti-social? These are questions to ask yourself and you can easily predict what will happen by monitoring how he or she conducts themselves in social gatherings.
3) Prioritization
Getting the child, a phone may make him or her to value it more than other things like schoolwork and this may cause a major disruption. You need to talk to the child and teach them on how to balance using the phone and also doing other activities.
Which is the best age for getting the child a phone?
Earlier in the article, I mentioned about there being two types of phones; smartphones and phones without internet or camera access. Between the age of 8 and 12, you can give your child a phone without internet access. This is to limit them against cyber bullying which has become quite rampant.
You can also get a prepaid phone for kids without internet access and it may come with GPS to know your child's location in real time. Most parents go a further step to limit the device to certain number to call in case of an emergency.
Between the age of 13 and 16, your child may be mature enough to get a smartphone.You can also monitor the smartphone with the help of some apps which go a milestone to give you real-time updates on what the child is doing with the phone.
How to make your child safe while using a phone
Checking your child's phone periodically may not be very effective since they are not always around you. However, you can get parental control software that are available on Android and iOS.
Some of the best control software include;
uKnowKids Premier
SafeDNS
Mobicip
Clean Router- This monitors all the devices under your network
Norton lifeLock.
The apps come with great user interface, easy to set-up and configure on the phone. Aside from this, always listen to your child whenever they raise any concerns with regards to social media threats and report all harassment cases to the nearest authorities.
The best phone plans for kids
Below are some of the best cell phone plans for kids. The plans have no contracts hence if you think the kid does not deserve the phone, you can easily opt out. The plans include;
1. Tello Mobile
This plan is offered under Tello Mobile and goes for only $10 per month. The child gets Unlimited talk and text plus 1 GB of data.
2. US mobile
US Mobile comes with great perks of unlimited talk and text plus 2 GB of data for only $15 per month.
3. Verizon plan
There is the Jitterbug flip Verizon phone plans which is solely intended for Verizon wireless. The plan only goes for $14.99 per month. Aside from this, you have the Reach mobile plan under Verizon wireless that comes with Unlimited talk and text plus 3 GB of data.
4. Mint Mobile
Mint offers unlimited talk and text plus 3 GB of data at $15 per month. You can also consider the 8 Gb option at $20 per month.
5. Red Pocket mobile
Red Pocket mobile is offered under all GSM and CDMA standard service providers. They have the $19 and $30 per month plan to go for. For the $19 per month, you get Unlimited talk and text plus 3GB of data while the $30 plan offers Unlimited talk and text plus 7GB of data.
Bottom line
From this article, you can now get a phone for your child very easily. The key factor will always be based on their maturity levels. If they are mature enough, you can give them a smartphone and if otherwise, you can opt for the phones without internet access. In conclusion, always ensure your child is safe from cyber attacks which may bring about negative influence on your child.