The weBoost Home MultiRoom 470144 Review
Are you looking for the best cell phone signal booster for your home, office, or car? If so, then worry not as today I bring you the weBoost Home MultiRoom signal boosters, one of the best signal boosters for your phone that will ensure that you remain connected all the time. If you travel to low network areas, the device will be there to assist you.
Up to date, many areas of the world remain poorly connected to cellular services due to poor network connections. This may be due to insecurity or maybe because the locals haven't embraced cellular technology making it uneconomical for service providers to install network masts in such areas. For the time being, if you visit such areas, you need to carry a signal booster.
Furthermore, weBoost cell phone boosters are easy to move with from place to place since they are extremely portable. When camping, mount it in your tent and protrude the outside antenna to the outside for maximum performance. At home, you only need to find the best location with a strong network reception and mount the device.
What are the features of weBoost Home MultiRoom 470144?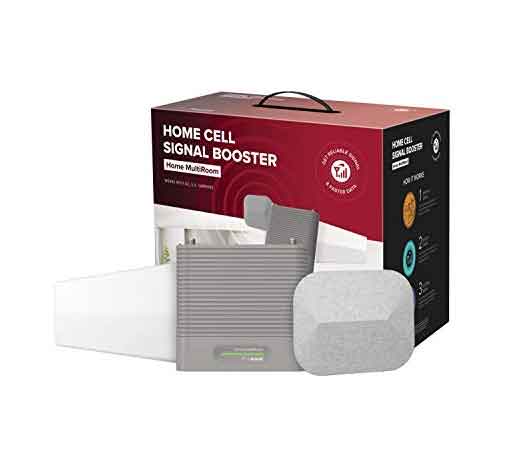 This device has amazing features that anyone will admire. Before you order the device, see how it will work for you and you can be sure that you will be buying a high performing machine for your personal or office use.
PROS
Easy to install
No subscriptions
Large area coverage
Works with any carrier
Easy to customize
CONS
Not suitable for moving vehicles
1) Extended cellular coverage
Experience increased cellular coverage up to 5,000 sq. ft. See how the machine covers a large area. It is thus suitable for mid-size homes as well as offices. So as soon as you buy the machine, you should forget about dropped calls completely.
There is nothing worse than having a conversation with a client or your boss and then the call is dropped. The party on the other side may not understand that you have network issues and may just assume that you hanged!
So get this device and boost your calls, internet, and fast text delivery. If you use Verizon as your network service provider, then weBoost Home MultiRoom 470144 is a good cell phone booster for Verizon.
2) Easy to install
This is a do it yourself system. You do not need to call a technician to connect different parts for you. Following the manual, you can set up everything in minutes. By the way, you will not need to buy anything else to accompany the device as everything needed for installation is contained in the machine. The installation of this device involves five steps. These include;
Installing the outside antenna.
Connecting the outside antenna to the amplifier.
Installing the inside antenna.
Connecting with the provided cables.
Powering on.
Once you are done installing the outside antenna, the rest is very simple. It is important to note that if you cannot install the system on your own, you should contact someone who can do it. As much as the device is easy to install, some people can face challenges doing it.
Furthermore, the outside antenna should be positioned to face the direction where there is a maximum signal reception. To know whether the device is ready for use, all lights should be green. Now you can test the strength with your cell phone.
3) Easy to customize
It does not matter the shape of your house as the device comes with various antennas and you can fix in any kind of house and still enjoy great performance.
4) Works with any carrier
This is good news. Whichever service provider you use, never worry about any restrictions as this device works with any carrier. A weBoost US Cellular signal booster can be a signal booster for another network provider such as Verizon or T-Mobile.
5) Suitable for several cell phones
I should tell you that this device is not only for your phone only, your relatives or office mates will have a chance to have a strong network connection. Does that sound good to you? Am sure it does since no one at home will ever complain of slow signals while browsing the internet or making a call.
6) No subscriptions!
This booster's usage is for free. The only money you spend is on buying it. Otherwise, unlike in the case of routers where you have to subscribe to particular plans every day, week, or month, this device will serve you for free. Just subscribe to your usual phone plan and you are good to go. And another thing; no WiFi is needed here.
What do the different lights of weBoost Home MultiRoom 470144 mean?
Have you just bought your service and are getting confused by the lights? Worry not. You only need to understand the meaning of every light otherwise don't conclude that the booster is faulty. See what the lights mean.
i) Green
Green means that your booster is working properly and amplifying at maximum capacity.
ii) Red
Red means that the outside antenna is pulling in the signal from the inside antenna. The outside antenna should pull signals from the cell tower. You can power on and off to try fixing this and if the problem persists, you can call customer care to guide you on what to do next.
iii) Orange
Orange means that the outside antenna is pulling excess signals from the cell tower. It has to shut down automatically to avoid overloading. In such a scenario, you should adjust your outside antenna and face it away from the cell tower while powering on and off until the green light appears.
iv) Green & Red (Blinking)
This means that the outside antenna is simultaneously pulling in signals from both the cell tower and the inside antenna. This makes it slow and may not serve the intended purpose properly. You have to call weBoost customer care to help you with that.
Can I use weBoost Home MultiRoom 470144 in my car?
Not at all. weBoost Home MultiRoom 470144 operates well when installed at home or in the office. It works in any stationary place. Most cell phone boosters for remote areas work well when stationed to have consistent network reception from the cell towers.
Bottom line
If you live in a remote area with a poor network connection, a network booster will work well for you. weBoost Home MultiRoom 470144 is one of the easiest network boosters you can install by yourself in your house.
However, you cannot use it in your car as it requires a stationary mounting. The most important thing is to understand how the machine works to know when to have it fixed if it develops issues.