The 7 Best Window Cleaning Robot Reviews
What comes into your mind when you hear the term robot? Robotic machines are evolving every day. A robot is a programmed machine that can carry out tasks automatically. Among the latest robot machines are the automatic window cleaners. Later in this article, you will get to know the best window cleaning robots in the world.
An external device called a remote maybe used to control a window cleaning robot, or it may have an embedded control system. Whichever the case, a robot can make work easier. With installed software that makes the machine carry a series of actions in a specific order, a window cleaning robot will do the cleaning even when you are far away. 
Let's indulge ourselves and see the best window cleaning robots that you can purchase to improve your home help technology. You will be able to understand how they work, where to get them and their exact price. By the time we are through with this, you will have made up your mind on which machine to buy.
What are the Best Window Cleaning Robots?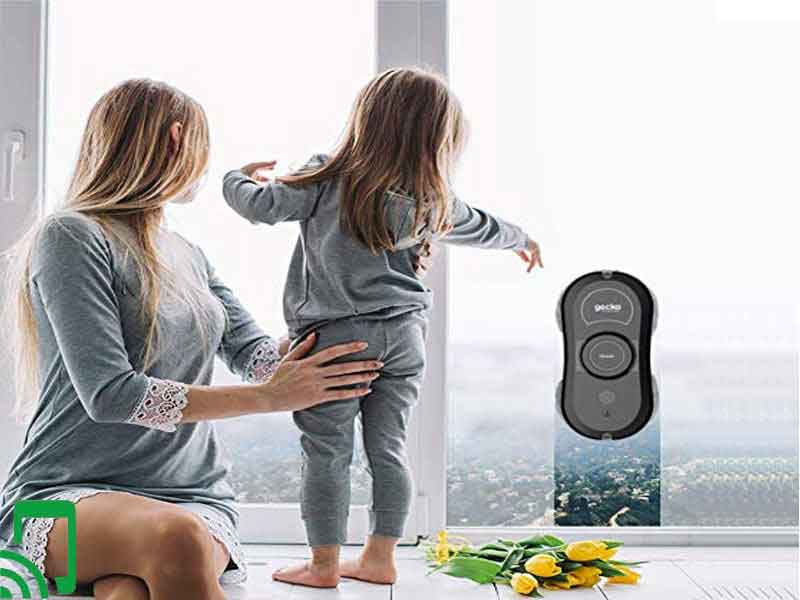 Having done our thorough research on the best window cleaning robots, we have come up with a list of seven of them. Let us look at them one by one.
Recommended Article:
The Best Black and White Laser Printer
The Best weBoost US Cellular Signal Booster
The Best Wireless Video Doorbells With Monitor
The 7 Best Window Cleaning Robot
1. AlfaBot X7 Smart Window Vacuum Cleaner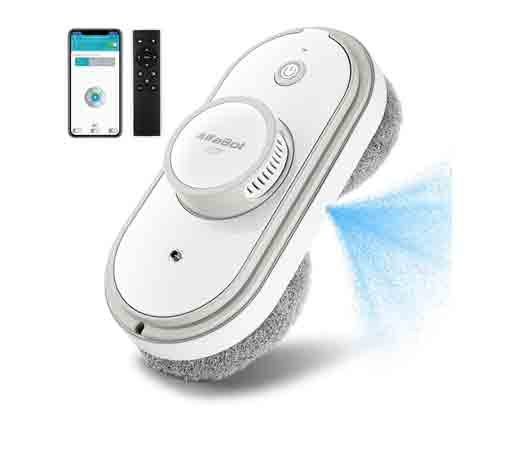 AlfaBot X7 Smart Window Vacuum Cleaner  is a smart glass window cleaner that is remote controlled. You can control it by a smartphone app by the name GlassBot2 that is in the App store. It is an excellent alternative to the ordinary sponges that never do a pleasant job.
You think you have cleaned your windows only to see them dirty after they dry up. AlfaBot X7 Smart does an excellent work that will always leave you smiling. The device has LED indicators that show you its progress. The machine does deep cleaning, ensuring shiny window panes.
With its three – path automatic cleaning options, the robot can detect the extent to which the window should be cleaned. Moreover, it has an anti-fall technology. It will stick firmly to your window panes and clean without falling down.
PROS
It is safe and secure. It does not require you to step on ladders that might slide and make
you fall. It works on its own
Easy to control using GlassBot2 app
It is fast and efficient
It has one year warranty
CONS
Not suitable for those without the necessary smartphones
2. Gladwell Gecko Robot Window Cleaner – black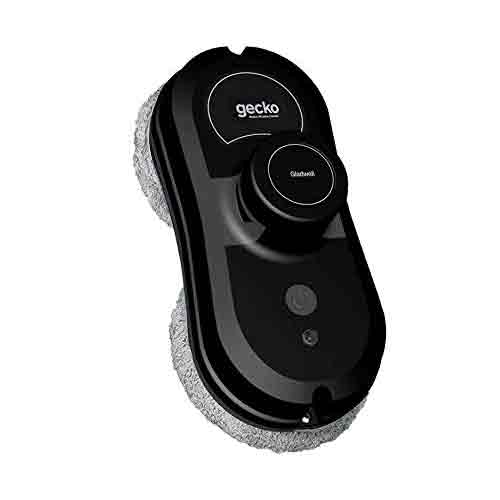 We have discussed the white Gladwell Gecko Robot Cleaner. Now this one is black. We know that color is essential to you and decided to show you how the black one looks like. You may not like the white one because it becomes ugly with time due to dirt.
Why don't you try the black one? If you are the type that thinks black lasts longer, then you are good to go with this one. The machines work just the same. The difference is their color. The device's LED indicators show you the work progress. You can then estimate when the work will get finished.
The machine cleans deeply leaving shiny windows. You even admire living in a thoroughly cleaned house. Its ant fall technology is the best aspect among others. You will never worry when the device is working in heights. 
PROS
The attractive black color that is easy to clean
It has a one year warranty
Easy to control using a smartphone app
It is fast and efficient
It saves time and energy
CONS
You must have a smartphone for controlling
3. Coredy R650 Robot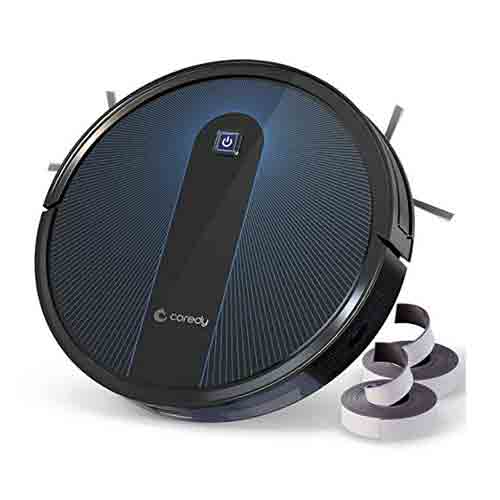 As the name indicates, this robotic machine cleans using vacuum cleaning technology. Apart from cleaning windows, it can clean carpets and hard floors. The device works quietly and will never be a nuisance to your family. It works fast and automatically, thus allowing you to carry out other duties as it does the cleaning. The design is simple.
The machine itself is small. Therefore it won't bring commotion in the house as it does the cleaning. In addition to that, it has auto boost technology. You can increase the sanction power depending on the intensity of the dirt to clean. The sanction power can go up to 1600 pa. 
The machine has a powerful lithium battery of 2600mAh that can run the tool continuously for 120 minutes. Again, the device has a magnetic strip that allows cleaning only the designated areas. The supplier has 24/7 customer support.
PROS
The machine comes with a one year warranty
Dedicated customer support
It has a powerful battery that allows a long working period
It works quietly without causing disturbances
It is very fast
4. ECOVACS Robotics W730R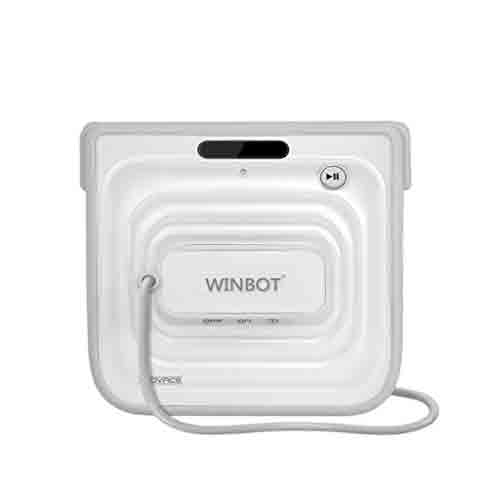 The machine is a perfect replacement of the pathetic traditional rags and buckets. You can use ECOVACS Robotics to clean long window panes that are hard to reach. Before the introduction of these window cleaning robots, you could only clean your windows by climbing on the walls using ladders.
That was extremely dangerous as you could easily fall and break your arm or leg. ECOVACS Robotics W730R has automatic pathfinder that can calculate the size of your window and calculates the cleaning efficiency. The machine requires a remote control. The good thing with this machine is that it can clean glass of any thickness.
Remember that Winbot is compatible with even glass surface only. It means that any coated, filmed, or broken glass will not get cleaned efficiently as the vacuum cleaner cannot create a secure vacuum seal. The glass should be either square or rectangular so that the machine can wash the corners thoroughly.
PROS
It's swift and efficient
Easy to use
It is safe and scratch proof
Requires low maintenance
CONS
The machine cannot clean coated or rough window panes
5. HOBOT – 198 Glass and Window Cleaning Automatic Robot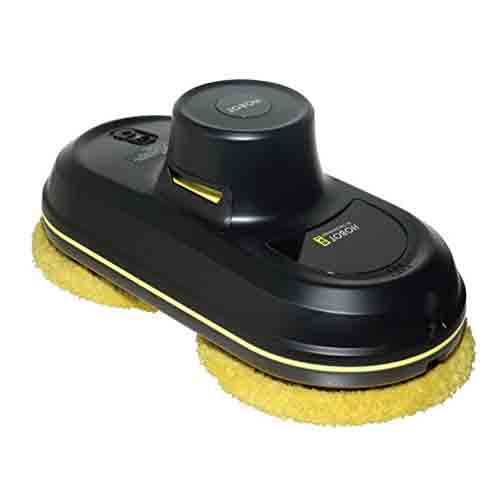 HOBOT -198 is a remote-controlled window cleaning robot with high power. The machine can clean very fast and in an efficient manner. Apart from using a remote controller, you can use a smartphone app specially build to operate the machine.
All you need to do is to download the app from Google Play store. Apple smartphone users can easily get it at App store. The machine can clean any window thickness with ease. It works well with AI technology V2.1. It has a rotating speed of 70 RPM and a cleaning rate of 4mins/square meter.
HOBOT -198 stops automatically upon completing its cleaning exercise. The best thing about it is that it has three automatic cleaning paths. This increases the machine's efficiency to a greater extent. Why continue doing tedious cleaning? Make work easier with this amazing tool. You can order from Amazon.
PROS
Very fast and efficient
Can easily be controlled by a remote or a smartphone app
Stops automatically upon completing cleaning
Can clean any window thickness
Leaves no scratches on the surface
6. iRobot Roomba 675 Robot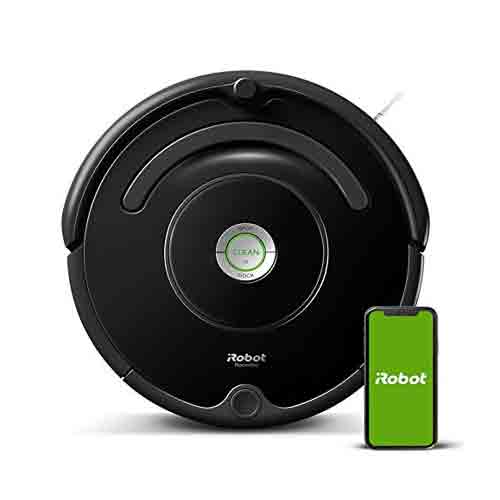 iRobot Roomba is efficient for carpets, cleaning pet's hair, and hard floors. It is compatible with Alexa. This machine has a patented dirt detector. The detector helps the device to work harder where there is a high concentration of dirt. It is equipped with a three-stage cleaning system to ensure that any size of debris gets off completely.
It can work for 90 minutes continuously. Moreover, it can dock and recharge when power runs out. You can connect the device from anywhere and keep the equipment working. It happens by scheduling the machine with iRobot HOME App. You can use Alexa or Google Assistant voice commands to set the machine working. 
iRobot has suit sensors to help it navigate around objects. It weighs 6.77 pounds. That's just a good weight you can carry easily around your house. This device can be bought from Amazon.
PROS
You can connect the machine from anywhere
Has 3 – stage cleaning system
The battery runs for a long time before running out of power
It is fast and efficient
Can work with Alexa
7. ECOVACS WINBOT W830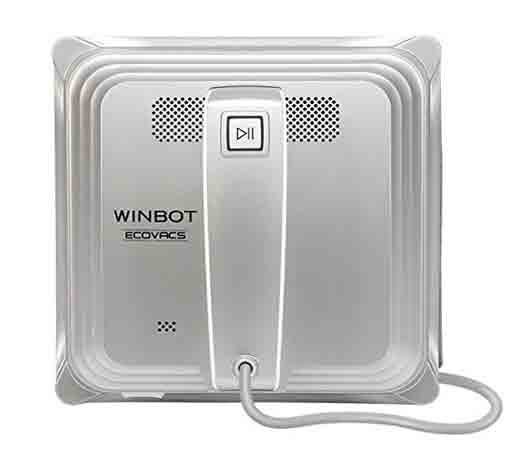 ECOVACS WINBOT W830 is an automatic window cleaner. The machine has a smart suction fun that assists the tool in cleaning framed windows, vertical glass, filmed glass, colored glasses, or horizontal surfaces. The device is simple and easy to use. Just one touch and it begins working.
It has `n' and `z' cleaning paths. It has sensors that can intellectually sense window frames and obstacles. It prevents possible damage as it can't ride on rough surfaces. It's three operations, i.e., spray, power on, and start making the machine pleasant. Such a systematic process allows an excellent work.
ECOVACS WINBOT W830 has a battery backup so that you don't get worried with a power outage. The machine weighs 2.14 pounds. It has a one year warranty. It gives you quiet time to work with the machine knowing that anytime it brings issues, the ever-ready standby technicians can help you.
PROS
It's very easy to operate
It can clean a wide range of surfaces
It has power back up
It has an automatic sensor that can sense objects
No assembling is required
Bottom Line
Robot cleaners are very convenient machines to help you with windows and floor cleaning as you do other necessary house chores. I hope that this information enlightens you to look for one device among the above discussed. You should never let simple tasks like window cleaning waste your precious time. Get the best that suits you.