The Phonelex Cell Phone Signal Booster Review
Signal boosters play a considerable role in low network regions. If you have ever experienced weak cellular signals at any given time in your life, then you understand how embarrassing it can be. You cannot call, browse nor text. Phonelex signal booster helps in boosting cellular signals to reliable levels. Sometimes service providers may not cover all areas efficiently when doing the signal transmission.
It explains the need to have a booster. Phonelex signal booster solicits useful signals from the nearby masts and amplifies them, thus making them stronger for mobile phone communication. The device keeps you connected to society. Phonelex may not be the best cell phone booster for Verizon since it works explicitly with AT&T 700MHz 4G LTE band12/17 network frequency.
You must have a compatible phone; otherwise, you may get embarrassed after buying the device since it may not have any impact on your phone's network signals. If your phone supportsAT&T 700MHz, 4G LTE band12/17 network frequency, then the Phonelex signal booster will perform wonders on your phone's signals.
What is the Design and features of the Phonelex Signal Booster?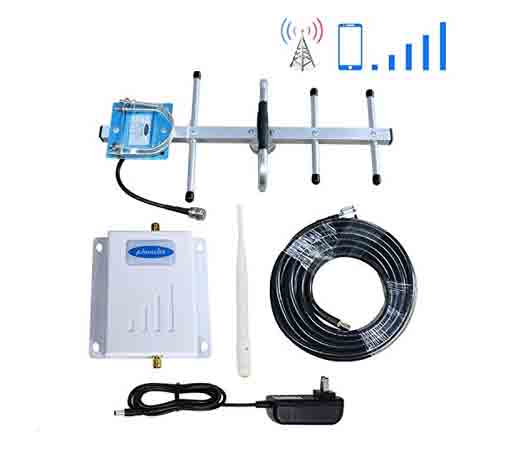 The gadget has an excellent design that is very attractive to the eyes. It measures 109 by 63 by 16 mm. It weighs 1.02 kg. It is very light and easy to transport.
Phonelex1 cell phone signal booster operates on a 12-band frequency. Its frequency range is 698 MHz-716MHz. Its emission designator is LTE (G7D) while its uplink gain is +or- 60 2dB and its downlink gain is still +or- 60 2dB.
The I/O port is SMA-female on both ends. The uplink output power is 1.07 dBm, while the downlink output power is 7.85dBm. The maximum antenna uplink gain is 8.1 dBm, while downlink gain is 7.85dBm.
PROS
It is easy to install
The machine is cheap
It has a one-year warranty
Has free Amazon support
You get a 30-day money-back guarantee
CONS
It only supports 700MHz, 4G LTE band12/17 network
How does Phonelex Cell Phone Signal Booster Operate?
The device detects voice, data, and SMS electronic signals from the nearby compatible booster tower and strengthens them for the available compatible cellular phones. It uses the external antenna to tap the signals using a high precision technique.
When the signals gain strength, they are ready for broadcasting. The internal antenna then picks up the signals and broadcasts them to your mobile phone. The phone picks them using the inbuilt antennas and converts the electronic signals into radio waves.
The best cell phone signal booster for home should support all network carriers. Although the Phonelex signal booster is selective, it works very well with compatible phones. If you want a US cellular signal booster, I suggest that you buy a universal booster so that you are comfortable with any carrier.
 How do you Install Phonelex Signal Booster?
I do not know whether you have ever used a similar device before. Whether you used it or not, you do not need to worry about the installation process. It takes a short time to install it into operation.
The external antenna, the booster, and the internal antenna are the main items you need to position strategically for maximum performance.
Take the external antenna to the outside of your house and fix it on your house rooftop. Mount the booster on the wall away from children. You can also place it on your table or cupboard. Fix the internal antenna tightly.
Connect your machine to the wall socket. Power it on and ensure that your phone is on. Twist the external aerial to attain the maximum gain. Upon establishing the most suitable spot, mount the antenna firmly on the rooftop and enjoy the excellent network connection.
For maximum performance, ensure that the antenna points the direction of the cell tower. See if your phone reads at least one bar. Ensure that the external antenna and the internal antenna are 22 ft apart.
Which Service Providers Can Operate With Phonelex Cell Phone Signal Booster?
Unfortunately, the Phonelex signal booster is only compatible with AT&T 700MHz, 4G LTE band12/17 network frequencies. If you are looking for a versatile signal booster, then this might not help you. In spite of that, the device does an excellent job on the compatible network.
It boosts 4G LTE signals making your calling, internet connection, and SMS service work pretty well. Browse the internet at fast speeds and download movies and other files at a quicker rate. Forget about call dropping and always stay connected to your friends and family members. The good thing about this device is that you can use it at your office and run your chores efficiently.
What is the Network Performance and Range of Booster?
The device is not universal in terms of network adaptability. It only supports AT&T 700MHz, 4G LTE band12/17 network. If your phone is not compatible with AT&T, know that the device will not be useful to you.
The booster is strong enough to cover your entire home and office. However, the range is limited, and you may not connect well when maybe several meters away from your gadget.
What do you Expect Upon Ordering the Device?
The package contains one single band booster, an external antenna with a 15 m coaxial link cable, internal antenna, mounting screws, and a user manual. Upon buying, you qualify for a one-year warranty from the manufacturer.
You can return the device if it develops issues and get a new one or have it repaired free. Note that the guarantee applies where the device fails naturally. If you damage it yourself, the warranty becomes invalid. Again, if you try to repair the defects, the manufacturer terminates the warranty.
Moreover, you get free Amazon support and a 30-day money-back guarantee. Again, the device comes with an FCC authentication certificate.
Bottom Line
Life in remote areas should never be hard for you. You might be a farmer, whereby you have to stay in rural areas with inadequate network coverage. A signal booster is vital to you. Phonelex signal booster can help you very much if your phone is compatible with AT&T 700MHz, 4G LTE band12/17 network. The issue of dropped calls and slow internet connection becomes outdated when you acquire it.