The 7 Best Signal Booster For iPhone
According to a recent Pew survey, more than 30% of Americans experience multiple dropped calls during the week. After the initial excitement of owning an iPhone, facing the reality of poor signal strength is a frustrating reality for many Americans. You may be having poor signal due to a variety of reasons including Living in a rural area where construction of a new base station isn't commercially viable, living in areas where the building materials attenuate poor signal strength and multipath interference in urban areas. No matter the cause, a signal booster for the iPhone will help to significantly relieve your frustration.
A cell phone signal booster (cellular repeater) is a type of bi-directional amplifier that works to improve cell phone reception. A signal booster is composed of three main components. A donor antenna which is installed by a window or on the roof of a building and used to communicate with nearby cell towers. An indoor antenna that rebroadcasts the signal indoors. And a signal amplifier that amplifies signals from the tower to the phone and the signals from the phone to the tower.
On February 20, 2013, the FCC released regulations for a compromise solution between Technology manufacturers and wireless operators. You should, therefore, ensure that any signal booster you buy is compliant with FCC regulations. Before you use your signal booster, you should make sure you register it with your wireless provider and you have your provider's consent. The good news is that Verizon, AT&T, T-Mobile, Sprint and 90 other providers have given blanket consent to use FCC-compliant boosters on their networks but if you are unsure, we advise that you contact your provider for confirmation.
The comprehensive guide to choosing the best booster for iPhone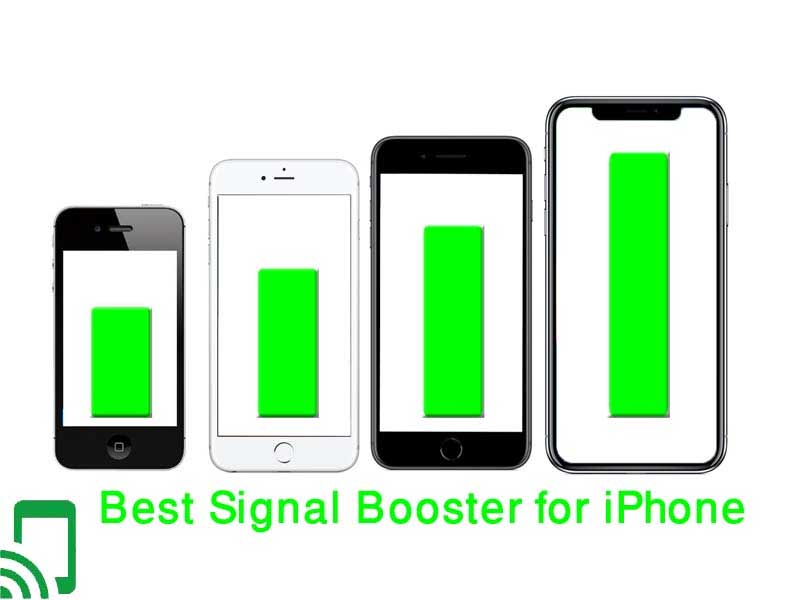 Here is a comprehensive list of the features to look out for so that you can choose the best signal booster for your specific needs.
i) Coverage area
Where would you like your signal booster to cover? Determine the square footage of the area you hope to cover. Do you want to cover every room in your home or office or do you only need to cover a portion of your home? You can now narrow down on your options based on the coverage they provide.
ii) Pre-existing signal strength
Perform a building survey to test the signal strength outside your house. If the original signal outside your house is weak, this means you have to choose a higher-performance booster to compensate for the weak signal. If, however, the signal strength outside your home/office is good, you will most likely not need to invest in such high-performance boosters.
iii) Cell carrier and tower
While most of the best signal boosters work on all the major carriers, this is not always the case. Find out if the booster works with your current carrier and other major ones in case you want to switch before making a purchase. Some boosters will also only work on certain band frequencies and certain networks i.e. 2G,3G and 4G. Make sure your booster is compatible before you make a purchase.
iv) Intended purpose
If you plan to use your signal booster in a mobile home (RV) for example, it would make more sense to invest in a booster that not only works when the vehicle is stationary but one that also works even when the device is mobile.
Ask your family and friends with similar boosters on their efficiency, and read online reviews before settling on a booster to buy.
The 7 best signal boosters for iPhone
Here is a comprehensive list of the 7 best signal boosters for the iPhone with links to Amazon- an approved reseller- where you can purchase them.
1) weBoost CONNECT RV 65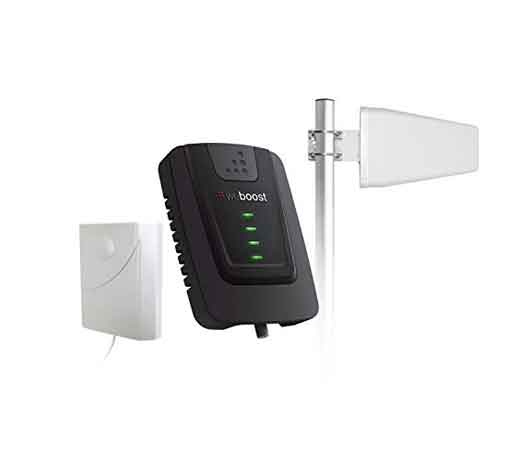 The weBoost connect RV 65 is a 4G LTE voice and signal booster for parked RV vehicles- It can only be used when the car is parked. This booster is FCC approved and can be used with all North American cell carriers. More specifically, it is compatible with all the four major carriers in the US.
Some of the best features of this booster are; it consumes only a small percentage of your phone's battery hence prolonging battery-life, it supports multiple devices and it has a 2-year warranty with free unlimited technical support.
PROS
Easy to install
2-year warranty and tech support
Good signal strength
Large coverage area
Supported on all 4 major carriers
CONS
Stationary- you can't use it when driving around
2) SURECALL FUSION4HOME CELL PHONE SIGNAL BOOSTER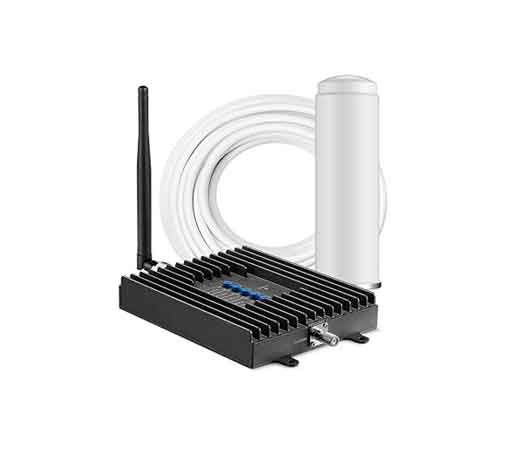 Surecall fusion4home boosts 2G, 3G and 4G LTE signals around your home and office. It covers 2,000 to 4,000 square foot spaces and works with all carriers in the United States and Canada. Some of the great features offered by this device include; it comes with a 3-year warranty, a 60-day money-back guarantee and lifetime US-based customer support directly from the manufacturer, compatibility with all carriers in the US and among the easiest 4G booster installation.
PROS
Enhances talk, text and internet access simultaneously
Great coverage
Supports multiple users simultaneously
Works with all carriers in Canada and the United States
The best 4G data rates
CONS
Will not work if you have no signal
3) WEBOOST HOME COMPLETE (470145)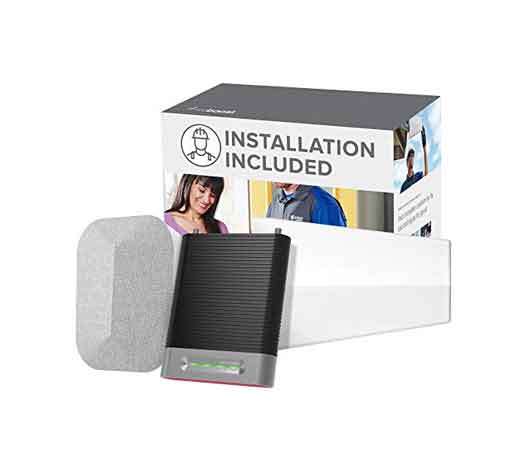 The weBoost home complete boosts 2G, 3G, 4G LTE and even 5G signals up to 7,500 sqft if there is a strong outdoor signal and 4,000 sqft when you have a moderate outdoor signal. This booster works on all Canadian and United States cell carriers.
It offers up to 72 dB maximum gain and 24dBm in uplink-output power, 12dBm in downlink-output power. You can thus reach towers up to 26% farther and 46% more coverage when compared to Home multi-room.
PROS
5G ready
Compatible with all US carriers
2-Year warranty and 30-day, money-back guarantee
US-based customer support
Easy installation
CONS
Will not work if you have no signal in your area
4) WEBOOST BASIC HOME (471101) CELL PHONE SIGNAL BOOSTER KIT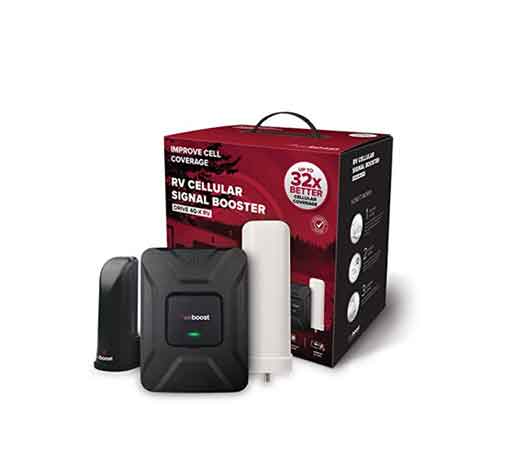 The weBoost cell phone signal booster works to improve AT&T and Verizon signals for up to 1,500 sqft. Despite working on only 2 carriers, it has a plethora of great features. It has a 60dB maximum gain, 20dBM in uplink-output power and 12dBm in downlink-output power hence easily reaching signal towers that are farther away.
Among its greatest features is that it is 5G ready and will offer you lasting coverage up to the next decade. The strong connection to wireless signals that it offers will help you save up to 2 hours of battery life and the enhanced coverage will ensure you get the most out of your data plan.
PROS
2-Year warranty, 30-day money-back guarantee
5G ready
Affordable
Easy installation
Good signal strength
CONS
Works only with Verizon and AT&T
5) Hiboost Mini signal booster boosts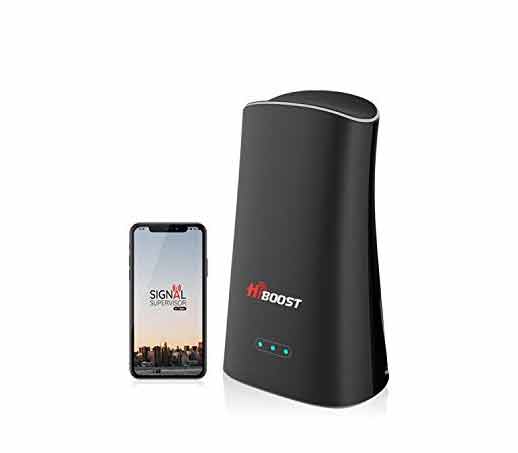 The Hiboost signal booster boosts your signal strength up to 2,000 sqft in moderate conditions. It boosts 2G, 3G and 4G LTE voice and data signals for all major U.S and Canadian carriers. The device is set apart from the rest with HiBoost's "Smart Link" functionality, which allows the devices to be controlled over Wi-Fi or Bluetooth using HiBoost's "Signal Supervisor" mobile app. This booster provides an indoor panel instead of a whip antenna ensuring your space is 100% covered.
PROS
Compatible with all US and Canadian carriers
3- year warranty
The mobile app allows the device to be controlled via Wi-Fi and Bluetooth
The kit has everything for easy installation
Multiple users can use it simultaneously
CONS
Only works when you have at least some decent signal
6) ANNTLENT MULTI-BAND CELL PHONE SIGNAL BOOSTER REPEATER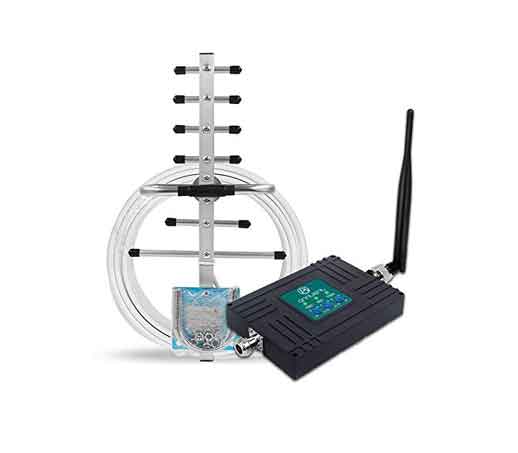 The multi-band cell phone signal booster repeater boosts voice and data signals for all Unite States carriers supporting multiple users and cellular devices simultaneously. It is FCC approved and the kit comes with clear instructions for easy set-up.
This booster has many advanced features like Automatic Gain Control, Self-Oscillation Elimination and Inactivity mode which guarantee the best possible performance.
PROS
5-Year warranty
Easy setup
Can support multiple users simultaneously
30-day money-back guarantee and 3-month replacement
Its advanced features can adjust the gain and interference signal automatically for best performance
CONS
May not work if you have no signal at all
Not 5G ready
7) CELL PHONE SIGNAL BOOSTER FOR VERIZON 4G LTE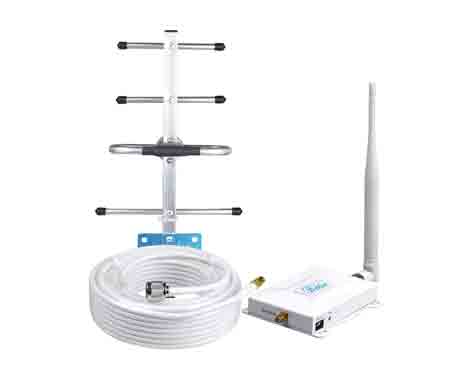 This cell phone booster works with Verizon 4G LTE phones that operate frequency 700MHz Band 13 so ensure you test your cell phone before buying this device. It amplifies 4G LTE voice and data signal for multiple compatible Verizon devices simultaneously.
The indoor and outdoor antennas have a high gain that brings you strong signal for up to 4,500 sq.ft and with its advanced features it can adjust itself for premium performance no matter how signal conditions change.
PROS
Its advanced features enable it to adjust itself for maximum performance
Large coverage, up to 5,500 sqft
Boosts multiple devices simultaneously
5-Year warranty and professional technical support
30-day money-back guarantee and 3-month free replacement
CONS
Amplifies only 4G LTE signals
Final Thoughts
In this day and age, with the vitality that mobile phones represent in our day-to-day experiences, no one should have to suffer dropped calls and poor signals. With a quality signal booster, you can drastically improve connection speeds, get reliable connections and stay in touch with your social circle more easily than ever before.