The Lg Xpression 2 C410 Reviews & Buying Guide
Phones have always been changing in design, performance and everything in General. However, the essence of having a phone is for communication with people. In the current digital era, most people look for smartphones with high-end processors, good camera ample storage and many more perks in their bucket list. However, there are a few people who only wish for simplicity and that's where the LG xpression 2 c410 comes about for your conveniences.
LG xpression 2 c410 is among the best cell phones without internet and has quite impressive perks. Whether you are a boomer, bloomer, this device will work for you. Moreover, the LG C410 uses one of the best networks across the US, AT&T. It is among the few phones without internet that has wireless features like Bluetooth and GPS.
The device has a stunning body design and so is the performance. This article tends to cover more on the specs and break down any other information with regards to its device. You will also get to know more on the best places to buy them as of 2020.
What phone plans are available for LG Xpression c410?
As we mentioned above, LG xpression uses AT&T networks. The plans here are quite affordable since there are no data units to be allocated and they are no contract plans. Currently the talk and text only plans have been discontinued by AT&T.
You can however consider an MVNO powered by AT&T for the phone plans. A good option is cricket wireless which is known for the affordability of their plans. But as for AT&T it has discontinued the plans for this device and any other phone that does to need a data plan
LG Xpression 2 c410 specs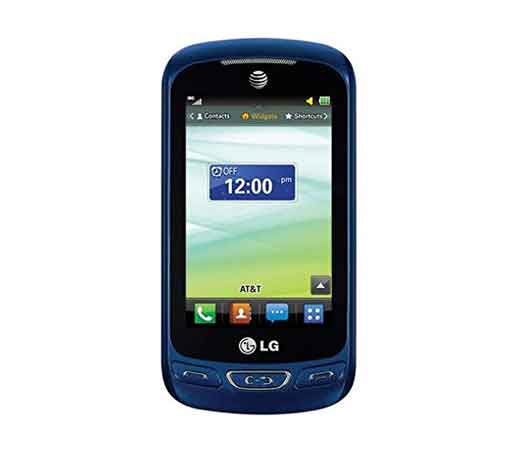 When you unbox the phone, you will first encounter the 3.0-inch display. The phone has a resolution of 240X400 display which can play some SD quality video. The pixel density is 155 Ppi and it uses the legendary TFT technology.
The screen to body ratio is also quite impressive at a 43.97%. The body has a dimension of 4.24X2.13X0.64 inches and only weighs 1.31 grams. Since the device is touchscreen, it features a half QWERTY keyboard which bridges the digital divide on this device.
LG Xpression has a stunning performance. The device uses a Qualcomm QSC6270E which is quite powerful. Qualcomm chipset are the 1 best and are used by many top companies in their phones i.e. Samsung, LG and many more. The processor is a single 2.30 MHz core.
It also has a graphical user interface to give you some cool graphics when displaying contents on the screen. The RAM is 0.1 B and has an internal storage of 0.063 GB. You can also expand on the storage with a micro SD card of 32 GB or below.
LG Xpression c410 has a single camera with 2 MP which also has video recording capabilities for up to 320*240 pixels. The digital zoom in is X2 and also features night mode feature aided by the LED flash.
The battery capacity is 1000 mAh and can last for 204 minutes in talk time and 16 days and 6 hours in stand-by time.
When it come to cellular, you are equipped with the 850, 1900 MHz UMTS and it uses the GSM network technology. Another wireless feature is the Bluetooth EDR feature. The phone also uses AT&T navigator software and services with regards to the GPS features.
The audio system is quite stunning and seniors with profound hearing loss will never experience any issues on getting quality sound. It also supports several audio standards like AAC, MP3, WMA, and eAAC+. The phone features voice control, dialing capabilities.
PROS
The camera quality is top notch
It has a user-friendly interface
The touch sensitivity is quite fast
Performance is very high
It has an SD card slot
CONS
Lacks WIFI
The video recording system is not reliable
Where to buy the LG Xpression c410?
This phone can be bought from several online and offline stores near you. The best place to go for as of 2020 is Amazon. With Amazon, you get the following benefits;
24-hour shipping
Reliable customer care services
A refund in case there is a failed delivery other phone is not at par with your expectation.
Assured genuine warranty
Affordable shipping costs. At times the shipping costs may be free for a certain price or product.
So, check out Amazon to order your device today. Other options to buy this phone are through;
eBay
Walmart
Best buy
Wish etc.
Can you get financing for the LG Xpression c410?
Since the phone is not sold by AT&T, it is hard to get financing services. Most financing is done by the carriers themselves and not retail stores. However, the phone is quite affordable since at around $40 bucks, you can get the phone. So, lack of financing may not be a major con to some people. If you cannot afford the device, getting a free government phone may be a good option for you.
Is it worth your money?
If you are looking for a simple device without internet access, then this phone is worth your money. Many reviews praise the device for its simplicity and robustness. You can get the phone for your kids and due to its simplicity; the kids are able to communicate with you easily. The phone cane also be used a side phone in case your main device runs out of battery or gets lost. So regardless of your age or any other factor, it is a good phone to go for.
Bottom Line
This device has amazing features which are more to what you can expect in a phone without internet capabilities. You should also consider getting the device from a genuine marketplace to avoid instances of getting a fake or a device not in your expectations. The plans on this phone are affordable and from all the information above, it is worth your money. So, it one today and leave a comment below on how the device works for you or if you have any questions.