The Jitterbug Phone Reviews
Three years ago, the first Jitterbug phone was released into the market. Since the device was targeted to seniors, it brought about a simple and easy way for them to communicate. Also, the phone has an amicable user interface which most people like. According to several Jitterbug phone reviews, what most people like about it is the reliable customer care services and the presence of the five star button.
Jitterbug uses the most extensive network service provider Verizon wireless, which serves around 87.7 million people across the US. The Jitterbug phone plans Verizon are quite similar to some of the Verizon plans since they use their transmitters
This article aims to give you full details and everything you need to know about Jitterbug. This ranges from where to buy jitterbug phones, the phones available under Jitterbug and other related info. Read ahead for more exiting information on Jitterbug.
What are some of the Jitterbug phones available?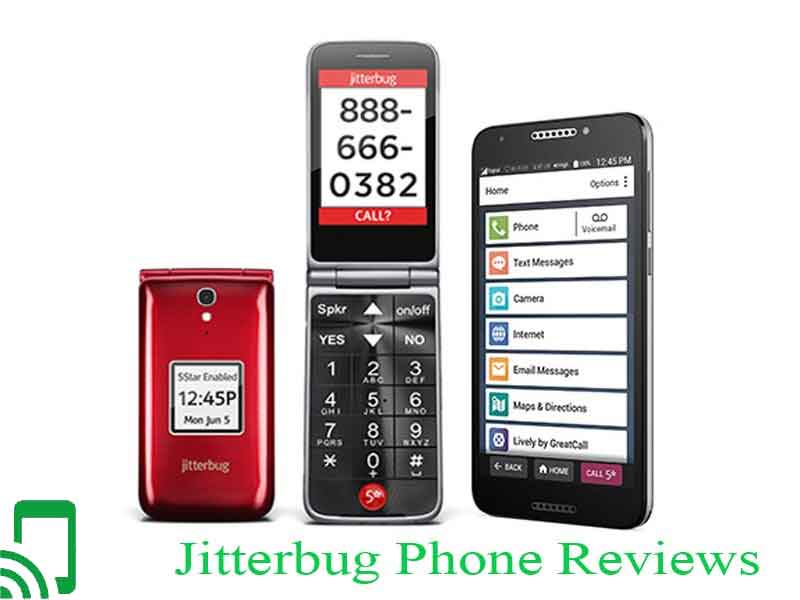 Jitterbug is a brand initiated by Great call INC.  Great call is acknowledged to offer the best services with regards to phones, and the fees are quite affordable. The jitterbug phones offered by Great Call are divided into two:
Jitterbug flip phone
Jitterbug smart 2
These phones are of high quality, and you get first-class customer care services from their 24/7 available agents. Below is a description of what each of the phones has to offer.
1. GreatCall Lively Flip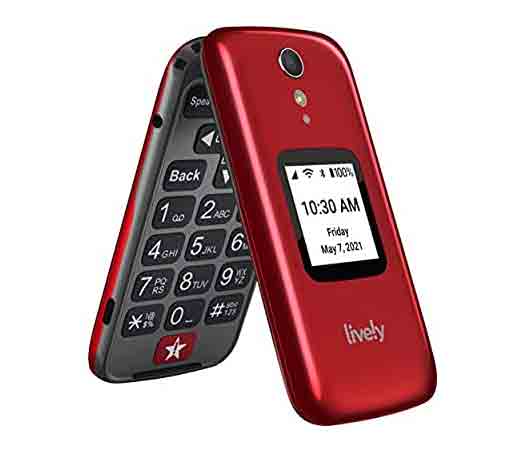 The Jitterbug flip phone can be ranked as one of the best flip phones offered in the US. It is also the cheapest in the market since you pay $99.99 for the phone and $25 for activation fees. Jitterbug flip has cool features with regards to body design, display, and other physical features.
The phone measures 4 by 2 by 0.7 inches and only weighs 4.7 ounces. The screen at the front is the 1.44-inch size with a resolution of 128X128 pixel display. This display is quite bright and shows time, date, whether the five start button is active or not and also incoming calls and messages.  At the side of the device is a volume rocker and below at the bottom is a 3.55 mm jack with micro USB port for charging
. The body is built out of plastic, and so is the frame of the phone.  If you peel the back of the phone, you get access to a removable battery and the Sim card slot. This phone cannot accumulate a lot of videos, pictures since the RAM will not function properly.
Once you flip the phone, you are welcomed by a 3.2-inch screen with a resolution of 480X320 pixels.  The display is very bright, and you can easily read texts and messages. Below the display is a backlit keypad with large buttons.  The phone uses a Qualcomm Snapdragon 210 processor which is unique for a flip phone. The device has a 2MP camera which takes reasonable pictures that are well-detailed.
It also has a simple operating system with menu options which do not require complicated set-ups. This phone has Voice call over and Teletype writer making one of the best telephones for hearing impaired seniors.This flip phone can also act as the jitterbug phone for kids whose parents do not want them to be so much addicted to smart phones. It will also help them in times of emergency through the five star button.
What does the five-star button do?
At the bottom of the keypad is a huge five-star button which serves as an emergency button. Once you press it, you will be automatically connected to an IAED Certified Agent. This is an agent who will help you in case you are in an emergency.  The IAED service agent will be able to do the following tasks for free:
Call 911 and do a follow-up on behalf of you.
They offer multilingual support-These agent can translate up to and over 100 languages
The agents provide non-emergency assistance whereby they can contact anyone on your phonebook if you need help from them individually.
Since Jitterbug uses Verizon wireless transmitters, you will get a nationwide coverage if you call the IAED agents
Jitterbug flip phone plans in detail
The phone plans are quite affordable since the phone is designated to seniors.You do not get any unlimited hotspot plans since the device does not have such capabilities.  The plan has quite complex features which include 600 minutes, texts, and health care services.
If you take 600 minutes and the health care services, you only pay $30 per month. Also if you wish to opt6 for insurance, you are likely to pay $45 per month. As mentioned earlier, the jitterbug flip uses Verizon's old CDMA system, but with time, they may plan to introduce support calls in HD quality over their LTE bands AARP cell phone discount Verizon.
2. Jitterbug Smart2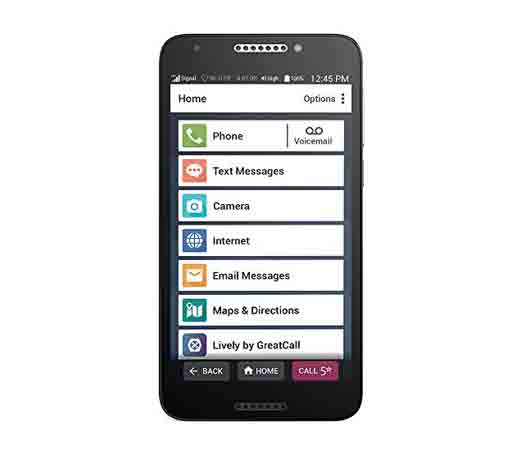 The Jitterbug Smart 2 is a smartphone and has some advanced features compared to the jitterbug flip phone. The device comes at a very affordable cost of $149.99 as the up-front cost. The phone also has a large 5.5-inch screen with a good resolution.
The phone has voice typing capabilities since the front-facing speaker has superb sound quality. It has a long-lasting battery life which can last for about 15 hours. It has a 13 Mega Pixel camera with flash, and the selfie camera is 5 MP. However, if you take photos in the dark, they will not be of good quality.
The phone runs on Verizon's network. The connectivity is very efficient; however; you are limited to 3G networks. With time, the company may design phones to suite 4G connectivity hence getting faster uploads and download speeds.
As for storage, the user enjoys 16GB of internal storage, and with this, you can store videos, photos, and music. With the 2 GB RAM, you can perform tasks like opening apps, gaming, and other related services very efficiently.
Jitterbug Smart2 phone plans in details
The phone plans are not that different from Verizon phones plans. However, with Jitterbug, you will pay a lesser amount. At $24 per month, you get unlimited access to medical emergency responders over the phone, and family members can monitor your location with their other smartphones.
At $34.99 per month, you can have a human operator when you dial 0 who will be able to assist you in navigating through the phone. If you add any of the medical or human operator assistance to your plan, you will only pay $40 per month on top which is somehow similar to the Boost customer prepaid plan.
Between the Jitterbug flip and Jitterbug smart 2, which is better?
Jitterbug flip and smart2 are different in terms of specs. However, if you are more of an old school person, then the jitterbug flip phone is the best for you. It also serves as a good device for hearing impaired and visually impaired persons. This is because of the big buttons and the loudspeakers available.
However, it is not the best device to access the internet. The phone uses Verizon's CDMA network technology, which is not very efficient. So in general, if you want a simple phone with large buttons, bright display then the flip phone is the best for you.
As for the smart2, it is best for those who want to have access to the internet and enjoy the digital world in general. The phone has a bright display and a very friendly user interface. You also get the 5-Star button for emergencies making it very reliable. So both phones are good; however, you only have to choose a device that will match your specifications and cost.
What are the factors to consider before buying a jitterbug phone?
According to many jitterbug phone reviews, people purchase a jitterbug phone without considering the specs they want. Due to this, I have sought some of the factors you should consider before getting any jitterbug phone
Health condition
In a health condition, I will focus more on visual and hearing impairment. For other health conditions, both jitterbug phones got you covered with the 5Star buttons for creating efficiency. For hearing impaired persons, the Jitterbug smart2 may not be the best for you since the sound system is very low.
The speakerphone's voice call is lesser by 8db compared to devices like the iPhone XR. As for the Jitterbug flip phone, you get a high-quality sound system due to the large earpiece. For visually impaired seniors, both phones are reasonable; however, for extreme cases; the flip phone is the best since it has a keypad.
Your budget
If you are on a low budget, then the best option to go for is the jitterbug flip phone. However, both phones are cheap compared to any other devices in the market. If you want to get a smartphone, you can opt for the Smart2.
Also, the monthly plans are somehow similar, and the difference is with the talk, text, and data plans. For smart2, it is more expensive since the device is a smartphone hence supports data usage efficiently compared to the jitterbug flip phone.
Performance
Performance is different on both phones. The smartphone has to be given thumbs up. However, the flip phone uses a Qualcomm processor; hence, you will still get fast performance with it. The only difference with performance is that jitterbug flip phone has a lesser memory compared to the smart 2.
Durability
Durability will depend on how you take care of your phone. Both phones can last for decades if you maintain them appropriately. For the smart2, you can buy a phone case to protect the screen from crashing when it falls. Flip phones tend to break at the hinges; however; the jitterbug flip phone assures you of durability.
Where can you buy a jitterbug phone?
First, jitterbug phones can be accessed in any state across the US. This means that there are many retail stores whereby you can get phones at very affordable prices. The first option to buy a jitterbug phone is from a Great Call Inc. shop. These shops are found in every state across the country.
The second and what most people prefer is to buy the device from Amazon. Amazon is one of the biggest online shops across the Globe, and they offer a lot of products ranging from phones, laptop, and many more.
The Jitterbug phones can be purchased there at very affordable prices, and even at a specific time of the year, there are discounts. Once you buy the device from Amazon, it will take around two to three days for it to be mailed at your address.
The other option is at a Wall-Mart store. Wall-Mart stores are some of the largest and well-established chain stores in the US. Jitterbug phones sold here are of high quality and brand new. Lastly, since Jitterbug phones use Verizon networks, you can get the phone from Verizon shops. They will also help you in setting up the device.
Can you get financing for a Jitterbug phone?
Many brands like furniture stores that finance people with bad credit will give you a product that you will pay in installments. However, for jitterbug phones, it is a totally different situation. Great Call Inc. does not offer any financing services to its potential customers.
However, this should not limit you from getting the jitterbug phone. As mentioned earlier, jitterbug phones are available in many stores across the US. You can wait for the peak season where discounts are available and get the phone at an affordable price. Also, the jitterbug phone costs range between $99 and $144; hence, that is not a huge asset which requires financing.
How can you replace a jitterbug lost phone?
There are many cases in which people's phones are lost or stolen. In this case, there are some steps taken for the phone to be retrieved or in worse cases, you can go and replace it with another device. If you think you have lost your phone around your home or office, do not feel traumatized.
You can start by telling a friend to call the phone, and you will know where it is ringing from. In other cases, you may have dropped your phone off the subway, or you got robbed, so which is the best option to go for? First, you have to contact the customer care to suspend your service and also inform them that the device is lost.
Secondly, ensure to change all your passwords which you have saved to the phone even if you think the phone cannot be unlocked. Once that is done, you can call the customer care who will try to track your device.
What will you do if your phone cannot be tracked? If the phone is untraceable, then what will help you is whether your device was insured or not. If the phone was insured, you would pay less money. This happens if you have homeowners or renters insurance.
They will weigh the deductible of that insurance against your mobile's provider insurance. After that, you will decide on which company you want to file the loss with. You can then file your claim form and begin the replacement process.
It is straightforward and can take a day or two depending on the policies offered to you by Great Call. Also, if you are not sure that your phone is not covered, consult your homeowners or renters insurance policy and start the replacement process.
Are the Jitterbug phones offered as free government phone?
Both the flip phone and Jitterbug smart2 are not offered as free government phones. This is because GreatCall Inc. is not authorized by the Federal Government to offer free government phones. However, there are several companies which are part of the lifeline program, and they will help you in getting a free phone easily.
The good thing with these companies is that they will offer a free smartphone and not any old branded devices. Below are some of the companies:
EnTouch Wireless
Qlink wireless
For you to receive the free government phone, there is an eligibility criterion which the company will guide you about. Once the process is complete, your free government phone will be shipped to your home, or you can collect it at the providers' retail store.
How reliable is the customer care services under Jitterbug phones?
The customer care services are offered by GreatCall since the phone was incepted out of it. Also, many people who use the jitterbug phones are seniors. Due to this, GreatCall has done a lot of work to make sure that their customer care agents respond as fast as possible for any assistance.
According to several reviews, people have testified that their services are of high standards compared to other networks they have used.  Some of the services offered by customer care entail the following:
Suspend your services
Inquire for your number in case you forgot
Help in registration for a Jitterbug phone
Any other inquiries related to Jitterbug.
So in an overview, the customer service agents are very fast to respond, and that should not worry you. You should also note that the customer service contact center is totally different from the IAED agents contact sector. As mentioned earlier, these agents will help you in times of emergency and nothing more, not on issues regarding your device.
Can you keep your old phone number when you switch to jitterbug?
Yes. In most cases, this is what people do. If you don't want to go through the hustle of memorizing a new phone number, you should maintain the phone number you have been using. The federal Communications commission passed a mandate whereby all carriers can allow local number portability.
However, some carriers will charge a small service fee to cover costs related to maintaining the old number. Some may even require you to pay early cancellation fees if the contract with your existing carrier has not expired. However, you should inquire with your service provider so that they can assist you efficiently.
Do the jitterbug phones offer fast battery charging features?
Jitterbug phones are not flagship devices like the iPhone XR and other related phones. Also, the jitterbug flip phone uses a micro USB port for charging so the charging feature might be very slow.
However, when we come to the smart2, the device uses a normal USB port Type-B. So, if you want your device to charge faster, you can purchase a powerful power brick which will aid you in fast charging.
What are some of the features which people do not like about jitterbug phones?
For every mobile phone or other products, there are certain things that consumers do not like, and as for Jitterbug, it is no exception. For the Smart2, people do not like the device due to the audio system. The audio is quite low; hence hearing impaired people will not find it useful. As for the Jitterbug flip, you do not get HD quality voice calls.
However, this is caused by network technology being used. With time, the latest models will have the latest voice call features. Lastly, if there is something you do not like about Jitterbug phones, then you should contact them and tell them to upgrade the features. You can also post your grievances on Jitterbug's official website for assistance.
Are there any Jitterbug phone upgrades?
Currently, there are no upgrades for the jitterbug phones in the market. However, GreatCall plans to introduce new features to suit modern people. These features include 4G capabilities, improved audio quality, and they may also introduce unlimited mobile hotspot plans. The upgrades may be similar to the Qlink wireless phone upgrade and this will be a splendid deal for jitterbug lovers.
Bottom line
Jitterbug phones are ranked as the best phones for seniors. They have very cool features, and from this review, I hope that you have been able to understand what Jitterbug phones are all about. Also before getting any Jitterbug phone from a retail store or online store, ask for a warranty and most warranties last for about two years. This will help you not spend a lot of money on doing repairs for your device.