The T-Mobile Free Phone Upgrade- A Complete Guide
Every smartphone user wants to have the latest, cutting-edge devices with tremendous storage, 5G ready network, great connectivity, and amazing displays. In America today, smartphones are the devices that people are least likely to leave the house without and the most bought group of electronics with billions being bought every year; most of them being upgrades. Smartphone upgrades are released just as soon as you leave the store with your 'latest' device and they do not come cheap. Loyal customers often have to wait for months with their eye on a specific model upgrade. T-Mobile free phone upgrades are a great way to own the latest phones without breaking your bank each time.
When we think of leasing, what immediately comes to mind is vehicles. But leasing mobile phones has become an increasingly popular practice and this can be done with a carrier like T-Mobile or from a phone manufacturer; the most common being the Apple upgrade program. To lease a phone from a carrier, you will usually need to enter a contract with the carrier and pay monthly installments that will vary depending on the phone model that you upgrade to and your financial credibility. You will also most likely need to make an upfront payment to reduce the overall cost. T-Mobile phone deals for existing customers offer some amazing early upgrade options.
T-Mobile's answer to the upgrade problem is JUMP! (Just Upgrade My Phone) and JUMP! On Demand. These are early upgrade programs in which you can upgrade your device as often every 30 days by making monthly payments. They make the deal even better by allowing you to walk away with your T-Mobile compatible phone after your lease is up by paying the remaining amount.
How to upgrade your phone with T-Mobile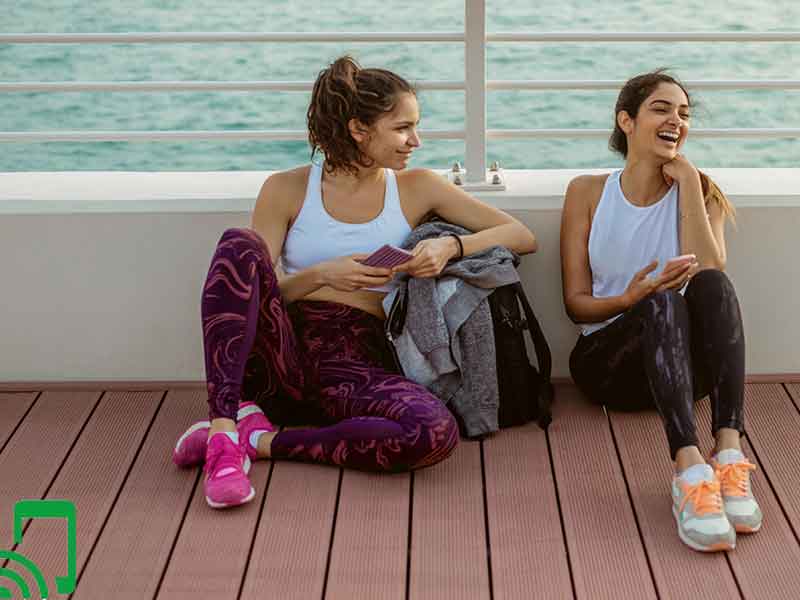 Here is a comprehensive breakdown of the two upgrade programs offered by T-Mobile that you can choose from.
1) JUMP!
Jump is T-Mobile's standard program that allows you to upgrade your device once you finish paying off at least 50% of the cost of your current device. Any T-Mobile customer on a postpaid plan can get on this upgrade program as long as they are eligible. You will need to pay an upfront down payment based on the phone model you are buying and your financial eligibility.
You will need to pay monthly installments of $7 to $15 for protection 360 to get on the JUMP program depending on your device model. On the protection 360 program, you will also receive extra features that are specific to it, including but not limited to: unlimited cracked screen replacements, extra security features like McAfee Security and ID protection, and the standard cell phone protection features. You can then upgrade to a new device however often you want as long as you have already paid off 50%.
Eligibility requirements for JUMP! are being a postpaid customer who buys their phone on a monthly installment plan or is enrolled in protection 360. You will also need to enroll within 30 days of buying a new cell phone with T-Mobile.
2) Jump! On Demand
This version of T-Mobile's upgrade program allows you to upgrade to a new device every 30 days. It is a great program for adventurous buyers who want the newest and latest android or apple devices without having to pay the full retail price.
To get on the Jump! On Demand program, you will need to lease a new cell phone for 18 months without any upfront payments. The monthly installments here will be higher than those from the JUMP! program. You will also need to trade-in your device every time you want to upgrade to a newer model.
At the end of the 8-month lease, you can pay off the rest of your phone and walk away or you can trade your current device in and start the JOD process all over again. JUMP! On Demand is only available to postpaid customers.
What are the Pros and Cons of early upgrade programs?
Pros
i) The latest devices
Early upgrade programs are a great way to own the latest and most cutting-edge devices without paying for their retail price. You can now enjoy enhanced features that are coming out with every new upgrade
ii) Installments
Getting into an upgrade program can be a great option for you if you don't have the money to pay upfront for a new device, or if you just don't want to get stuck with a depreciating asset. You will pay only for what you use and at the end of the agreement, you can pay the remaining amount o the phone and walk away. The monthly installments you make also go into paying for the phone.
Cons
i) Contracts
Getting into a lease agreement with a mobile carrier typically means that you are entering a contract with them and you are more likely than not to be on the losing side if you terminate it early. If you don't want to enter a contract with a network carrier, then this may not be the plan for you as you cannot get a trade-in T-Mobile phone without contract.
Why choose T-Mobile?
Here are some of the reasons why getting on the T-Mobile network may be the best choice for you.
i) Coverage
T-Mobile is ranked third in overall coverage in the United States with about 62% national coverage. This makes the chances of you getting coverage in your area pretty high. You will need to check T-Mobile's coverage map though and confirm with their customer representatives on whether you have coverage in your area.
ii) Unlimited plans
T-Mobile phones and plans are some of the best unlimited plans that offer all-in talk, text, and data at an affordable price. They also include international travel offers with their plans. Their Magenta plans offer great international calling options and in-flight Wi-Fi privileges.
iii) MVNOs
If you want to get T-Mobile's service but cannot afford their prices, hopping onto one of their MVNOs is a great idea for you. MVNOs lease network from major carriers and use their infrastructure making their services much cheaper since they don't have maintenance costs.
iv) JUMP!
The early upgrade programs offered by T-Mobile are a great reason to choose this carrier. If you want to always have the newest and latest gadgets without paying the full retail price, the JUMP! and JUMP! On Demand, programs may just be what you are looking for.
v) BYOP
The Bring Your Own Device program under T-Mobile ensures that you can now switch to their network and keep using your phone. All you need to do is check if your phone is compatible with their network using the phone's IMEI number on their website and make sure that your device is unlocked. You can also use a universal phone which will ensure compatibility.
T-Mobile Lifeline Program
T-Mobile is a participant of the Federal Government's Lifeline program and offers discounts and some of the best free government smartphones for low-income customers and households. You can now receive discounts of up to $9.25 per month Here is a comprehensive guide on how to get enrolled in T-Mobile's Lifeline program.
Step 1: Check eligibility
You can qualify to be enrolled in Lifeline through either one of two ways. First, if your average household income is at or below 135% of the Federal Poverty Guidelines. And second, if you are a participant in the government's assistance programs including but not limited to:
Federal Public Housing Assistance
Bureau of Indian Affairs General Assistance
Medicaid
Supplemental Security Income
SNAP or Food Stamps
You will also need to provide official documents that show proof of income such as paycheck stubs.
Step 2: Coverage
T-Mobile currently provides lifeline services in nine states and Puerto Rico. These nine states are Kentucky, Mississippi, Pennsylvania, Florida, Minnesota, New Mexico, Washington, Texas, and Virginia. Make sure that you are in either one of these states if you want to apply for Lifeline through T-Mobile. And if you are looking for where to buy T-Mobile phones, they also thousands of shops throughout the country.
Step 3: The Application
Texas residents can make the application through the Texas Low Income Discount administrator through the online enrollment form or by calling their offices. Residents of the other eight states can apply directly through the national verifier and wait to receive an eligibility notification, after which you can print, fill, and submit the T-Mobile enrollment form.
Step 4: Wait for a notice
If your application is successful, you will most likely receive notice on the state of your application within around 10 days. If unfortunately, your application is unsuccessful, you will also be informed.
It is important to note, however that Lifeline is provided for only one line per household and is not transferable to anyone. Make sure you fill in the application form with absolute honesty to prevent being de-enrolled from the program.
Final Thoughts
According to Gallup, only 2% of smartphone users will upgrade their devices when a new model is released which is usually about every year while 54% upgrade after it stops working. Signing up for an early upgrade plan is the easiest and most convenient way to get the most out of your smartphone without being stuck with an obsolete model.