The Best 7 Senior Citizen Cellphone Plans Free
In the current generation, the evolution of phones has indeed made a significant milestone in the tech world. This ranges from the house phones to the current sophisticated smartphones in the market today. The various mobile carriers established today offer the best senior citizen phone plans free.
Various mobile carriers have done their best to offer pocket-friendly mobile plans to senior citizens. It is in consideration that many be retired or on a fixed monthly cost; thus, many may not consider getting a mobile phone. In some mobile carriers, you can choose the options provided to create a plan that suits your lifestyle. The Lifeline program initiated by the Government has helped the seniors to get great discounts on their mobile plans; thus, many save to sustain their family needs.
The hustle of going to various stores to get a good cell phone has reduced. Since the mobile carriers have a user-friendly website; thus, you can get the device you want. Also, you can pay for the device in monthly instalments. For travelers, you can get the best mobile plan that suits you, and there is no need to worry about network coverage or extra fee on data roaming. In this article, you will get the guidelines on how to get free government phones, the best mobile carriers with pocket -friendly mobile plans.
At what age can a senior get a free plan?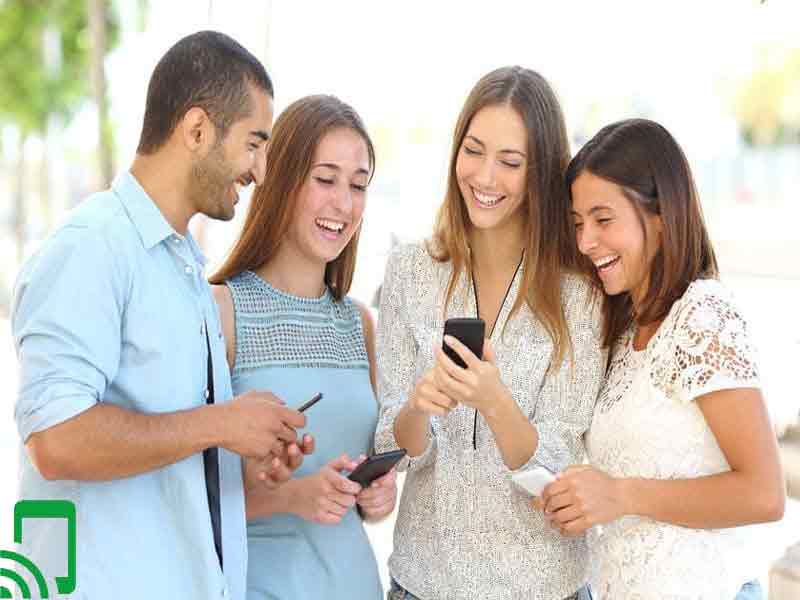 There are no precise details as to whether there are free phones for seniors. Currently, free government phone providers do not offer specific or senior-meant plans. They only offer cell phones and plans for free to eligible citizens.
However, the good thing is that all the free plans offered do not limit anyone; whether old or young, as long as you are above 18 years, you qualify for a free cell phone and a plan. There are some processes that you have to go through before qualifying, and I will talk briefly about them later on in the article.
However, if you want a senior-only plan, most service providers will give it to you if you are at 55 years and above. There are companies like AT&T that offer their plans to seniors starting at 65 and above ages. The good thing is that the plans are very affordable.
If you are in a membership like ASARP, a discount is offered. However, if you opt for a free government phone and you have AARP membership, you will not get a discount on free cell phones and plans. The companies that offer free cell phones and plans absolutely for free include the following;
Qlink wireless
SafeLink wireless
AT&T mobile
Access wireless
Assurance wireless
You can visit their retail stores or websites to learn more about their offers. However, it would be great if cell phone plans only for seniors would be introduced by several carriers and the Government in association with the Federal Communications Commission.
What phones are available for seniors?
There are several phones which can be used by seniors. However, this would greatly depend on their health condition like hearing problems; hence, you can get them clarity phones for hearing impaired or visual problems. You need to ensure that the senior is able to use the phone with a lot of ease and never have to strain at any costs.
The good thing is that there are phones that will help in such a condition. There are seniors who also prefer old flip phones compared to the latest gadgets in the market. So once you identify what phone you want as a senior, you will never have to stress buying a phone or looking for one.
The best unlocked cell phone deals bring you an extensive number of modern phones which you can choose from. This will apply to seniors at the age of 55 and below since they are more digitalized compared to the old ones; however, there are no limitations. You can get smartphones from the following companies;
You can buy the phones at affordable prices in a retail store near you like Walmart or online platforms like Amazon, BestBuy, and many more. Check out their website to learn more about how you can get a smartphone.
There are also phones designated to seniors with impairment. Such phones have a loud sound system, and you also get a friendly user interface to work with. The phones include the following;
Hamilton CapTel
Panasonic amplified phone
Doro phone
Panasonic Amplified cordless phone etc.
If you have hearing problems, ensure to consult your doctor before choosing a phone for hearing impaired. This will help you know the level of your hearing problem and know the right decibels that will work perfectly for your ears. The best place to buy phones is from Amazon.
Can AARP members get free phones and plans?
As I mentioned earlier, if you are an AARP member, you will not get any discount from a Government phone provider. Discounts on phones, accessories, and plans are offered to AARP members via several platforms like AARP cell phone plans for seniors and many more.
Not only does Consumer cellular offer discounts but also other major service providers like AT&T, Verizon Wireless, T-Mobile, and many more. The percentage discount on phones and plans ranges from carrier to carrier; however, it will never go below 5%. You can check out the carrier of your choice website to learn more.
Do seniors get special customer service by mobile providers for free?
Currently, all customer care services are not placing age as a determinant to respond to their clients. However, there are several companies that have invested fully in seniors to ensure that they get the best services. One of them is GreatCall and their Jitterbug phones.
The phones have a 5-Star button that enables you to get personalised customer care services aside from your normal related carrier problems. These customer care agents will help you with things like calling 911, help with finding away if you are lost, and many more. However, in general, there are no free or specialised services offered to seniors by most service providers.
What are the conditions to get a free phone for seniors from the Government?
Seniors may find a cell phone to be quite a necessity to keep in touch with the family members and, most importantly, emergencies. One can get a free phone as you can apply for and receive a free cell phone with an open monthly plan.
To get the device, you need to meet the Lifeline program requirements. If you have received assistance from the Federal Government or your salary is less than or equal to 135% of the federal poverty guidelines, then you are eligible for the program. Also, one is suitable if one participate in one of the following programs:
Bureau of Indian Affairs General Assistance
Nationals School Lunch Program's Families (TANF)
Supplemental Security Income(SSI)
Medicaid
Supplemental Nutrition Assistance Program (Food Stamps or SNAP)
There are other programs you can check it out here.
The seven best senior citizens phone plans free
1. QLink Wireless
QLink Wireless is a well-established company in the US that offers quality services to its existing customers. The company has excellent mobile plans and phone deals. You can upgrade your Qlink phone to and enjoy the services offered, provided your device meets the company's requirements.
A senior is eligible for the Lifeline program if he/she participates in one of the programs. It is Medicaid, Supplemental Security Income (SSI), Veteran's Pension and Survivors Pension Program, or Section 8. The service is limited to one account per household. Once you qualify for the program, you get 1GB data; 1000 minutes talk time and unlimited text.
Also, you get nationwide calling, Caller ID, free domestic roaming, test, and picture messaging, 411- Directory assistance, and free 911. Though the QLink Wireless program has great offers in store for seniors, the Lifeline program eligibility varies by State.
ADVANTAGES
Reliable customer care services
Buying add-ons are cheaper
The freephone has high-quality features like long-lasting battery and many more
The application process does not take a long time
The plans are very flexible
DISADVANTAGES
Plans are not constant and vary by State
2. Visible Mobile- Best for unlimited data
Visible Mobile is among the best mobile service providers in the US that offer excellent services for its customers. The company is a Verizon-owned company that offers one unlimited plan for its customers and great phone deals at their store.
For just $40 per month, you get unlimited high-speed data, messages, and talk time. The plan comes with the taxes, and the fees already calculated in the amount paid. Also, you get to share unlimited Mobile Hotspot data. The plans come with no annual contracts.
Thus you can break from the plan anytime. One gets customer care service from their head office, or one buys the plans at their websites. Therefore, seniors have no stress of the long ques in the stores. The Visible Mobile allows one to bring his/her phone provided it meets the requirements.
Once subscribed to the offer, the network service at times is deprioritized compared to Verizon customers and also one experience music and video streaming throttling.
ADVANTAGES
You get unlimited data
The plan is very affordable
There is a dedicated customer care service
The phones offered for compatibility are in a wide range
DISADVANTAGES
Not convenient for a senior who uses flip phones
 3. Sprint Mobile
Sprint Mobile is among the top mobile service providers in the US. The service provider has excellent network coverage across the State. Sprint is well known for its great mobile plans and phone deals. The company has pocket-friendly mobile plans; thus, you can save up money.
Sprint has the best cell phone plans for seniors. Currently, the company has two mobile plans for seniors; Unlimited 55+ and Unlimited Military. The Unlimited 55+ is an exclusive offer for the seniors age 55 and above. The plan comes with unlimited text, talk time, and data.
Also, you can stream videos at DVD- quality and unlimited mobile hotspot. The Unlimited Military plan you save 50% off family lines. It offers in favor of Veterans and those on active duty in the military. Though they reliable network coverage across the states, Sprint Mobile coverage is non-reliable in rural areas.
ADVANTAGES
Reliable network coverage
You can buy a phone and pay in installments
The phones offered are of high qualities
The plans are very flexible
DISADVANTAGES
Not many phones are compatible with their network
4. Great Call
Great Call is well-known for the cheap cell phone plans for seniors in the US. The service providers have various plans in store for its existing customers. Also, you have come across their advertisements in the Jitterbug verizon phones for seniors. The company offers 500 text messages at $3,250 talk time at $14.99, and 100MB at $2.49.
At Great Call, you can combine the offers given to suit your daily needs; therefore, you can save money monthly. Also, you can get unlimited text and minutes for $30 per month. Once subscribed to the offers, you pay a one-time fee of $99 to set up your device.
The Jitterbug phones have exclusive features such as the 5-star Emergency button and 24/7 access to certified nurses and doctors. Though the unique plans offered, you cannot bring your phone to enjoy the services provided.
ADVANTAGES
You get specialized customer care
The phones are of high quality
Cell phone plans are affordable
You get customized
DISADVANTAGES
Only two phones are offered
5. Verizon Wireless
Verizon Wireless is among the top five service providers in the US. The company has excellent network coverage across the states; thus, one can enjoy the services without any inconveniences. The service provider has unique verizon flip phones for seniors.
The company has not left out the seniors as it has the Lifeline program in store. Provided you meet the Lifeline discount program at Verizon, you can save at least $9.25 on the plans you have subscribed to. The offer is given only once per household; thus, if you violate the terms, the contract shall be terminated.
If you subscribe to the verizon wireless free government phone, which is $25, you will pay $15.75, and the Home Phone Connect plan at $19.99, you spend $10.74. Though the great discount offers to its customers, this Lifeline program is limited to four states in the US.
ADVANTAGES
There is nationwide coverage
Plans are affordable
No contracts
No hidden fees
DISADVANTAGES
Phones are limited on compatibility
6. T-Mobile plan Magenta for seniors
T-Mobile is a well-established company as it's among the top mobile carriers in the US. The mobile carrier has excellent customer service, pocket-friendly mobile plans, and great T-Mobile cellphone deals. The company has a unique plan for the seniors; Magenta and Magenta Plus.
The plan comes with unlimited talk, text, and data. The plan goes at $40 per month with taxes and fees included, therefore easier budgeting. The plan also comes with SD streaming, Netflix subscription, and 3GB of 4GB LTE mobile hotspot data.
At T-Mobile, you can get these plans for four lines; thus, this plan can cater to all the seniors in the family. The Magenta Plus plan has exclusive features such as unlimited everything, 20GB of mobile hotspot data, and HD streaming. The mobile carrier has a vast network, but you will experience some connections issues in rural areas.
ADVANTAGES
Plans are flexible
Phones are of high quality
There are no contracts
No hidden fees or extra taxes
DISADVANTAGES
Plan Magenta is not considered cheap
7. Consumer Cellular
To finish off our list today is Consumer Cellular. The mobile carrier has excellent network coverage in the US and is among the best service providers. The company topped in the Consumer Report wireless survey in customer service above the Big four cell phone carriers.
The company offers flexible and pocket-friendly plans and Consumer Cellular phones for seniors to its existing customers. Consumer Cellular has talk time provides as low as $15 for 250 minutes and $5 for 250MB. The mobile carriers have others that a senior can combine to meet his/her needs and avoid additional charges.
The service provider also offers a 30-day money-back guarantee if you aren't satisfied with the services provided. The mobile plans offered, if surpassed, will be automatically upgraded with no extra fee. If an AARP member, you get a 5% discount on the mobile plans provided. If you opt for an unlimited plan at Consumer cellular, you will be disappointed as they don't offer.
ADVANTAGES
Plans are very affordable
You can bring your own phone
No hidden costs or charges
Nationwide network coverage is offered
DISADVANTAGES
No unlimited data plan is offered
Bottom Line
In the current generation, a cell phone has become a necessity for one's lifestyle. Due to the cellphone, one can keep in touch anytime and anywhere, unlike the house phones and computers. The various plans offered are pocket-friendly and get a free government phone.
It has enabled many seniors to get a cell phone even though their monthly costs may be tight. Through this, one can keep in touch and also call in case of any emergencies. You can also adjust your plan to suit your data, text, and talk time consumption. Save money by exploiting the mobile plans offered.