How To Make Free International Calls To Landline in 2022
While you have two regular options to call someone internationally – mobile and landline – often these calls cost a great deal. The alternative is using free VOIP (voice over internet protocol) apps to make free calls to your receiver's mobile phone or PC.
Sometimes though, the only option you have is to call a landline number (for businesses, for hospitals or simply when mobile networks in your call receiver's country/city are unreliable).
Are you tired of expensive phone calls to loved ones overseas? Do you wish there was a cheaper way to stay in touch? Well, there is! today we're going to show you how to make free international calls to landlines using your mobile phone.
Stay connected with family and friends without breaking the bank. All you need is an internet connection and a phone app or website that supports this type of call.
Let's look at 7 websites and apps that allow you to make free international calls to landline – easily and efficiently!
Voxofon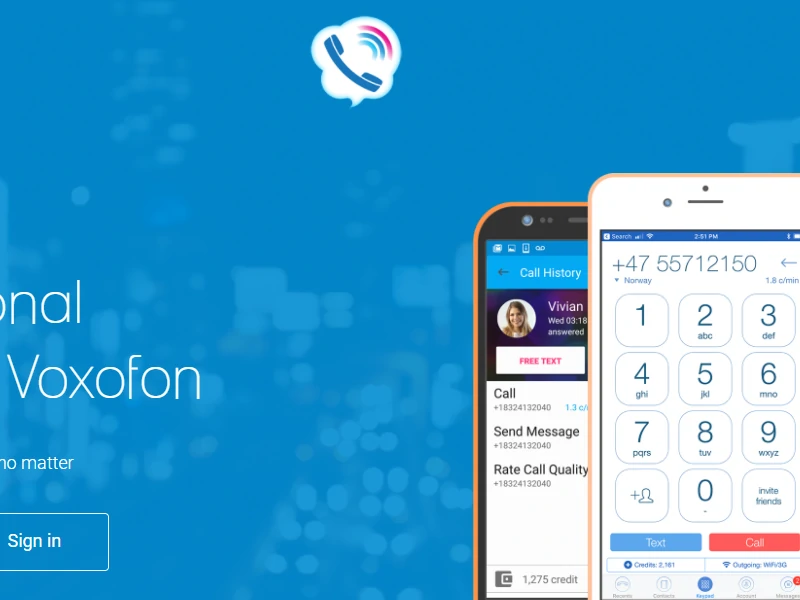 For those looking to call their loved ones at home without paying international rates, Voxofon is an excellent app. It works by giving you a new number in your destination country and allows easy communication between friends or family no matter where they live!
Voxofon prides itself as being one of the pioneers of free international calls, just after the first iPhone was introduced and other companies jumped on the smartphone wagon.
It has monthly plans for unlimited voice and video calls – both landline and mobile – and international business calls. 
You can download the app from both the Google Play Store and the Apple Store, sign up and get started calling in no time. 
Calls to the U.S (landline/mobile) are charged at 1.3 ¢/min, while a call to a U.K landline costs 1.0 ¢/min, and mobile 1.9 ¢/min. Please see Voxofon Rates for comprehensive call rates information.
To download the Voxofon app from the Google Playstore, please see Voxofon App or type 'Voxofon' into the Playstore search and click on the first app 'Free Calls, Messages & International Calling' to download.
For iOs: Voxofon International Calling
All you need is a decent internet connection and Voxofon will connect you to anyone, anytime, anywhere.
LINE
LINE is an app that offers free international calls to landlines; although unlike other apps which may offer 'just' international calls, LINE offers dozens of services apart from international calling; being a social media app, a payment gateway and lots more besides; LINE can be used in different ways – including being able use it as your regular phone number if needed!
With LINE, you can call up to five minutes for free, anywhere in the U.S.
For the United Kingdom, Canada, India and Mexico, you can make free landline and mobile calls – up to 3 minutes.
For free landline calls (up to 3 minutes to other countries), please refer to the table below

To check out a comprehensive list (paid) pricing plans, please see LINE Paid Calls
LINE is available for free on the iOS App Store, Google Play Store, and Amazon Appstore.
PopTox
PopTox is a website that lets you call landlines and mobiles in 141 countries at no charge – note that the number and duration of free calls is limited. The service works through VoIP (voice over internet protocol) technology, just like Skype.
PopTox has a simple and easy to use interface that puts emphasis on calling rather than fiddling around with options, settings and features.
If you want to make unlimited calls to landline numbers, you may have to get a monthly subscription plan. Check a basic overview below:

For detailed information on pricing, please see Poptax Pricing Plans
Rebtel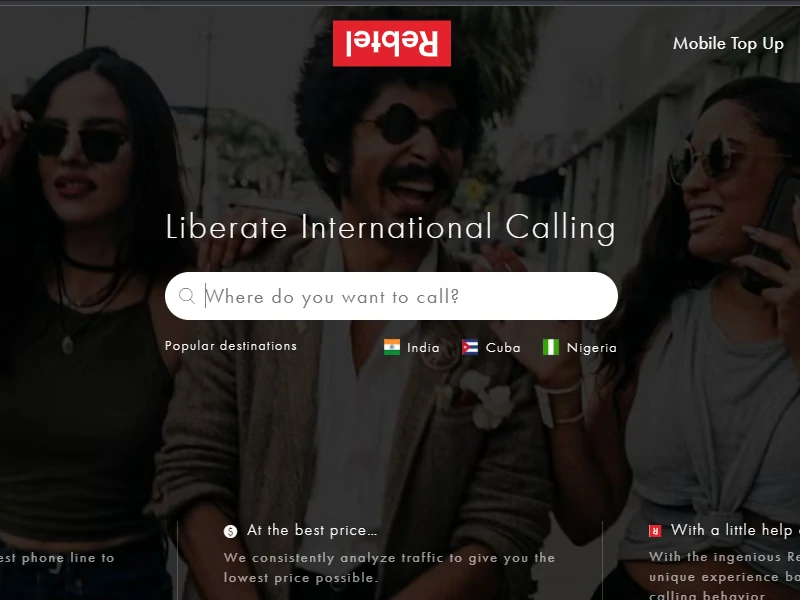 Rebtel is a great app that lets you make free international calls to landlines. It works by connecting your call to one of their servers, which then makes the call for you. The setup process is very simple and it's free to download.
Rebtel allows free calls on landlines within the U.S. For U.K, Australia and Europe monthly subscriptions are $10/month (while calling 50 countries) which is still super cheap compared to regular landline calling.
More information on Rebtel pricing plans can be found at www.rebtel.com
Call Happy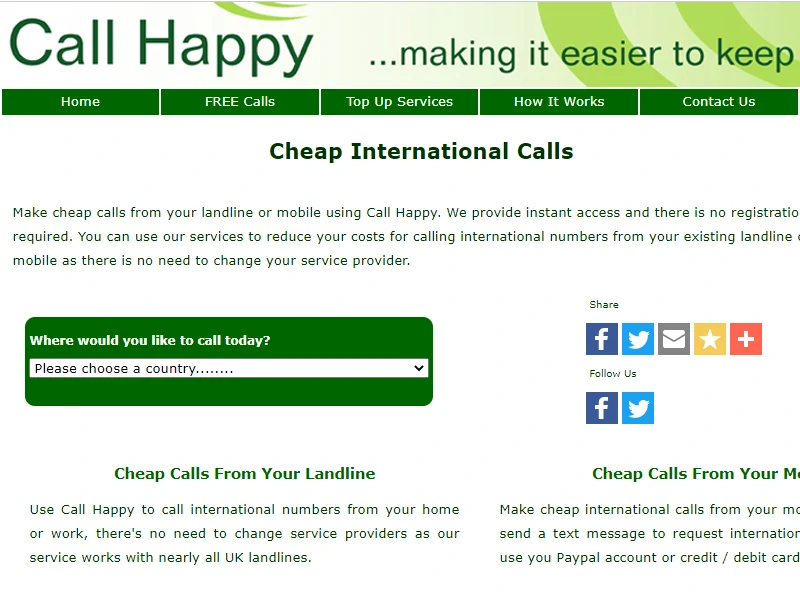 Call Happy is a website that allows you to make limited-duration free international calls to landlines without registration. Using VoIP technology Call Happy currently allows calls to 150 countries worldwide, which means that all your smartphone needs is an internet connection to be able to make calls.
To make a landline or mobile call, simply dial the 'access number' (0870 635 8808) from your mobile or landline, then after the prompt dial the full international landline or mobile number including country code.
Call Happy allows up to 59 minutes of a continuous free call and to be safe from any charges, please hang up and redial to continue talking.
To make international calls from Call Happy, please see Call Happy International Calls
Call +
Call + lets you make unlimited, free international landline calls to select countries (U.S, Mexico, China and Brazil (Brazilia, São Paulo, Rio de Janeiro and Belo Horizonte). If your main contacts are majorly based within these countries/cities only, then Call+ is a very straightforward choice for you.
Although if you'd like to call a mobile number within these countries or landlines within other countries, you'll have to subscribe to Call+ subscriptions, which are still way cheaper than regular landline calls.
iEvaphone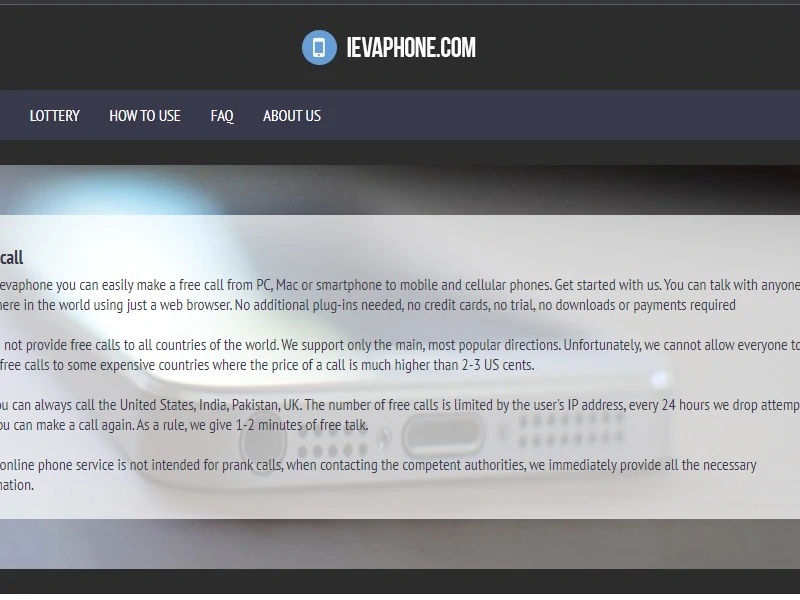 iEvaphone offers free calls to landlines but limits them up to 4 calls per a 24 hour period. The calling process is simple and straightforward with no registrations needed.
Available on the Apple Store and Google Play.
Is There An App For Free International Calls?
If you're not bounding yourself to call just landlines internationally, then you have more than a dozen options to make completely free VOIP calls over the internet. The only requirement is that both you and the receiver should have the same app installed to initiate a free international call.
5 Apps That Allow You To Make Free International Calls
WhatsApp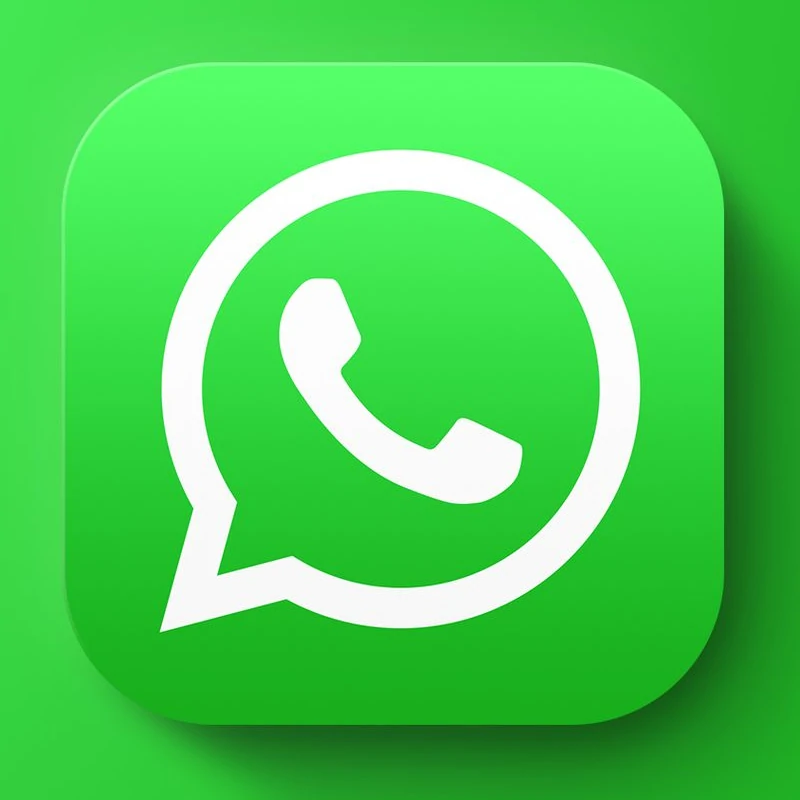 Founded by former Yahoo! employees and being famous for being 'the' app that enabled the shift from SMS to messaging through apps, WhatsApp was open to public use in 2009 (initially on iOS). By the following year, it had versions for Android, Blackberry and the Symbian OS.
WhatsApp ​was bought by Facebook in 2014 and continues to operate as a Facebook subsidiary. It allows unlimited free messages, video and voice calls internationally
Do note though that WhatsApp is banned in certain countries (including UAE and Qatar) and you will not be able to connect with your contacts in those countries through this app.
Facebook Messenger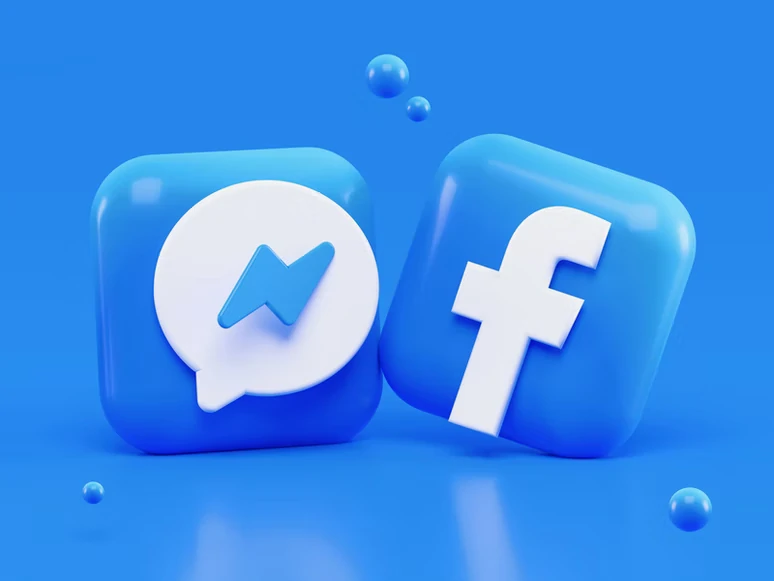 Part of the Facebook website, but also having its own separate app, Messenger allows the same functionality as WhatsApp.
Viber
Launched as a free VOIP calling service, Viber currently offers free international messaging as it's main (free) service and it has a subscription option for calls to mobile and landline phones named Viber Out.
IMO
Boasting 200 million users, making free international calls through IMO is a breeze. Although to be able to connect with your intended receiver for fast, free online calls, you both must have the app installed; IMO is a very convenient option that lets you make free voice and video calls plus it also has free, unlimited messages.
Skype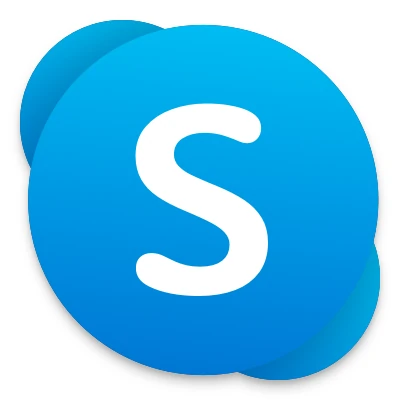 The 'original' and the most known app for free video calls. Skype supports one-to-one video calls, group video calls and chats for PC and mobile phones.
It also allows file transfer, messaging services and has a paid option for landline and mobile calls when not connected to the internet. To use from PC or mobile, both the caller and the receiver need to have Skype installed in their respective mobile/PCs.
How Do I Make Free International Calls
That depends on what sort of call you want to place (landline or mobile) and a few other factors.
Landline to Landline
A couple of options from those listed above allow you to make free, limited-time landline calls internationally: Call Happy, Rebtel and Call+
Mobile to Landline (and vice versa)
Free calls from mobile to landlines (and vice versa) require the download of an app or dialing an international landline number from a website (for landline to mobiles, you'll have to dial an 'access number first'). iEvaphone and Call Happy are two notable services in this regard.
Mobile to Mobile
There are dozens of options for free VOIP mobile to mobile calls; these are usually the easiest to find free options for. The most widely used VOIP mobile-to-mobile apps are Skype, WhatsApp, Facebook Messenger, Viber, IMO and the list goes on.
With all of these VOIP options, you can make both voice and video calls, easily and as many times as you want providing you have a good internet connection.
PC-to-PC
For PC-to-PC  international calling, you and your call partner will need to download the same app to communicate with each other over the internet on your PC's.