How to Setup a Multi Line Phone System?- Complete Guide
Multi-line phone systems have been in existence since the early 90s and there has been so much change in how it is being used in the 21 century. The Multi-line cell phone systems allow people to be in a call simultaneously and it is mostly used for small business. If you are into a small business or corporate and you don't have the multi-line phone system, you need to learn how to set up the multi-line phone system for efficient communication.
Multi-line phone systems have evolved since their inception. There have been changes in the call quality, efficient earpiece and mouthpiece to enable clear audio during communication. One of the huge changes is the shift from traditional to cloud multi line phone systems for small businesses which have seen a rise in the number of people using the services.
Interested in getting a multi-line phone system but don't know where to start? Well, then this article will give you all the information you need to know in order to get started. Read more to learn on the trends in multi-line phone systems and what are the options you can get for effective communication among different people in your business!!
How do multi-line phone systems work?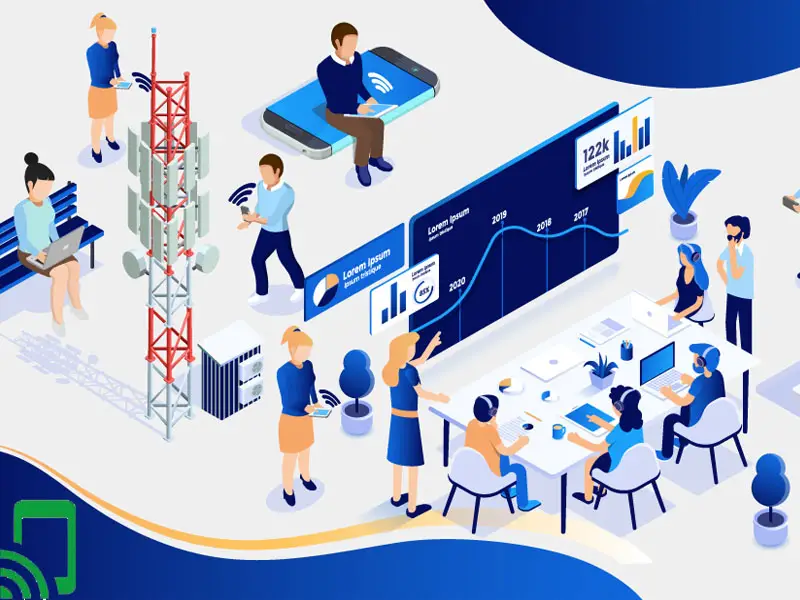 Multi-line phone systems work by allowing a phone call administrator to call a number of people simultaneously. There are two types of multi-line phone systems which are;
i) Multi-phone system
In this system, a number of multiple phone lines are condensed into a single device in which you are able to manage and make multiple calls on your computer. This means that an executive or a receptionist may use the phone lines simultaneously.
ii) Private branch exchange lines
For the private branch exchange lines, it uses a menu to direct callers on instructions instead of a human phone receiver. The PBX also allows the user to contact a receptionist directly with the aid of some extensions. For example, when you call customer care at a company, you may hear a notification asking you to "press 1-for recharge, 2-for coverage, 0-to talk to a customer care agent" and more.
What to consider when choosing the best multi-line phone systems?
Before you choose a multi-line phone system for your business, there are factors to consider. If you follow the factors below, you will never have to worry about communication with a multi-number of your customers hence you will have a good reputation in your business. Here is what you should consider;
i) Technicalities
What technologies will the system use? How much will it cost to do maintenance and repair?  These are the questions you need to consider when it comes to choosing a multi line phone system. Also, ensure that the system is simple to use as this will foster easy adaptation by your workmates.
ii) Size of your business
The size of the business determines the number of lines and gadgets you may need. If you are in a large business, you may look for extra space to set up server stations and if you are in a small business, you can consider hiring an external multi-line system provider and you only get to use the platform without worries on security, upgrades, and much more.
iii) Maintenance and repair
The multi-line phone system should be very simple to maintain especially if it is for a small business. You should also choose a system that can be easy to find a consultant at a fair price in case you want to do maintenance or repair.
iv) Training to workmates
You should get a system that is very simple to use such that the staff does not need much training.
Trends in multi-phone systems
Multi-line phone systems have always been evolving over the years and here are some of the trends you should look for in order to avoid getting a crap system;
1) Auto-response
The Auto-response system with the help of bots is able to receive a customer's call and direct him or her on what to do next in case no one is able to pick the call. This feature is very important if you have a large number of clients and you are still a growing business
2) Caller ID
A caller ID is able to tell you who is calling. This feature displays the name and phone number. It is very important since it helps to distinguish between scam and real calls.
3) Call forwarding
Call forwarding is not new but if you are looking to get a modern system, you should consider getting a system with such features. It will allow you to forward calls to another staff member in your office.
4) Texting feature
This feature is very important and can be used not only for communication but marketing your services to customers. This will help to save time in making calls and also be able to reach a number of people very easily in a short time.
5) A speakerphone
A speakerphone is very important if you are moving from one section to another within the office. This will ease the burden of carrying the phone around from one point to another.
6) User interface
The device should have a friendly user interface such that anyone, whether is computer literate or not, will be able to use the product.
7) Intercom
This feature is very effective in that you are able to call a number of people and talk to them at once. It is a concept adopted from teleconferencing.
Traditional vs Cloud: Which is the best multi-line phone systems?
Cloud services have become a vital necessity for businesses and individuals. When it comes to the multi-line phone system for small businesses, you can consider cloud systems because of the following perks;
It is very affordable
Its very simple to install and set-up
No monthly contracts
You get automatic updates from your cloud provider
You can always add more lines depending on the growth of your business
It is easy to maintain and does not require onsite customer care support
Less vulnerability to security threats
This does not mean that traditional multi-line phone systems are ineffective. You can consider getting it if you have a big business and it will be cheaper compared to the cloud services since you will be hosting your services on your own premises.
How to set up a multi-line phone system
Here is a complete step on how to install a multi-line phone system for your business.
Step 1: Choose a phone system
This is the most crucial step. You need to choose the best multi-phone system that will work effectively for you and your business. Earlier in the article, we talked about the two types of systems; a PBX or a multi-line phone system.
Step 2: Choose a phone service/company
There are many phone service providers you can consider. These providers issue you with phone numbers, cloud storage for the calls. Some of the best multi-line phone system providers include;
All these providers have a good rating on their reviews. You also get a community forum in which you can make suggestions, request updates on the services being offered.
Step 3: Choose your business phone number
You can choose many numbers as you want depending on the complexity o your business. For example, you can have a number of customer care, sales team, recruitment, and inquiries. Remember to have a single phone number that utilizes the PBX feature and it will be able to connect the user to a specific phone number instead of having lots of numbers to call which may be confusing.
Step 4: Choose the features or specs of the system
Earlier in the article, we talked about trends in the multi-line phone systems. You need to choose more features which will be effective for your business and also affordable. You can add features like telecom, private calls and much more.
Step 5: Get started
Now that you have chosen everything, the next step is to simply install the system on your company's devices. With the multi-line phone systems, you have the power to add more lines especially if you consider using cloud services.
These steps above can also apply for traditional multi-line phone systems but they may differ in that you will have to have an IT support staff who will monitor the services, do upgrades, and other activities to ensure effective running of the systems.
Bottom Line
I hope that this article has helped you to get started with multi-line phone systems. With such a system you are assured of efficient communication between customers and staff members which in turn leads to positive growth of your business.
Make sure to choose the best service provider which is cost-effective and has reputable customer reviews. Once you have achieved this, you will have the best communication system in your office and be able to grow your small business to an empire!!