Consumer Cellular Plans AARP | Is This Really Worth For You?
Having a mobile provider with flexible contracts, no extra fees, and a good network is something most people wish. If you have such wishes, then Consumer cellular plans AARP is the option for you. Most people acknowledge Consumer cellular for being the best plan for seniors; however, it is not entirely dedicated to seniors. The plans offered are very affordable and of a wide range, which lies on a common factor; affordability.
Since the company was incepted into the market, it has been able to attract millions of consumers, especially those who are members of the AARP. If you do not know about AARP, it is a senior-oriented organization whereby people who are at the age of 50 and above are able to join and get a wide range of benefits and discounts in AARP cell phone plans for senior, insurance policies and many more.
The AARP had a total number of 38 million people as of last year and is drastically increasing. As for consumer cellular, it has partnered with AARP so as to offer affordable and convenient plans not only to seniors but eligible citizens too. The good thing about AARP is that you can join even if you are below 50. However, some discounts are offered to people of 55+ and above, which will limit you greatly.
How to join AARP and consumer cellular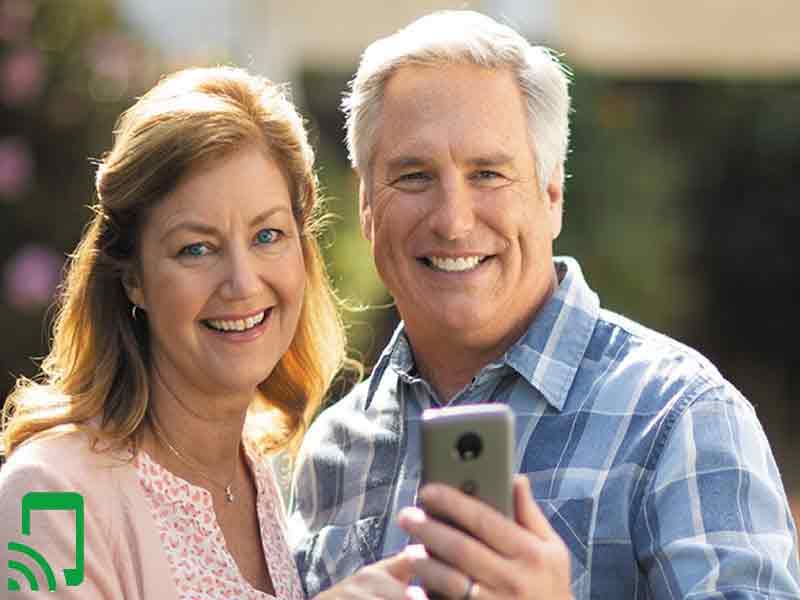 The process of joining AARP and consumer cellular is very simple. Unlike scenarios whereby you are supposed to submit many documents like the free government phone program when applying at consumer cellular and AARP, there are no such complicated processes. You can make an application via their websites or go to the nearest AARP and consumer cellular stores. Read more from this article so that you can learn about the plans available.
As mentioned earlier, the process is very simple, and you don't have to worry about the complicated process. Here is a step by step process on how to join consumer cellular and AARP;
Consumer cellular
If you have ever enrolled in a service provider apart from the free government phone providers, you may have a clue of what is required. The process is done in three major steps, which some you can skip if you find it unnecessary, like buying a new phone.
Step 1: provide your information
Every carrier will request some details about you for the efficiency of the verification process. As for Consumer cellular, you may be required to provide the following;
If a friend referred you, provide his or her phone number and name, after which you will both receive a $10 credit on your next invoice.
The current phone bill from your previous carrier. This will ease the process of switching your number if you do not wish to change it.
The AARP membership number-providing this will give you exclusive discounts.
Your social security number and personal details like name, phone number, etc.
Step 2: Choose a plan
Consumer cellular, in conjunction with AARP, offers discounts to their customers with regards to the plans offered. I will later discuss the variety of plans offered as you read this article
Step 3: Choose a new phone or opt for BYOP
Consumer cellular phones for seniors are of wide range with regards to smartphones or flip phones. If you are looking into buying a new phone, you will never miss a phone of your choice. There is the option to bring your own phone only if it is compatible and the most important; it should be unlocked.
If you have a locked phone, then you have to go back to your old carrier and follow the required guidelines for it to be unlocked. The major requirement is that you should have completed the full payment for your device. This will ease the process.These are the simple steps to get consumer cellular phones and plans. Apply now by visiting their website.
How to join AARP
AARP is not a carrier; hence, the process may be totally different. If you have read about AARP cell phone plan reviews, you may have a clue or two of how to enroll. There are two ways in which you can join, either via their website or submitting a paper application.
Joining via their website is very simple since you just go to aarp.org and click the join button. Follow the on-screen instructions to complete the process, and your application will be reviewed. You may be required to visit an AARP office near you to finalize the process and get a card.
Which phones can be used in consumer cellular under AARP?
There is a wide range of phones which you can use under AARP and consumer cellular. Phones range from mid-range flip phones and high-end smartphones like the Note 10. You can easily know if a phone is compatible by checking out the network technology being used.
If it uses GSM network technology, then the phone is good to go. However, if the device is only compatible with CDMA, you may have a problem with compatibility. So nit is best that you choose a device that can work with CDMA and GSM concurrently. Some of the phones include come from the following brands;
Samsung
Apple
Motorola
LG
Nokia
If you are wondering where to buy consumer cellular phones, then I have good news for you. The phones can be bought from Amazon at an affordable price. You can also visit their website to learn more about places whereby you can get the phones.
What plans are available for consumer cellular AARP members?
The plans available are affordable, as mentioned earlier in this article. Have you experienced hidden fees from your previous carrier, well at consumer cellular, you will never have that experience! You will only pay for what you use.
The cost of plans depends on the number of the line you have chosen. However, the only issue is that only two lines are offered at the maximum, whereas other companies may even offer up to 6 lines. Below is a description of their plans;
1) Voice only plans
This plan does not come with any data allotments, but it is very effective for people who do not need data or are using flip phones.
250 minutes costs $15 per month
Unlimited minutes cost $20 per month
However, there is no prior knowledge as to whether the plans will work internationally or not. The good thing is that you also get unlimited texting.
2) Talk connect plans
This is a plan that offers a wide variety of data from which you can choose from. The plan starts at;
$5 for 250 MB
2GB at $10
5GB at $20
10 GB at $30
20GB at $40
The plans are very flexible since you can opt not to have any data at all. Once you purchase the plan, it will be very easy to complete the activation process, which can take around 2 hours.
What discounts are offered for AARP members using consumer cellular plans and phones?
Joining AARP and choosing consumer cellular as your service provider comes with a lot of benefits. Members get a 5% discount on the plans to be purchased under consumer cellular. Consumer cellular has been working with AARP for over 10 years to ensure that people get considerable discounts efficiently.
Also, if you buy accessories related to consumer cellular, you will get a 30% discount. The good thing is that you also get AARP Extended's 100% risk-free guarantee, proving that there is nothing to lose at all.
In the consumer cellular website, there is a prompt whereby you can sign up for new members, and it will already be linked to your consumer cellular account.
What are the perks and cons of joining AARP and consumer cellular?
In every good offer, there has to be a glitch which will not impress some people, and as for consumer cellular and AARP, there are a few things that most people don't like and wish for them to be improved. First is introducing an unlimited data plan feature.
Some people love to surf the web a lot, and offering unlimited data will be quite beneficial. The rate of customers may improve greatly, and it would bring them to be on par with other service providers in the market.
This is such a farthing that most people would love to be implemented. Once that is established, Consumer cellular will reach the epitome of service providers.
Conclusion
Having a carrier that offers very flexible plans is something many people wish for.  As for Consumer cellular, it is here for you, and they have proven to offer the best services. Consumer cellular has 24/7 customer care services who are always ready to assist you in any issues.
Once you join both AARP and consumer cellular, you are assured of the best times of your life. AARP also offers other services like a discount on selected retail stores if you show your AARP card. You also get several insurance services from them.