The 7 Best Cell Phone Signal Boosters Reviews
Despite service providers offering nationwide network coverage, there is still the need to get stable network signals in some areas. This need has led to the service providers increasing more resources to the poor signal prone areas in order to foster a reliable network connection. However, not all the efforts have brought some positive impact since some areas still lack reliable network coverage. This has led to the adoption of cell phone signal booster with an aim to provide quality network signals to anyone who needs it.
Cell phone signal boosters aim to boost signals in areas where the service providers have not fostered to provide reliable network coverage. You can find the best cell phone signal booster for home or office or whichever setting you are in. Despite the rise in their need, there have also been fake boosters being launched into the market.
This article will help you find the right original cell phone signal booster for you. With the right booster, you will never have trouble with the FCC or your service providers regarding network interference. Read ahead to learn more about what it takes to ensure you have the right cell phone booster!
How to identify an original cell phone Signal Booster?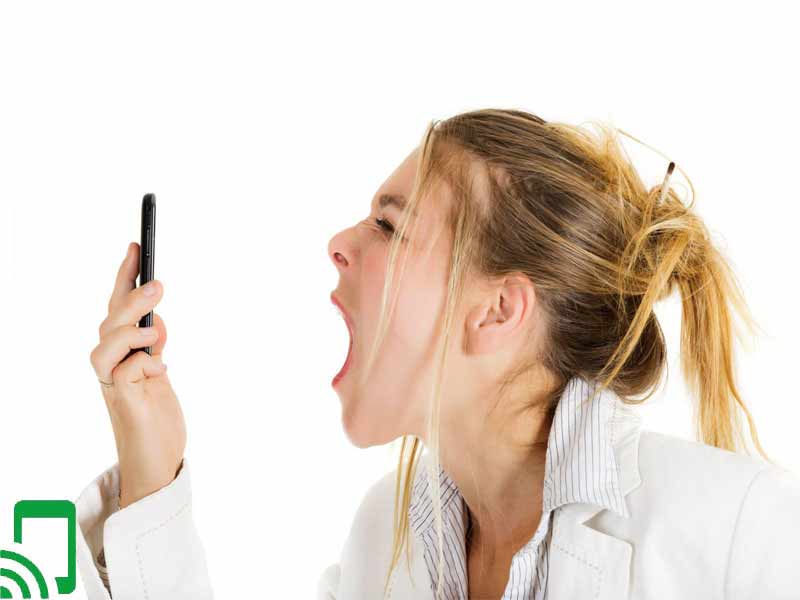 There have been austere measures to curb the spread of fake cell phone boosters but they are yet to become extinct. However, the FCC has set up some measures in which you can verify whether the booster is legit or fake.
Not only fake cell phone boosters have issues but also some legit ones in which they may be installed poorly or they are meant for use by another network service. IN 2013, the FCC announced strict measures to curb fake and poorly made boosters by stating that;
You should obtain approval by the carrier to use the booster
The booster should have an FCC-certified label
The booster should be registered with your service provider.
For example, if you are under Verizon and you get the best cell phone booster for Verizon, you need to register with them and luckily, the whole process is done online. This will help sort out issues very fast in case your booster seems to have network interface issues.
What causes poor cell phone signals?
Things that may foster poor network signals include;
i) If you are in a rural location
Many service providers find it hard to set up base stations in rural areas since they are sparsely populated. This, in turn, leads to poor signals within the area
ii) Building type
Fiberglass insulation on the roof and some building materials may lead to poor signal in your home or office. In some cases, using foam insulation may block signals completely into the office or house.
iii) Size of the building
Large buildings in some cases may lack cellular reception. In most cases, buildings with basements are more likely to be affected
How do cell phone signal boosters work?
The cell phone boosters contain an antenna and the booster itself. The antenna collects distant signals and then rebroadcasts them to the cell phone booster.
This booster then transmits strong signals back to the cell phone tower. The cell phone tower then sends strong signals to the cellular devices which happen to have weaker transmission links.
This, in turn, gives your device better cellular coverage and you get to experience fast internet and reduced dropped calls.
How to choose the best cell phone signal booster?
Before you get any cell phone signal booster, here is what you need to know:
1) FCC: Verified or not?
Ensure to buy a cell phone signal booster verified by the FCC. You can see an FCC-certified label on each device. You should also register and be approved to use the device by your service provider
2) Customer reviews
Read customer reviews to determine whether the company offers legit products.  Also, check out their ratings on platforms like Amazon.
3) Installation process
Get a device that has an easy installation process. This will help a lot if you plan to move from one location to another. You should also ensure that the installation materials and labor can easily be outsourced and are at an affordable price
4) Repair and maintenance
Get a device with simple maintenance and repair. You can determine the maintenance and repair reliability by checking some customer reviews.
5) Customer care and After-sale services
Choose a cell phone booster that can help you when it comes to installation by connecting you to a technician near you or installing it themselves. They should also be ready to help in case there is an issue. Warranty is always a plus too.
The 7 best cell phone signal booster reviews
1) WeBoost Home Multiroom cell phone signal booster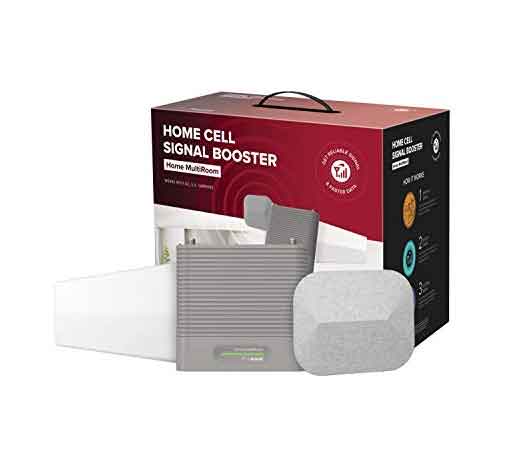 With a 4.5 star rating, WeBoost home is a good option to consider. This booster works with all the service providers in the US. It also has a long battery life of up to 2 hours under strong signals. The booster is also very simple to install. The multi room booster covers up to 5000 sq.ft. and has a maximum gain of  65dB. You are also assured of a 30-day money-back guarantee and a 2-year warranty.
PROS
Easy to install
Boost signals at a fast rate
Easy to maintain and repair
It has a warranty
CONS
Some bags for the coax cable are wrongly labeled
2) SureCall Fusion4Home booster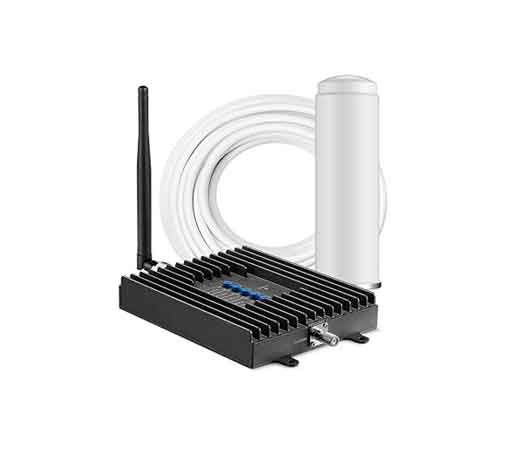 SureCall seconds our list with a 4.1 star rating on Amazon. The device can cover up to 2000 sq.ft. and the installation process is very simple. It can work with all the service providers in the US. It also features high-end performance and offers clear and constant signals for your convenience. The booster comes with a 3-year warranty and 60 days money-back guarantee.
PROS
Provides good troubleshooting info
Reliable customer care and response team
Efficient for 4G connectivity
3) WeBoost Connect 4G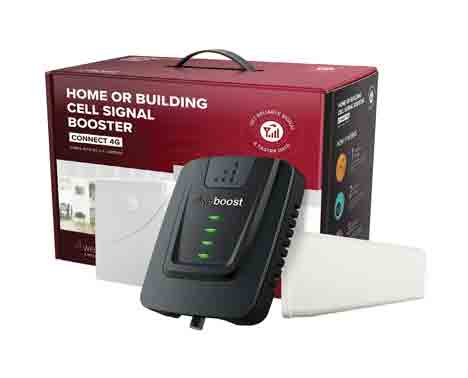 Whether you are looking for a consumer cellular signal booster or a booster to use on any service provider in the US and Canada, WeBoost got you covered. It offers the best coverage on data and voice and has a reliable battery life to achieve this. The booster can cover up to 5000 sq.ft and you are assured of a simple but time-consuming installation process. The booster also has efficient automatic gain settings for stable 4G signals for voice and data.
PROS
Wide panel antenna
Covers a wide area
Boost signals faster
Cheap to maintain
4) PhoneTone Booster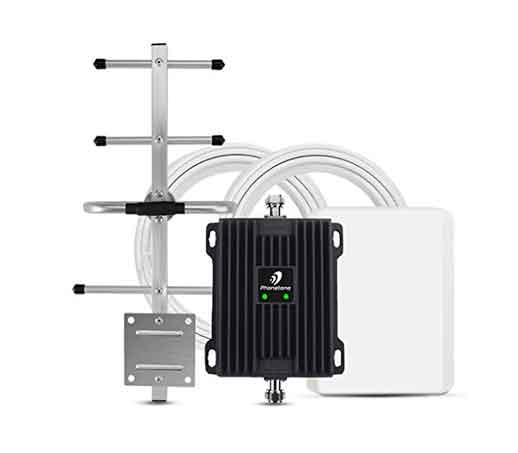 PhoenTone has a customer rating of 3.9 and offers a wide range of perks. The booster has a directional indoor antenna to offer the best coverage. The automatic signal advancement feature is also very effective. The booster is verified by the FCC and supports all the network carriers in the US. You also get a 5-year warranty and a 3-months free replacement.
PROS
It has an LED indicator
Automatic gain control feature is efficient
Inactivity mode saves energy
Easy to install
CONS
The auto-shutdown feature takes time
5) WeBoost Home Room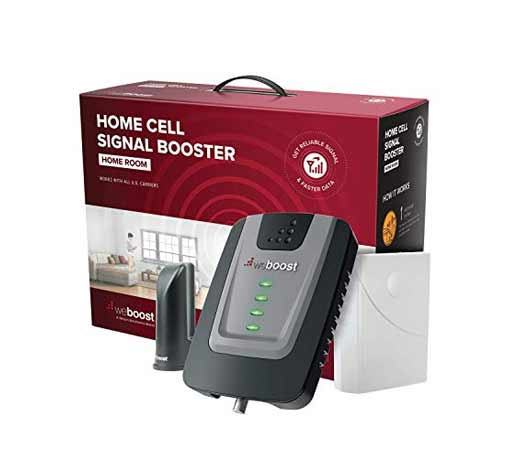 This is a good device if you are looking to boost signals in a small area. It has a maximum gain of up to 1500 sq.ft with a maximum gain of 60dB. The booster supports all carriers and it is very simple to install. The booster is also FCC approved. It comes with a 30-day money-back guarantee and a 2-year warranty.
PROS
Reliable for small areas
Easy to set up
Cost-efficient
It has a warranty
6) HiBoost 10k Booster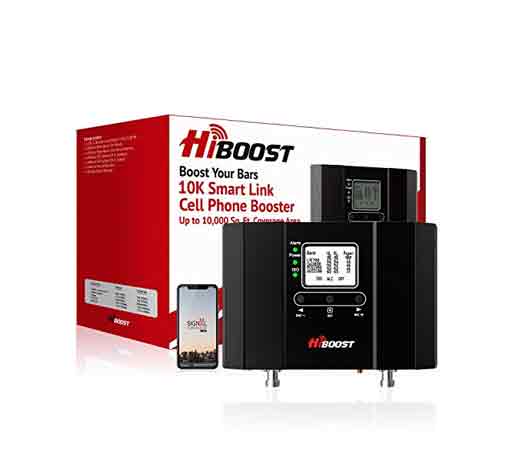 HiBoost offers coverage of up to 10,000 sq.ft at 4G where it is applicable. The booster is verified by the FCC and works with all the service providers in the US. The booster is made of durable material to prevent damage from weather conditions. The kit comes with everything needed for installation. They also offer US-based customer care support and the booster comes with a 3-year warranty.
PROS
Works with all US carriers
Easy to install
Reliable technicians
It has an easy to read user manual
CONS
No customer care services
7) WeBoost drive reach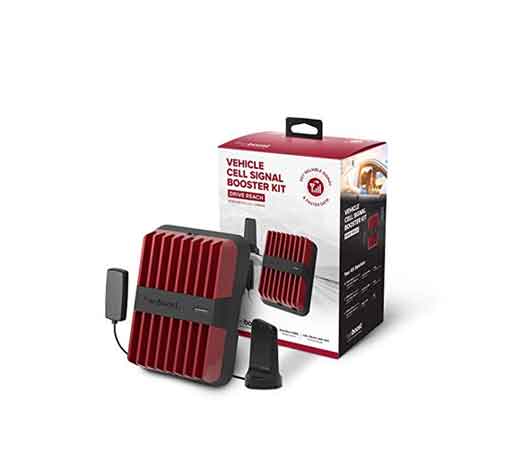 If you are looking for an affordable car cell phone signal booster, then this may be the right option. The booster is very simple to install and works like a charm. It is secure against weather damage. The booster supports all carriers in the US and can support multiple users at a go. The booster features a 50dB maximum gain and has a 29.5dBm uplink power and 5dBM downlink power. You also get a 2 year warranty and dedicated customer care services.
PROS
Easy to install
They offer US based customer care support
30-day money back guarantee
5G services are available
CONS
Not efficient on heavy vehicles
Bottom Line
Whether it's a T-mobile or Us consumer cellular cell phone signal booster, a lot of things have to be prioritized in order to get the best option. This article has given you a precise cell phone signal booster review and I hope you are now able to choose the best booster depending on your pre-existing signal condition.