The 7 Best Cell Phone Boosters for Remote Areas
In this digital era, a lot of daily errands link to cell phones, including paying bills via mobile apps, getting the latest news, job searching, e-learning, and many more. Therefore, cell phone booster for remote areas helps enhance your network reception, attracting signals from the nearby cell tower. If you live in the off-grid area, in mountains or rural, isolated areas, there is a dire need to boost your cell phone network.
However, most cellular carriers tend only to concentrate the cell towers in urban areas leaving the remote areas stranded and unattended. Having a weak signal strength can be annoying due to results such as dropped calls, slow data speed, which ultimately affects the phone battery lifespan. That's why it is essential to offer cell phone booster services to the marginalized area to keep them up to date.
It can be difficult getting the right booster, especially if you are a new shopper. Fortunately, this article has compiled the best cell phone signal booster for homes to have a strong signal for communicating with friends and relatives and in case of emergency. It is crucial to keep in mind that a cell phone booster enhances signal but doesn't create it. Usually, if there is a signal near your home but not inside, a cell phone booster will be fit for you.
How Does A Cell Phone Booster Work?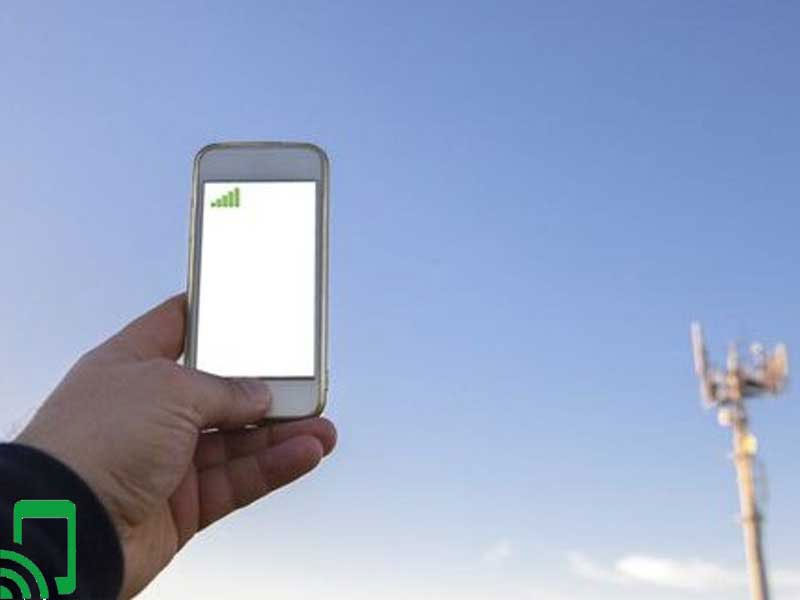 A cell phone booster works by using three main components.
i) Outside Antennae
It helps by pulling in the existing 3G and 4G LTE signals from the cell tower and transmits back the outgoing signals back to the cell tower.
ii) Amplifier
Works by boosting the incoming and outgoing signals, manages, and monitors the system for maximum uptime. It also prevents oscillation using automatic gain control software.
iii) Inside antennae
Boosts signal inside your location to multiple simultaneous devices and collect outgoing signals from the devices shouldering their burden for an increased battery lifespan.
What Are the Considerations to Make Before Buying A Cell Phone Booster?
i. Type of wireless connection
Some boosters only transmit 3G broadband internet, other 4G, and some both. Therefore, it's useful to know your phone network compatibility and your browsing needs. The difference between the two networks is the data speeds.
ii. The number of users
If you are using the cell phone booster the entire family or multiple users, it's essential to shop for a device that will comfortably handle the traffic, whether it's for home use or car.
iii. Coverage
The estimated area for cell phone signal boosters is usually in the specification, so read carefully. Home/office cell phone signals vary in strength; there are boosters designed to cover a single room while others are strong enough to cover a whole floor.
iv. Bandwidth
If several wireless devices are in operation, consider a multi-bandwidth booster as it can switch frequencies to lower interruptions with those devices. Also, it ensures a more stable, more robust connection with your phone.
What Are The 7 Best Cell Phone Boosters for Remote Areas?
1. Hiboost 4K Smart Link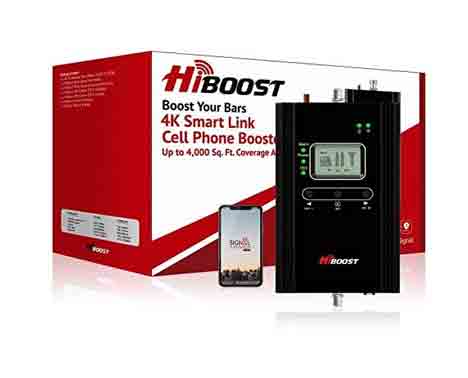 This cell phone booster is ideal for home use and covers a distance of up to 4,000 square feet and boasts a 60+ decibel maximum gain. However, the coverage may vary between 1,000-4,000sq ft depending on the outdoor signal conditions.
Besides, it supports to all US carriers and covers 2G, 3G, 4G cellular signals. There is transparency in an installation that guarantees better reception. Moreover, the HiBoost cell phone signal booster enhances the signal to any cellular device, improves your data speeds, and stop dropped calls.
More reliable mobile signal connections improve your productivity, efficiency, and safety by ensuring you connect at all times. You can quickly get in touch with your family at any time. Lastly, there is a guarantee of 3 years.
PROS
All carriers signal reception
Increased signal strength
Long coverage
Easy to install and use
Outstanding customer support
CONS
Doesn't support 5G network
2) weBoost Connect 4G (470103)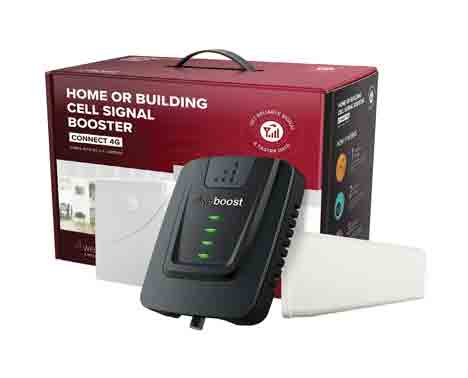 Enhance your cell coverage and get superior indoor connectivity at your home or office with a Connect 4G signal boost. This signal booster is compatible with all the US cellular carriers and supports 4G LTE and 3G signals in a building of up to 5,000sq ft.
The installation process is quick and easy because all the components needed in the installation are all intact. However, the Connect 4G cell phone booster boosts your 4G LTE and 3G signal up to 32X resulting in fewer dropped calls, faster uploads and downloads, and higher audio quality.
Also, the device offers 2 hours of additional talk time that has an impact on prolonging battery life. The automatic gain settings sense nearby signal and electronically optimize on the booster's performance.
PROS
Long battery life
Hassle-free installation
Seamless connection
2 years warranty
Widespread coverage
CONS
3) Hiboost 10K Smart Link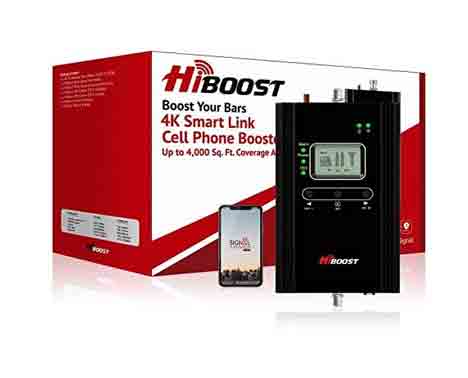 10K Smart Link is a cell phone signal booster that improves reception on tablets, phones, and hotspots. It's compatible with all the US carriers and covers a distance of 4,000sq ft to 10,000 sq. Ft. but may vary because of the outdoor signal conditions.
Moreover, Hiboost App LCD helps fine-tune max power and see real-time data of what the booster is doing utilizing every last power. Furthermore, your phone receives a strong signal for more explicit phone calls, improved data speeds and dropped calls, streaming, and more.
Besides, it connects to 4G LTE,3G, and 2G cell phone signals for your office and home. Ultimately, a more reliable cellular signal reception improves your productivity, safety, and productivity by making you connected all the time.
PROS
Strong cellular connection
Supports all US carriers
Increased coverage
Easy to set up and use
Increased streaming speed
CONS
4) FUSTAR AT&T Cell Phone Signal Booster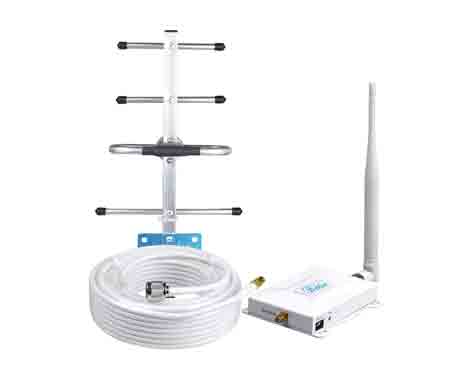 This cell phone booster is recommendable for people who need fast streaming apps like google, skype, twitter, YouTube, and such apps since it has no longer buffer times and network delay. It's suitable for use in areas with network instabilities and remote regions.
Besides, the cell booster service provider is compatible with AT&T, Cricket, US Cellular, and T-Mobile. The FUSTAR AT&T cell signal booster will cover an area inside the house of 1500-2000 square feet, allowing you to reach 2-4 rooms with the right signals.
Also, it improves the 4G LTE 700mhz cell signal strength-enhancing calling voice quality and all-time connection with family, friends, and relatives. It's important to note that interior walls between the signal booster and cell phone weaken the signal.
PROS
Cheap
Elaborative installation procedure
Supports multi-users/devices
Audible voice calling quality
Automatic gain control
CONS
5) Weboost Home 4G (470101)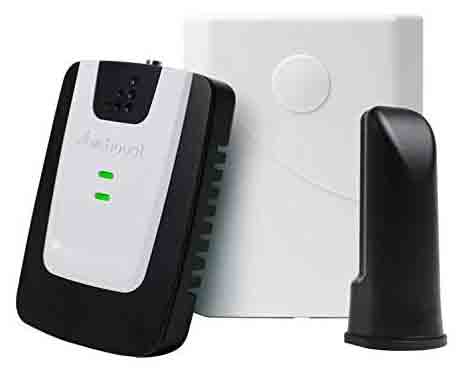 WeBoost Home 4G enhances 4G LTE and 3G cell phone signals in your home and office by merely amplifying the existing cell phone coverage in one or two rooms. The coverage is up to 1500sq ft and gives you more bars maintaining fast speeds while you talk over the phone or browse the internet.
The WeBoost Home 4G offers a maximum signal gain of 60 decibels. However, you can improve your existing connection across several devices simultaneously with Home 4G. The installation process is simple since all the components needed for installation are in the package with easy to read and follow instructions.
Also, you get up to 32X more reliable connection, which results in fewer dropped calls, faster upload and downloads, better voice calls, and so more.
PROS
Works on all major US carriers
Fast browsing speed
Increased battery life
Affordable
Simple to set up
CONS
Compatible with 3G/4G only
6) Hiboost Smart Link 15K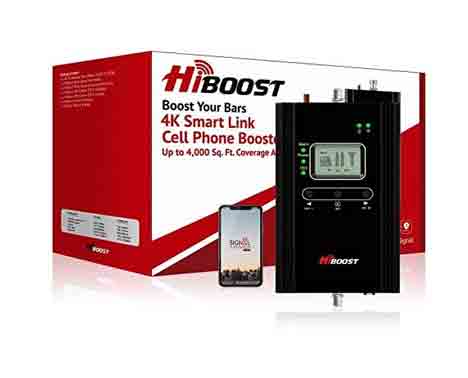 HiBoost Smart Link 15K cell phone signal booster is compatible with all US and Canadian carriers. The 15K's powerful boosting capabilities have coverage of 15,000 square feet and boast a 70+ decibel max gain. However, the coverage may vary between 7,000~15,000 sq ft due to outdoor signal conditions.
Hence, it is crucially important to find out the best outdoor signal by the HiBoost app. Moreover, HiBoost App and LCD helps fine-tune maximum power and see real-time data of what the booster is doing and let you squeeze every last energy from the booster.
Besides, it enhances 4G LTE, 3G, and 2G cell phone signals for your home and office. Secure cellular signal connections improve your data speeds and dropped calls.
PROS
Supports all US carriers
Easy installation process
3 years warranty
Powerful signals
Wide network coverage
CONS
7) Phonetone 5-Band Cell Phone Signal Booster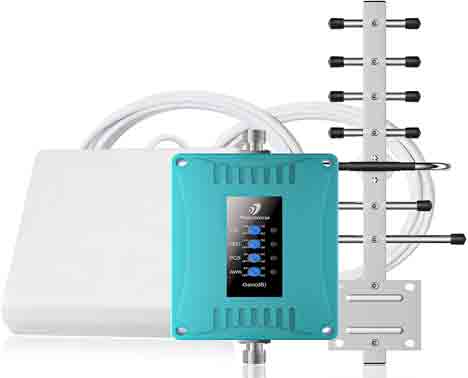 Say goodbye to expensive monthly internet and home plans subscriptions by use of 5-Band cell phone Signal booster that supports multiple users simultaneously. The booster supports all major US carriers and works perfectly well with GSM 3G/4G LTE for Verizon, US Cellular, T-Mobile, Straight talk, AT&T, and many more.
Besides, it has powerful antennas and indoor coverage of up to 4,500sq ft. Interestingly, it has an automatic Gain Control function that intelligently detects the current signal strength and self-adjust for better performance.
LTE data speed signals, voice quality, uploads, and downloads function smoothly without buffers making it the best signal booster for iPhone. However, the manufacturer guarantees a 5-year warranty with three months of free replacements.
PROS
Automatic power shutdown
Affordable
Works on all carriers
Multiple users and devices
Excellent customer service
CONS
You must get consent from the carrier provider to use the booster
Bottom line
If you live in remote areas with poor telecommunication infrastructure, there is a solution for poor internet connectivity, dropped calls, and text messaging. Cell phone boosters significantly improve your signal strength by enhancing the signal reception.
However, you can get a portable cell phone signal booster for your car as well. Whether you live down or high in the mountains, in a cabin or remote areas, you can shop the suitable gadget reviewed in this article that matches your requirements.